A wedding ring is not merely an ornament but a sign of unity, love and togetherness. Therefore, it's needless to say that a wedding ring has to be real special. Compiled here is a list of such special wedding rings that are just perfect for the occasion and that would be nothing less than the pride of its owner.
10k White Gold 1/4ct TDW Diamond Engagement Ring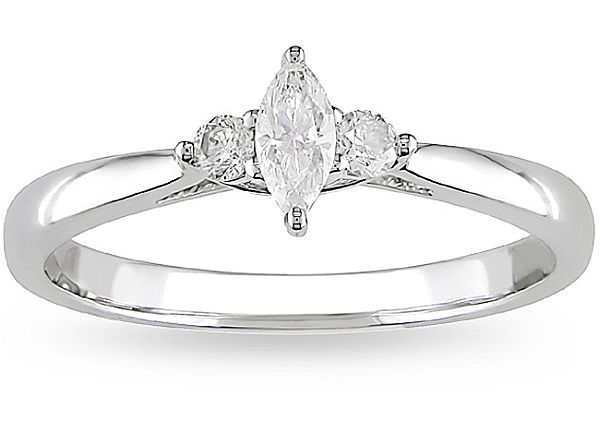 This 10-karat white gold wedding ring is studded with three bright and high quality diamonds. The two round shaped diamonds set at the sides, add to the beauty of the ring while the Marquise-cut diamond in the center of the ring effortlessly grabs all the attention. All the three diamonds come with H-I color and I2-I3 clarity. The high alloy content in the white gold ensures that the ring is whiter than other white gold rings or jewelry. This ring is specially designed for people who have an elegant taste and prefer simple yet classy designs.
Rose & Kara White Gold Full Eternity Blue Sapphire Wedding Ring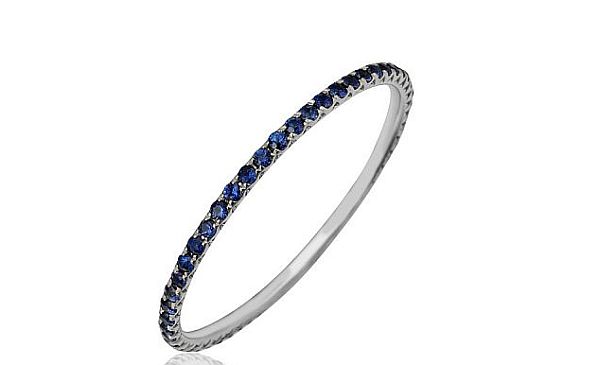 If you want to convey your eternal love for your partner on your wedding day then there is no better way to say it than with this Rose & Kara ring. This ring in 18ct white gold contains 39 round shaped beautiful sapphire stones. The design of the ring explains simplicity at its best and yet speaks of your love in high volumes. This wedding ring is a perfect accompaniment as well as a witness to your unspoken promise of being together till eternity.
18ct White Gold Jubilee Wedding Ring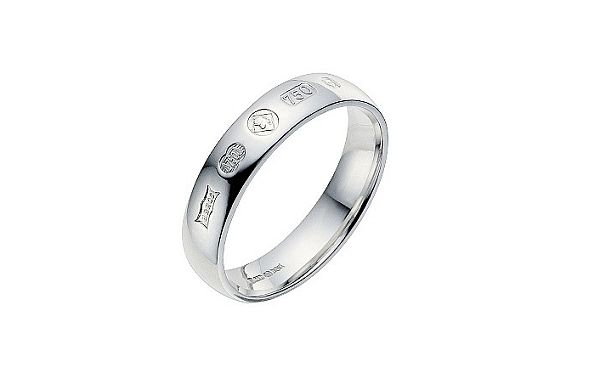 This wedding ring has a truly unique and special character to it that makes it all the more ideal for an occasion that is no less precious to you. This Jubilee wedding ring carries the hallmark of the Queen's Diamond Jubilee. This hallmark made on the ring makes this 18ct. white gold ring unique, remarkably different and extremely special. The ring comes with a width of 0.4cm and is available in sizes F to Z+6.
9ct White Gold Ladies Diamond 4mm Wedding Ring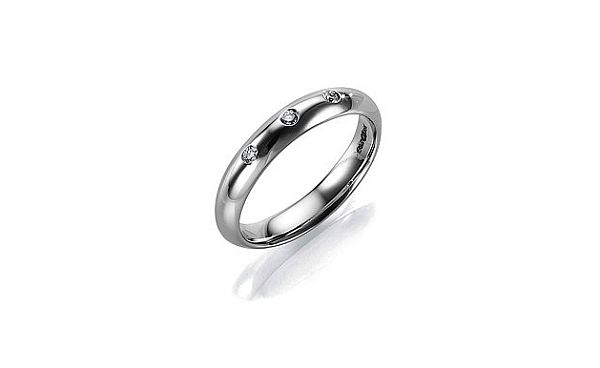 This is a no-fuss wedding ring that is a great example of style and class. Three sparkling diamonds adorn the ring that is made of 9ct white gold. This 4mm ring has been designed keeping in mind the choices and preferences of ladies who love to keep their style simple and elegant. The ring is available in sizes varying from J to Q. The ring comes with a width and depth of 4cm each.
14k White Gold 1 1/5ct TDW Diamond Bridal Rings Set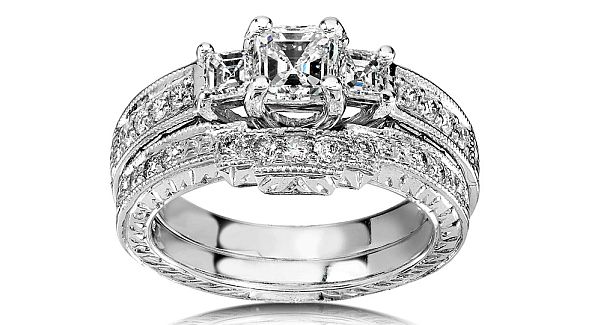 This bridal rings set consists of one engagement ring and one wedding band, both crafted of 14-carat white gold and adorned with diamonds. The engagement ring carries one Asscher cut diamond of 1/2 carat in the center and 10 diamonds surrounding it. The wedding band is simpler in design in which 11 diamonds are set to beautify it.
9ct or 18ct D Shaped Custom Designer Wedding Rings Inlaid With Pure Welsh Gold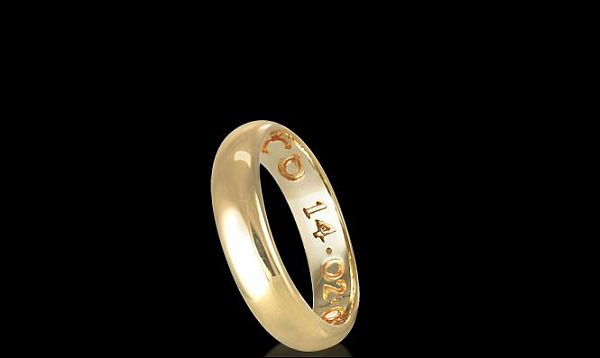 You can get this ring in yellow, white or rose gold of 9ct or 18ct. The band looks simple without any effort made into making it glamorous or attention grabbing. In spite of that, this ring is one-of-its-kind and truly unique. What makes this ring outstanding and special is the message that can be in-scripted on the inner side of the band. This ring comes with a special facility of inscribing a personal message of up to10 letters on the inner side of the ring on pure Welsh gold. Whether it be the name of your darling, the date of your wedding or some message of endearment, the personal touch added to the ring through the carved message makes the ring much more special and uniquely beautiful.
Contoured Platinum Wedding Ring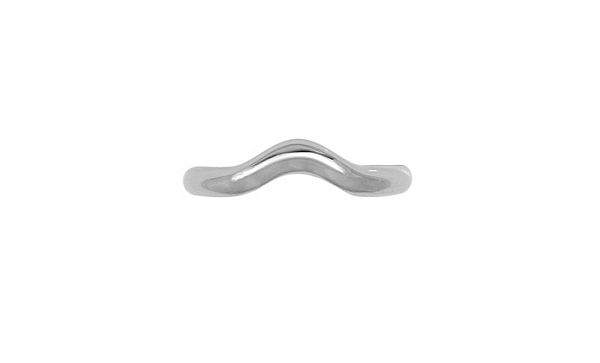 This platinum wedding ring is handmade and is crafted in such a manner so that it can be worn around an engagement ring and fit it perfectly too. There is no intricacy involved in the ring when it comes to beautifying it with gems and jewels. However, the special feature of getting along with an engagement ring without any hassle makes this ring exceptional and extraordinary. Apart from platinum, the ring is also available in palladium and white, yellow and rose gold.
Platinum Wedding Ring 4mm Flat Court Profile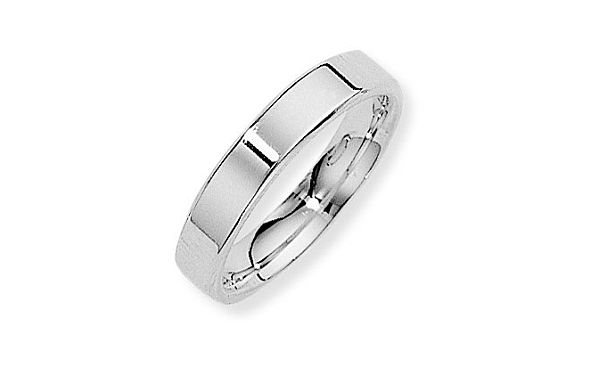 This platinum ring comes with a polished finish and with an unmistakable elegance and charm. The ring is 4mm wide and carries a weight of around 7.4 grams. The design and look of the ring are classy and no matter what kind of fashion is in trend or vogue, this ring would still be an example of a classy and fashionable piece. The ring can also be availed in other metals other than platinum.
18ct White Gold Half Carat Diamond Bridal Set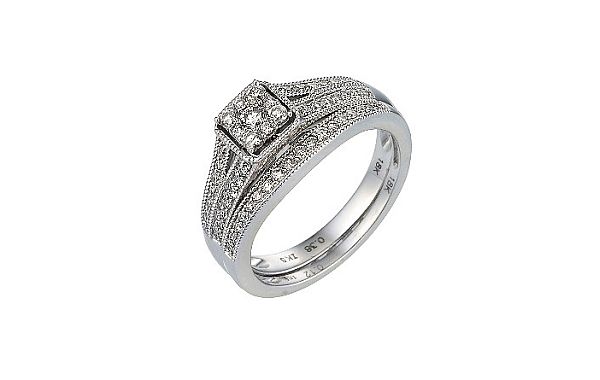 'Intricacy' and 'splendor' are the words that best describe this bridal set. The set contains a wedding band and an engagement ring of 1/2 carat diamond crafted in 18ct white gold. The ring set is available in sizes of I to S. The diamonds used in the ring and the wedding band are brilliant cut round shaped. The design is intricate and grabs everyone's attention.
14k Gold 1ct TDW Emerald – Cut Diamond Bridal Rings Set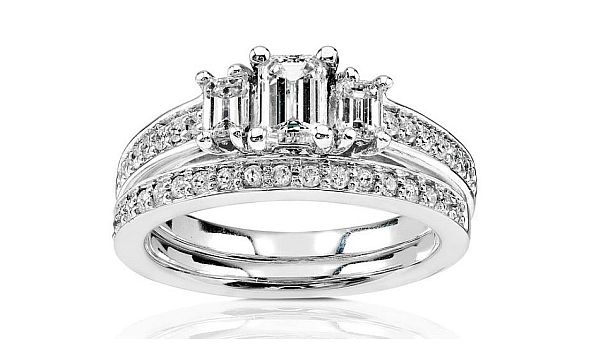 This bridal rings set includes one engagement ring and one wedding band made in 14-carat white gold. The engagement ring has one emerald-cut diamond in the center and two emerald-cut diamonds at the two ends of it. Surrounding them are 14 brilliantly cut round shaped diamonds. The wedding band contains 18 diamonds of round shape. The diamonds used in this rings set are of superior quality and are brilliantly cut. The design that brings this bridal rings set together is delicate as well as intricate. The rings in this set sparkle not only because of the bright diamonds but also because of the exquisiteness and elegance that flows out of the ring and the band.