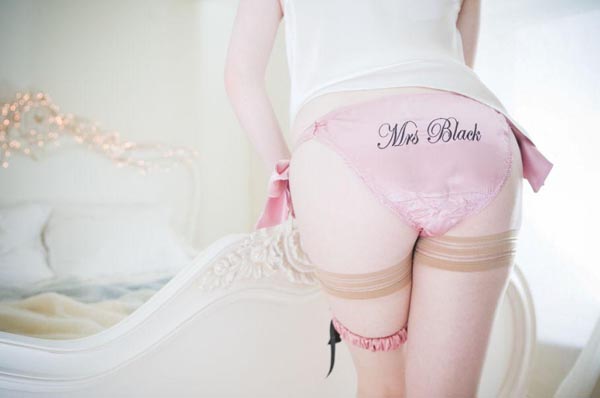 Weddings call for sumptuous cuisine, beautiful clothes, expensive drinks and a mountain of gifts. While presenting the happy couple with gifts to celebrate the joyous occasion is a must, there's something to be said about personalized presents for the bride. Since women love receiving gifts, there's all the more reason to march to a different beat when making your purchase. To make sure yours stands out from the rest, why not consider getting the bride something that isn't commercial but personalized instead? Check out 10 great gift items we've selected guaranteed to put a smile on the face of the blushing bride.
Personalized silk side tie knickers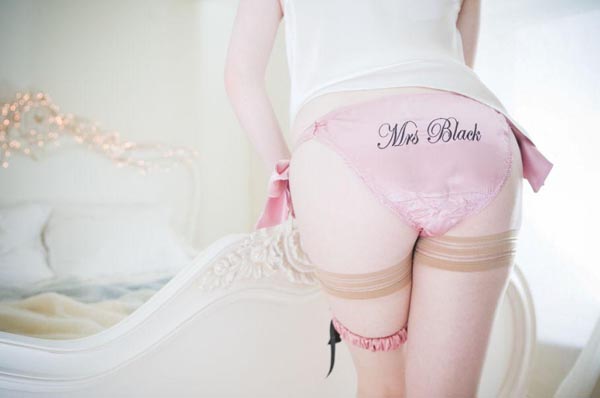 Spice up the couple's wedding night with these personalized silk knickers. Sexy and fun, they feature a side tie that can be undone. The silk material gently hugs the bottom while the sultry sheen will definitely make it difficult to ignore. The knickers are all handmade with care and since they're crafted out of 100 percent silk they need to be maintained well and washed only by hand. The font used is Edwardian and can be colored to match the shade of the knickers. Color choices are Powder Blue, Violet, Lipstick Red, Ivory, Black, Cream, Antique Gold and Dusty Pink. They cost $60.
Personalized wedding day wooden frame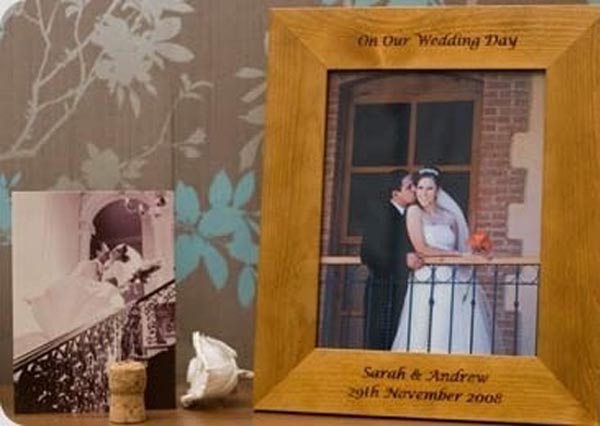 Picture frames are a pretty common wedding gift but this personalized one stands out. The engraving can reach a maximum of 50 words and can comprise any choice of words. The wooden frame is simple and carries no bling or over-the-top design. The simple craftsmanship will make a nice addition to a home and the couple will forever remember their special day. It costs $39.
Personalized vintage hanging wedding sign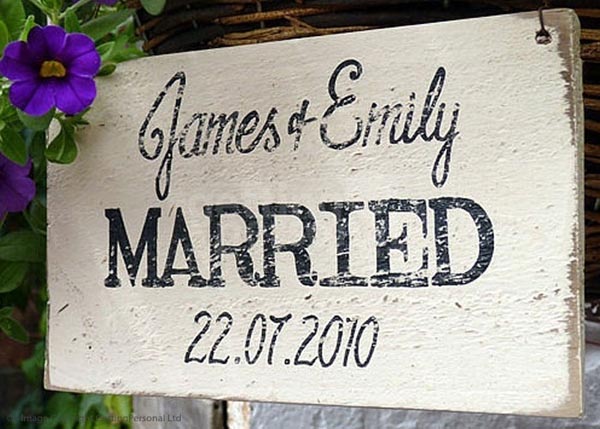 If recycling is close to your heart, you needn't get something that's made out of brand new materials. This personalized hanging wedding frame has been made out of reclaimed wood and distressed for a weathered appearance. Each hand-selected piece of wood has been chosen for its vintage look and engraved on with the utmost care. The signs also feature a rusted hearts motif. The item makes for a perfect wedding gift and the couple can keep it as a reminder of their wedding day. It sells for $63.
Always Remember to Kiss Goodnight personalized pillowcase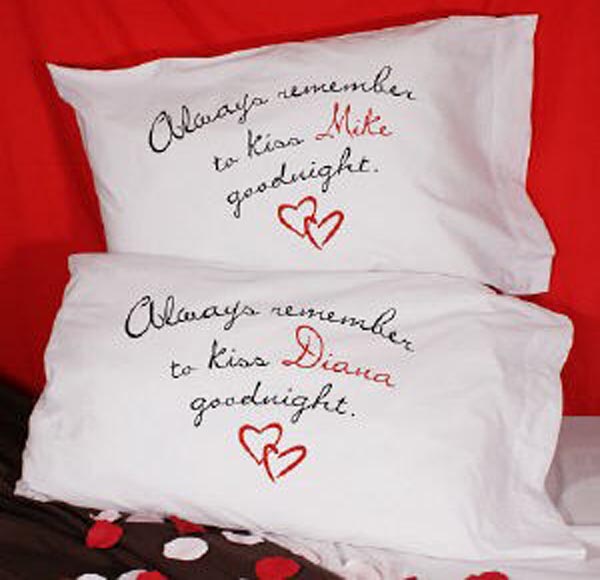 This cute little pair of pillowcases makes the perfect wedding gift. Made of 55 percent cotton and 45 percent polyester, the personalized couple pillowcase is made to fit standard or queen-sized pillow cases. It measures 20×32 inches. At a price of $11, it's a steal considering it can be personalized with the couples name alongside the standard engraving. What can't be done, however, is to change the font style but that's a small price to pay for an item that will used every night.
The 'Our Life Together' photo quilt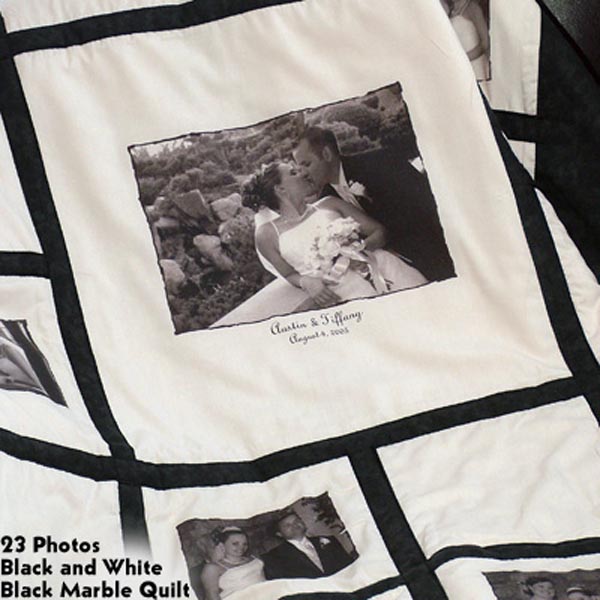 Quilts are an essential addition to any bedroom and what better way to make sure that it's used with love? The 'Our Life Together' quilt features memorable photos of friends and family and when used as a gift for a newly-wed couple, can incorporate the bride and groom's photos. If you've known the couple for a while then you can use pictures taken on holidays or birthday parties to create a collage of sorts as part of the pattern. It's easy on the skin too as it's made out of 100 percent natural cotton. The quilts can be created in 3 weeks and if you need them in a hurry you can place a rush order. They sell for about $170.
Personalized keepsake box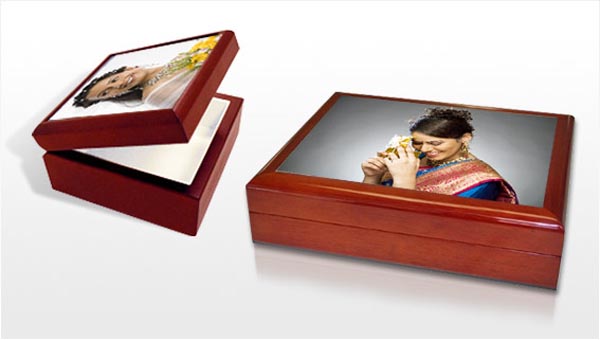 Women accumulate a lot of knick knacks and always need a good place to store their treasures. This personalized keepsake box is the ideal gift for a bride on her wedding day. It's made out of wood and features a photo (in this case, the bride's) on the lid. The interior consists of a soft fabric to safely protect keepsakes. It measures 5x 5×2.5 inches and costs about $15.
Oval white rimmed photo platter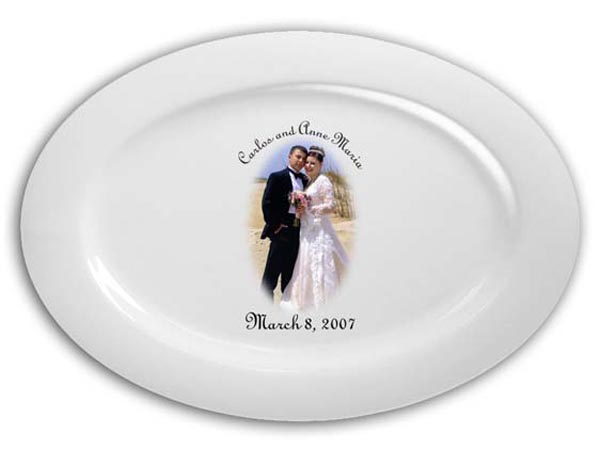 The oval white rimmed photo platter makes a perfect memento for a wedding. Made of porcelain china that's imported from countries like Thailand, Poland and Belgium, it features a photo of a newly-wed couple that you need to send while placing your order. The picture can be made to print in white, black and sepia tones and can be cropped in various ways like vertical oval, circle, rectangle and square. To heighten the design, you can ask the picture to have a feathered, solid or artistic border. Font type can also be chosen from a list of 12 options. The price of the photo platter begins from $118.
Engraved silver clock and frame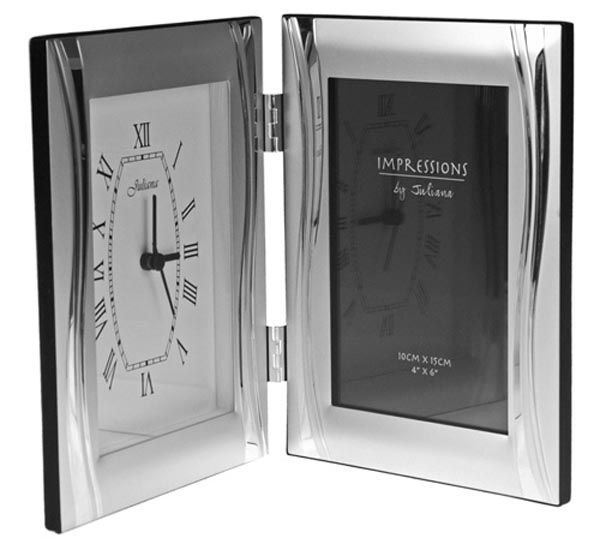 This is a handy multi-purpose item that features a classy clock and a photo frame that measures 4×6 inches. With a wavy design adorning the frame, the item looks contemporary and very stylish. A message of 40 characters (maximum) can also be engraved on the frame for a more personalized effect. It costs $47.
Personalized heart necklace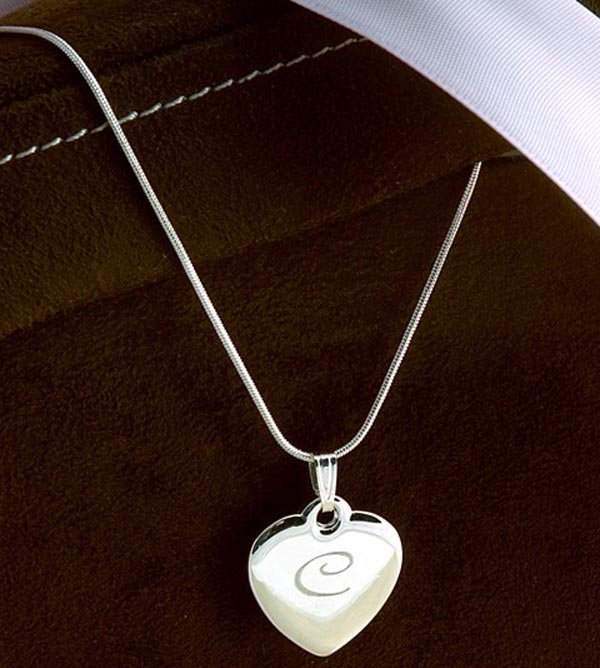 Most heart necklaces tend to look overdone or gaudy. But this particular piece is just the opposite with its sterling silver-plated element that the bride can wear with pride. Cool and classy, it features a simple woven chain that's finished off with an equally simple yet elegant heart charm pendant. It measures 16 inches in length and costs about $16. It comes with an organza gift pouch and can be personalized at no additional charge.
Photo handbags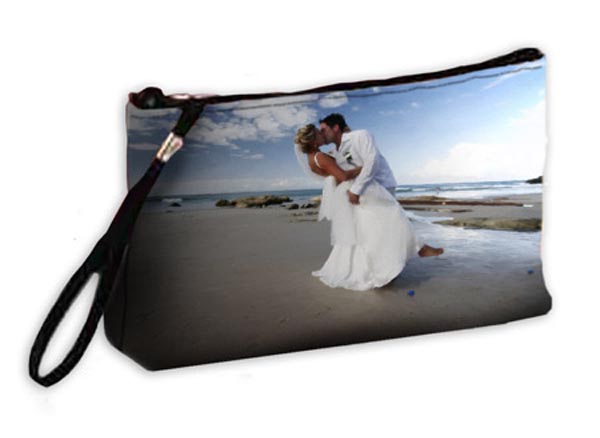 No woman can live without her handbag so this next item will make the perfect wedding gift for a bride. Unlike other clothing accessories that tend to look cheap when you try to personalize them, these photo handbags are surprisingly well turned out. Handbags aren't the choice that you have, however; you can choose totes, diaper bags, workout bags, purses and backpacks. After you send the makers a photo, they render it into what looks like an oil painting. The edited picture is then incorporated into the bag. Pricing begins from $80.