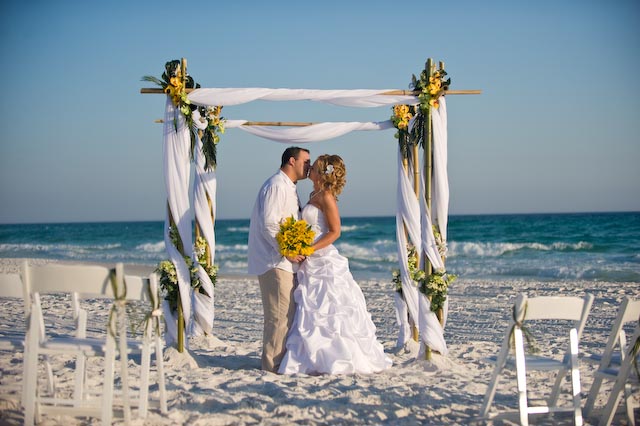 If the sun, sea and sunsets have always beckoned you, for the biggest day of your life, the wedding, nothing can be better than the beach. To make it an affair to remember, gear up for a romantic beach themed wedding. It is considered to be one of the most amazing wedding settings and a theme, complete with miles of sandy shoreline, exquisite blue waters and an awesome weather. There is not much that you need for the decor. Some simple things and you are all done with the chaos of preparations. Afterwards, its just fun and a memorable time to remember for all who witness the wedding standing near to the beach. No surprise, if even the married wish to get married once again at such a perfect spot. Here are the steps that you have to take to put it up really nice as a wedding.
Choosing a perfect beach
When you choose to begin a life long journey of love and companionship with a beach wedding, it becomes very essential to select a convenient location. You can either choose a nearby beach in your own country or an exotic destination in any another country. However, it is always better to choose a place that you know well. This would help you to plan and organize the event without any hitches. But, if you would like to celebrate your wedding at a far-flung beach, it is best to visit the place once before you make the final arrangements. Apart from these, look out for beach-side restaurants or hotels that are appropriate for hosting the wedding lunch or dinner. A convenient place for the reception can also be chosen in the same area.
Booking guidelines
When you are making bookings for the big day, remember to create a checklist for yourself. This would help you to keep track of various things. For example, if you want to say the vows before sunset, ensure that you know the correct timings for sunset. Similarly, if you are planning the event in another country, you need to have the necessary documents ready. After all, you do not want to mess up such an important event in your life just because you were slightly careless. If you have to make hotel bookings, do so in advance. It is always advisable to choose a beach that is less crowded. You would not love to get your wedding spoiled by too many of crowd.
Beach wedding invitations
Once you have finalized a location for the wedding, it is time to plan for the invitations. Just like your wedding, the invitations for this special party must also be extraordinary. Try to capture the essence of the beach in your card. Utilize mesmerizing pictures of beaches or include some motifs associated with the beach. Let the guests know about the date, time and venue of your wedding along with the dress code for the party. Depending on your preference, you can either arrange for a formal or an informal occasion. Accordingly, inform your guests and let them dress up appropriately. You can also send the wedding invitations inside a bottle. That for sure will look great as a beach wedding invitation.
Beach wedding party decor
If you think that a beach wedding can be executed without much attention to the décor, you are mistaken. You can actually make it a unique event with some awesome decorations. First of all choose a theme for the wedding. Since it is going to be hosted on a beach, the Hawaiian, tropical or surfing themes can be appropriately executed. Utilize the color of your surroundings for creating an outstanding ambiance. Make use of red, golden, yellow, blue and green colors for adding life to your celebrations. Sea shells and fresh flowers can be largely used for decorating the area. Even designer candle-holders that are shaped like sea shells or boats can be incorporated into the décor of party tables.
Beach wedding attire
The attire for a beach wedding is a very important consideration. Unlike other wedding ceremonies, this one is not going to be celebrated in an air-conditioned room. Rather, it would take place on the beach, under the sun, near the sea. Hence, you cannot go over the top with the clothing. Depending on the party theme, you can choose attires for this special occasion. While the bride and groom can opt for traditional gowns and suits respectively, guests can wear dresses with floral motifs, washed jeans and bright colors that perfectly suit the wedding ambiance. Do add some charm by using the sea ornaments.
Beach wedding footwear
The footwear plays a very important role in a beach wedding. Since you are going to walk on sand, there is hardly any option of wearing those high heels or stilettos. In fact, there are no rules for footwear when you are attending a beach wedding. Opt for flip-flops or choose to go barefoot, if you find that comfortable. Do apply some foot cream before you walk into the beach.
Beach wedding food
Tropical food, grilled meats, kabobs and sea food are perfect choices for the wedding menu. Different types of fruit juices can also be served at the food counters. Even smoothies and ice-creams would be great for the party. Coconut drink is also one of the best options as the tropical drinks. You can also use the soups such as Thai spiced watermelon soup with some crab. Try to include as many as alcoholic and non-alcoholic beverages to your beach wedding food menu.
Now when it comes to the cake for your beach themed wedding you do not have to stick to the old and traditional wedding cakes at all. As such there are no rules for the cake that has to be at such a wedding. So you can be as much innovative and creative while choosing one for yourself. Order something that looks cool and tastes just awesome. Fruits can surely form a great part of such a cake
Beach wedding music
For the music, arrange for a live band or get a DJ who can play the perfect tunes. To sum it up, the music should be such that it makes the beach wedding no less than a fairy tale. Having some great saxophone player at your end will give you the unforgettable taste of the music. You can choose among the various genres of music that you like. To get what you really want it is better to have some discussion with the bride and the groom because above all the whole theme has to be dedicated to make their special day even more special.