In 2003, when Ricki Lake got divorced from Rob Sussman she promised to herself that she won't marry for the second time for sure. But after 9 long years, maybe she had some contrasting thoughts about marriage and that made the 43 years old TV star elope with Christian Evans (40), that too for a secret wedding ceremony! She even tweeted the photographs of her wedding dress. The secret wedding ceremony was held in Southern California somewhere.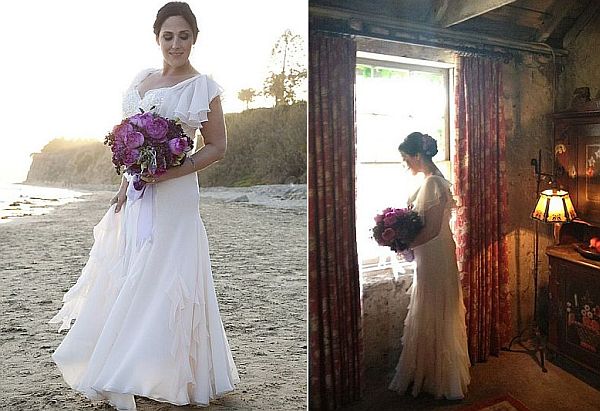 Former 'Dancing with the Stars' contestant Ricki Lake and her fiancé Christian Evans eloped all the way to unite as a married couple. For Lake, it was a beautiful and an unforgettable moment as told to People Magazine by her recently. She further told that she was really relaxed and excited without any nervousness. On Tuesday, she tweeted her pictures wearing wedding dress along with this message, 'Yup. This is me…. Sadie Sadie married lady. 🙂 🙂 Love is in the air. Xo'
Ricki wanted to have a beautiful dream wedding dress for her secret wedding; so she finalized Daniela Gschwendtner who is costume designer at 'Dancing with Stars'. Lake had all her faith in Daniela and even the costume designer didn't let her down. Choosing some of the favorite dress styles of Ricki, the designer created a silhouette wedding gown. It was like a blend of both a summer wedding dress and a traditional wedding gown. One of the sides of the dress had a soft peach colored tinge and the other side was kept cream in color. The waistline of the gown showed comparatively dark peach colored richness. The appeal of the dress was soft and romantic, as was depicted in the pictures that Lake shared with her fans on Twitter.
In 2011 Lake had announced her engagement to Christian. He proposed to her in Spain and for Ricki it was like a sweet dream after a bitter taste of union that she had in her previous marriage. She even has two children Milo (15) and Owen (10) from her previous marriage with Rob Sussman. Hope she will be second time lucky!