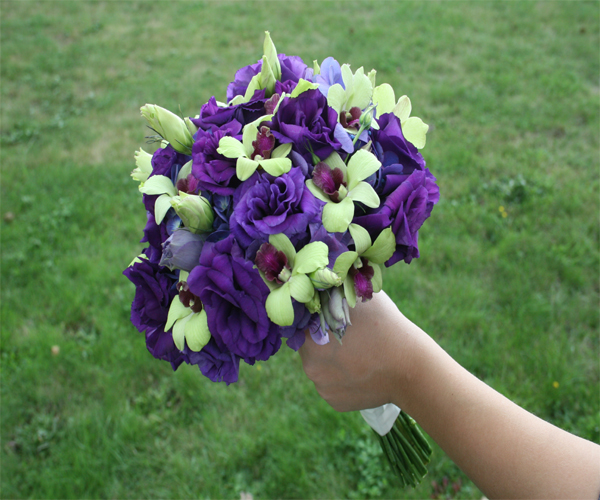 If purple is your favorite color then what could be more appropriate than going for a purple wedding theme on your D-day. The best way to reflect purple wedding theme is to incorporate purple colored flowers in wedding decoration and ceremonies. So, right from the bridal bouquet to floral centerpiece to bridesmaid's bouquet, purple flowers should dominate your wedding. Presented here is an array of beautiful purple colored flowers just for you. Select the one that you find most suitable for you.
Purple Hydrangea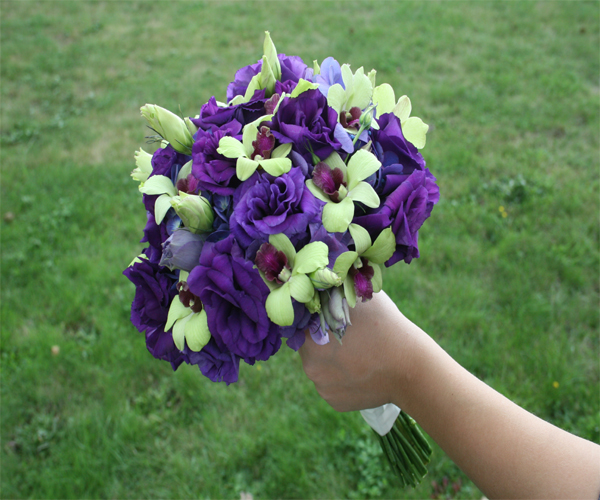 It will be an impressive idea to include purple hydrangea in your purple wedding theme. This flower is an emblem of elegance, respect and royalty. So, what else can you look forward to in order to transform your wedding celebration into a gala event? These tiny heart shaped flowers are the perfect indication of romanticism and your love for your better half. Purple Hydrangea looks best when the flowers are clustered together in the form of a large bridal bouquet. So, you can take idea from here and decorate your bouquet in the most unique fashion.
Purple Matsumoto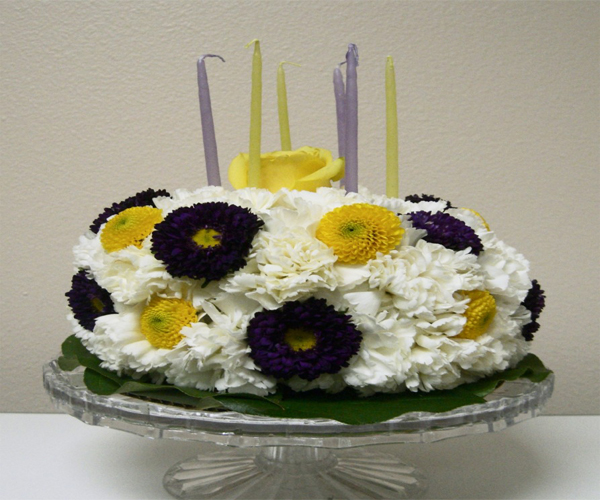 If you wish to add a touch of elegance in your purple wedding theme then our suggestion is that you must consider Purple Matsumoto. This beautiful flower is characterized by glossy dark purple petals. These petals are multiple in numbers and give the flower full bloom. Its blooms are comparable with that of daisies. The yellow center is a brilliant juxtaposition with its rich purple hue. The flower looks best when a bunch of Purple Matsumoto is arranged together as a bouquet. You can further make decorative centerpiece or other floral arrangements with this bright flower and win appreciation of the invitees.
Purple Rose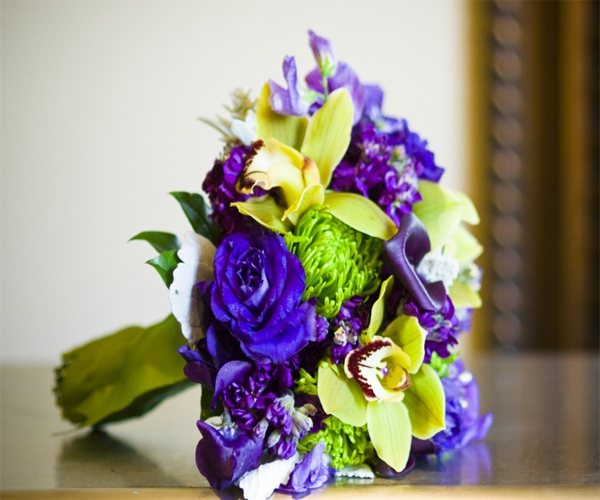 Where wedding is dominated by red and white roses, replacing them with purple roses will indeed be a rare event. But if you love to be extraordinary then do think of purple roses. These rare flowers will reflect your romanticism optimally. It stands for deep love and commitment. So, you can say a lot to your spouse by means of purple roses by not saying anything verbally. You can get variegated shades of purple roses like violet, eggplant, lilac, mauve, violet, lavender, wine, pomegranate, thistle, etc. So, you are at liberty to choose the shade that matches with your bridal trousseau most perfectly.
Lisianthus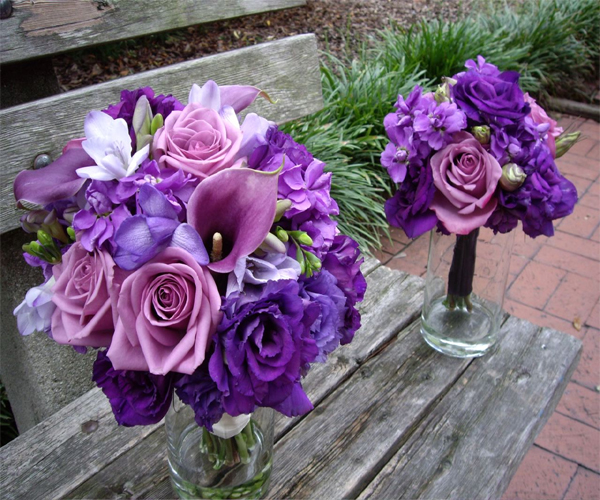 This flower, which looks like rose, has been referred as Texas Desert Rose since ages. If you are in the lookout for the true tone of purple in your wedding then we suggest that Lisianthus will be the showstopper on the special day of your life. It is also available in cream and light pink. But the royal purple tone of Lisianthus will add a different touch to your purple wedding theme. It looks equally grand in floral arrangements comprising of white flowers too.
Purple Daisies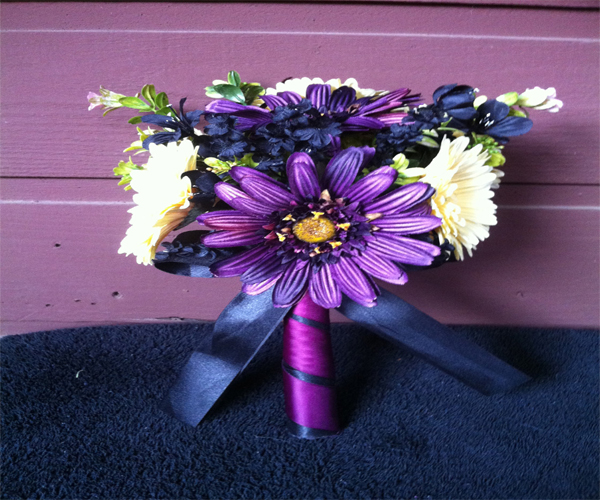 Be it a simple wedding or an elaborate one a simple daisy can add a spark to it. Therefore, the best way to do justice with your purple wedding theme will be to go for purely purple daisies. These delicate flowers are available in variegated shades of purple. So, you can go for a pure purple theme wedding by opting for different shades of purple from bridesmaid's bouquet to bridal bouquet to floral centerpieces. An expert tip on this, daisies look best when they are used for casual weddings.
Gladiolus Flowers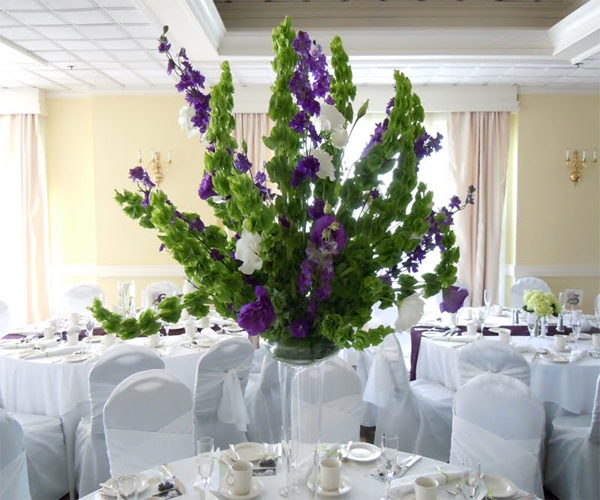 Since time immemorial gladiolus flowers have been used for floral arrangements in different occasions. But, have you ever thought how awesome a few strands of fully bloomed gladiolus will look in a purple wedding? The broad and slender leaves, the juicy straight stalk and the handsome lily-like blooms will stand out amazingly among several bridal bouquets. This flower is economical and available in a number of shades. So, getting hold of a purple one will never be a mammoth task. You can use purple gladiolus with other flowers too to make your bridal bouquet will look heavenly.
Pansies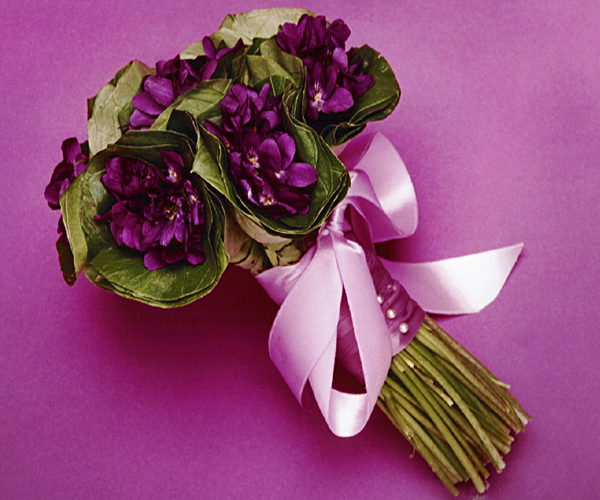 Pansies reflect the mood of fun and frolic in the best manner. So, if you are a bubbly and happy go lucky woman nothing can be more capable of depicting your personality on your wedding day other than pansies. Pansies are characterized by soft petals that open fully to reveal the bright contrasting center. Thus, pansies seem to smile happily. So, capture this jovial spirit in your purple themed wedding my incorporating pansies in the floral arrangements. The two layered arrangement in some pansies give the virtual impression of two flowers placed together. So, select carefully. A handful of wisely selected bright pansies in different hues of purple can together create a much fuller bridal bouquet for you than you have ever expected.
Orchid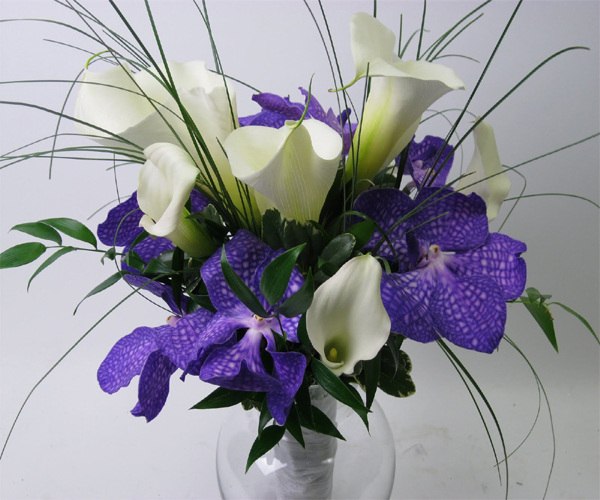 Whatever may be the occasion but orchids always dominate the arena of flower arrangement. Thus, you might be equally fascinated with these ornate flowers like majority of the people. But are you confused whether you can use them for a purple wedding theme or not? Our advice is that you can definitely do so. Orchids are available in various shades of purple, like mauve, violet, lilac, indigo purple, etc. So, select the one that you find best for your wedding theme and make the event a gala one. You might not know but purple orchid stands for sheer love and romanticism. So, is there any other flower more suitable for you than purple orchid?
Purple Calla Lily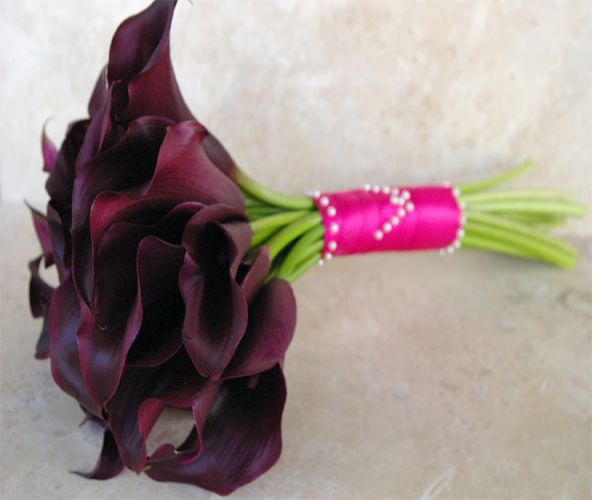 Regarded as the flower of the kings and the queens, Purple Calla Lily can transform your wedding into a royal event too. This flower is marked for its majestic look. The tall stalk, thin leaves and flowers resembling folded heart reflect the blush and passion of a newlywed bride in the most appropriate way. So, you can always consider them on your theme wedding.
Purple Hibiscus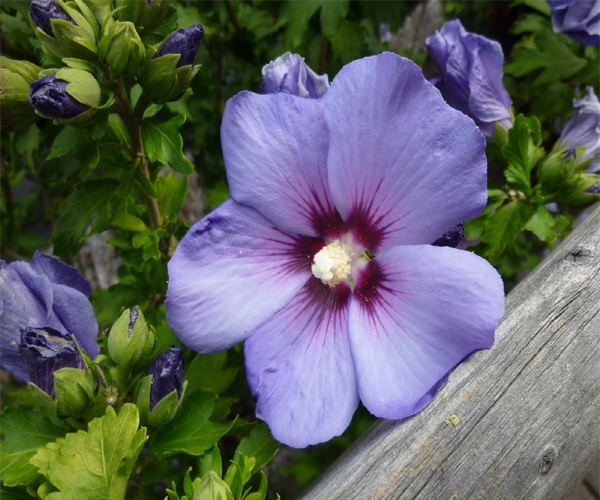 This tropical flower is remarkable for its brightness. Available in a host of colors your hot pick for a purple wedding is definitely going to be the ones in various shades of purple. Purple hibiscus gives the most apt impression of a vintage wedding. So, go for it and use it in your bridal bouquets, flower decorations and floral centerpieces.