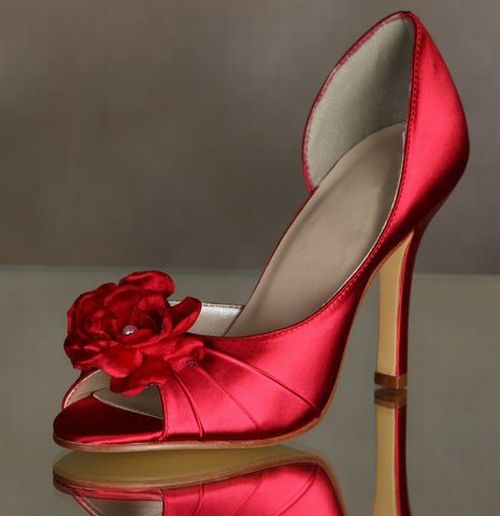 Wedding is that gala occasion when you want everything to be perfect. Adorning a red shoe for your big day with a white regal gown is sure to make an uber statement. While you walk, the shoe will pop out under the dress, glamorizing the moment. So, if you are too sexy for your shoes, we bring in 7 most beautiful red wedding shoes that will add glitters to your wedding day outfit. Get set to dazzle your special day.

1. Red Bridal Wedding Shoes Flowers High Heel
BRAND : Handmade by Parisxox
PRICE : USD 142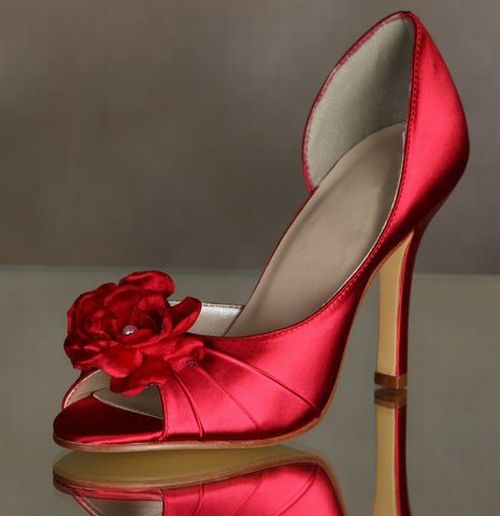 Walk down the aisle with this snazzy red hot shoe that will make an iconic statement. It sprinkles the true side of eternal love when you walk. Your feet are going to love this color. The shoe is entirely wrapped in red satin which gives a sassy feel. It has a beautiful satin flower embellished with a Swarovski crystal and nicely placed in the front.
USP
The tantalizing red satin wrapped all over the red shoe is surely going to make you the belle of the ball.
PROS
It has the quintessential boho style.
The heel size is 3.5 cm.
It is handcrafted.
2. Scarlet Red Peeptoe With Matching Red Rhinestone Adornment
BRAND : Handmade by DesignYourPedestal
PRICE : USD 165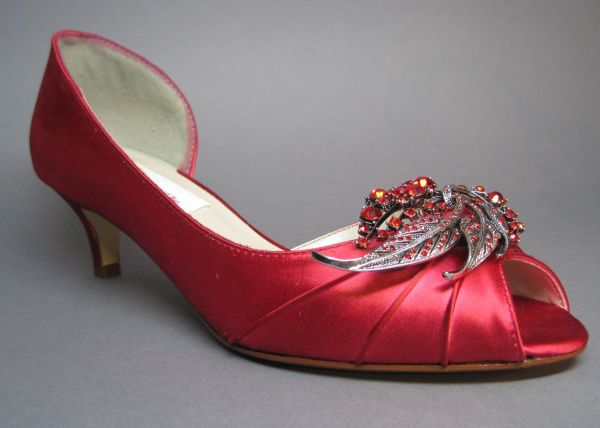 Let the stars fall on you while you walk wearing this jazzy number at the wedding. The peeptoe is in vogue and this can be the best one to pick for your big day. It shines because of the satin fabric that has been used. You can keep your eyes off the rhinestone adornment because it creates a musing effect.
USP
The charismatic rhinestone adornment done on the shoe is eye stealing.
PROS
This shoe has been made keeping in mind the Hollywood regency.
It is hand crafted.
The heel size is 1 ¾ inches.
3. Rhinestone Covered Sling Back By Coloriffics
BRAND : Coloriffics
PRICE : USD 89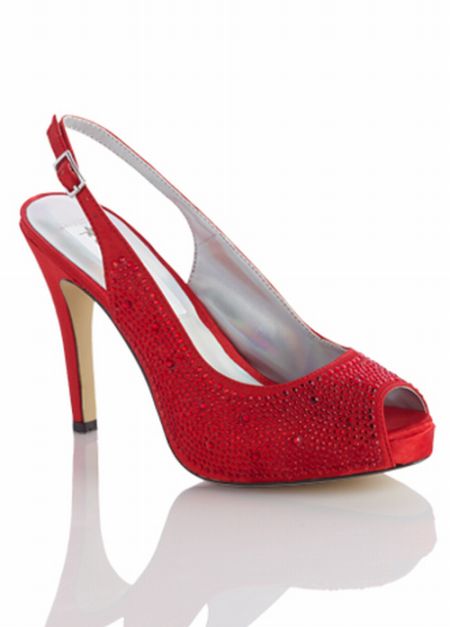 Create an air of zing with this rhinestone covered shoe with sling backs. While you are clad all in white the contrast of luscious red is sure enough to indulge the onlookers in the beauty of your dressing. Raise the bar of your style quotient with this peep toe shoe that is in fashion. It has leather sole and the upper body is made of satin.
USP
With white rhinestone work done on the top, this shoe is as royal as you want.
PROS
The heel size is 4 inches.
The shoe is made with leather sole.
4. Wedges Satin Wedge Heel Rhinestone Wedding Shoes (GWBS0080)
PRICE : USD 62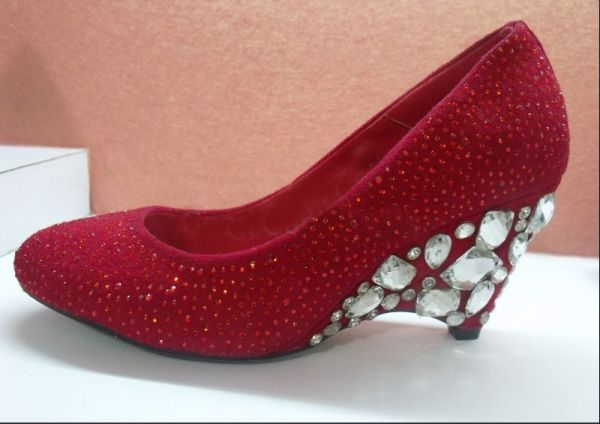 Step in this sexy shoe on your wedding and create a difference. With upper layering done with satin fabric, this shoe sprinkles sassiness around. Pamper your feet with this outstanding shoe that is sure to bring accolades for you.
USP
The rhinestone embellishment done on the wedge heel is truly tantalizing and gives a magnanimous experience.
PROS
It is in wedge heel.
The height of the heel is 2 inches.
5. Red Wedding Shoes, Bridal Shoes Bows Desirable
BRAND : Pangma
PRICE : USD 21.99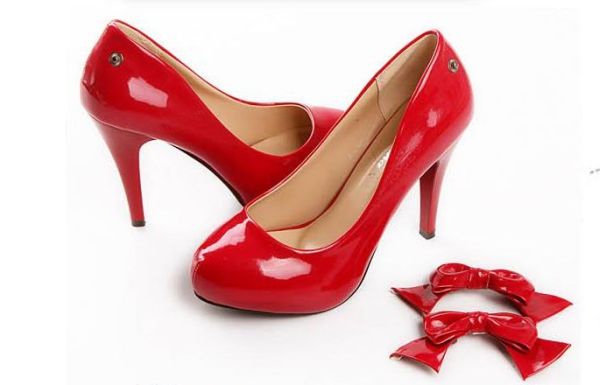 Let the smiles emanate from the cockles of your heart with this red hot number from Pangma. The round toe style looks eclectic and leaves an impression on the wearer. It has a rubber sole for proper grip.
USP
The pretty leather bow attached at the back of this sexy red shoe, makes it desirable and charms your beau's heart.
PROS
It is made of leather.
The cortical features patent leather.
6. Luichiny Women's April Lou
BRAND : Luichiny
PRICE : USD 67.15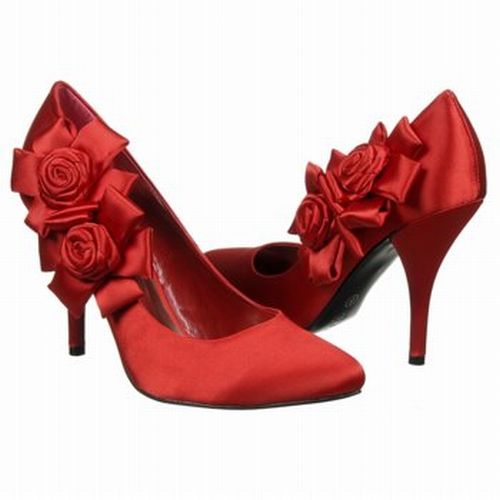 Get the onlookers cooing while you walk niftily at the altar with your man in this Luichiny shoe. It has all it takes to be on the top. The pointed toe gives a sharp edge to your look. This shoe has a smooth lining with cushioned footbed for that comfort which you seek while standing for long hours during the exchange of your wedding vows.
USP
The satin flower accents on the side, create an alluring effect.
PROS
It has a flat traction outsole.
The heel is of 3 ½ inches.
7. Pour La Victoire Bridal And Evening Giada
BRAND : Pour La Victoire
PRICE : USD 86.99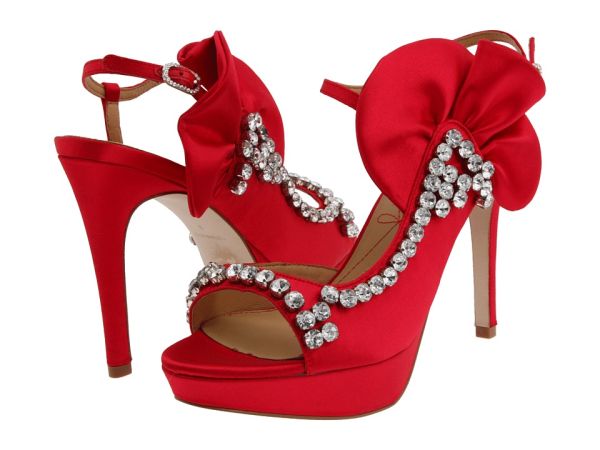 Be the perfect bride on your special day. Mesmerize your man by stepping into this sultry shoe that has beautiful embellishments done. The satin covered heel and platform is worth admiring. Its ruffle details are sure to garner attention.
USP
The clear stone detail gives the sparkle and shines with the feminine edge to your look.
PROS
It has adjustable buckle.
It is padded to give that comfort while you shake a leg on the dance floor.
The leather soul is very durable.
The height of the heel is 4 ½ inches.