The 46-year-old actress, the Gossip girl star, Elizabeth Hurley and world famous former Australian cricketer Shane warne are planning to get marry next year in two countries; Britain and Australia. In an interview to a magazine, the couple also shared many funny things about each other; like their pet names and how they are perfect for each other.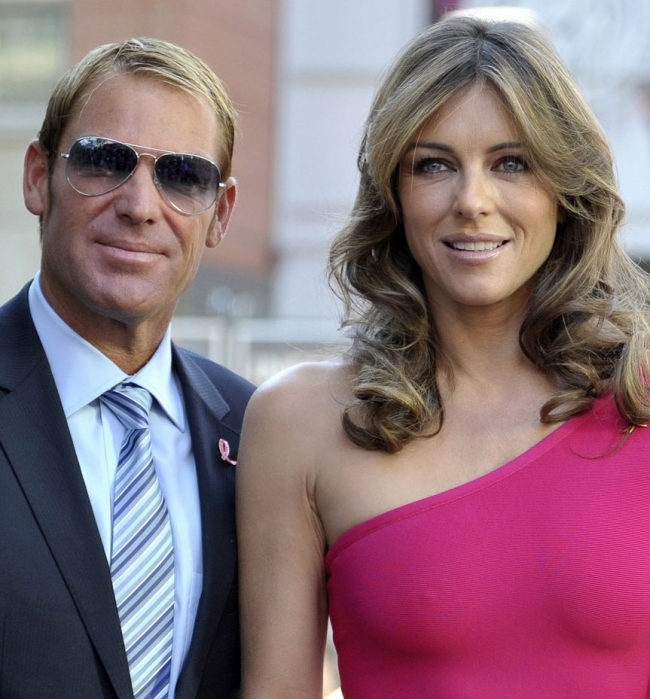 The couple says that they usually call each other with pet names. Former Aussie cricket star Warne is called as "Big Blond" by Liz and the actress is called "Luna" by him. When asked about the reasons behind calling with these funny names, Elizabeth Hurley replies that she calls him by the name "Big Blond" because of his hair color and Liz is called "Luna" because of her picture, in which she was kissing to shane, with a "massive mouth" in a newspaper.
Shane warn also reiterated that Liz calls her with names, more than just Big Blond and most of them are too embarrassing to share with the media. The couples have spoken for the first time about their relationship in media and during this interview, they revealed many things about their relationship.
Shane Warne said that he can understand, why there has been a lot of stir and confusion about his and Liz relationship. He said though, they both come from two different world but they are very much the same too.
Elizabeth Hurley also said that she feels happy and lucky to with Shane as they both share a same equation with each other. Giving pause to the surgery rumors, actor said that he can 100 percent assure that he did't have any kind facelift in his life.
Charming and Glamorous couple also said that they are likely to get marry next year and they will celebrate their wedding in their native places.