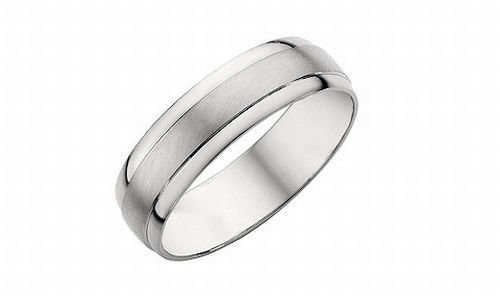 An engagement ring is something that signifies your precious relationship. And when it comes to men, the ring must reflect your man's personality and style. Since it is the ring your partner will treasure for the rest of his life, so it should be stylish and created by uncompromising workmanship. Here we have handpicked a few extremely stylish engagement rings to make your man feel special.
Platinum Men's Matt/Polished Wedding Ring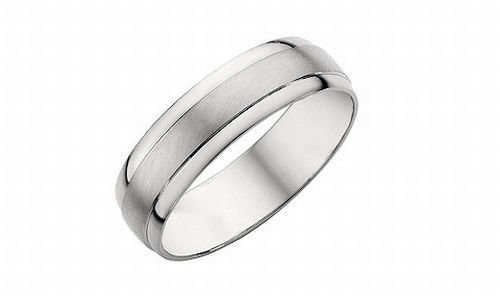 This platinum matt ring will put you in a position to redefine your love and moreover produce a special and unique bond with your man. This platinum matte ring is exquisitely crafted and its rounded polished interiors allow the ring to glide comfortably onto your man's finger. This ring is available from sizes M-Z and also with polished and matte finishing. This platinum band measures 0.5cm wide. You can also add a personal touch to this ring by engraving message on it. The message should not exceed 25 characters and the fonts can be chosen to be traditional or modern.
Men's platinum men's diamond set wedding ring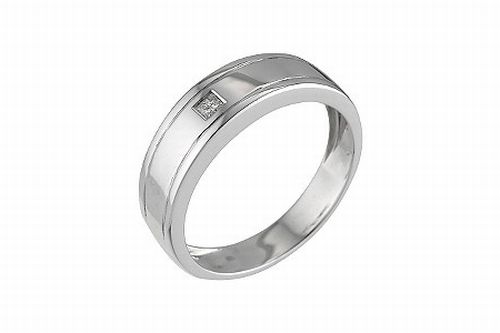 The platinum men's diamond set ring is elegantly crafted in strong and radiant platinum with a modern approach. The shivering platinum band of 0.6cm width is set with a square cut diamond and carat ranging from 0.01c to 0.24c. The design has a rub-over setting. The ring is available from P-Z sizes. This ring definitely adds a touch of sparkle to your engagement. Make your engagement a unique celebration with this stylish ring.
Men's 9ct white gold milgrain wedding ring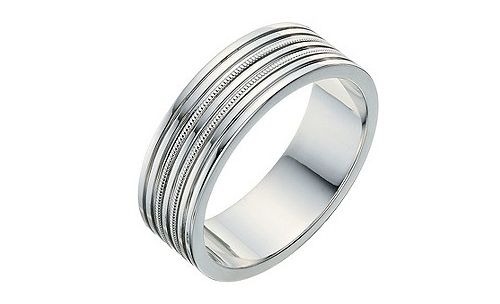 The men's 9ct white gold engagement ring is the most exceptionally wonderful solitaire engagement ring which makes a spectacular statement on any finger. Milgrain engagement rings are one of the oldest and most conventional embellishments seen on classic men's engagement bands. The solid 9ct white gold of 7mm width features elegant grooves and 2 rows of mil-grain design. This ring is available in sizes P to Z and adds an elegant touch to the celebration.
Tungsten Carbide Men's 1/5ct TDW Black Diamond Grooved Ring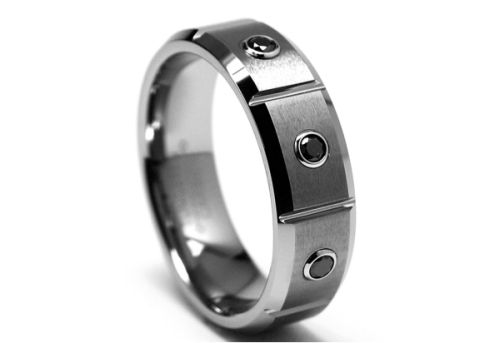 The ring is simple but stylish in its own way showcasing 3 round-cut black diamonds set within a brushed finish band. The ring looks beautiful and the craftsmanship is great. Tungsten carbide is a unique color and the grooves add to the overall appearance of the ring. The solid band of 7 mm width and 2.5 mm length is designed to a flat top featuring a comfort fit. The black round cut diamonds are of 1/5 ct and are bezel set with the band. The ring weighs 13.8 grams.
Sterling Silver Patterned Groom Ring 7.9mm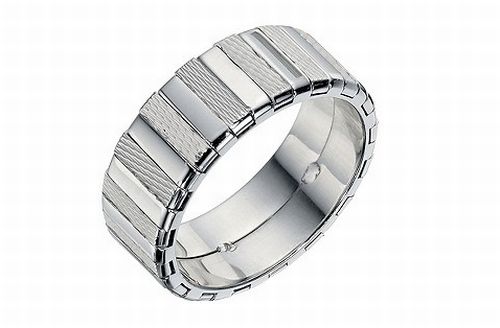 Sterling silver rings are becoming extremely popular these days. This stylish and sleek sterling silver ring appeals to the man who is contemporary in his taste. It even looks better than other metals and imparts uniqueness in your celebration style. This lustrous ring is finely polished with contrasting patterned edges. The solid silver band is 7.9mm wide and 0.2cm height.
Groom's 9ct Gold Patterned 9mm Wedding Band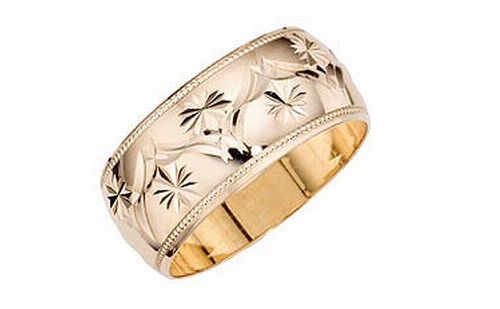 This beautiful engagement ring is just the perfect way to convey your love to your partner. The classic and elegant 9ct yellow gold band is diamond cut and measures 0.9 cm wide and is beautifully designed with stars. The edges of the band are fabulously trimmed with beaded accents. This ring is available in sizes J to Z+6.
Royal Duet 18ct gold two colour 10mm wedding band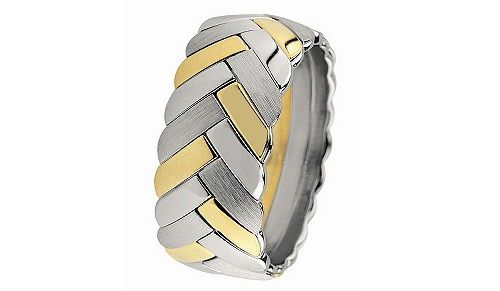 This Royal Duet ring is an exclusive design of Ernest Jones. It has a remarkable craftsmanship. Royal Duet blends various precious metals together and has stunning intricate designs. The solid band is 10mm wide and is composed of 18ct gold of two different colors. The Royal Duet ring is fabulously designed by contrasting these two colors. You can choose the perfect size from P to Z. this ring represents your love and loyalty to your partner.
14k Two-Tone Gold Men's Celtic Wedding Band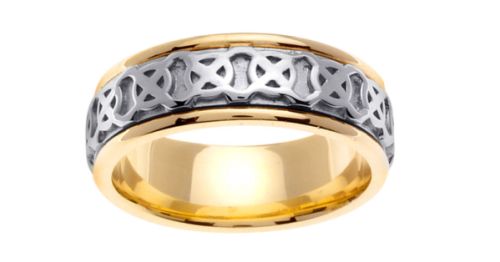 14-karat gold is the best accepted karatage of gold. The stylish solid gold band features a two-tone Celtic design at the center all along its length. The band has high polish finishing and measures 7.5 mm wide. The classic colors of the ring are eternal and represent an elegant and tasteful event. A lot of people admire the classy look of this Celtic design.
Tungsten Carbide Men's Diamond Accent Dome Ring (7 mm)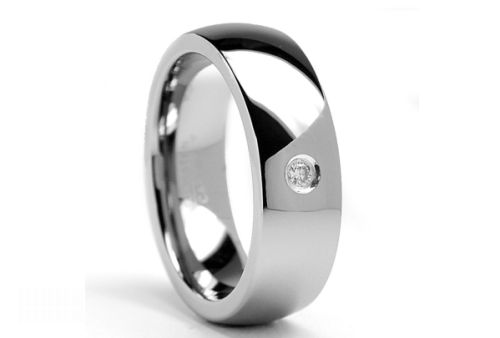 A tungsten carbide diamond ring is an asset that integrates beauty and aesthetics together. The polished dome band has a round cut with bezel set at the center. Tungsten is highly scratch resistant and is four times stronger than titanium. The ring has a flat top and brushed finishing. The glittering diamond at the center draws the all the attraction. This ring provides comfort and is nearly indestructible.
Tungsten Carbide Diamond Mens Band .20CTW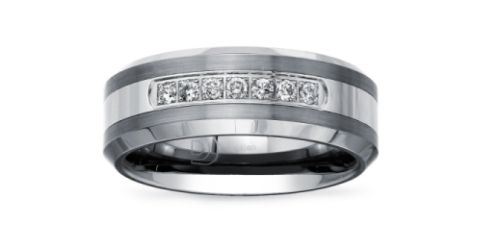 Men's tungsten diamond rings are representative for any man's engagement day. This tungsten men ring is popular for its toughness and elegant unique look. It is ideal engagement band as it offers comfort, style and scratch-free qualities. The band excellently crafts 7 diamonds in a row in a stainless steel channel styled setting and the edges are beveled for a comfortable fit. The glittering square cut diamonds are of 0.20ctw and add beauty to the ring.