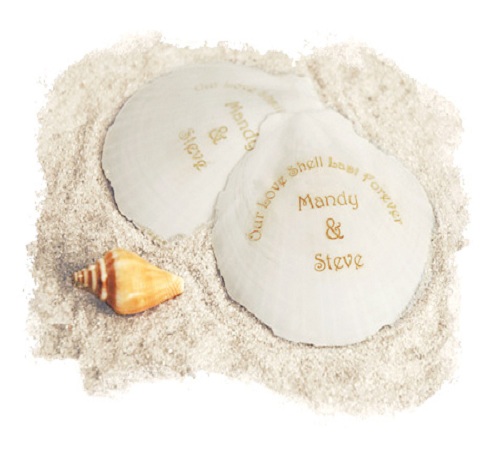 If you are planning to get married, wedding party gifts are an essential area of attention. Party gifts should not only add to the splendor of your big day, but also have a unique flair that grabs attention. Listed below is an array of unique party gifts that are suitable for just about any theme or budget.
Personalized Sun and Moon Seashells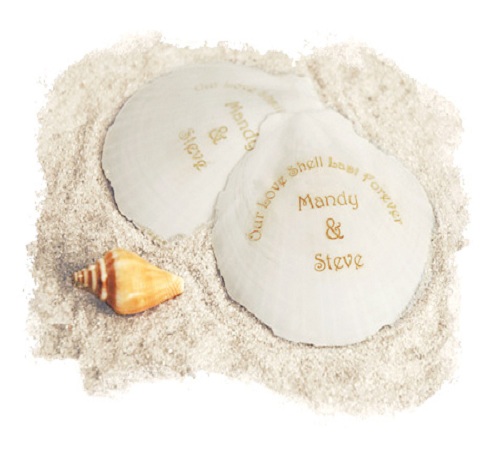 Complete your beach theme wedding with these elegant and decorative natural seashells. Measuring two to three inches, this unique ornament can serve as a keepsake favor for your guests. It has a beautiful luster and can be personalized in a wonderful golden brown lettering. No two being exactly the same, they make a perfect and exclusive party gift for your wedding.
Personalized Magic Wishing Beans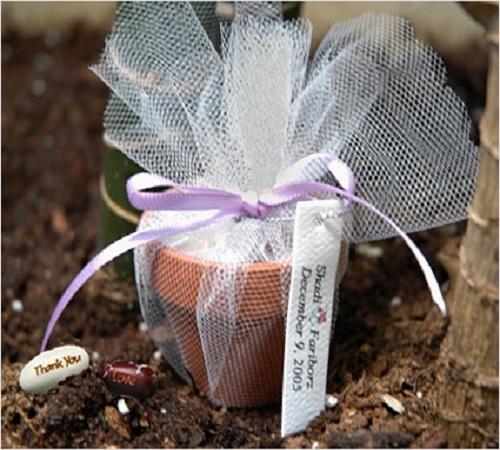 These magic wish beans, imprinted with personal message, is fun for all ages. With words of gratitude on the pods, these magic wish beans will sprout blissful wishes of love and happiness. Nestled inside the pot, they are wrapped inside elegant white tulle and embellished with a satin ribbon of your choice. These magic-wishing beans can make a great-personalized wedding party gift that your guests can either keep as a sentimental token or plant it. Planting instructions without affecting the words on the pods are included in the package.
Engraved Silver Asian Wood Chopsticks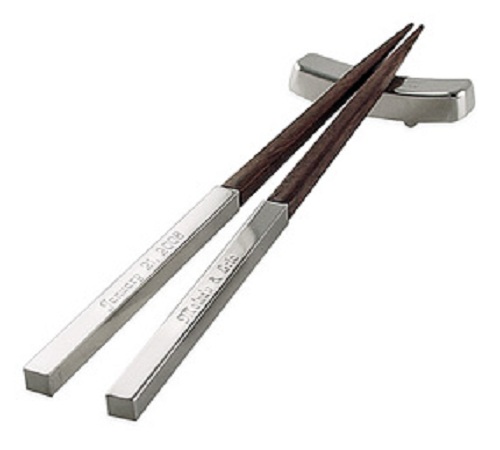 Symbolizing the union of two individuals, these beautifully engraved chopsticks will be enjoyed by your guests for years to come. Unlike, the traditional pair of Asian chopsticks, these are made of wood and the ends are silver-plated. A matching silver holder comes bundled with the package to be used when on display. The free personalization of your choice such as the wedding date or couple's name can be engraved on the silver hands to make an exceptional impression.
Potpourri & Seashell Beach Sachet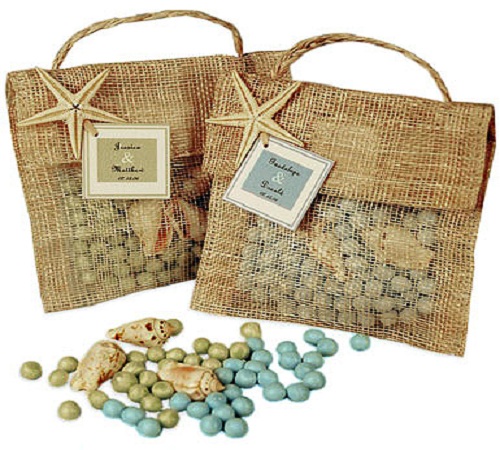 Potpourri and seashell beach sachet can make an impressive and a unique party gift. The luxurious fragrance of this seashell sachet is a great way to thank your guests on your wedding day. Each jute bag is filled with tiny seashells and special scented potpourri in either soothing green tea or relaxing blue bamboo fragrance. A real miniature starfish is also included as an embellishment. This fabulous sachet can be used to freshen up any closet or drawer. Additionally, elegant favor tags can also be used to add a personal touch.
Chinese Sandalwood Ribbon Fan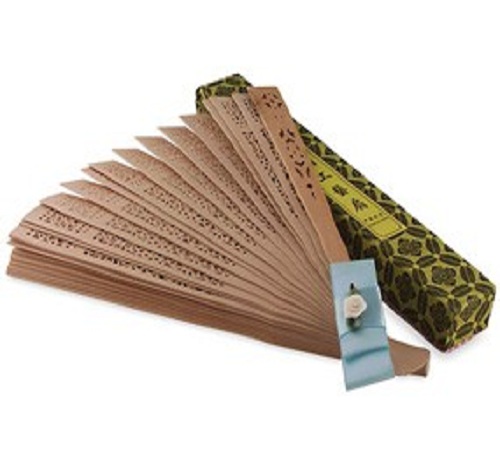 These elegant hand fans are the perfect gift for any wedding that takes place during summers. Crafted from Chinese sandalwood, with an intricate filigree design on each wooden stick, these will not only look stylish, but will also help your guests to stay cool during a warm sunny day. These sandalwood fans are adorned with a beautiful chic satin ribbon bow along with an attractive little white rose. For protection, each fan is separately packed in a wonderful decorative green gift box.
Wood Treasure Chest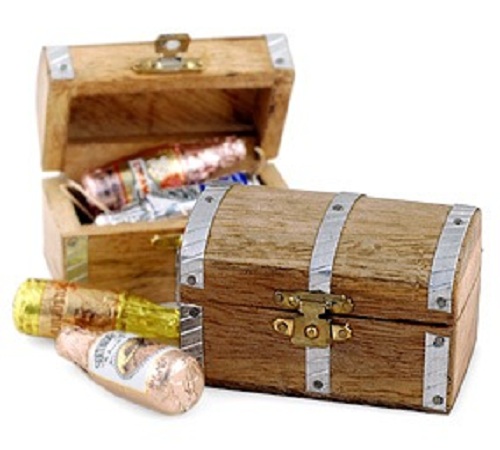 Complete your beach or island wedding theme with these miniature treasure chests. Each box is handcrafted with sturdy wood and accented with aluminum strips. Traditional in every sense, a golden colored lock is included to add a surprise element. You may include other favor items such as little goodies, candies, or beach themed gifts to double the dose of happiness for your guests. For an extra touch, add a personalized message engraved on the bottom of each box.
Liquor Filled Chocolate Bottles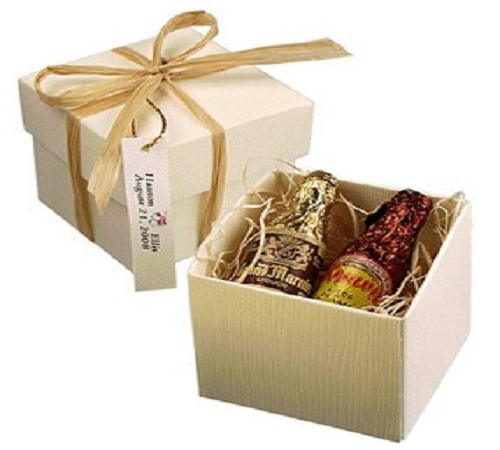 Suitable for adults only, this liquor filled chocolate bottles can make adorable and delicious wedding party gifts. Packed in an exquisite ivory colored favor box and adorned with a natural raffia ribbon your guests will surely be delighted to receive it. Each box contains two chocolate bottles filled with assorted liquors and can be bought at a price tag of $ 3.29. You have an option to personalize the box with a tag at an additional cost of $ 0.35.
Chrome Heart Wine Stopper and Chrome Tuxedo Heart Corkscrew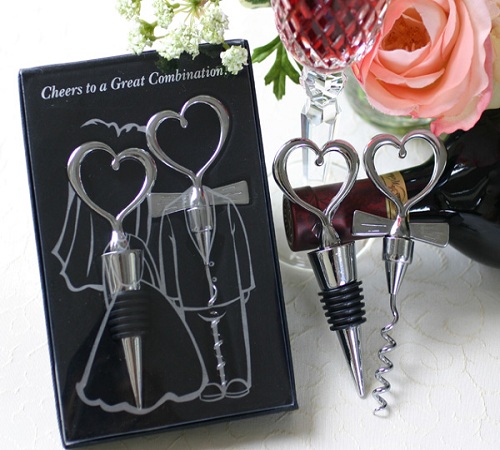 Celebrate the combining of two hearts with this stylish and practical heart shaped wine tool. Packed in an elegant and decorative velvet lined box with a see through top, it consists of a chrome heart wine stopper and chrome tuxedo heart corkscrew. Representing the bride and groom, each box has a silver whimsical outline and reads, "Cheers to a Great Combination!" This is a fantastic party gift that your guests will cherish for years and years to come.
Stunning Calla Lilly Candle Holder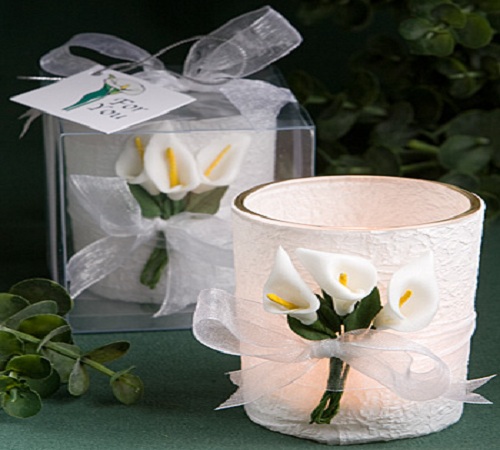 Candles always make a great wedding party gift and are even better when combined with a calla lily theme. Boxed in a clear acetate pack, each favor has a see through glass holder measuring 2 ½ * 2 ½ inches. The holder is beautifully wrapped using a white colored textured paper and adorned with a white organza ribbon over three stemmed calla lilies bunched together. Each box also contains a white tea light candle and a tag lettering "For you".
Pretty Damask Design Manicure Sets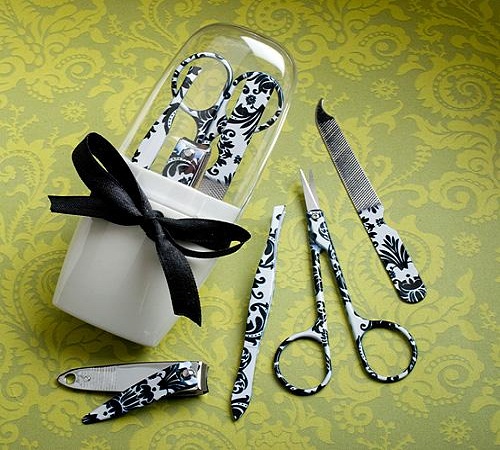 Pretty and useful, your girls would love this damask manicure set. This unique party gift is ideal for weddings and bridal showers. A product of Fashioncraft, each manicure sets includes nail scissors, nail file, metal tweezers, and a nail clipper, in a typical white and black damask design. The tool is packed in a holder inside a white plastic case having a clear top. Measuring 4.5*2 inches, the damask manicure sets are adorned with a black satin bow.