Weddings are special and if a celebrity is tying the knot, then the whole hullabaloo attached to it escalates further. Irish singer and songwriter Sinead O'Connor got lucky for a fourth time and has entered the nuptial bond again with her online boyfriend of three months, a therapist Barry Herridge. The wedding was announced just two days before the ceremony, which took place in Vegas on December 9th.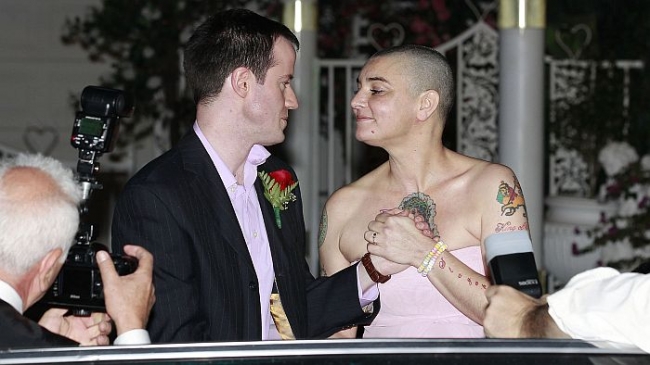 Wedding Look
The day also happened to be Sinead's 45th birthday and this special event of her life was held at the Little White Wedding Chapel, Las Vegas, which lasted for as less as 15 minutes with no guests to savor the occasion except her four children and a cameraman. The controversial singer rose to fame with her debut album named The Lion and the Cobra. Sinead looked quite chic in an elegant strapless maxi gown. The pink color made her look younger, which she accentuated further with pink colored silver and metallic heels. The singer is known for her tomboyish streak, which she managed to conceal pretty well with her fairytale pink(y) look.
Wedding dress
The color pink reflected on the couple's skin and made them look very elegant and deep in love. The groom tried to match up with her oh-so-famous bride by wearing a pink shirt, which he wore under a black suit. The lapel was decorated with a red rose which blended perfectly with the bouquet that Sinead was carrying all the while. The couple looked very much in love and couldn't stop staring at each other. The low cut dress worn by Sinead couldn't keep her colorful tattoos hidden that decorate her arms and her chest. The dress was very simple and plain. It looked elegant but there was nothing flamboyant about what the singer wore.
Extra bites
Sinead carried her trademark shaved head in style with her very girly strapless dress. She couldn't help but flaunted her absolutely stunning gold and ruby ring. The singer also posted pictures of empty chairs, poking celebrities who entertain a crowd during such ceremonies. The couple drove away from the church, making heads turn in a pink colored Cadillac that was a perfect pick looking at the costumes they adorned for their D-day. The sumptuous car was reminiscent of the iconic car that was owned by Elvis Presley. The unusually girly attire made Sinead look gorgeous and here is wishing her a blissful married life, hoping it lasts forever!