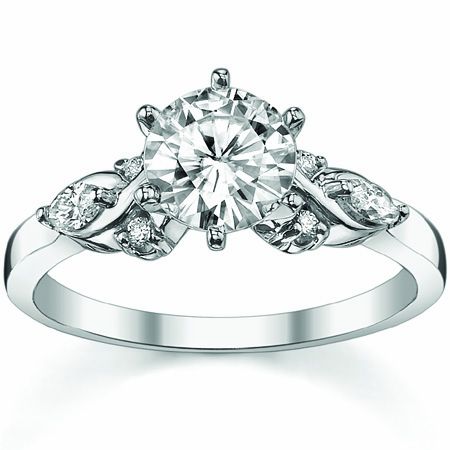 Marriage is not just the beginning of a beautiful relationship but also the end of the journey one takes to find the other half of their soul. Engagement celebrates this union of two individuals. It is only fair for this commemoration to be completed with the perfect proposal and the perfect ring. Though, the ideal ring is difficult to find but a deep thought and a bit of knowledge can help you find the perfect gift of love for you. Check out some of most beautiful moissanite engagement rings for the love of your life.
Square Brilliant Moissanite Engagement Ring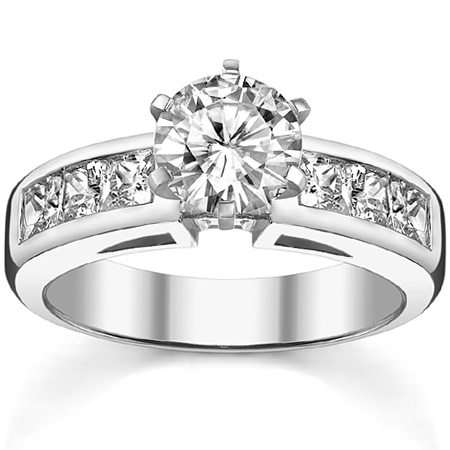 This exquisite ring will surely sweep your special one off her feet. This ring has a setting of 1.1 carat moissanite stone placed right at the centre with the luminosity of square Moissanite stones of smaller size set on the sides. The ring is made of 14 carat gold or palladium. The gleaming band measures 3.77mm at bottom, 4.9mm at the top and 4.6mm at the sides. The beauty of this ring is spell bounding and is definitely capable of making your girl fell special
Moissanite eternity ring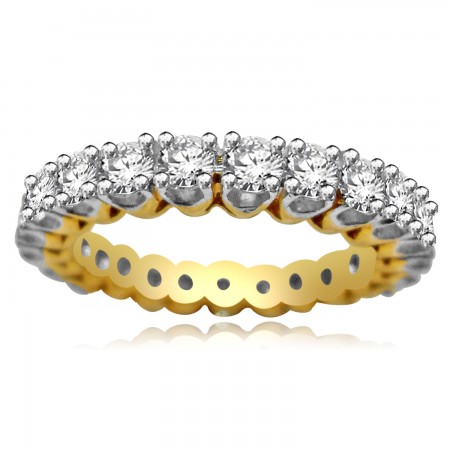 This ring has a magnificent wreath design with intricacies executed skilfully. It has well cut round moissanites stones all around the ring which enhances the grace and permitting massive amount of illumination from all angles. This ring looks angelic and absolutely stunning
Tiffany Style Moissanite Engagement Ring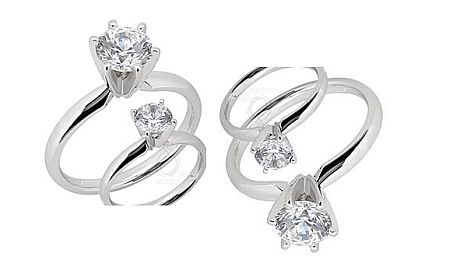 This ring reminds one of poise and elegance of a woman combined rightly with the passion and zeal of a girl. It has a refined crown design at the centre with a round well cut moissanite stone set into this coronet. It reminds one of the class of women like Audrey Hepburn and Elizabeth Taylor
MOISSANITE SOLITAIRE ENGAGEMENT RING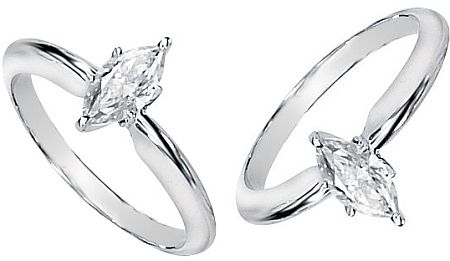 This ring has a very unique design. The shape of the centre stone is elite and striking. The ring is made of 14 carat yellow gold. It has a marquise shaped centre stone which is very sleek and stylish. The central stone is a 0.5 carat Moissanite solitaire. The ring has a sense of romance emotionally involved with it which makes it all the more desirable and the ideal choice for your girl
Marquise Diamond & Moissanite Engagement Ring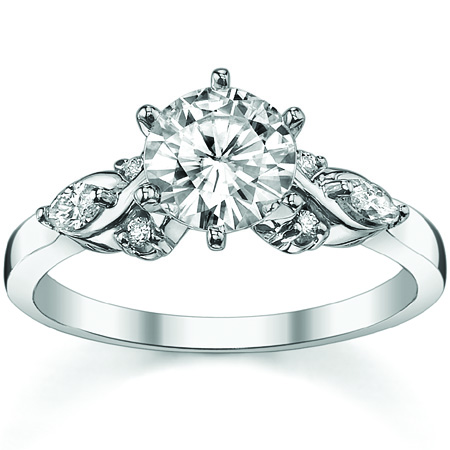 This one is a gorgeous choice for an engagement ring. It has a centre stone which is a well defined round shaped diamond. The stone is around 0.20 carats. It has a delicate reaper design around the stone with smaller marquise shaped stones set into the niceties. The finish of the ring is 14 carat yellow/white gold. The ring is completely delightful and is the perfect one to go down on your knee with. The ring is sheer beauty and elegance
Baguette Moissanite Engagement Ring setting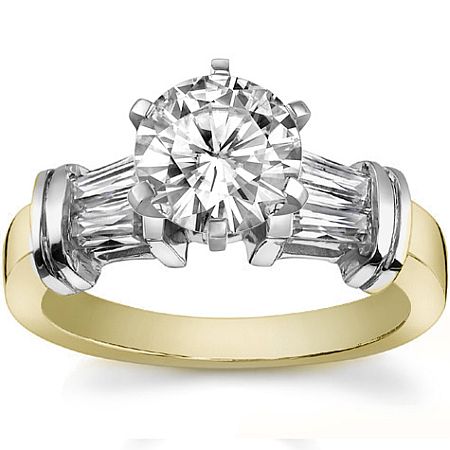 An extremely stylish and fashionable design, this one has a distinctive setting and this illustrates the beauty of the diamond. This ring has been set in palladium or gold of 14 carat amounting to about 7.7 grams. The centre stone is a brilliantly cut and it is bordered by four baguette shaped moissanite stones. The centre stone is placed on a circlet setting. The ring has a different type of a contour to it which makes it one of its kinds
Channel And Bar Set Round Moissanite Engagement Ring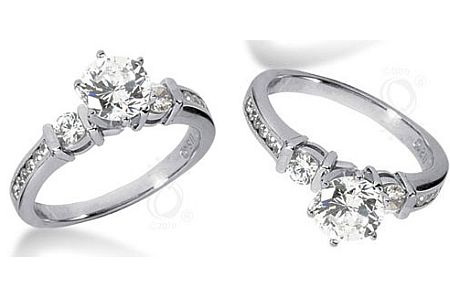 This ring is the glorification of flawlessness. This is one ring perfect for the occasion of professing your love to that special one in your life. It has a glimmering finish. It has a tiara setting on which the attractive 1 carat round moissanite stone is set. Bordering the main stone is two smaller moissanite stones of0.15 carat, each. Surrounding this lovely setting, are smaller stones. This ring is sheer charm
Oval Sapphire and Moissanite Princess Diana Replica Ring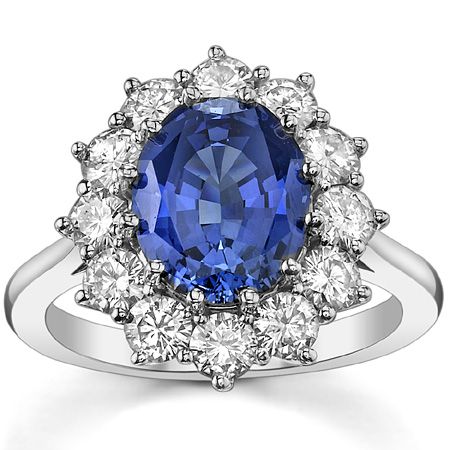 This one has an aura of excellence surrounding it It exhibits perfect balance between the daintiness and power. The ring has been set in 18 carat pink gold. The central stone is a 12mm black oval South Sea pearl and a 3mm Akoya cultured pearl. The central set up has a beautiful background design of mother-of-pearl flower motif and 0.37ct of diamonds. This is an innovative way to tell that woman why you desire and love her so much
Round Moissanite Channel Trellis Engagement Ring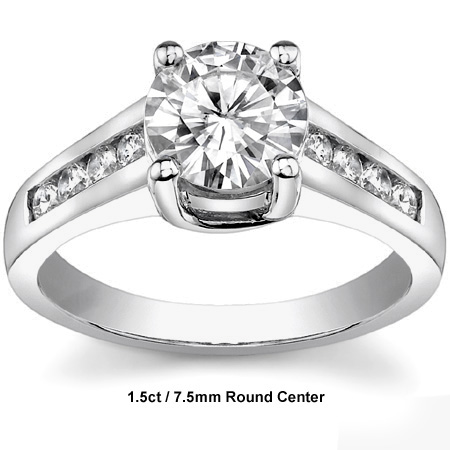 This ring has a very unique design and often leaves one pleasantly amazed. It's a simple girdle with a round pattern. It has a well incised Moissanite stone which is set on a crown wrought pattern. The central stone is bordered on either side by four smaller round shaped Moissanite stones. The ring is set in 14 carat palladium or gold. The ring is a celebration of your affection for the woman you love
Round & Baguette Moissanite Engagement Ring Setting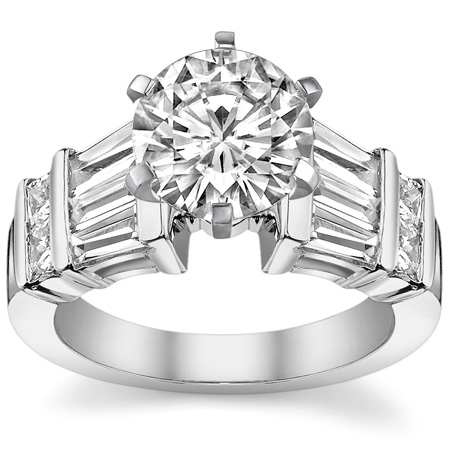 This ring gives a certain edge to the typical engagement ring. The ring has been set in 14 carat palladium or gold amounting to about 8.8 grams. The central stone is a glorious well defined Moissanite stone. Following it on either side are six baguette shaped cut moissanite stones. Subsequently, are two square moissanite stones on either side of the baguette gems. This is a splendid choice to begin the life of togetherness.
Pink Round Moissanite Cathedral Style Engagement Ring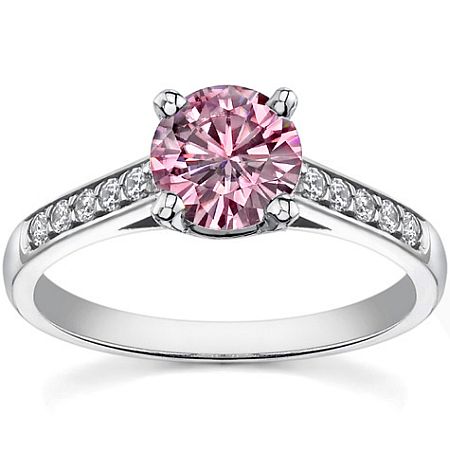 This ring reminds one of the innocence of new love intermingled with the passion of the years. It has a central pink stone; round in shape bordered by smaller moissanite stones set intricately into the design, the main stone if of 1 carat and the ring is made of 14 carat palladium or gold. The ring has beautiful persona to it which makes it to die for
Light Green Multi-Band Round Moissanite Engagement Ring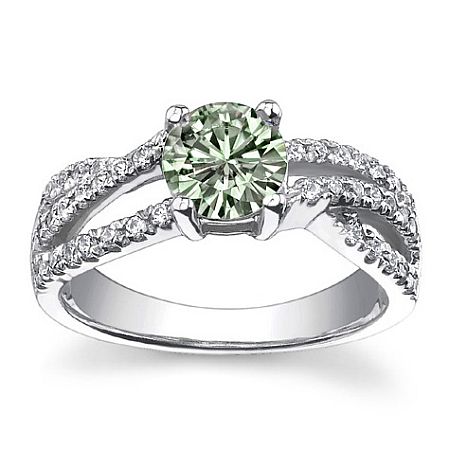 This one has a diverse design. It has multiple bands with a light green moissanite stone set at the centre, round in shape. The ring has been wrought in 14 carat palladium or gold. The compound bands are set minutely with smaller moissanite stones. The design has been executed with finesse and the colour green is symbolic of the balance that is to be established in the lives of the individuals being united by that inevitable love