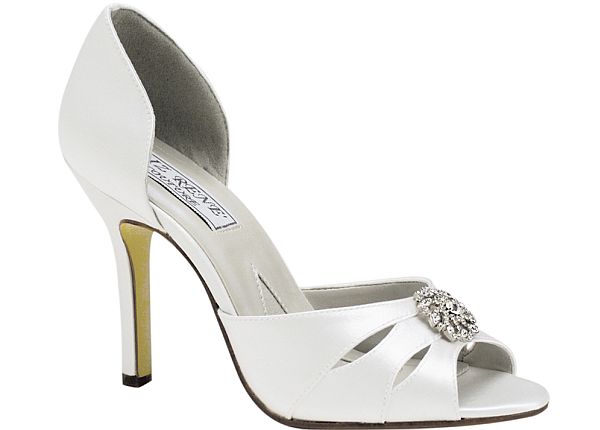 Weddings are moments of celebration and happiness and you must not want to spoil your happiness just because you didn't buy comfortable shoes for this special day of your life. Well, some brides end up their wedding ceremony wincing in pain from uncomfortable shoes and there is nothing worse than coming up home tired with aching feet after a long wedding day. Before buying shoes for your wedding, there are certain things that needs to be understood before taking a final decision to buy wedding shoes. We are here with some of the best wedding shoes styles that not only are comfortable but can also add charm to your wedding.
Kelly & Katie Romeo Sandal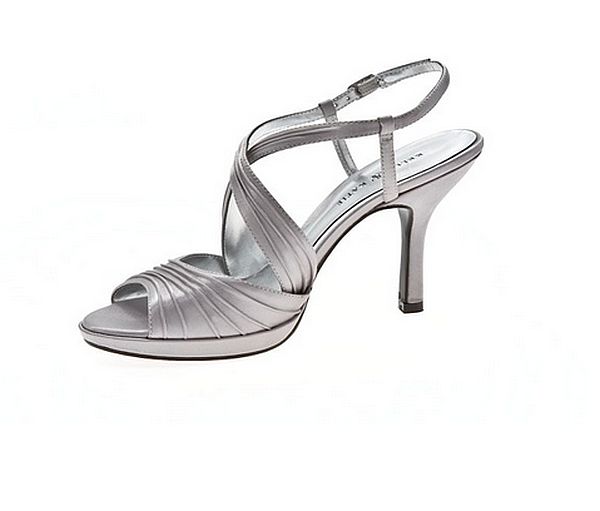 Kelly & Katie Romeo Sandal can carry styles and comfort together. You can dance, you can walk, you can do whatever you like and at the end of the day, you are going feel as relaxed as you were in the morning time. These shoes have a pleated satin upper and a padded foot bed that will give a relaxing feeling. The sole has been made up of leather and there are ankle straps with adjustable buckle and elastic insert for comfortable fit. These shoes are priced at $19.94.
Touch Ups Women's Katrina Dyeable Pump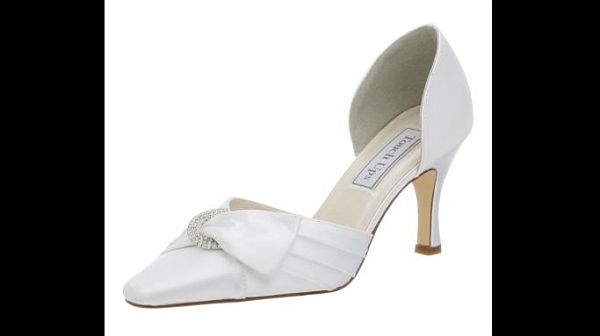 You don't want to compromise with the style but are also seeking comfort in bridal shoes; this pair is definitely your pick. The top surface has been crafted from smooth satin and the shoe has been finished with a comfortable, padded leather lining. The bridal shoe pair is made in Italy and any bride would feel lucky to wear these amazingly comfortable and beautiful wedding shoes. There has been beautiful knot like shape with encrusted crystals on toe that adds a sparkling touch to your overall attire.
Ivanka Trump Women's Sumi Sandal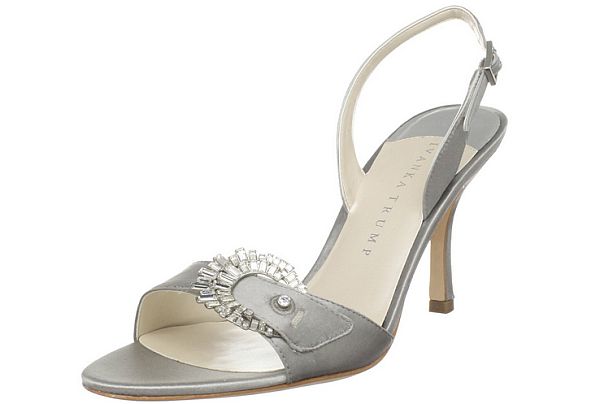 You would certainly feel happy and lucky about having a bridal shoe pair exhibiting complex feminine look and color matching up your wedding dress. Ivanka trump women's sumi sandal has been constructed from sleek leather that is patented and it sits comfortably on the feet through the slingback strap. Heels length is approximately 3.25" and extra padded sole will give you an amazing comfort while standing all day long. The color combination with your wedding dress will be unique and this wedding shoe can be perfect for any wedding.
Lava Women's Kim Flat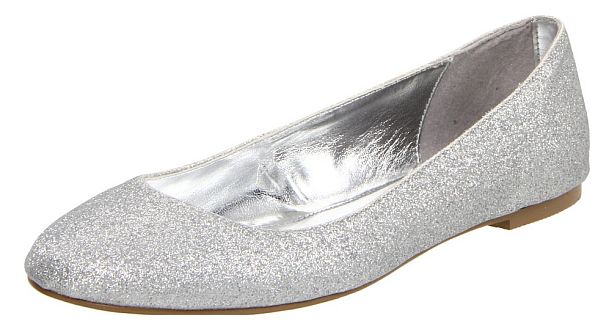 Let's make it simple. This connotation fits completely with this lava woman's kim flat shoe pair. Include this cute and beautiful pair of wedding shoe pair in your wedding day attire and walk freely and dance freely that too without worrying about aching and shoe bites. There has been a unique sparking look given to the upper part of the shoe that will match perfectly with your wedding dress.
Women's merona minna embellished flats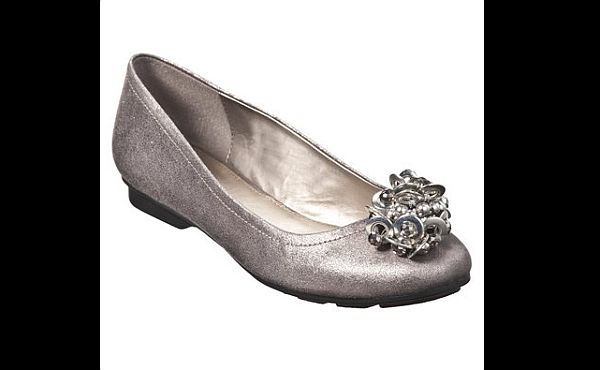 This is one of the most beautiful bridal shoes out there. Cushioned Insole will let you feel like you have been flying in groom's arms and flexible outsole adds an exquisite shine to the shoe. Decorative Ornaments will definitely set eyeballs rolling towards you while walking down the aisle and perhaps that's what every bride's dream is. The shoe is exceptionally comfortable and unique that can beautifully match up with the grace of your wedding gown. Round Toe and a beautiful ball like ornament on the upper part of the shoe modify its beauty to the upper level.
Bridal by butter women's cloudi-B kitten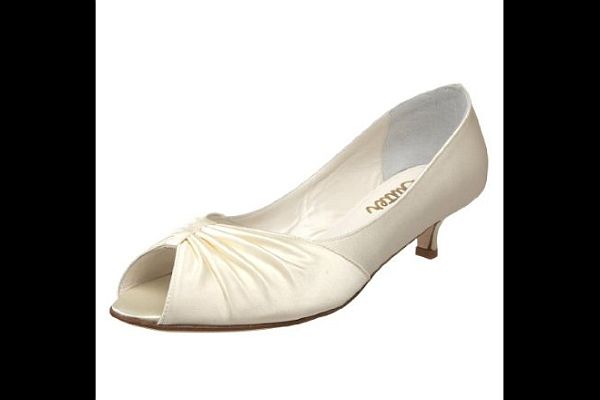 A beautiful bride with an amazingly beautiful leg will look for this simply sobar wedding shoes that are surely going to complete your beauty on the most important day of your life. The upper part of the wedding shoe is made up of satin and the leather sole will give provides you comfort. This Italian made shoe pair heel length is 1 1/2″ but gives you a feeling of wearing flat shoes. The shoe pair has been priced at $275.00.
Lava women's Winnie ankle-strap sandal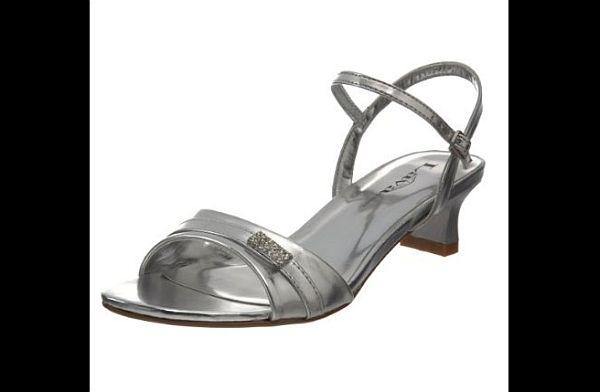 A luxurious look of this women's Winnie ankle-strap sandal is enough to make any bride mesmerized! Perfectly comfortable and is beautifully made to project your manicured feet and gorgeous legs. Sole of the shoe is made up of original leather and synthetic and textile upper makes it even more comfortable to wear these shoes. Unique silver polishing is given to this piece that can match with any kind of wedding gown. This china made shoe pair has strap on front and back of the shoe to help you stand comfortably. The shoe pair has been priced at $ 49.95 and can be bought up from various online stores around the world.
Samantha Knot peep-toe pumps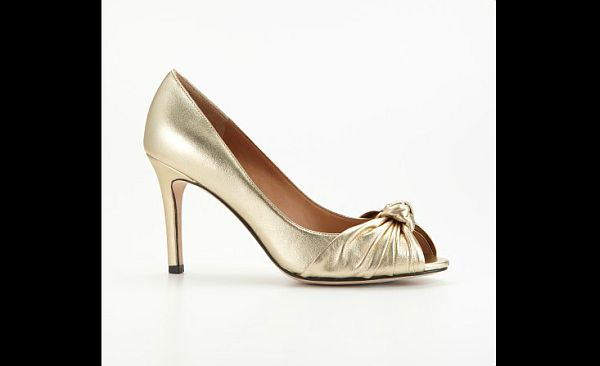 You can add a spark to your wedding day by slipping into this beautiful bridal shoe pair that is unabashedly glamorous but comfortable bridal shoe. This Samantha knot peep-toe pump shoe is specifically made to capture the feminine beauty in a luxurious golden color that will surely let you feel like a princess on your dream day. Ruched knot on the top of the shoe looks really beautiful and will add charm to your entire look. Padded leather foot beds are there for extra comfort. Buy this shoe if you are seeking for comfort and glamour on the big day.
Menbur Women's Adriana Pump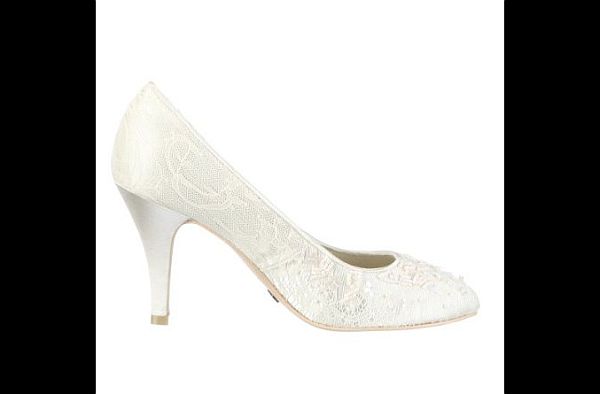 Simplicity and elegance define the Adriana pump from Menbur. Perfectly great wedding shoe pair for having simple looks on the wedding day; buy this wedding shoe pair if you think you cannot stand by feet aching problem of high heels on your D- day. The overall look of this shoe will make you feel like a Princess. One of the most beautiful things about the shoe pair is its tonal beading that is given to provide a delicate touch to the wedding shoe. Heels leave plenty of comfort for you to dance on arms of groom. The upper part of the wedding shoe is made up of fabric and the manmade sole has leather lining beautifully designed. This china made wedding shoe can be chosen for country and traditional weddings.