Floral garland adds a unique touch to the reception venue. These floral arrangements are usually made of silk flowers and beautiful embellishments can be added in accordance with your wedding theme. Use individual flowers, petals and leaves to decorate the wedding ceremony. Here are some tips to make these floating decorations to your wedding ceremony.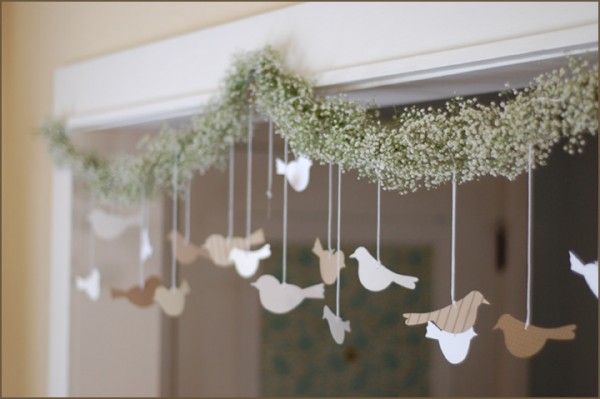 Things you need
1. Spool fabric coated wire
2. Decoration paper
3. A Sheet of Card Stock and 1 bunch Gypsophila (million stars)
4. Scissors, floral snips and strings
5. Pencil, computer and printer and small hole pinch.
Procedure
1. Take a bunch of Gypsophila and place them in warm water after cutting the stems from them. Keep the flowers in water for about two hours.
2. Now you will have to make flower little stems out of these flower petals. Trim all the flower tufts with floral clippers.
3. Cut the fabric coated wire of 7 foot long and twist it from the end to make a little loop.
4. Now place the baby's breath tuft on the supportive wire and wrap the wire to the steps and supportive wire.
5. Take another tuft to the back of the wire and wrap again. Keep doing the same thing back and front, working down way to the wire.
6. Cut the spool, while reaching at the end of the wire and wrapping it tight around the garland. Give your garland a flashy look by trimming the flower stems.
7. Your garland should stay for more than 48 hours so keep it fresh, coil it up and place it inside the plastic garbage bag.
8. Print the bird template on card stock sheet. Place the birds onto decorative paper after cutting them carefully. Cut all the birds and make small holes in the middle of each bird. Tie a bird to each end of the string of length of about 14 inches.
9. Tie the garland from the loop ends of the wire.This is your flower garland, hand it from the loop ends, and hang birds over the garland.