What can be a better way to express sheer happiness than splendid arrays of sunflowers! These beautiful flowers with bright sunny yellow petals and green stems can be a perfect theme for your auspicious wedding day. Getting married under a canopy of sun like bright flowers, standing over sunflower bedding and the surroundings decorated with bright yellow and green can be an absolute delight for any couple. Beauty of nature is universal and to tie the holy knot in such beautiful settings will be extraordinary. Not just for weddings, but sunflowers can also be used in wedding showers. Sunflowers compliment vibrant shades of pink, blue, purple, red, etc. which gives you plenty of decorating options to choose from. Another plus point is that sunflowers are low maintenance flowers which are easy to grow and are light on your pocket. Use plenty of sunflowers in decoration and you will surprised by the persona of their bright beauty.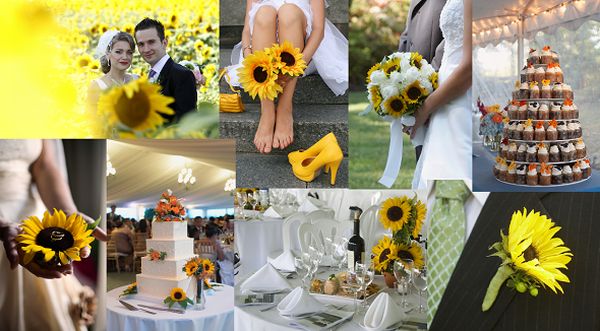 Wedding invitations
The central theme of your wedding should reflect right from the start. Choosing a wedding invitation in this case is not a challenge at all. Just pick a card with white and yellow color scheme and add the colors and design of your choice. You can get your card designed with a single sunflower in the background or you can play with yellow color schemes to define the theme. Designs can be made according to one's preference with colored decorations. Golden ribbon to tie the invitation will definitely make the card look elegant.
Wedding venue and decor
Sunflowers are the golden ornaments of nature and they exemplify outdoor beauty and countryside charm. When choosing this theme, consider a splendid outdoor garden wedding decorated with fresh beautiful sunflowers all over the place. This suits all kinds of settings such as ocean side tents, western shindigs etc. For decor, the sunflower theme gives you adorable settings such as yellow and brown napkins and overlays, galvanized buckets filled with sunflowers, sunflower wreaths as centerpieces on each table and much more. Your guests are likely to be very pleased with such bright and fresh decor.
Wedding attire and accessories
To keep it subtle, choose the yellow color of the sunflower petals and brown inside as the base for the bridesmaids and groomsmen attire. When it comes to the bride and the groom, keep it simple while it appeals the most. Adding a small sunflower to the bride's hair in a traditional style and keeping a flower for the groom's jacket will look splendid according to the wedding theme. The bridesmaids shall bear a complimentary sunflower in the hair too. Special guests can be seen carrying sunflower bouquets.
Wedding footwear
The bride can also opt for bright sunny yellow color pumps to compliment her fairy wedding gown. Like wise the bridesmaids can also get the sunflower fashioned footwear for them. They can add the accessories to the shoes that they wear if the footwear like such is not available. These can be like the small badges that can be worn on the shoes. The thing is that, you need not wear yellow footwear but your footwear or the shoes should have something to do with the sunflower and the theme.
Wedding food
For the appetite, you can match the menu with vegetables such as green peas, corns, etc. which are ready for picking nearly at the same time when the sunflowers blossom. Adding squash and roasted chicken to the menu with vegetables is a good option. All you have to do is make sure that the vegetables you pick are garden fresh so that they taste the best. You can opt for a variety of fruit salads as starters and later relish your guests with the main menu. For deserts, you can choose from fruit cakes to fruit punches keeping it very elegant.
The wedding cake being the main attraction has to compliment the theme. Opt for a three tired traditional wedding cake or you can pick a large single cake with yellow lemon and fruit fillings. You can also take a normal fruit cake and make it look like a sunflower. In the menu you can also add roasted sunflower seeds and sunflower shaped cupcakes filled in a sandwich tray.
Wedding favors
Wedding favors is an important part of the wedding day. You would definitely want your guest to leave with a memorable impression of this special day. For relishing and favors, you can get boxes packed according to the theme with sunflowers and golden ribbons containing chocolates garnished with sunflower seeds. You should also present your guests with raw sunflower seeds which they can plant back at home. These seeds also carry a considerable amount of health benefits. You can also accompany the boxes with bouquets made with sunflowers and lilies. Both the flowers belong to the same family and they complement each other very well. The whole arrangement will definitely leave a lasting impression on every single person that walks in.