Have you planned to walk down the aisle in this chilling cold weather? When the temperature drops and snow begins to fall, the biggest problem is to compromise on your off shoulder and backless wedding gown, but do not worry, this time, you don't need to sacrifice on your bridal look to stay warm. From classic lace to illusion long sleeves to cozy and stylish layers, there are so many ways to make yourself stylish as well as warm no matter what the weather is. Get inspired with some stunning winter wedding dresses which can make your wedding to cherish for a lifetime.
1.     The Silhouette gown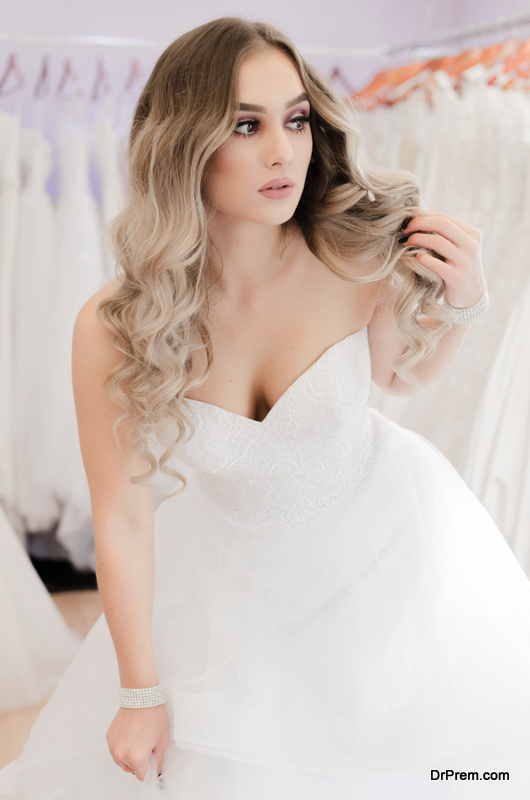 For the winter wedding, choosing the perfect winter wedding gown is the biggest task. But some of the top designers favor modern Silhouettes with a simple clean line. It hugs your body making it an unforgiving style statement. Silhouette highlights your figure perfectly and gives you the most feminine look. This style is perfect and fitted with slits and gives a flattering illusion.
For the winter wedding, you can go for a pristine mermaid-style long gown with a higher neckline. With this, winter wedding dresses in sleeves and some nice hot lace or embroidered back. For making it more appealing, go for illusion sleeves which covers your hand without giving the looks full of illusion design on it. Also for the winter wedding, high neck and long sleeves are must have. If you wish to cover your back, again delicate illusion embroidery will do the work for you. It covers your skin and at the same time, gives a beautiful appearance.
2.     The Fabrics is important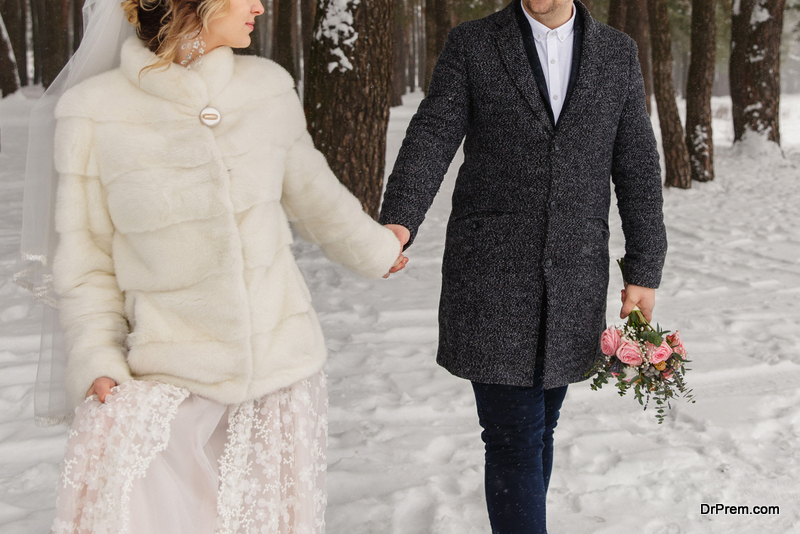 For the winter wedding, the bride has to pose in and outside in chilly weather for the perfect photos. So the wedding outfit, the fabric has to be perfect and as per the season. The gown has to be warmer and this fabric should be richer and bold to hold back the heat and keep the bride comfortable throughout her big day. For this, the most favorable fabric should be silk or satin which keeps the body warmer and doesn't allow the cold waves to pass through it. It is one of the richest and the heaviest fabric and at the same time looks rich giving a luxurious look.
These fabrics are perfect for the winter wedding ceremony. However, if you wish or have eyes on some of the stunning wedding gowns with thinner or lighter fabric, you can still keep it warm but keep in mind to add a satin or silk lining to keep you warm and cozy. Some of the modern yet classic add-ons to use are crepe and embroidered tulle. These would make your gown gorgeous and giving it a timeless appearance.
3.     Layers and layers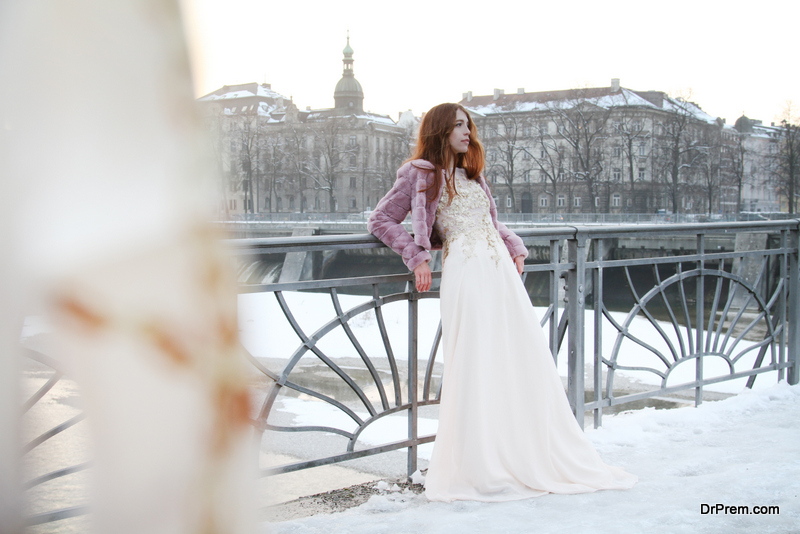 One of the most useful ways to provide warmth to your winter wedding gown is to use layers on it. Sometimes the layers don't make for the best look, you may think that layers are not possible or it's going over the top for your wedding outfit. For this, you can choose A-line skirt for your wedding gown to hide layers and layers material. A pair of tights' or an underskirt is all you require for a winter day. The space for layers and beautiful details can make up nice cold arms and shoulder.
4.     The Length of the gown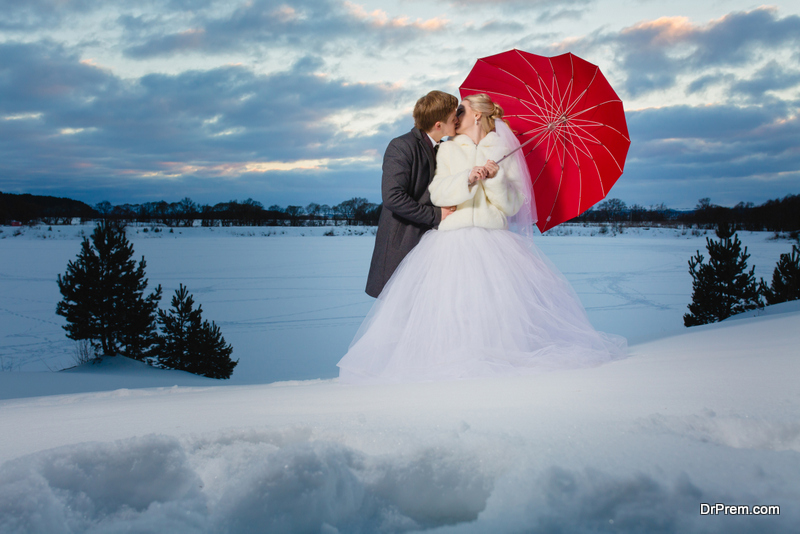 For a lower temperature, a floor-sweeping design gown is not in demand; instead, the brides like to have hemlines on the short sides. Try something new and get a gown with the wooly coat, structured wooly coats to make the dress warmer. One of the options is winter wedding dresses with fur which looks beautiful and gives you warmer as well. With it, you can pair high boots or even inner pants. Have slim embroidered pants to stay away from cold breeze and keep it warm as the designer suggested. Or you can again have sheer tights or a chic faux fur coat or jacket and to cover your bare shoulder or sleeve, have white or off-white colored faux fur wrap as it makes the appearance more attractive and beautiful.
5.     Accessories to style your wedding gown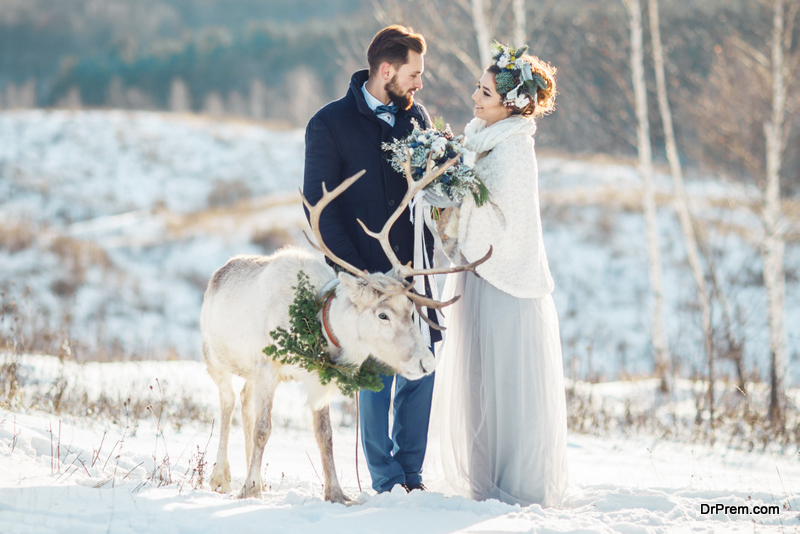 Apart from all the gorgeous winter wedding gowns, there are some accessories from which you can make yourself stunning as well as keep yourself warm. Some of them are:-
Cozy Collar-One of the best things to have with your wedding gown has a high collar and cascading laces. The best way to highlights is to add a feminine bow. The bow adds a nice classy touch to the gown.
Coats and jackets: – Layer up your gown with a chic faux fur coat and a wrap to keep away the cold.  Have a wooly scarf for keeping it warm, it is nice for an outdoor ceremony and also works under the roof too.
Fur and Flower Crowns: – The right accessories are very important to give a proper, right look and appearance. From shoulder wraps to full fur coats, to flowers crown for brides and bridesmaid, there are so many options. 
And Shoes, Too: – How can you forget the shoes for your big day. You can't hide or there is no need to cover the toes it fully. Pick some nice and glittery or crystal pair of heels to brighten up your winter wedding.