Choosing a theme is important as it makes your special day more memorable and offers a unique experience for everyone present. The theme can also be incorporate into the décor, invitations cards. Planning the look for your wedding is the best part that excites everyone. When selecting the theme and the associated colors, make sure you allow some room for the guest's imagination: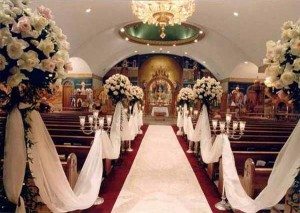 Flowers:
Flowers are an essential part of any wedding décor and choosing a flower theme is the best way to entice your senses and offer s a lot of visual appeal. Flowers can be used in different ways, add flowers to the invitations, floral centerpieces, put a spray of flowers over the entrance of the church, reception hall. Your wedding cake can have edible flowers on it.
Letters:
The fonts and letters theme is a very chic one and also a classic favorite of wedding planners- this is the simplest idea that be put on wedding invitations, entrance ways, wedding favors, cakes. Your initials can also be placed in differ colors or formats that will suite your theme. You can either have your initials, whole names of your favorite objects for a personalized effect.
Stripes:
Using a theme that has stripes will add dimension to any space and it is also a timeless theme. Stripes only work best when you have a monochromatic color scheme, use them on the place cards or invitation cards for an elegant look. The tables can have striped tablecloths but don't apply it on all surfaces. Stick to nautical colors. Using different colored stripes will make things a bit too loud. The stripes should be of the same colors that are contrasted, so have dark colored stripes on top of lighter colored stripes- this will help to add visual appeal.
Vintage Ideas:
Vintage is back and so are vintage wedding themes that help you to travel back in time. This is the perfect theme of those couples who feel that traditional weddings are a true celebration of love and lack originality. Bring back the past by planning a theme that includes dances, songs and dresses from a certain era. Place a typewriter where the guests can leave notes for the bride and groom. You can use postcards as wedding invitations, thank you notes or favors or place cards. Vintage wedding themes are supposed to be fun, so think of creative ways to entertain all present.