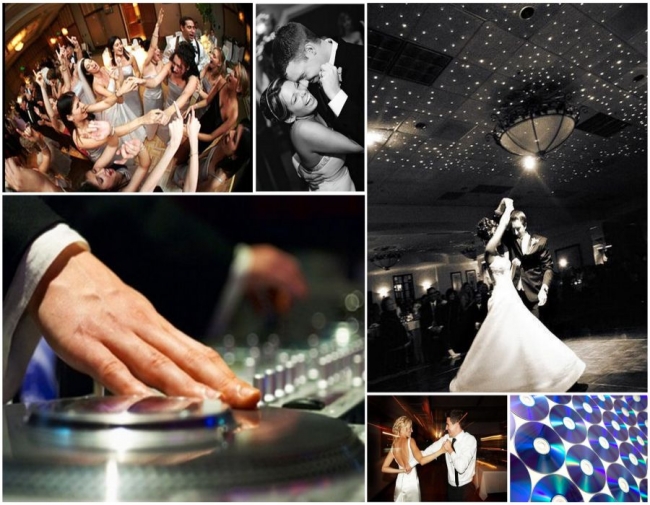 To choose a wedding DJ can be a difficult task. However if you take little care and follow some advice or tips, you can surely get the best DJ for your wedding who can make your wedding memorable. You might have seen in many wedding where DJ entertains the guest and the bride and groom on their special day and make their time memorable. Such time is best period for observing DJ's carefully. If you are looking for a good DJ who will make your wedding successful then follow the tips mentioned below. You will surely get some great ideas of choosing the best one for you.
1. Planning for the reception.
Look for the one who will personally plan your Reception. It is going to be your reception. Start looking for the DJ a month before or so. Meet your DJ two weeks before the wedding and plan with him all the songs which you wish to hear that day. Look for the one who himself will ask for the timing to meet. Regardless of how busy he will be, if you will be paying him for his work, it's his duty to perform things in proper manner.
2. Good service.
The DJ you select should offer you good service and will tell you to meet for disusing about the reception. You should meet him and deal with the issues which you cannot put on email planner. Talk to him personally and tell him what are your expectations. An experienced DJ will know about how things must be coordinated and what things should happen. Make sure that he plays the music of your taste.
3. Ask for references.
If you have no clue about the DJs who can play good music, then you should always ask for the references. Look for the DJ who can provide you some clients name and address with whom you can talk personally about their experience with him during the wedding. A good DJ will surely not hesitate to give contact details of the clients so that you can get recommendations from satisfied customers. While doing this always ask the customers the place where reception was held. Look for the references which are not old like two years or so. If DJ doesn't provide you such then ask him the reason behind it. In this internet world, surely your DJ must be having his own website. Take a look at his websites and know whether there are any testimonials or not. Make sure that DJ you select have good reputation, good interaction with guest, ability to work and punctuality. Look for at least four references for the DJ you select. Make a good research on what kind of DJ are you looking for and whether the DJ you chose suits best to your wants.
You can also make your own research. Talk to your friends and relatives who are married and consider their suggestions. Meet the newlywed's couple and ask them for some DJ recommendation. You have to be careful with what your friends are suggesting as you and your friend's taste of music might be different.
4. Work sample.
You can also ask the DJ whether he can give his work sample through video clip of some wedding where they have performed. These days DJs can provide you with some of their music sample.
5. Take factors into consideration.
There are many factors which you have to consider when you decide to chose a wedding DJ. There can be many gaps between the price of DJ's depending on their professionalism and experience. It entirely depends on how you fill up the gap of what qualities are you're looking for in the DJ for entertainment. You have to consider factors like budget, mood, theme of your wedding, music taste. Hence make a list of the things that you expect from a DJ and start looking for the one accordingly.
6. Take the Responsibilities.
Your DJ should take all the responsibilities of announcing the special activities of the wedding on the time scheduled. He must offer a complete knowledge of the events that will be taking place during the wedding along with their right timings.
7. Ensure that the DJ's music is up to date.
Look for the DJ who has huge collection of music. You have to ensure that your DJ has variety of music that includes the recent chart-topping songs. Be careful with the amateur DJs claims that they will get the song which our wish during your wedding by downloading it online. However such kind of approach is not expected from the DJ which you decide to hire. These days many professionals wedding DJ's are subscribed to paid services like Tophitsusa or Promoonly, where they be ensured to have the updated song releases on weekly basis.
8. Good music.
Your DJ should offer wide range of music involving recent songs in the charts. You can check this by verifying their release dates. Don't forget to give your DJ's list of certain songs that you want to play during your wedding so that he can get those before your wedding day in case if he don't have them in his collection.
9. Things should be clear.
While choosing a DJ you have to keep in mind that you make all things clear to him before making any final decision. The charges which he ask for must be written on the paper with mutual contract between the person you are choosing as DJ and yourself. This will help you to avoid any kind of misunderstanding in future.
10. Dress Code.
If you have some kind of dress code at your wedding don't forget to tell it to the DJ. Your DJ is expected to come in the right manner according to the occasion. It is not necessary that he must wear complete formal, but he is not expected to even come wearing shorts and sandals. The DJ is the person who provides service during your wedding day. Hence he is expected to neatly dress. If you have some themed wedding then don't forget to inform it to the DJ you have selected.
11. Draft a Contract.
Make a contract with the person you are appointing as DJ. The contract should include time. Place and date and should also have certain specifics which he should not make as any excuse later. Ask him whether he has performed at the same venue earlier. This will help your DJ to know exactly where the venue is, so that he can reach there on time. Another advantage of this will be that your DJ must be familiar with the banquet and staff manager.
12. Equipment.
Make sure that DJ you choose carry his own equipment. A professional DJ should have all his necessary equipments which he will need to play music. Be careful with Technocrat that shows up with $20,000 sound system. It is the duty of the professional DJ to manage his own equipment. He should have knowledge about what music he will be playing. You have to ensure that the equipment he will be using is in good terms.
13. Flexibility.
Look for the DJ who offers flexibility in his service. He must be able to respond quickly to the mishaps which can destroy your wedding. You might have seen that many weddings look good and smooth, but had the issues which were quickly covered by caterer, DJ or some other vendors.
14. Cost of the DJ.
The very important thing which you should not neglect is hiring a DJ which can fit your budget. You have to be careful in choosing the one who is not so costly. There are many moonlighting DJ's that will charge $300. You will also find DJ's who charges $400 up to $1900 depending on the place where you stay. Suppose if you are staying in San Diego, you are expecting to pay around $1300 for the true professional wedding DJ.
15. Organizing Dance Floor.
Wedding DJ setup This is not so important thing; however it is always better to be careful about it. Some wedding reception sites will need your wedding DJ to get a dance floor if room does not include one. Keep in mind that DJ should not underestimate the bride and groom.
16. Know the person.
Actual DJ spinning discs you have to be extremely careful about it. You would surely hate to spend hour looking for the wedding DJ and like their personality and ended up getting another DJ whom you did not interview. Hence you have to be pretty careful about who exactly will be your DJ. If you want the owner and not the employee then you should mention that specifically.
Be careful while choosing a DJ for your wedding because it is something that will come once in your lifetime and obviously you don't want to ruin it by hiring a wrong person. so watch out when you decide on one!