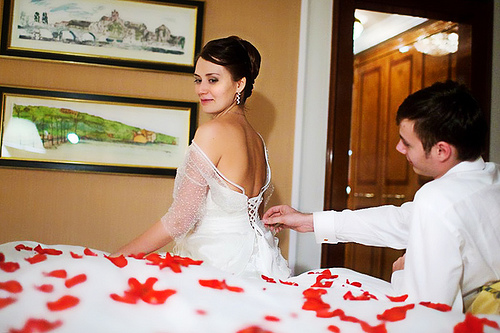 A wedding night brings the moment of intimacy that a newlywed couple share with one another. With all the joys and celebrations elevated in their minds it brings a perfect setting for the bride and groom to feel the wonderful love making and experience it in the best way possible. It is not very surprising for some to feel a bit nervous at their wedding night as they do not want to make their partner feel uneasy and dissatisfied. So take a deep breath and relax. There are some expert tips that all must know before the wedding night becomes a reality. Learn here, how you can create a magical wedding night together and make it one of the best evenings one ever gets to spent in his or hers whole life!
Do not hurry
The first ready tip for you is here. As they say 'hurry makes curry'; you do not wish to spoil the beautiful wedding night by being too fast with everything. Try to feel the space you are in and get into the perfect mood gradually. This moment is all for you to savor upon. You might feel tired but that is just okay as you have been too busy in carrying out your wedding celebrations. This night brings you a chance to cherish and enjoy the most romantic and intimate experiences of your life.
Communicate with your partner
It is really a very happy occasion for you two. Just moments ago you both were singles and right now you are the newlyweds! Prioritize on starting up with a light talk with your partner. Congratulate him on getting married and vice-versa. Tell your partner how much you are in love with him or her. If you do not talk and start love making like a hungry child then it is all going to make the things a bit dirty.
Minimize your expectations
Leave what others must have told you about the wedding night. Put all the burden of the wedding aside; as of now it is all over and you two are together just about to celebrate love and romance. Thank God for being so graceful upon you. Do not think that you are going to have the most amazing sex of your life as it is just a myth that people say one experience on a wedding night. If you are drunk try to make yourself better and comfort your partner with a few romantic kisses.
Take it easy if you are a virgin
If you are a virgin then there is nothing to feel bad or nervous about. It is just okay. And remember that you are not going to carry that tag anymore because your wedding night is here! It is better to let your partner about this and be frank all the time. Well come on, you are a couple now! Things get better as the clock moves on and you will see that it is not at all a very big deal. All you have to do is to break the wall!
Expand your wedding night with foreplay
Foreplay is a very basic necessity before the actual sexual intercourse that you two will eventually have. If you do not have foreplay and start off things very early in a zing then you are surely going to end up early too. This will make you feel exhausted and ultimately you will ruin the beauty of the wedding night. So if you have the energy to get involved into the foreplay then there is nothing like that. Otherwise, your wedding night can get expanded and you should better rest.
Be confident
Confidence sure can make you do anything under the sun and even at your wedding night! Believe in yourself and do not get fooled by that superficial love making scenes that you would have seen in movies or elsewhere. The beauty of the intimacy at your wedding night is that you feel even the tiniest of the second so worthy and you wish that it never ends. So you are the real life lovers here and behave in a proper manner so as to achieve the maximum.
Flirting helps
The process of the wedding in itself gives you both a plenty of time to spend with each other. So whenever you get the time just keep flirting with your bride or the groom. This helps to ignite the things in the nascent stages of the wedding day and finally a good chemistry is achieved by the wedding night. Feel your love with all your senses. Have frequent eye contact and let people feel jealous seeing your love. Touch one another delicately with some sensuality in your touch. Surprise kisses make the things even better. But remember that you will have to do all this before your wedding night actually arrives. Though, this is just a building stage for it.
Dress accordingly
This is a worthy and to be noted wedding night tip for the brides exclusively. You can help the mood and the involvement to get increased towards romance and intimate gestures when you wear perfect wedding night lingerie. Feel confident in what you have chosen for yourself because your groom is already in love with you and you are the only one who can ignite all his fantasies. Even the grooms can wear good sexy looking under-garments to make newlywed bride feel special.
Create the perfect surroundings
Atmosphere around you plays a vital role. So do not forget to get good looking candles, playing romantic music, flower petals and a good aromatic room spray. Get some wine and make a toast for your love. It won't be bad if you do a little of dance before you start involving in the real pleasure of the wedding night. Set everything in order and lose all the clutter around, if any.
Refrain from having sex few weeks before your wedding night
Couples who are soon going to get married are bound to feel the pleasure of love making many a times before the actual wedding night. We do not say that it is bad at all. But of course if you stop having sex a week or two before your wedding day then you might feel the greatest urge for love making at your wedding night.