The beauty about antique or vintage jewellery is that they have timeless style that will never go old. This type of jewellery compliments any kind of attire and gives it a nice and beautiful look. While you do have the replicas of such jewellery for daily way; but nothing can beat the authentic and real look. It takes a skillful hand to design such kind of jewellery.
When you are shopping for vintage jewellery resume important factors that you have to keep in mind to ensure that you buy authentic vintage jewellery let's take a look at some useful ways of how you can get the best jewellery for your wedding.
Never miss these basic tips
A trustworthy name always stands strong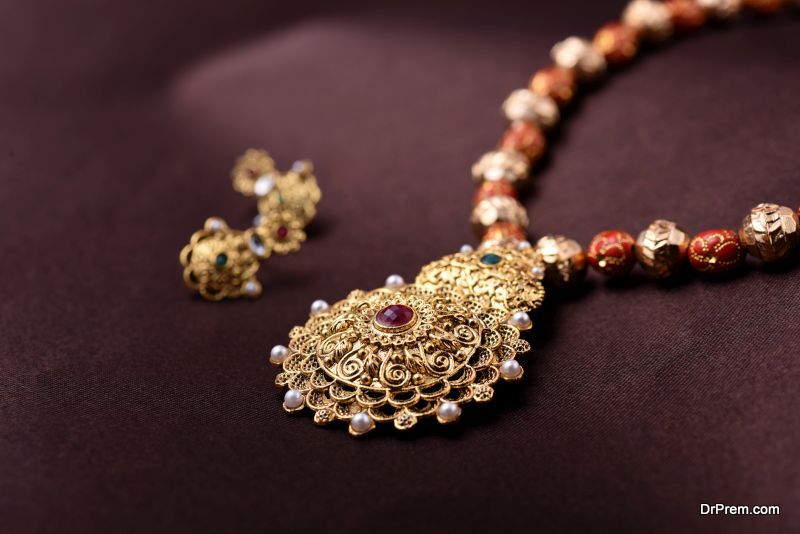 When it comes to investing in vintage jewellery, the name of the company plays a vital role. Established companies that have been in the market for years never compromise on anything that can ruin their reputation. Although the jewellery may be expensive, considering the name that is behind it, but it is worth the investment since you know it is from a good source.
Never forget to check the Certificate of Authenticity
Any vintage collection will always come with a Certificate of Authenticity. Make sure to check the certificate well. Before you go for jewellery shopping, it is advisable to do a little research on how to differentiate between a genuine and fake hologram.
The mark of work
The mark of work is a way of an artist to sign his or her name. In authentic jewellery, this plays a lot of importance. Sometimes it can be in the form of initials, symbols or even emblems. This is one of the best ways to know what kind of jewellery you have in your hand.
Selecting vintage jewellery based on the period they resemble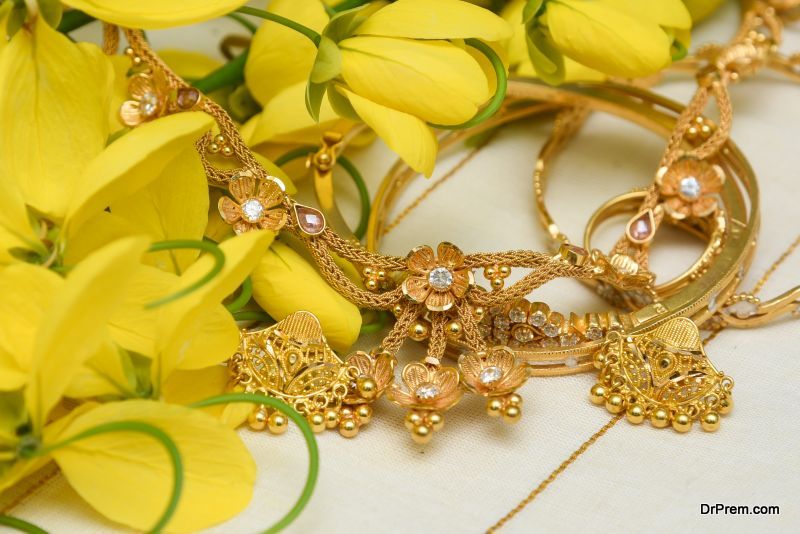 Now that you know some of the basic tips on what to look out for when you are shopping for jewellery, the next thing you should know is the era or period that each design resembles. The inspiration behind each vintage jewellery is not just the design; it is also about the type of stones and metal used. Each era had their own specialties. This is one of the main reasons why; vintage jewellery has its own charm that never dies out. Understanding each era is equally important when you are selecting vintage jewellery.
The Victorian era
Diamonds and pearls were the most commonly used stones during this era. This jewellery theme or design resembles the Victorian era and it is inspired more by nature, hearts and flowers. The beauty of this kind of jewellery lies in the artistic work of how the design is place.
Art Nouveau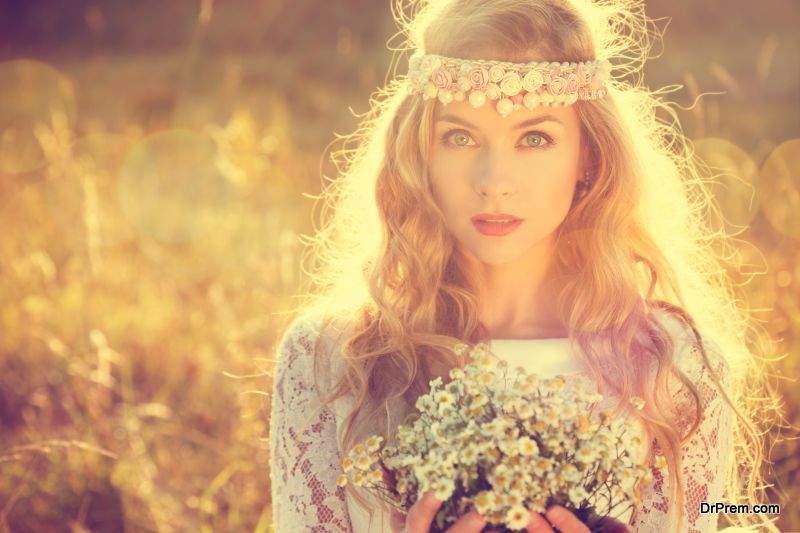 In this era, the innovations and artistry focused more on de-emphasized, flowing, feminine and soft looking designs. The materials included were glass, shells, copper, horns etc. For the stones, it was more citrines, moonstones, peridots, amber, and opals that added to the beauty.
Edwardian
The inspiration behind the name of this range of vintage jewellery is none other than King Edward. Delicate, sophisticated and mostly white in color, the artistic work in such jewellery is lifted by diamonds, platinum and pearls. This gave the all white look to the accessories made during this era.
Art Deco
Diamonds, rubies, emeralds, Egyptian motifs, geometrics are all part of the Art Deco era. If you look at old Hollywood movies, you will find that the actors wore this form of jewellery. Art Deco jewellery has wide ornate lines and clean cuts as a part of the design.
Retro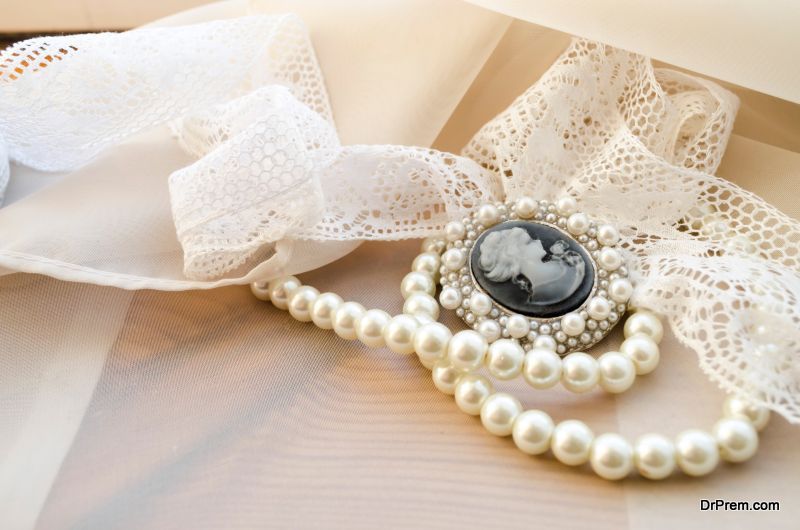 Bold designs, yellow gold, imitation gemstones are all part of the Retro era. The jewellery inspired from this era is budget friendly and beautiful to look at. The non-traditional methods of making such jewellery adds to its overall beauty.
Belle Époque
A classic that can never die, the Belle Époque resembles beautiful and delicate looking jewellery with a blend of big and small motifs.   A combination of various colored stones, metals and uniquely designed motifs are all part of this era. Even in the midst of the heaviness, the jewellery still had a nice classic and dainty look.
Breathtaking vintage necklaces for a traditional wedding
Do you wish to mesmerize your prince charming with an all vintage look on your wedding? We suggest you to get hold of the perfect jewelries to complement the look. Vintage necklace is the most important among them with its chunky and heavy look that will accentuate the beauty of your fair skin as well as speak of your prestigious ancestry. But in case if you do not have one that is a generation's old heirloom we are there to solve your problem. Take a look at the astounding vintage necklaces we have handpicked for you and add glamor to your bridal attire with your own hot pick.
Pearl and rhinestone vintage necklace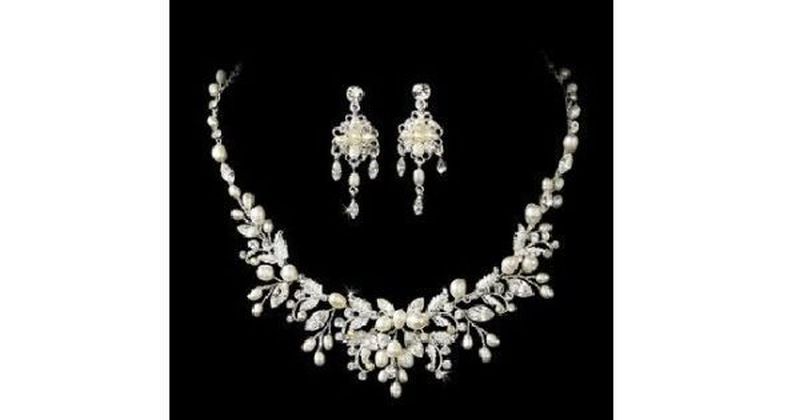 Your prince charming will be dumbstruck when he discovers you in an all new vintage look on your wedding. You must give the credit to this vintage necklace that complements perfectly with your traditional attire. The network of floral motifs and eye drop accents that predominate in this vintage necklace resemble a garland of ivory colored floral wreath across your slender neck. The floral trellis look of this necklace imparts a feminine softness to it. It has been achieved by using shining rhinestones and pure pearls embedded in pure silver or a gold framework.
Dazzling diamond vintage necklace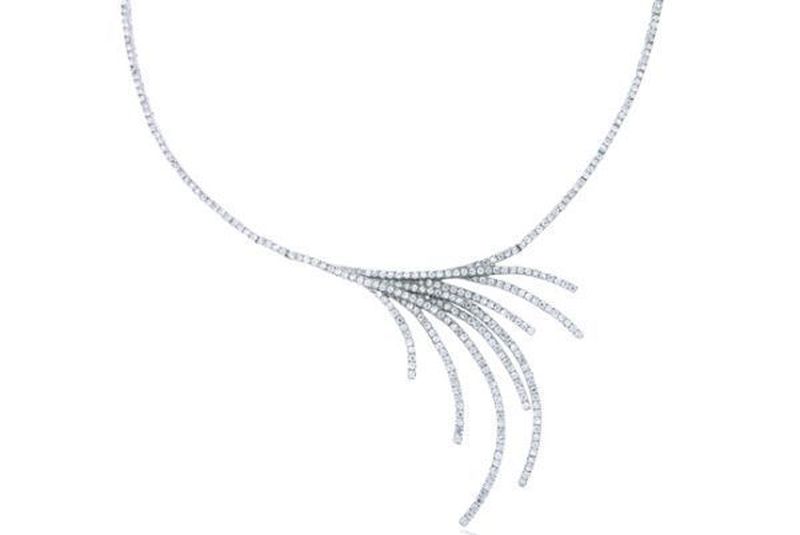 This vintage necklace is a tribute to the bride to be, who gives priority to simplicity yet respects age old tradition. The necklace centers upon a narrow chain encrusted with a series of diamonds that run just over your collarbone. The replacement of a traditional locket with a few curved lines that face a clockwise direction is amazing. It gives a contemporary touch yet staying within the limits of a traditional costume. It is perfect companion of your wedding evening wear.
Rhinestone embedded vintage necklace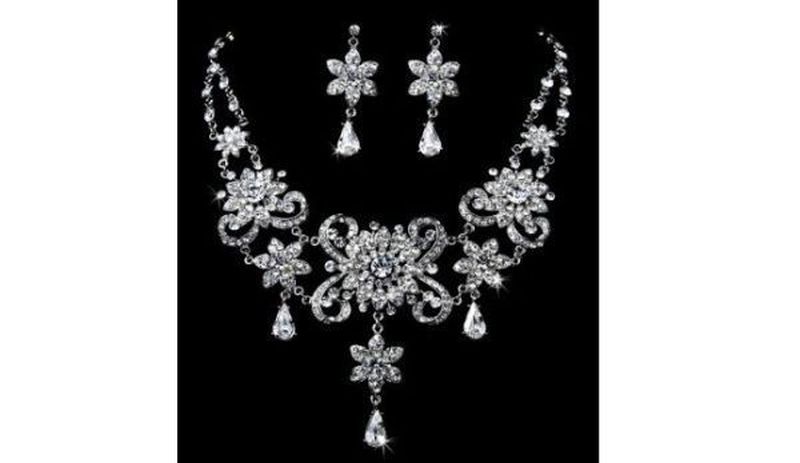 Dazzle in your wedding and cast the magical spell of beauty and sophistication by accompanying this exquisite vintage neck wear with your bridal dressing. The glimmer and shimmer of the rhinestones in this necklace captures the perfect mood of an elegant bride on a spring summer wedding. The floral framework and silver plated body of this necklace matches perfectly with the shining rhinestones. The beautiful vintage set comes with a combination pair of earrings too so that a symmetry is maintained in your vintage look.
Pearls and metal vintage necklace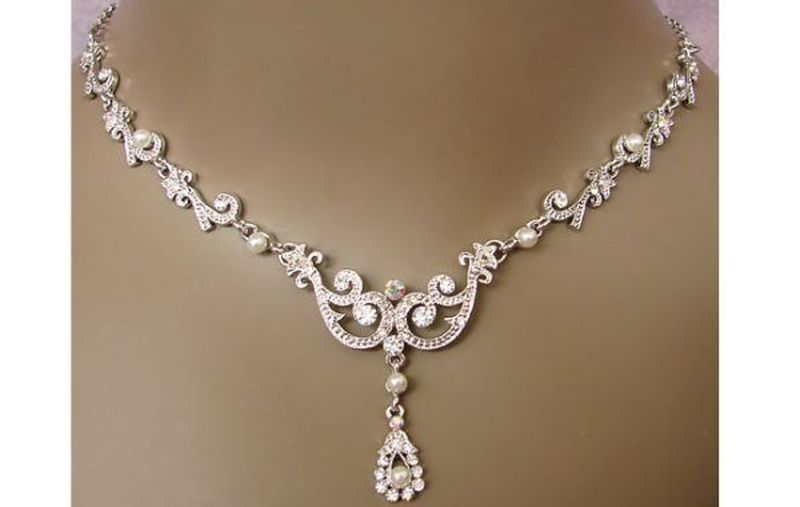 Once you have a look at this sleek and chic vintage necklace you will surely believe that it is the perfect costume jewelry you have been looking for to match with your antique dressing. The sprawling motifs of this necklace that flow throughout your neckline have been embellished with sparkling rhinestones that refract rainbow hues. This is a bonus to the vintage look as a glamorous accent. The ecru colored pearl drops in between the bejeweled motifs impart a soft appeal to this vintage necklace.
Mauve and white costume vintage necklace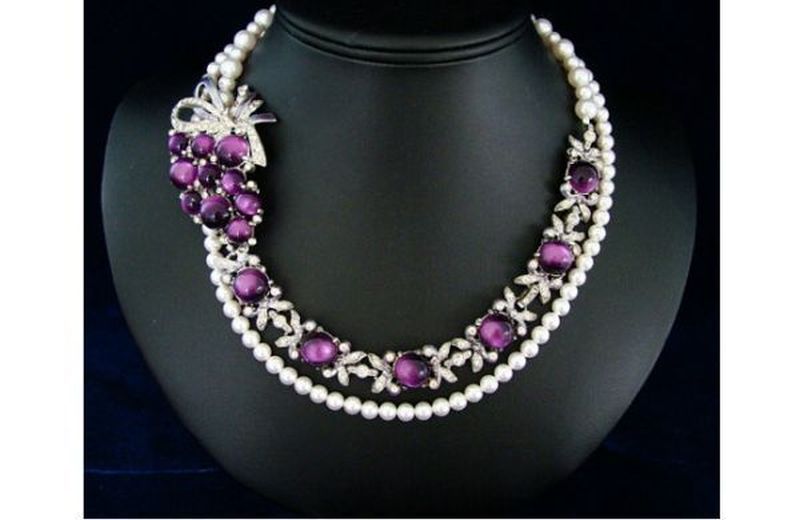 Are you all set for a lilac or purple themed vintage wedding? But the search for the right kind of vintage necklace to complement with your look is giving you sleepless nights? We have a brilliant solution for you. Have a look at this wonderful costume necklace that will be an apt match with your theme wedding. The perfectly round ivory colored pearls and the shaded purple stones bring out the splendor of the necklace. The colored stones are set in clasps that have leaf like contours and have embedded stones in them in order to capture the glitz and glam of wedding. The ornamented metal bow and the cluster of purple stones provide a fresh new version of a run of the mill pendant.
Five strand ivory pearl vintage necklace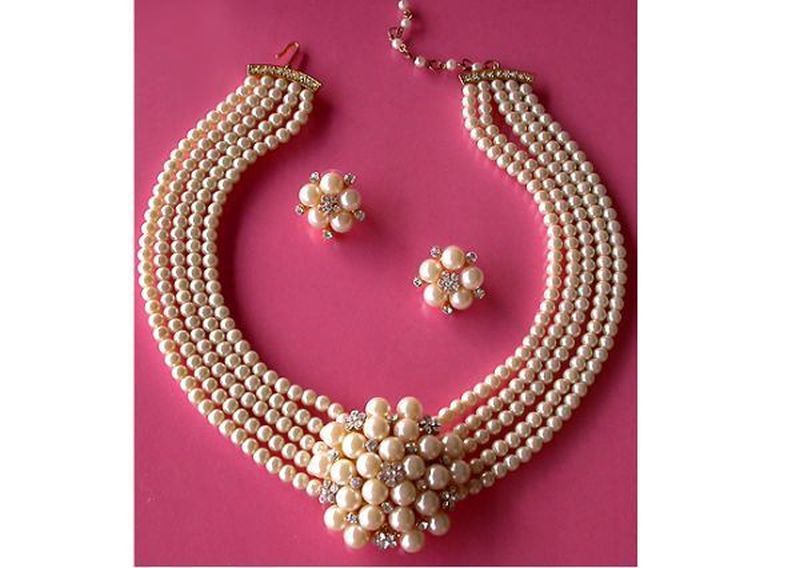 An all pearl necklace is the best buy as a bridal neck wear due to its soft feminine appeal. But this necklace also has an authentic vintage flavor in it due to its traditional design. The chain of five parallel lines of crystal clear pearls makes the necklace heavenly. The incorporation of two metallic bridges towards the center and at the end with stone encrusts magnify its aesthetic appeal on one hand and functional aspect on the other. Basically these metal bridges prevent the series of pearls lines from rolling over each other and looking clumsy when you wear the necklace. The conglomerate of pearls with tiny stones at the center takes care of the glamor element in it.
Rhinestone vintage necklace with brass accentuates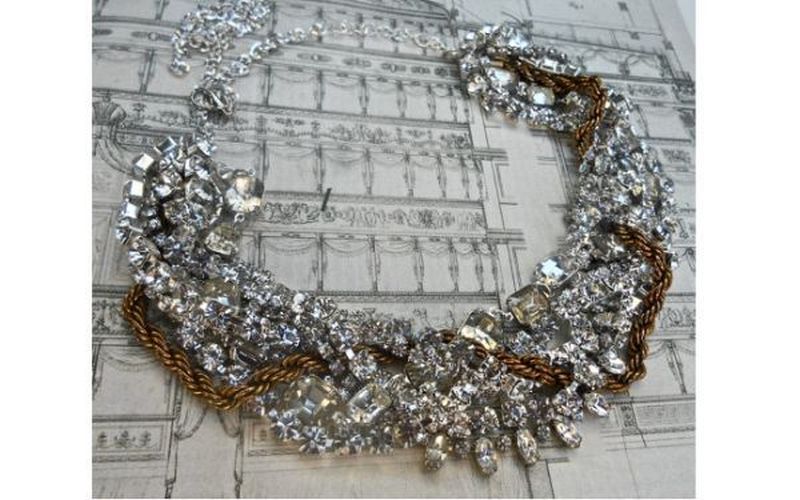 This vintage necklace is a work of art. All the sparkle and shimmer in this necklace is by virtue of the thick network of rhinestones of different sizes and shapes that predominates the chunky vintage bridal neck wear. The careless yet deliberate entanglement of a distressed chain of brass enhances the vintage appeal of the necklace even further. We assure you that if you buy this vintage jewelry for your wedding you will never need any additional accessories at all.
Pearl and metal vintage necklace
The innocence of the bride to be is best reflected in the network of ecru colored pearls that form the first row of this necklace. A sensational touch is rendered by means of a pure gold chain that forms the second row of the necklace. The final touch of class and tradition is delivered to this vintage neck wear by virtue of a rhinestone encrusted broach. You can wear this necklace for your prom event or in the ball or even at the wedding dinner to fascinate your wedding guests with your bridal charm.
Victorian style vintage necklace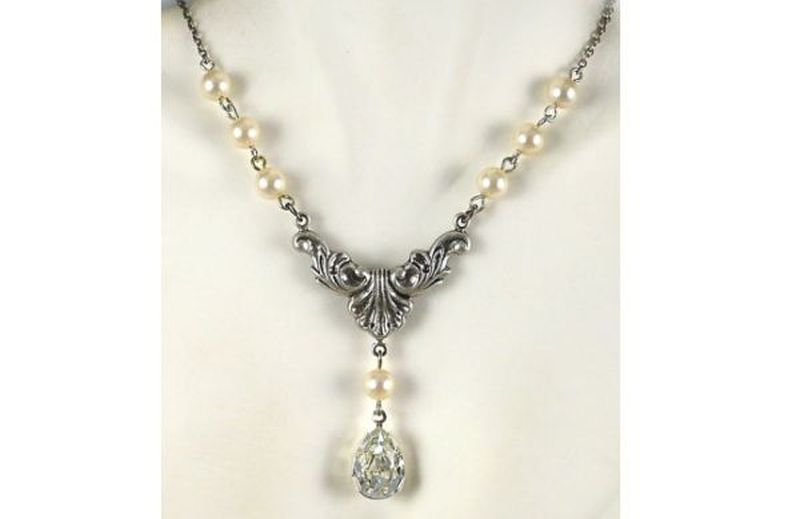 If you want to sport a purely vintage look on your marriage then this Victorian style classy necklace will be best in harmonizing with your look. The incorporation of fresh pearls, oriental metallic motif and rustic silver tone accounts for its traditional look. The pendant is alluring and is made from a clear Swarovski rhinestone hanging from the main frame in a tear drop style.
Pearl necklace with vintage rhinestone pendant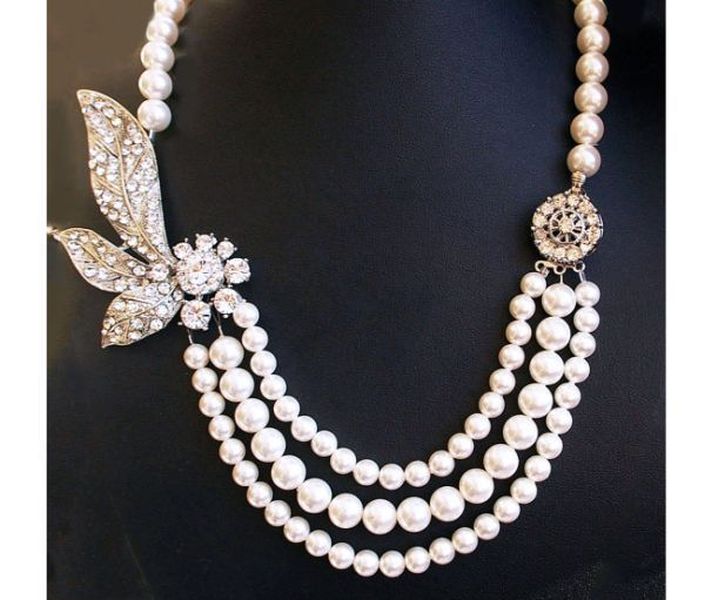 This 16" necklace is a statement bridal neck wear that embraces the vintage look most prominently. The juxtaposition of a single line of pearl strand that runs behind the nape with the three rows of pearl strand that adorns your bosoms captures the bridal blush impeccably. The brilliant rhinestone pendant is a treat for the eyes.