Indian wedding gowns are known for their artistic work, beautiful colors and delicate craftsmanship.  While the lehnga is still a hot favorite amongst many brides, there are some who choose to go with the traditional sari. There are various ways that you can trade your wedding outfit to make it look interesting and different. In this article we will not only provide a few tips on how to choose the right sari for your big day; however, also give you a few creative ways to drape your saree.
Sari types to never wear on your wedding and tips to choose the right one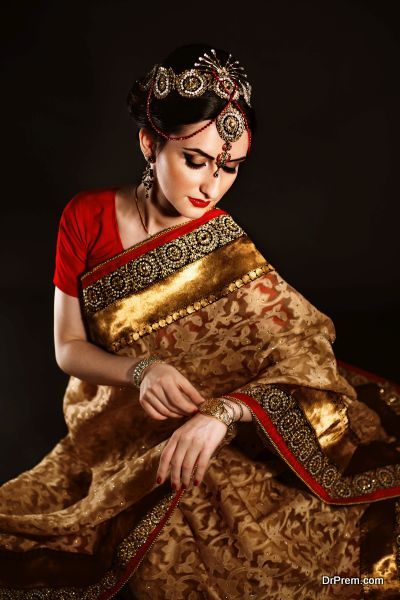 It is important to choose the right kind of sari for your wedding day. There are various factors that you should keep in mind when you go shopping. Try out these tips and look like a diva on your wedding.
Do not wear very heavy saris
It is your wedding and you need to look at your best. Everyone will have their eyes on you and you need to be really relaxed and elegant. So the first thing that you need to know to consider is that the sari you would wear should not be very heavy under whose weight you would fall. Wear a sari that will be light and elegant as well. Avoid heavy saris that have too much off embroidery works that might tangle up or give way. Try saris with beautiful and thick borders, and good embroidery work.
Wear a sari according to your body shape 
All saris will not look good on all women. Before choosing a sari know the sari that you would look good in. If you have a pear shaped body which is heavy at the bottom, then go for light and synthetic fabrics like chiffon, georgette and crape. Avoid heavy saris as they will make you look bulkier. The best way to attach the pallu is front ways. This will make you look nice. Since everyone's attention will be fixed on you, wear some bright colors that will match with your skin tone.
Overweight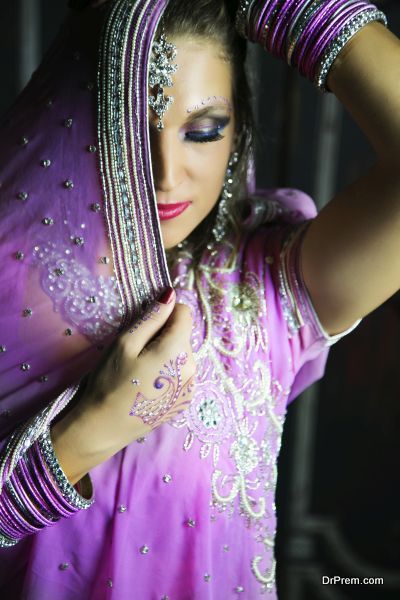 If you are overweight, then avoid saris like cotton. They will make you look more fat and bulgy.The best saris that you can wear on your figure is chiffon, synthetic, or georgette. Avoid wearing light colors like peach or pink or yellow. Try out darker shades of colors. The synthetic saris are a cozy fit that make you look thinner than usual. Your sari should not be very heavy or too much embroidered.
Slim figure 
If you are of the slim stature, then try out saris like cotton, or stiff saris. Avoid chiffon, as they might make you look slimmer. Wear light color saris with heavy embroidery work. You can also opt for bold prints that would make you look fuller.
Innovative and stylish ways to drape an Indian wedding gown
Here are some of the interesting ways of draping the dupatta (the long scarf that is worn in Indian attires) or the pallu (the part of the Indian saree that is draped over the shoulders).
The front flow style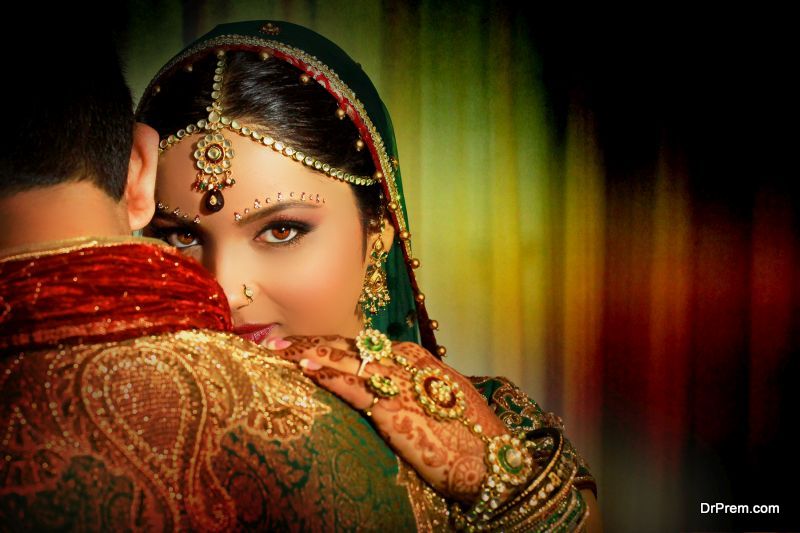 The elegant and classy look of this style will make your wedding gown look more beautiful. You can pin the dupatta/pallu on either side so that it does not fall off. Make sure that the borders are placed properly so that it is seen. If you want, you can also fold it into small plates and then pin it up leaving the rest to flow down.
The Neck Wrap
The neck wrap is a perfect way to go when you do not want to wear too much of heavy jewelry.  This is a perfect style when you have nice embroidery work done on the sleeves that you want to show off. While draping this stylish look, make sure that you pay attention to the material. Free flowing and synthetic materials are the best options for such a drape. Net (if is soft) or even lace will work well.
The half saree look
If you plan to wear a wedding lehnga and not a saree, then you can opt for the half saree look. This is an ideal option for people who are not comfortable with sarees. The half saree look is comfortable and easy to carry.
The Mermaid style of draping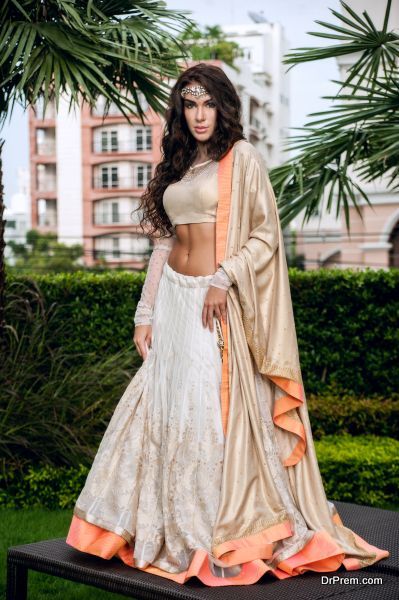 A perfect option for anybody style, you can opt for the mermaid style of draping and carry it with ease. While choosing the embroidery design for this kind, ensure that there is a lot of work done on the pallu or dupatta. The mermaid look will give you a more suitable and definite shape.
The butterfly drape
This is a modern day trend of the traditional way of wearing a saree. Net and chiffon are the perfect materials for this kind of draping style. The pallu/dupatta of this draping style should be thin. You can experiment as much as you want with your blouse.
Belted sarees
A new trend that has hit the market it the belted saree, in this trend, you can have a traditionally designed belt that you can place on your waistline. It is a good option when you do not want to have too much of work on your wedding gown, but still want to add the style element. Broad belts are the best way to go and replace the kamarban (waist chain) perfectly. You can always use this belt even after your wedding with any other attire.
The modern styled saree or lehnga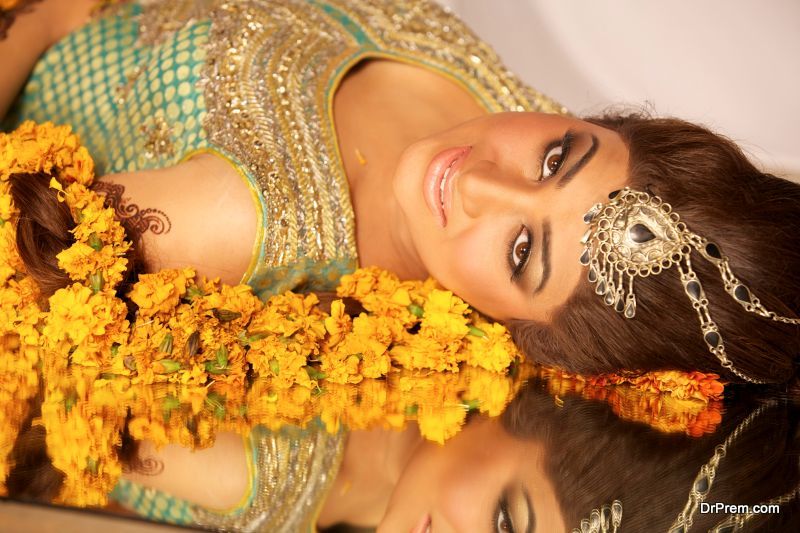 If you are more comfortable with pants or leggings, then you will defiantly love this style. You can choose to have a nice heavy dupatta with light embroidery on the pant.  For the blouse, let the emphasis be more on the sleeves. This comfortable way of draping is ideal for girls who are not used to wearing sarees or want to have something that they can wear even later on.
The diagonal wrap and front fall style
In this style, you can drape your saree pallu or dupatta the normal diagonal way and then from the back bring it front. This style is perfect when you have a one sided blouse and you want to emphasis on the pallu. Heavy bordered work is advisable for this style since it can be seen beautifully.