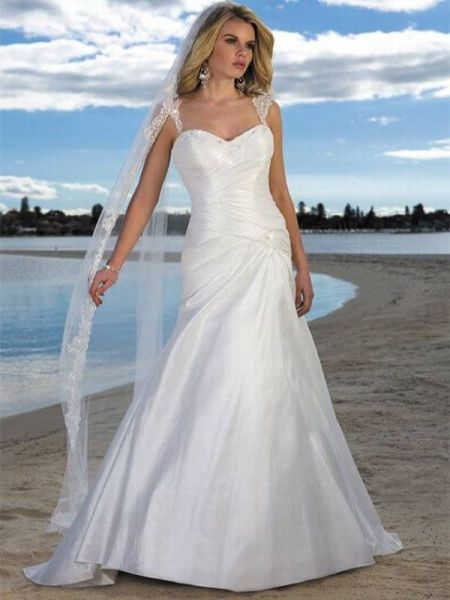 Beach weddings are generally more fun filled and casual. If you are planning to schedule your wedding during the summers out on a beach, make sure your wedding dress compliments the relaxed mood of the breezy and free surroundings. We have tried to make your selection task slightly easy with the following list of 10 best beach wedding dresses. Have a look.

1. Ella wedding gown 5354
BRAND : Ella Bridals
PRICE : USD 745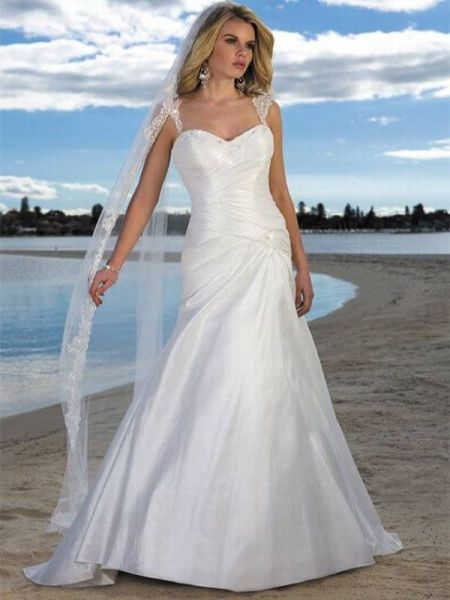 Ella has a great team of designers, who consistently make efforts to create wedding dresses which are comfortable, stylish and affordable. The beach gown has A-line silhouette with a fitted bodice and a gorgeous gathering around the waist. The classic line of the dress finishes in a cluster of bead work which beautifies the dress even more. It comes with the option of detachable sleeves. Individuality is very important to every bride and Ella innovates with its designs so that each bride can walk down the aisle in a new and fresh design.
USP
This dress has an amazing finish, quality and fit.
PROS
The detachable sleeves of the dress allows you to stylize the dress differently for various occasions.
2. Destination by Mon Cheri- 18107
BRAND : Mon Cheri Bridals
PRICE : USD 398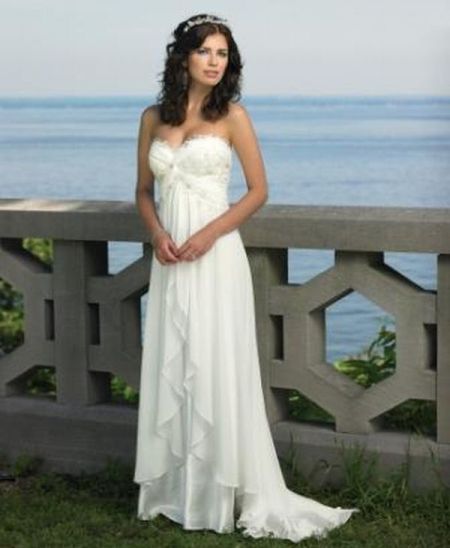 Stephen Lang , the CEO of Mon Cheri Bridals aims to provide brides with the best wedding gowns. The Destinations collection by Mon Cheri is specifically targeted for beach weddings. The 18107 wedding style gown is simply gorgeous and crafted from chiffon over charmeuse. It has boat neckline and ruching on the bust accented by a bead and pearl waistband. The full length skirt flows smoothly down till the ankles and has a real sleek chapel train. The bodice is fully embroidered and is contrasted with a plain skirt.
USP
The dress is designed to suit the outdoor beach environment and is loaded with femininity, elegance and sophistication.
PROS
The dress is available in four colors – red, ivory, navy blue and white.
The dress has an unmatched comfort level.
3. Maggie Sottero Bridal Gown SD5237
BRAND : Maggie Sottero
PRICE : USD 798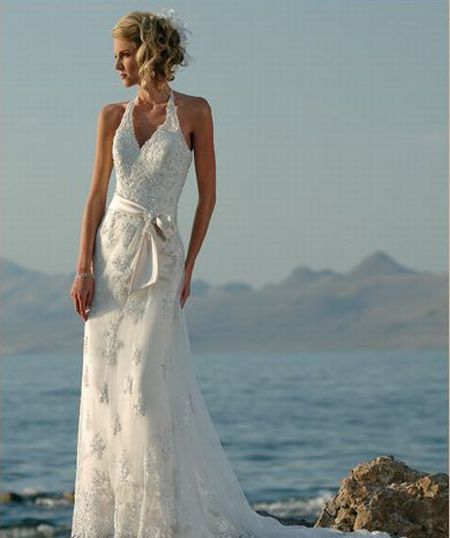 Maggie Sottero is a world famous wedding dress designer who has won many awards, including the Six Debi, Nine Desert Rose, Wedding Idea's Best Dress Designer Award, etc. Her wedding gowns come in both luxurious and off the runway designs. The SD5237 is a stunning beach wedding gown made from the highest quality fabric. It has the signature hand sewn embellishments that adorn the dress. In fact the entire outer layer in lace has been richly embellished in hand. It is a one-piece slim line dress with a halter neckline and an inner zipper over the corset closure.
USP
The dress will flatter your figure nicely. The satin bow at the waist gives it the element of cuteness.
PROS
It flows down elegantly and will look real good on bulky females who want to look slimmer for their wedding.
It has an illusion sheath train that sets it apart from the chapel train dresses.
4. Style 1774NT, white net wedding dress
BRAND : Alfred Angelo
PRICE : USD 999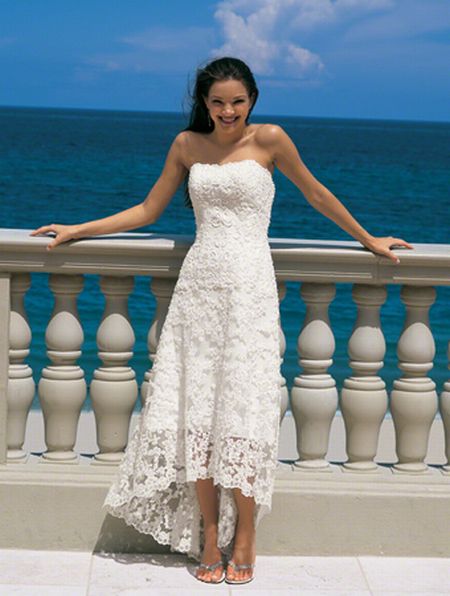 Wedding dress designs by Alfred Angelo are always marked with a classic sophistication and elegance. Every year they bring several new collections to suit the latest trends and styles. This summer, their collections feature many dresses for beach weddings. Style 1774NT is a well crafted and attracted dress draped in re-embroidered lace. It will make you look like a doll with its strapless princess line skirt. The gown also features Pearl and Crystal beading throughout the cascade hemline, which shimmers in the sunlight.
USP
The dress has the lightness required for the outdoors and also the richness and refinement that are important for a wedding gown.
PROS
Unlike most wedding dresses that can only be worn for the wedding day exclusively, this dress can be worn for other occasions too.
5. Jasmine Wedding Dress Style C469
BRAND : Jasmine Wedding
PRICE : USD 169.99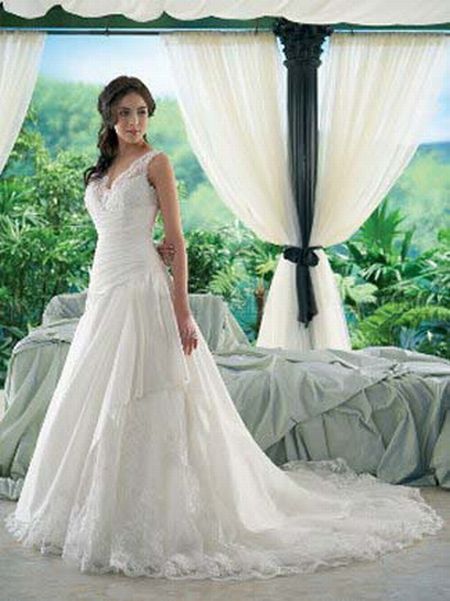 Since its inception in 1985, Jasmine bridal has been known for its innovation in design and fashion. Crafted in satin, the dress has a sexy V neck and a nicely fitting A-line silhouette. Detailed Robinson-Anton platinum embroidery at the helm of the bodice gives it more grace and grandeur. Very crisp and smooth taffeta has been used for crafting the dress. It will give the desired comfort and also maintain its sharpness throughout the day. Although the dress is simple and chaste, it gathers at the back waist to give it the looks of a full train.
USP
The main highlight of this dress is that it is very youthful and at the same time very classic in appeal.PROS
The zipper up in the dress will help you to easily slide into the dress, without tearing any seams or spoiling the design.
6. Wattera Albury beach wedding dress
BRAND : Watters
PRICE : USD 1490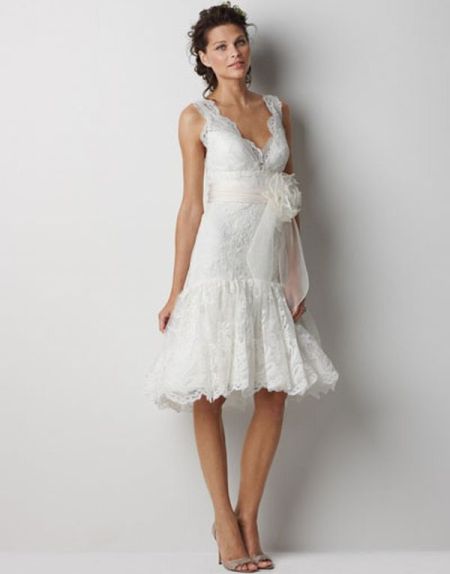 Brides of the modern day want to make a bold statement with their wedding dresses. This dress is short, sleek, elegant and casual and will match the beach mood. It is draped in re-embroidered lace from top to bottom with a V neck antique rose pattern. There is an ivory washed silk organza sash and a large hand rolled ivory washed organza and lace corsage at the waist.
USP
This dress has a fun and sensual appeal. The bride can express her independence with this dress.
PROS
Not only can this worn for your wedding, but you can use it after that also for some other occasion too.
It is more casual than formal.
7. Style 2913- Tara Keely
BRAND : Tara Keely
PRICE : USD 1500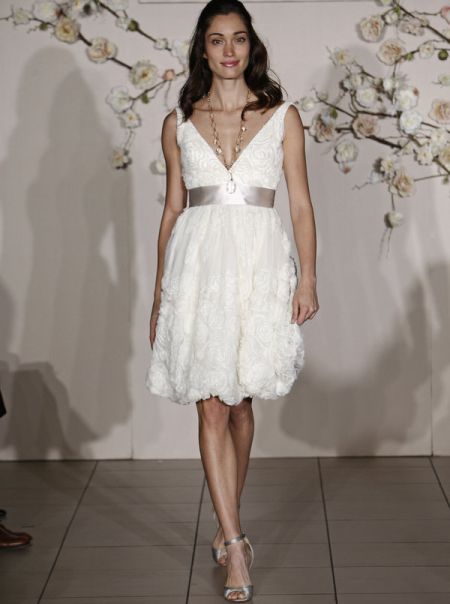 Today brides have a wide variety of expectations from their wedding dresses. They want their wedding dress to represent their mood, taste and also their overall personality. Tara Kelly exclusively designs hot and sexy dresses that will make you look sizzling. The plain white ruffle mesh of the wedding dress is adorned with a silver sash at the helm of the bodice and gives it a chic look.
USP
The ballerina style of the dress is very fresh and new and not many designers have tried it out.
PROS
Very comfortable to wear, you can easily walk around loosely in this dress without stiffening.
8. Style 1033- Dessy
BRAND : The Dessy Group
PRICE : USD 458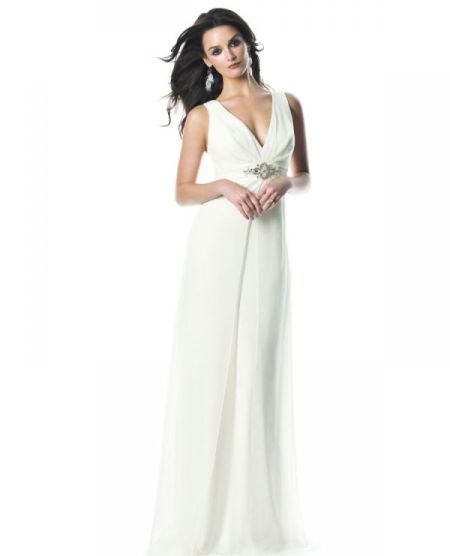 More and more couples are planning their wedding at a beach. The open air fun, besides sea waters has greater charm than indoor weddings, in ancient palaces. Casual Attire will be more suitable for the beach settings. A full length satin gown, this dress cascades down smoothly with its slim line silhouette. The deep V neckline gives it sensuality and the beaded medallion set in the waist give it an elegant grandeur.
USP
The simplicity of the Grecian style dress is so pure that it expresses godliness in every aspect.
PROS
The dress has a great design and also is very reasonably priced.
The design of the dress itself speaks of the efficiency and ease with which you can comfortably last through your dressing day.
9. Style 911- by Allure
BRAND : Allure Bridals
PRICE : USD 332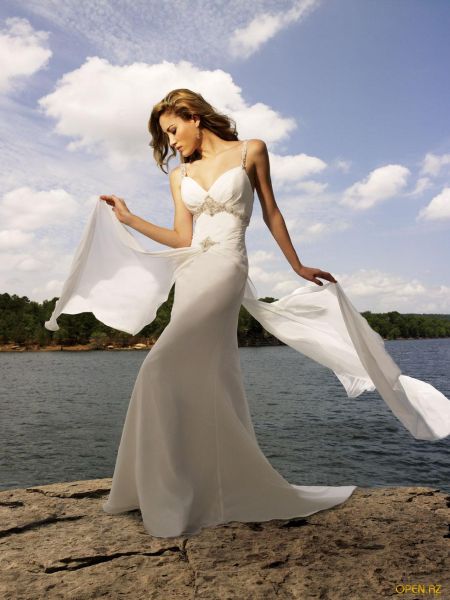 Allure beach wedding dress wants you to look like a beach princess for your wedding. The dress is very attractive and has a sexy deep V neckline with sparkling spaghetti straps. The entire bodice is covered with embroidery. The empire waist is embellished with crystals and gives a shimmering shine in contrast to the plain simplicity of the dress. The sweep train is not too long and finished just close to the ankles; therefore you won't have to struggle with the dress in the sandy beaches.
USP
Style 911 is marked by a lot of dramatics blended with a tinge of softness, which make it both bold and beautiful.
PROS
The finish of the dress is very neat with the beaded straps adding delicacy and added comfort to the dress.
10. Style P618 by Jordon
BRAND : Jordon Fashions
PRICE : USD 130.99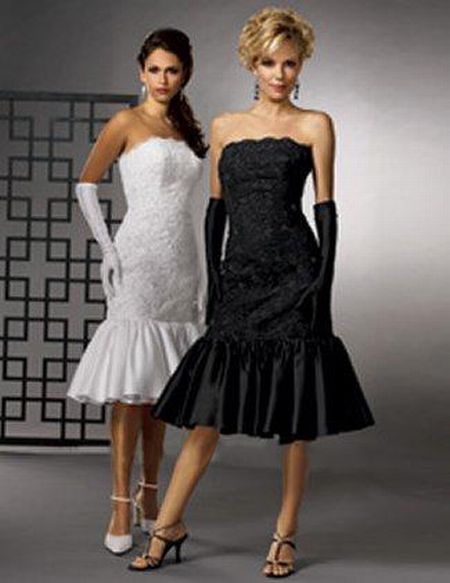 Jordon Fashion has been a leader in the catering the dress needs of bridal parties. With changing styles and trends they keep updating themselves with the latest demands. Since beach weddings are becoming more popular, characterized by economy and fun, Jordon decided to capitalize the market with his new beach designs. The tight bodice that extends down gives the dress a mermaid style appeal and the frock portion almost represents freedom.
USP
The unique dress skin fits with the body down till the knees followed by flares make it look like a frock.
PROS
The dress is available in both white and black and both these colors showcase a different expression.
With the dress, you will get a pair of net gloves that are sure to add elegance to this otherwise casual dress.