Choose the best wedding gown collection for yourself
Walking down the aisle in a beautiful dress with rows of dazzled spectators watching in admiration is a dream that every girl sees. A wedding is the most romantic and a very memorable day in any girl's life, when she exchange the vows with her loved one. The importance of the moment itself is an ample reason to make the ceremony look and feel special. The months and months of planning finally comes down to just one day, the D – day. On this auspicious day every girl tries to look her very best and a ravishing wedding gown ensures that the bride stands out in the crowd, looking absolutely stunning.
Buying the most splendid wedding gown which suits the bride most is a question of major concern. But the changing market scenario gives thousand options to the would be bride.
Few flattering categories of wedding gowns-
The Mermaid or Trumpet Wedding Dress–
This style wedding dresses hug the curves closely and are a great choice if the bride feels like accentuating her curvy figure.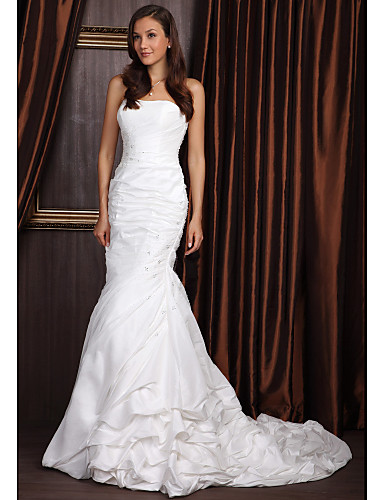 The A-Line or Princess Wedding Dress–
This flattering dress style is a fitted bodice shape with an A-line skirt. It hugs the waist, so it creates a slimmer waistline and flatters the bust. The A-Line will cover the hips effectively and in case of narrower hips the cut of the skirt will give some shape.
The Empire Line Wedding Dress–
This suits well with slim girls. The long line makes petite brides look taller.

The Sheath or Column Wedding Dress-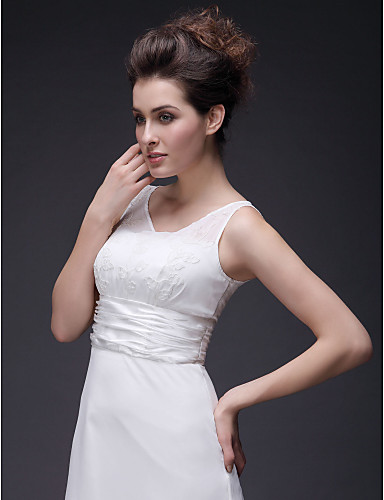 This body hugging wedding gowns runs pretty much vertically from the shoulders down to the floor and the hem does not flair out. The Column dress hugs the figure and looks great on tall, willowy women. This is the one to give the bride that catwalk look! It will also work well on a more petite figure.
The Ball Gown Wedding Dress-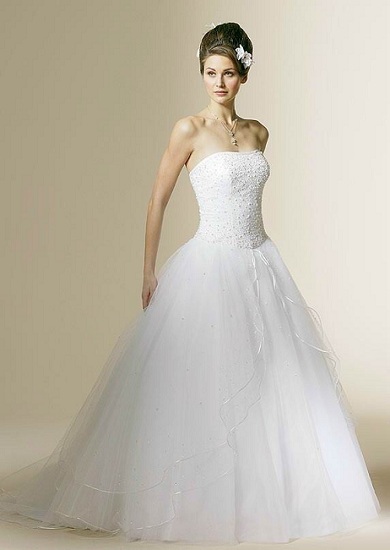 Usually paired with fitted bodices, these gowns flare out from the waist.
Based on neckline the wedding gowns are again distinguished, such as- Dipped Neckline, V Neckline, Sweet heart Neckline, Boat Neckline, Strapless Neckline, Halter Neckline.
Trends in 2012 Wedding Dresses-
2012 Wedding dresses are traditionally elegant, coupled with dramatic, contemporary lines and are the true essence of this stunning bridal gown collection. The materials being finest fabrics including pure silks, rich satins, soft laces, and hand crafted Swarovski beaded crystals aiming to make the gown one of its kinds. The color palette is natural, ivory accented with oyster and antique silver. Key embellishments include handmade silk roses, beautiful vintage looking laces and Swarovski Crystal beading. The look is glamorous and feminine.