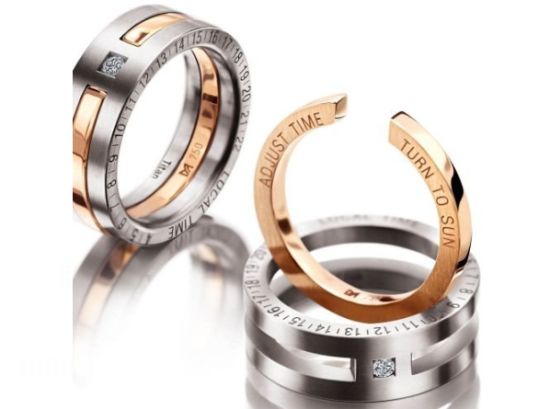 A wedding is forever and so is the ring that seals the love filled moment. One tends to narrow down on the best things around and the same should be done while picking a wedding ring for the groom. Rings for men are simple, but that doesn't mean this important piece of jewelry can't be gorgeous and make a statement. Ornament one of the most important day of your life with a perfect exchange of rings that will create an everlasting bond of love, warmth and affection. Have a look at some men's wedding rings that will make the groom a trendsetter in no time at all.
Sundial Men's Wedding Ring by Meister Jewelry

Sundial Men's Wedding Ring is an awesome creation by Meister Jewelry, which will make your loved one feel all the more special. The ring can be made to order and has been crafted with utmost precision. This ring grabs the attention of anyone because of its  titanium touch with an inlay of an 18 carat rose gold band that highlights its beauty further. Moreover, the presence of a 0.050 carat diamond complements it and adds the sparkle to this ring. The wedding ring is an ultimate symbol of love and luxury, which will seal the moment at hand forever.
9ct Gold Men's Satin Finish 5mm Wedding Ring

The good looking ring is trendy yet comes swathed with a lot of simplicity. The eternal practicality of this men ring is worth applauding. Crafted out of 9ct yellow gold, the men's wedding ring has a matt center that makes it look all the more beautiful. The artful piece has a width of 0.5 cm and will definitely leave an everlasting impression. The design will remain delightfully stylish for years to come and will fetch unending attention as it graces the hand of the love of your life.
White Gold Courtier men's wedding rings by William Cheshire Jewelry

The ring is bound to steal hearts as you slip it into your sweetheart's finger. The dazzling Courtier Men's Wedding Ring by William Cheshire Jewelry has been crafted out of 18 carat white gold and has been given a matt finish. The ring will undoubtedly make eyes swoon as it comes caked with a lot of classiness. It can be customized as per individual size specifications that will be an added advantage.
Titanium 1/10ct TDW Diamond men's wedding ring

Give your honeybunch a wedding ring that will remain stylish forever. The stunning Diamond Men's Wedding Band comes embedded with three diamonds that will sparkle with all their worth and make eyes do a cartwheel in surprise. This sumptuous piece of wedding jewelry is flawlessly made using aircraft-grade titanium; with a stain finish to give that extra special touch. The three diamonds will cast a spell on everyone and will be a perfect way to express your eternal love on the wedding day.
7mm Tungsten men's wedding rings

If you wish to give your sweetheart a memorable token of love; then nothing can beat the Tungsten Wedding Ring. It  fulfills all requirements to fit into a tasteful statement piece of jewelry.  The 7mm tungsten band has a width of 0.6cm will bewitch onlookers with its smooth outer skin. Though simple to look at, the ring spells elegance and will definitely make your darling jump with utmost joy as you exchange vows.
Palladium men's diamond set wedding ring

The modern ring for the groom will express your lasting love. The sleek and stylish has three diamonds placed diagonally in a delicate way that give it a mystic appeal. The timelessly modern and sophisticated design makes it totally unique for that someone special in your life. The use of palladium and the presence of three diamonds are pleasant for the eye and will force your loved one to whiff a wow.
14K Two-Tone Gold Diamond men's wedding rings – 0.25 Ct

The absolutely gorgeous wedding band will leave the groom wheezing as you express your eternal love in a highly sophisticated tone. The 14K diamond ring has two tones. The breathtaking piece of jewelry is one of its kind and will set that perfect mood of a wedding. The ring has been ensconced with a round cut 0.25ct diamond in the middle that gives it looks to be cherished forever. The groom will be smitten as the two toned beauty makes the D day unforgettable.
Jacaranda Tree 18ct Yellow Gold Sasa Men's Wedding Band

Sasa men's wedding rings does bring out the festive cheer. And without a doubt, the groom will be left totally enchanted as the yellow metal shines on his hand. This 18ct gold is without a doubt a golden beauty that Jacaranda Tress brings to you.
The golden beauty by the Jacaranda Tree has been set in 18ct gold. The twisted gold wires lend a mystic appeal to mesmerizing design. The ring has been hand finished is a perfect symbol of everlasting love that will shine for years to come.
Stunning Men's 10k Yellow Gold Diamond Wedding Ring

The gold diamond ring is a classic symbol of love, which will seal the unending love between two people in a totally enchanting way. The fiery combination of 10ct gold and round cut 0.25 carat diamonds is worth a steal. It will prove to be a perfect gift for that special person and is nothing less than a fashion statement.
Men's 9ct White Gold 1/4 Carat Diamond Ring

Perfect for an elegant groom, the ring Is truly beautiful. The glitzy piece of 9 carat white gold has been coyly embedded with a ¼ carat diamonds that vow sparkle with all their worth. The impressive wedding band with a width of 0.5 cm will make a contemporary statement and will show the groom how much he is loved. The white gold creation is very impressive and will be perfect for your wedding day that is itself special.
Men's 10k white gold micro pave diamond wedding ring
A men's wedding ring that can be got in the size 10 this is a beautifully designed men's 10k white gold micro pave diamond wedding ring. It is made up from the 10 carat solid white gold with brilliant 0.35 carat of round cut diamonds to add to its beauty.  You can also adjust the size of the ring to suit your fit by any good jeweler. The setting of the ring is micro pave and it is a good wedding ring to go for as per fashion or the style statement as well.
Tioro men's diamond wedding ring
Tioro men's diamond wedding ring presents an altogether a new and different style of wedding ring. It is a kind of the ring that a women should propose her man with. this titanium ring is modern and stylish and has a width of 0.7 cm. A single round shaped diamond is exquisitely placed in the titanium setting that features three rows with the two thin black grooves on the run. This ring is affordable too.
Men's Palladium diamond wedding ring
The palladium metal constitutes to the everlasting durability of this wedding ring. It's style is simple yet very sophisticatedly modern. This wedding ring has the offset band of diamonds to one side and with the fine palladium shine on one side. For those who are planning a classic theme wedding; this ring will blend in perfectly . At a price tag of about $1,000 this ring is inexpensive of the love that it is able to express by its making and design.
Christopher Wharton men's diamond wedding ring WN763
This classical design hails from the design house of Christopher Wharton and is one of the best mens wedding rings you will find. The platianium structure comes with a width of 5mm for the special comfort and fit. It is also one of those mens wedding rings that you can choose even if you are not a lover of gold. Moreover, the hypoallergenic feature of the metal serves as an extra characteristic. Moreover, the main highlight of this ring is on the center wherein a beautiful triangular shaped diamond adds to the beauty of the ring. The only thing that you have to consider is your wedding budget because this ring has a worth of $3,524 which is quite expensive!
8MM tungsten carbide men's brushed gold diamond ring
Formed from the mix of the tungsten and carbide this wedding ring takes two to tango and comes with the decent surprise of three beautifully placed diamonds on its exterior. It is available in a huge variety of sizes to choose from. The wedding ring has been given a gold appearance by brushing and the width of the ring is decent with 8 mm dimension.
Yellow gold men's diamond wedding ring
A very fine piece of wedding jewelry is a characteristic to this men's wedding ring. To prepare this ring, 10 carat yellow gold is used. It has about seven brilliant round cut diamonds all set to it in a slim channel setting. The total carat weight of the wedding ring is 1/8 of a carat. You do not see rings like this too often in the wedding market. This would be a good choice for the people who like change and experimentation in design. The wedding ring is very comfortable to the wearer.
Celtic knot cathedral men's wedding rings
This is a white gold Celtic diamond rings for men who love to be traditional and modern both. The Celtic wedding ring comes with a surprise diamond of 0.04 carat and has a width of 5mm. The knot work done near to the center where the diamond has been placed, is quite traditional in style. The white gold gives a classic feel to the wedding ring at the same time. It also has two bezel set 0.02 carat diamonds set onto the main diamond prongs! You can also find this ring in materials like rose gold and platinum in different sizes to suit your fit and choice. It is a great pick for the church wedding.
G-Vs 0.50Ct round diamond wedding ring
Hand crafted to the elegance; this diamond wedding ring has a vertical setting of the medium brilliant cut diamonds. The color and clarity of the diamonds adds to its beauty. The rig measures to be 8 mm wide and weighs 17gr to be approx. It is a great ring for all tastes; and can never go out of the style even after years of the wedding gone together. Anyone will love the its modern and minimal design especially if they are looking for such kinds of wedding rings in the market.
10k yellow gold diamond accent men's wedding rings
Shining with the aesthetics; the placement of the five round cut diamonds into the 10 carat yellow gold structure is the main focal point. The polish adds the finishing touch to this beautiful ring. The style is diamond band and the setting of the ring is 2.7 mm wide and 2.9 mm high. It intends to be a ring of strong structure, durability and comfort.
Stunning 10k two tone gold diamond men's wedding rings
Made up of two tone gold; this is a diamond wedding ring that has been constituted with 5 channel set round cut diamonds. The ring is exquisite and elegant in style and forms a great choice for the grooms to be. The two tone of the ring is just awesome in appearance. It also makes it to be a stunning wedding ring choice. With comfort fitting and all the good things this is too much affordable as well.
To sum up
Undoubtedly wedding day is one of the biggest days in one's life. Be it men or the women the love blesses everyone this day without discrimination. Generally we all know that diamonds are a girl's best friend; however, even the men tend to fall in love with the ever glittering and sparkling diamonds. Among wedding rings diamond rings represent a different class and style. If you are looking for some best mens wedding rings for yourself; or even if you are looking for different options for the groom.