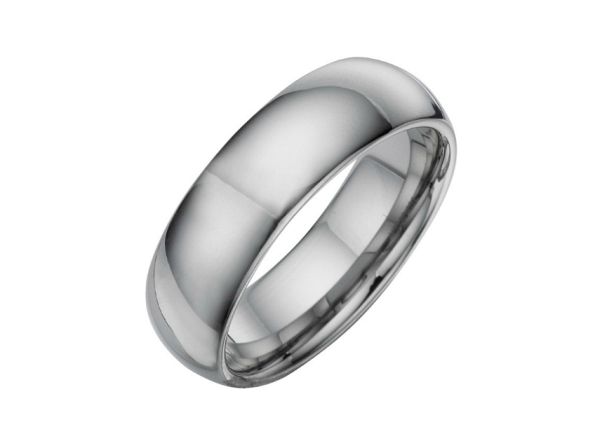 The newest trend among the wedding rings to make you feel special is surely that of the tungsten wedding rings. The metal tungsten is resistant to scratching and also the other wear and tear. It maintains its looks and appearance even years after your wedding. It has soon replaced the use of the titanium wedding rings because they used to get messy with their appearance really soon. So if you wish to try out this new wedding ring category then here are few selected trendsetting tungsten wedding rings that are sure to make you feel special with their looks and style. Take a look.
Tungsten court wedding ring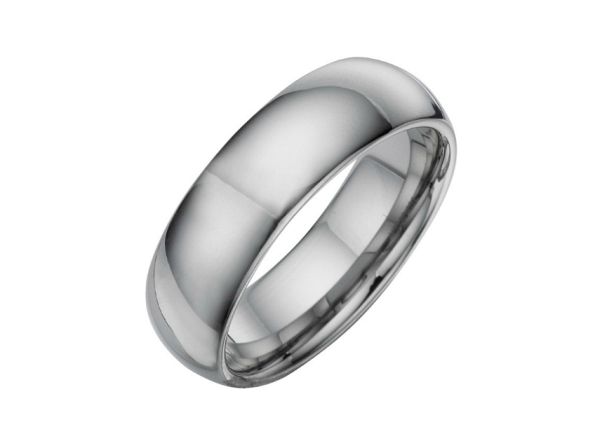 This one is a good quality and comfortable tungsten court styled wedding ring which is quite beautifully polished and has a very good lustrous surface. A value for money wedding ring that makes a style statement to anyone who wears it. It is totally scratch-resistant and does not leave any kind of marks on the skin because of the high quality materials used for its formation. This ring is one of the best suited wedding rings that is high on style and yet simple and modern.
Price: $63.38
Buy here: Very
Tungsten flat wedding ring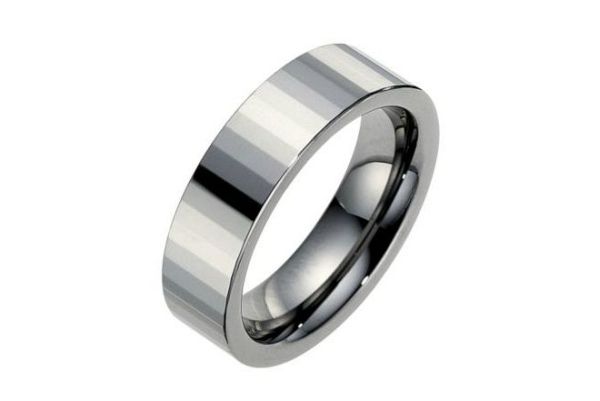 Built with the tungsten metal, this is a flat ring with the design that is contemporary and the style too chic and modern. The width of the ring is 0.6 cm and it is available in sizes ranging from M to Z. Its surely a great wedding ring to celebrate your big day in some trendy way. The ring do not lose its shine with time and looks like a new bought ring even after years of your wedding and therefore it is again advantageous to go for this particular one.
Price: $110.92
Buy here: Ernestjones
Tungsten two tone strip ring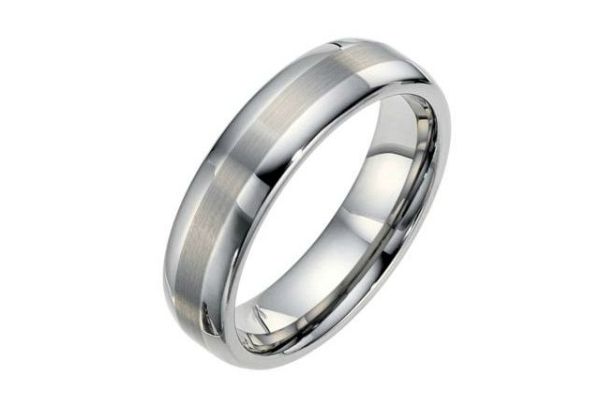 A two tone strip ring made out of the tungsten and combined with the matt for the polish and the finish. This is a classic looking wedding ring design. The two tonal strip effect is something that gives this ring a modern stylish look and appeal. Width of the ring is 0.6 cm and it is available in all size ranges. All these elements make this wedding ring a good suited wedding ring for the groom. So go ahead and surprise him with this one to keep a cherishing memory of you forever.
Price: $118.81
Buy here: Ernestjones
Tungsten carbide w/ black diamond 0.50 carat wedding ring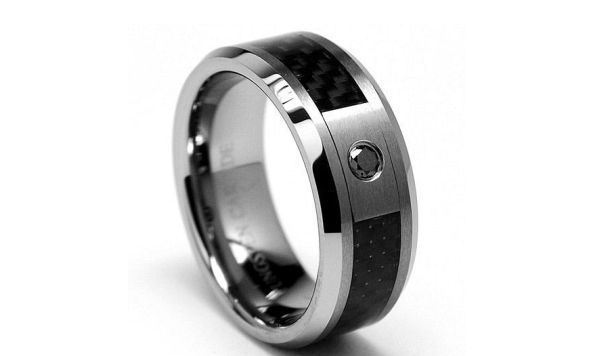 The mixture of tungsten and carbide forms this wonderful looking wedding ring. It has a 0.50 carat black diamond engraved in it as well. The width of the wedding ring is 8 mm. The carbon fiber has also been employed in the making of this ring. Durability, is something that this ring can boast about itself. Those who love darks color shades will like this one very much. The ring comes quite handy and affordable as well.
Price: $142.64
Buy here: Amazon
Tungsten carbide ring with facets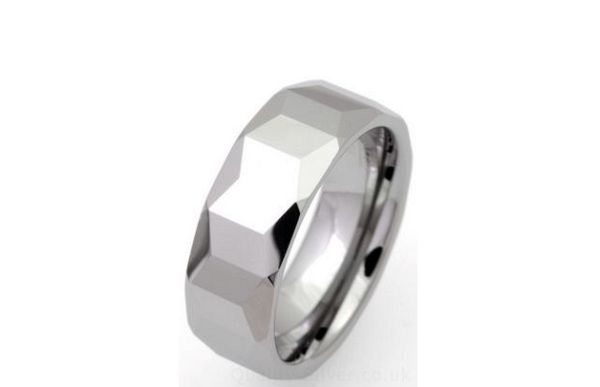 With a unique faceted design, this is a tungsten carbide ring. It is 8 mm in width and has the court styled making. The inner and outer parts of the ring are well rounded to provide the comfort fitting. Court rings are popular for their good finger fittings. There is a manufacturer mark which ensures the brand quality of the wedding ring. Very well designed, this ring is durable, strong, scratch-resistant and hard.
Price: $71.22
Buy here: Qualitysilver
RnB slim solid black tungsten wedding ring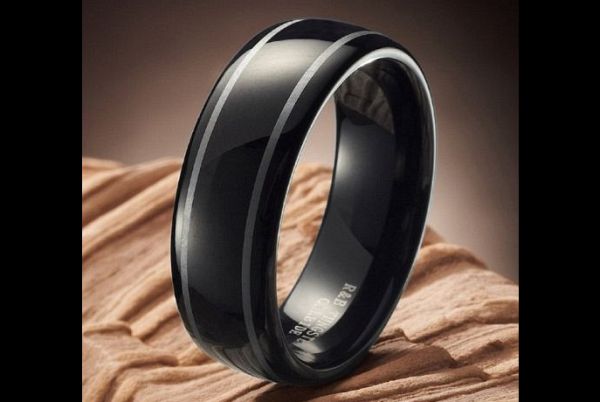 Much affordable to compliment any wedding budget, this ring by RnB is black in color and all built with the tungsten. Solid styled finish is a characteristic of this ring. 7mm wide, this ring has exquisite-looking stripes. It forms a great wedding band or the engagement ring for men. This can be a true trendsetter in the tungsten wedding rings arena being simple yet rich in all its properties.
Price: $34.90
Buy here: Rnbjewellery
Unisex honeycomb high polish tungsten carbide wedding ring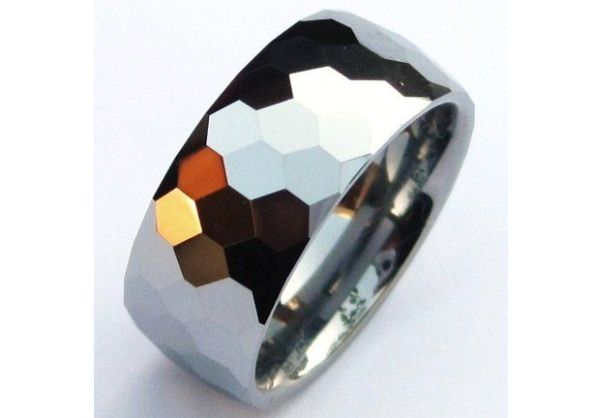 8 mm wide this wedding ring is a masterpiece when it comes to the design. The rings has been made with the fusion of the tungsten and the carbide and has been highly polished, showing elegantly its honeycomb structural surface on the upper part. It has spectacular looks and is for unisex purpose. The ring will retain its shape and the shine for a lifetime and that makes it just perfect for the wedding couples who are looking for a wedding ring with which they can commit to one another.
Price: $40.61
Buy here: Ecrater
His & Her's 8mm/6mm tungsten carbide gold wedding ring set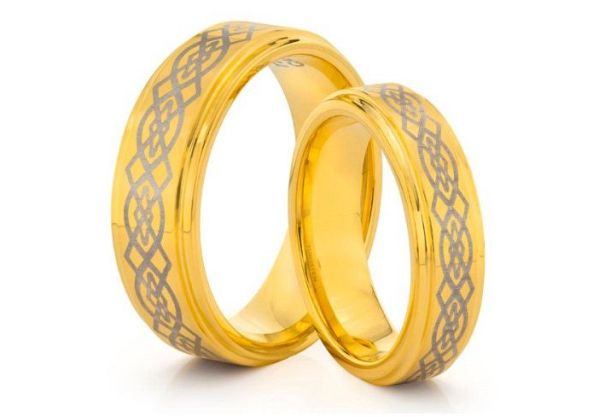 If you are planning to choose something different in the tungsten wedding rings genre, then these might be the most suitable rings to please your desire. This is a ring set of two, for the groom and the bride measuring 8mm and 6mm, respectively. The chief materials used for the formation of the rings are tungsten, carbide and gold. Both these wedding rings come with laser etched Celtic design that distinguishes these from the ordinary wedding rings.
Price: $126.80
Buy here: Amazon
Tungsten two silver line ring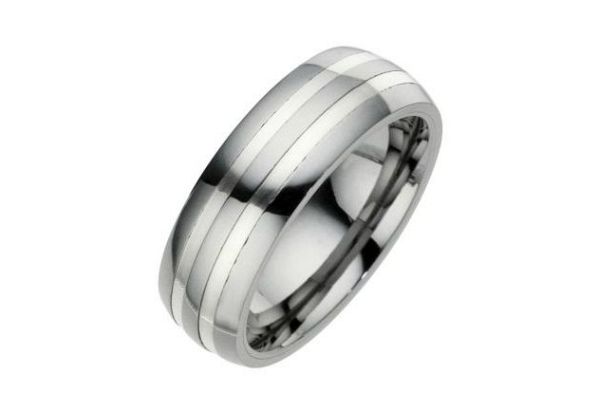 For the ones who are looking for a modern and chic styled tungsten wedding ring, that can make many a hearts feel jealous; this ring is a good pick. With 7 mm of width, this ring is build with tungsten mainly. But something that details the design of this ring, are the two silver linings on the outer shell of the wedding ring. These silver lines look fabulous and set a style that is classes apart.
Price: $158.65
Buy here: Hsamuel
Tungsten carbide wedding blade ring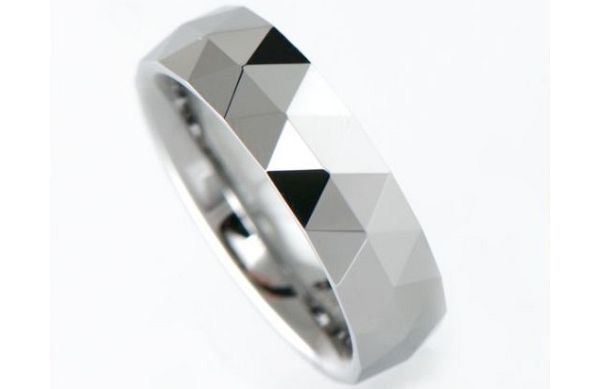 Wedding band ring with 6 mm width, this one is highly polished to the finish. It is faceted with a slightly raised line in the center that increases the reflection on the facets to its both sides. Made for the comfort fit this tungsten wedding ring is a great one. One more characteristic feature of this ring is that it has a silver tone which imparts to it a cool and metallic look. It has a good resistant for scratches of any form and is also hypo-allergenic in character.
Price: $23.87
Buy here: Ecrater