Wedding is a big day and everyone wants this auspicious occasion of his life to be special and memorable. While people generally think of their wedding day celebrated with full pomp amidst their loved ones with roses, gowns and limousines, there are people who want this day to be different altogether. Here are few of the many crazy wedding celebrations ever.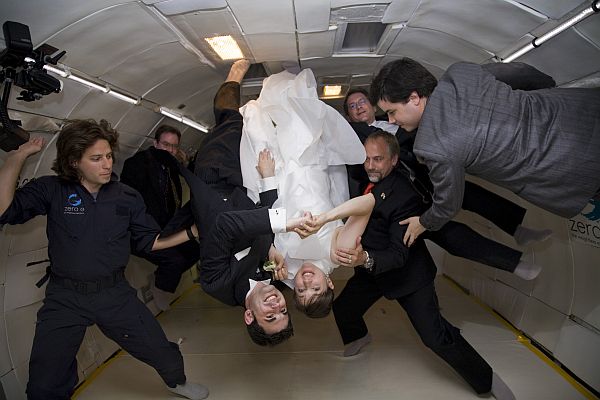 Zero Gravity Wedding:
The wedding of Erin Finnegan and Noah Fulmor from New York is the first and one of its kind wedding celebration that took place inside a specially designed Boeing 727-200 airplane, G-Force One in zero gravity condition, above the Gulf of Mexico. The groom was dressed in tuxedo and spacecraft inspired cuff links while the bride enhanced her beauty by wearing a pair of white earrings that look like some dwarf planets.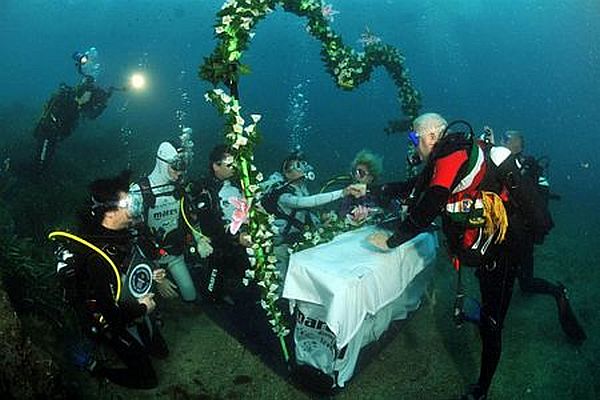 Largest Underwater Wedding:
This amazing and unique wedding was marked by the presence of 261 divers who dared to set a world record of the largest underwater wedding till date. Both, the bride Francesca Colombi and the groom Giampiero Giannoccaro performed their wedding rituals underwater at the Morocone Beach at Capoliveri on the Elba Island of Italy on June 12, 2010.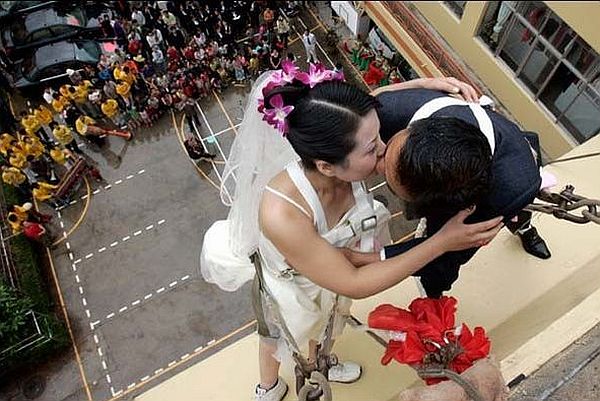 Rapelling Wedding:
This is perhaps the most thrilling and fun filled weddings you would have ever witnessed which took place while the Jiang Dezhang the 27-year-old groom exchanged wows and kissed his 26-year-old bride Tie Guangju by rapelling from the top of a building in Kunming, China.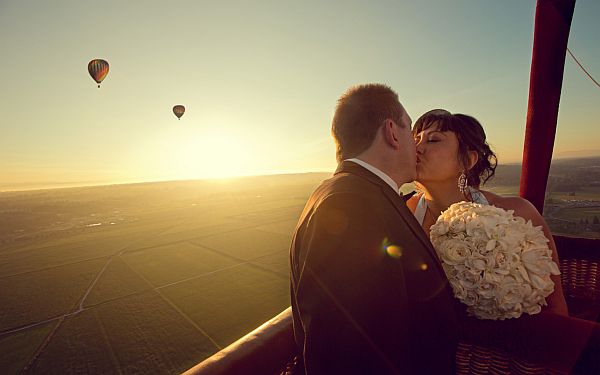 Hot Air Balloon Wedding:
Mike Kijak is the owner of the flying hot air balloons in the Sonoma Valley of California. When Mike arranged the wedding for a couple, he got the permission to perform wedding ceremonies near the sky, away from the clatter on the Earth, with a maximum strength of eight people at a time.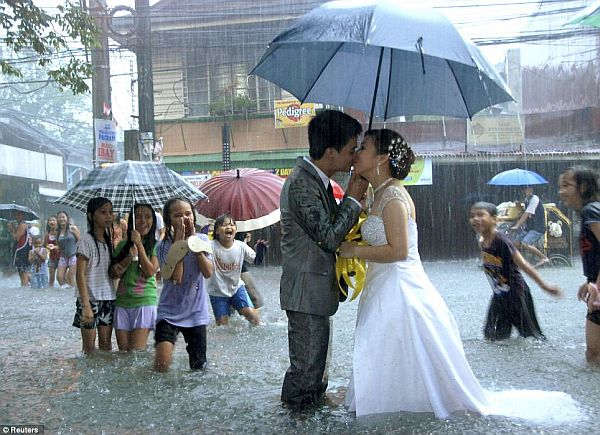 Rainy Wedding:
Hernelie Ruazol and Ram Campo are amongst the few lucky people who believe that rain on their wedding day brings good luck. Not only did rain, but also flood accompany the couple on the day of their wedding. The wedding took place at San Antonio de Pauda Parish Church in Singalong, Manila with their knees immersed in water. This made the wedding extra famous on the internet.
Summary:
From getting married during flood to kissing while jumping from the top of the building, all these wedding celebration are surely weird but does not matter as far as the couple loves one another deeply.