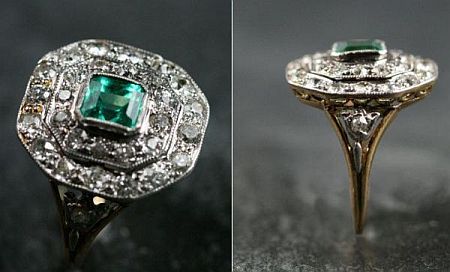 We all know what importance an engagement ring holds for the soon to be lovey-dovey partners. And when it comes to ladies, all the happiness, excitements and their fairy tale wishes revolves around that one engagement ring. So, it becomes the duty of the male partner to select the correct engagement ring that is as beautiful as his sweetheart. And we all are aware about the difficulty in pleasing a woman with matters of jewel selections. Isn't it? Thus, to help you all guys out there, we had previously listed down the some of the most unique and antique engagement rings. And if you still haven't made your mind on the previous collection, then we have once again scorched down the internet and bought you the unique collection of charming Edwardian engagement rings. Just scroll down and enjoy the magical countdown.
Edwardian Five Stone Diamond & Platinum Engagement Ring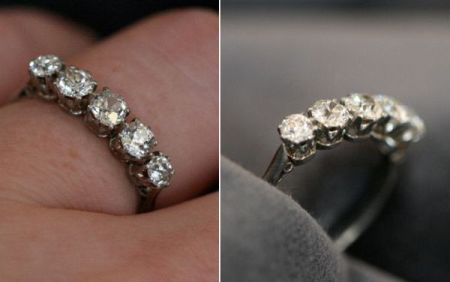 The very first Edwardian ring is this beautiful Edwardian 5 stone diamond ring. The ring is crafted from the white metal knowingly platinum and holds five small cut sparking diamonds. The weight of diamond in total is around 1 carat and can be available in different sizes on the very sparkling online site of Ruby Gray. The ring in the image holds UK size N and is available for £3,500.00.
Edwardian White Gold Platinum set Emerald & Diamond Ring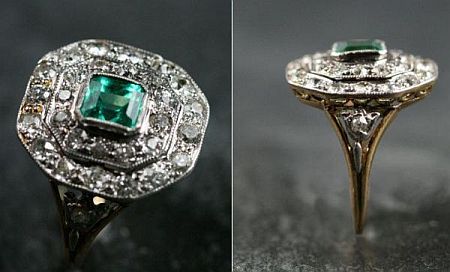 This Edwardian ring will simply steal away your partner's heart. This ring holds the dating from past 1912 and is studded with a beautiful emerald in the center along with sparkling white diamonds. The ring is made out of platinum and 18ct gold. The emerald is situated in the middle of two rows that hold total weight of 2ct old-cut diamonds. It comes in a circular structure ranging a width of 25mm. The ring can be available in all different sizes while this ring has size of K ½. It's easy and will look extremely beautiful on flat finger. Priced at £3,350.00 only.
Edwardian Opal & Old Cut Cluster

If you are planning for some other jewel rather than gems, then this Edwardian ring will be perfect as it is simple and unique because of the cabochon opal. The ring is fully hand crafted and made out of 18ct white gold. The cabochon opal comes with variant of colors and is settled in the middle of round studded white old cut diamonds. The edge of the ring has a wonderful detailing which makes the ring so beautiful yet simple. The opal has approx weight of around 4 to 5 carat. It can be available in different sizes and will cost around £2,790.00 only.
Edwardian Ruby & Diamond Cluster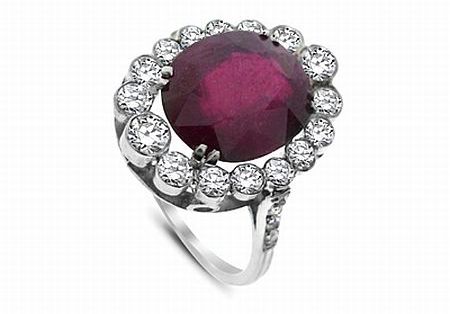 Yet another mesmerizing beauty from Edwardian collection, this ring will surely draw magic on your to-be partner and will fill her heart with immense love for you. This Edwardian ring holds the dark red ruby in oval shape and has a thin sparkling row of white old-cut diamonds. The ring circa is made out of handcrafted platinum and can be gained at various sizes. It is available at a cost of £4,875.00 only.
Edwardian Coral Three Stone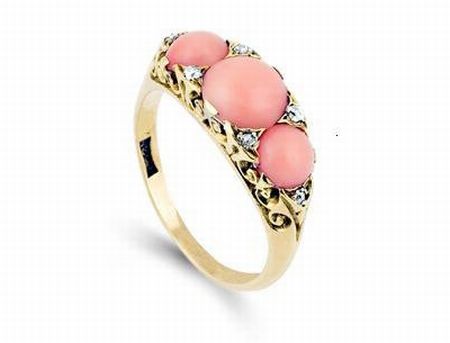 Beauty with elegant style is what this Edwardian ring features in itself. The ring comes with three coral cabochon gemstones showcasing the peaceful peach color. The ring is made of 18ct yellow gold and has been studded with sparkling small old cut diamonds for enhancing its rich look. The head of the ring has detailed designing on it. It can be available at very less cost of £710.00and is readily available in all kinds of sizes.
Edwardian Sapphire & Diamond Dress Ring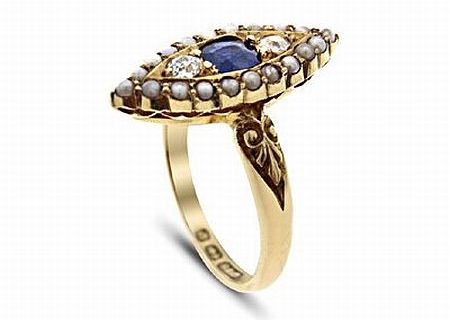 The Edwardian sapphire and diamond dress ring features two old cut diamonds and a dark blue sapphire. It is made of 18ct gold with ace shape of design on its shoulders. The sapphire is situated in the middle of two marquise shaped diamonds. The ring suits perfect as a dress ring and also as an engagement ring. The top is blended with a fine border of pearl attached to it. It can be available in all sizes with pricing at £660.00 only.
Edwardian Platinum & Diamond Cluster Engagement Ring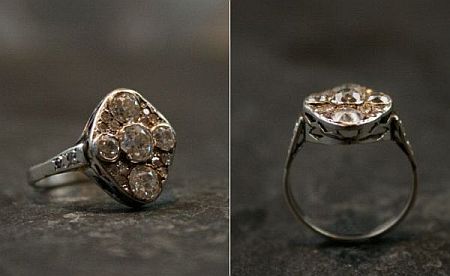 This lovely engagement cluster ring from Edwardian collection is all set to sparkle up that special moment with magical experience for both of the partners. It is made up of platinum and is studded with five old cut diamonds and other tiny diamonds on the bed of ring. The diamond has the color estimation of around I/J and has the clarity of SI 1. It can be available in any given size while the ring in this image is of M/N size. Priced at £2,200.00 GBP.
Edwardian Oval Ruby and Old Cut Diamond 3 Stone Ring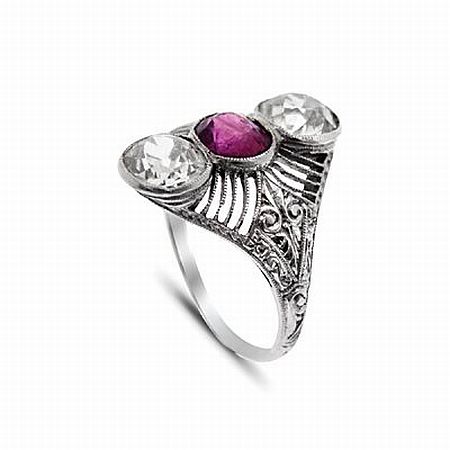 Gemstones make the worth of a ring not only in its design but also astrologically. Thus, Edwardian oval ruby and old cut diamond 3 stone ring is a perfect blend of astrology and elegance. The ring has dark pink ruby settled on its head and is accompanied by the two old cut diamonds. The shoulders of ring have been designed with detail of piercing and filigree. The ring circa is made up of platinum. It can be availed at a cost of £3,645.00 only adhering to the size asked for.
Single stone diamond ring, 1.12ct – Brilliant cut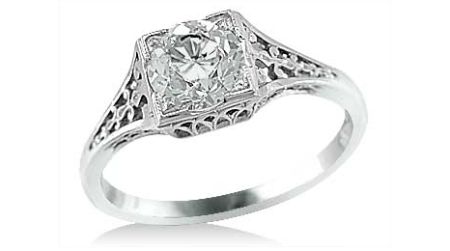 This awesome design will surely attract your heart towards its purchase. The single stone diamond ring is made of platinum with fine articulate design on its shoulder. The 1.12ct diamond has a brilliant round cut which is known for its bright sparkling features. It also comes with an Anchor Certification and has estimation of color in I i.e. it counts in near colorless range having VS quality of clarity. It can be available for £6,500.00 only.
Edwardian Diamond Engagement Ring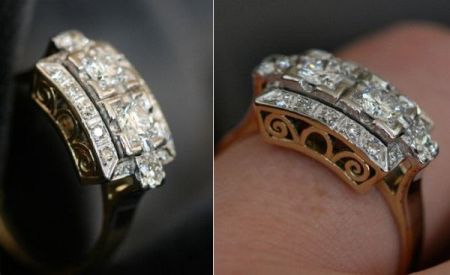 Coming to the end of beautiful Edwardian collection of rings, the diamond engagement ring sets the countdown with marvelous beauty. It features two old cut diamonds in square shape and is surrounded with two rectangular rows of tiny diamonds. These diamonds are fitted on to 14ct white gold along with 14ct yellow gold shank. It has UK size of Q and can be resized at the given measurement. It will cost you around £1,500.00 only.