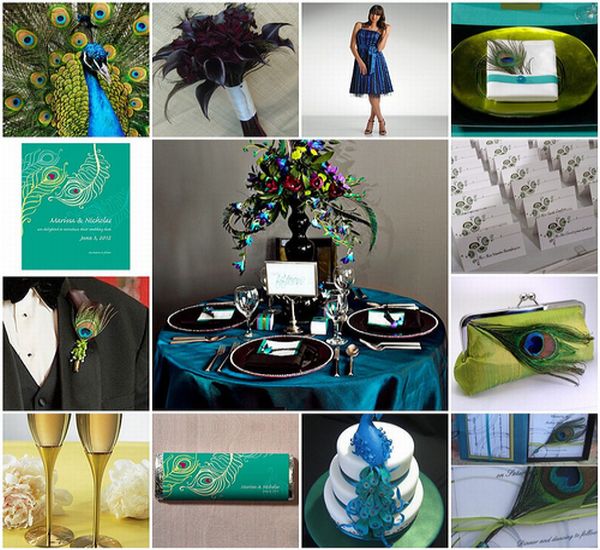 For couples planning a unique and a memorable wedding, peacock theme can be a great idea. Apart from being a hot trend, it takes you away from the traditional setting and makes the big day more personalized and fun. From invitations to decor, everything must be done in the dominant colors of the peacock. Listed below are some amazing ideas for the peacock-wedding theme that will add a touch of beauty and elegance on your wedding day.
Peacock Wedding Invitations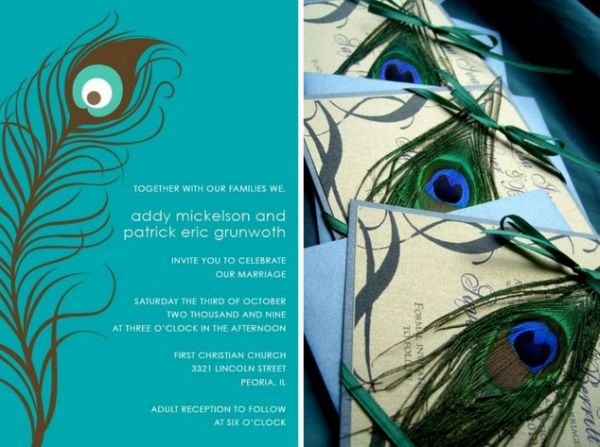 Invitations have the power to set the mood of guests. Interesting and unique wedding invitations will let your friends and family know that this wedding is not to be missed. Incorporate your wedding theme in your invites. Consider printing your invitations using peacock colors such as blue, green, purple, and gold. Light colored invites with images of peacock feathers is also a great idea. Pictures of peacock can also be used on the outer cover. Embellish your wedding postage with an original peacock feather to complete the theme.
Peacock Wedding Decorations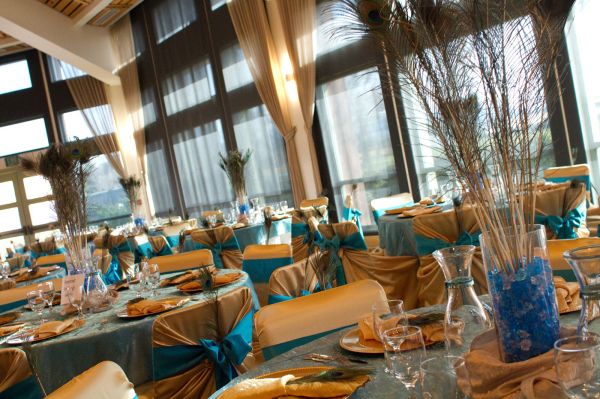 Instead of using a lot of decorations, use colors as an accessory to incorporate the peacock theme to your venue. Start with neutral-colored furniture such as shades of tan, beige, or white. Instead of using traditional white tablecloths, adorn the tables and chairs with rich teal or bright purple color linen. Matching cutlery and wine glasses will set the peacock ambiance. Another interesting idea is to stick a peacock feather into a turquoise or aqua blue color folded napkin on each setting. You may also place cards with printed peacock image, embellished with peacock color ribbon on the tables.
Peacock Wedding Centerpieces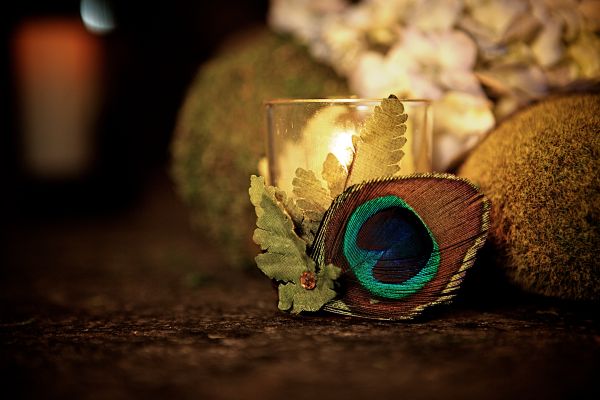 Several peacock feathers in a vase or a white colored bouquet with few pieces of feathers can build an elegant centerpiece. Fill mason jars or see through vases with some water followed by colorful pebbles to make an attractive centerpiece. A peacock designed container with white carnations or blue and purple orchids can also be very eye-catching.
Peacock Wedding Cake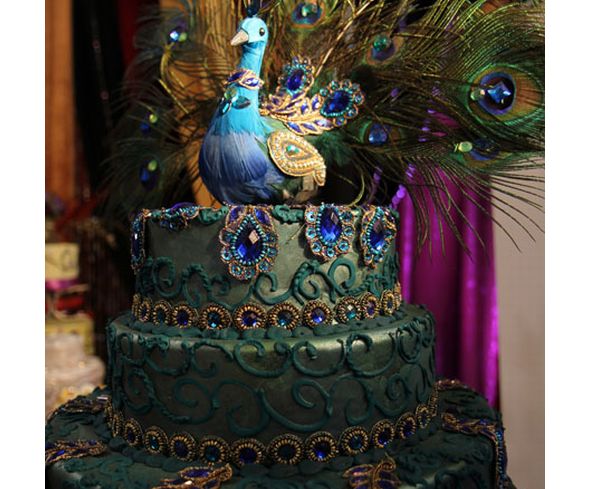 You can make a wedding cake with blue icing to complement the peacock theme. Even traditional white cake would look lovely with few peacock feathers on the top. If you want something, simple yet classy consider a two-tier pastel color cake with colorful sugar flowers and beautiful blue peacock. Another option is to opt for an elegant photo cake displaying the peacock image.
Peacock Wedding Flowers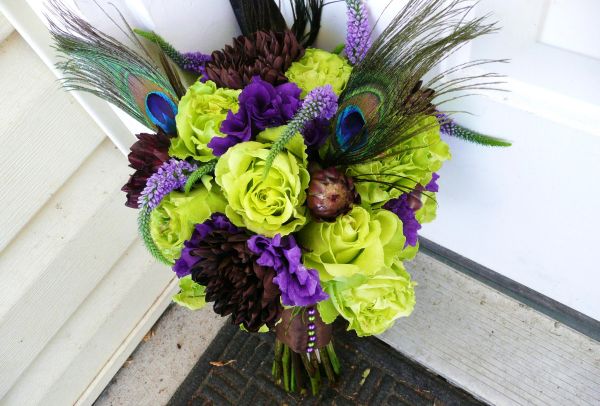 Wedding flowers play an important role to set the mood of the theme. To live up-to your peacock theme you should pick up flowers in vibrant shades of purple and blue. The stem and leaves will add a touch of green to the floral arrangement. Light color flowers adorned with peacock feathers will also look great. Consider including roses, orchids, dahlias, lilies, or hydrangeas for that special effect.
Peacock Wedding Bridal Party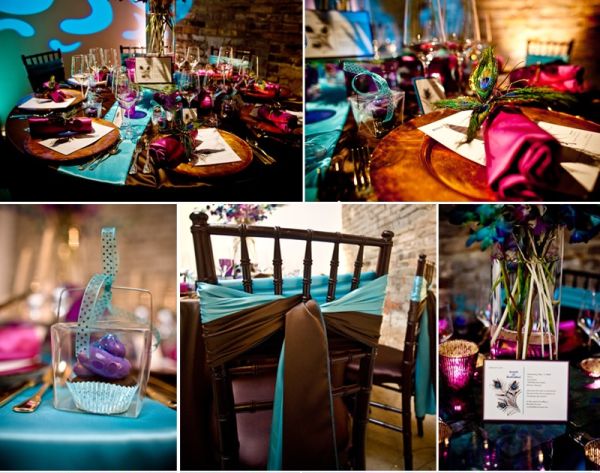 Let your bridal party begin with beautiful peacock decorations. Carry the peacock-wedding theme throughout the settings using various shades of blue, purple, and green to make for an elegant wedding decoration. Brighten up your wedding table with peacock feathers and pale blue color flowers facing flat on the wedding table. Incorporate the peacock feather design in your wedding dress. In case, you have dark hair include peacock wedding hair bands to give an ultimate decoration to your hair on your bridal party.
Peacock Wedding Attire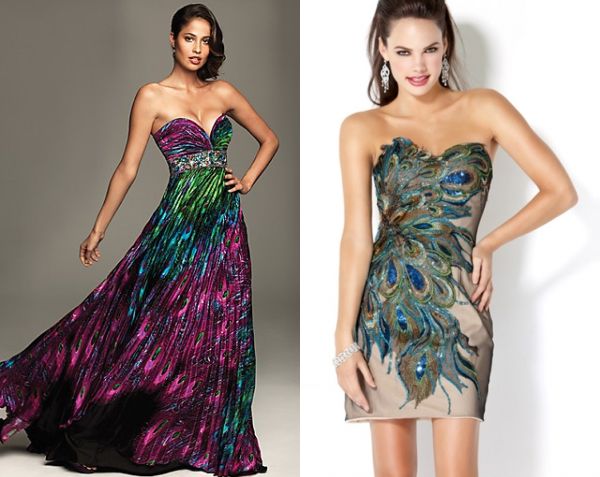 While planning a theme wedding, it is very important that you incorporate the theme into yourself. Your wedding attire must reflect the peacock feature to do justice to your wedding theme. A beautiful full-length peacock print gown or a floor touching charmeuse peacock dress would look absolutely stunning. In case you want to opt for a traditional white dress, you may add a few peacock feathers to your belt, earrings, and bracelets. Matching strappy shoes with peacock feather is also great idea. This will ensure that you feature a classic bridal look while living up-to the theme.
Peacock Wedding Favors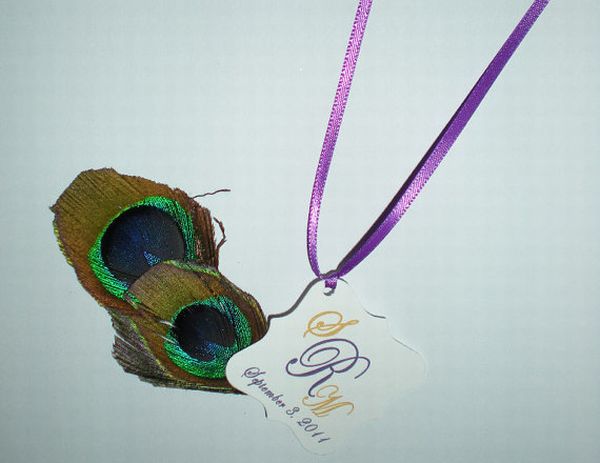 Dazzle your guests with rich and bright colored favors completing your wedding theme. A chocolate bar featuring peacock feather on the wrapper and packed in a blue colored organza pouch can make up for a sweet edible favor. Similarly, peacock shaped cookies and candies can also be very impressive. You may also consider a peacock feather tied on a white color ring pillow with teal and blue color satin ribbon. Glass magnets with peacock prints or chic peacock writing pens can also make a great wedding favor.
Peacock Wedding Arch and Aisle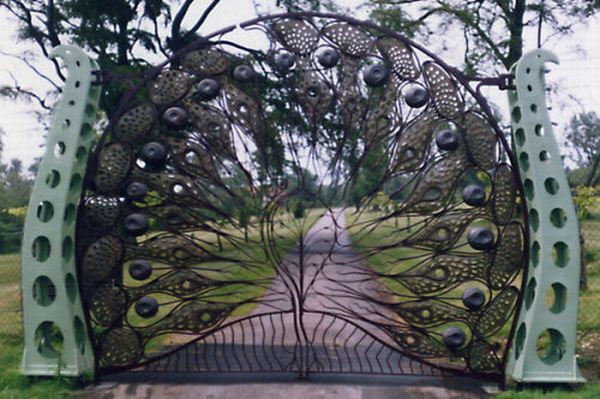 To feature a peacock look, add shades of purple, green, blue, and gold along with white. Sideline the aisle with matching flower arrangements up-to the wedding arch. If the wedding will take place in the evening, decorate using blue and green colored candles all the way along the aisle. You can also look for peacock shaped candles. As peacock theme is more about bright and rich colors, you may consider decorating the aisle with golden organza or satin, while the arch can be accented with crystals and small royal blue embellishments.
Peacock Wedding Drinks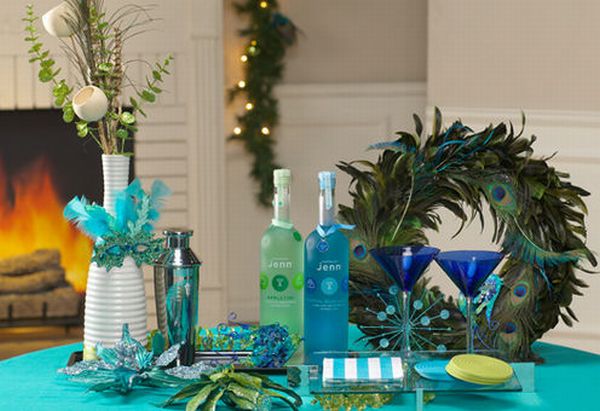 To complete the wedding theme, it is of utmost importance that the menu and bar offerings match the peacock-wedding theme. Vodka martini with a pinch of blue or green food color can make a unique and a classy peacock drink. A classic blue lagoon cocktail will not only match your event's color but will surely please most palates. Another simple yet stylish way to show off your wedding theme is to stick a small peacock feather on each and every bar glass.