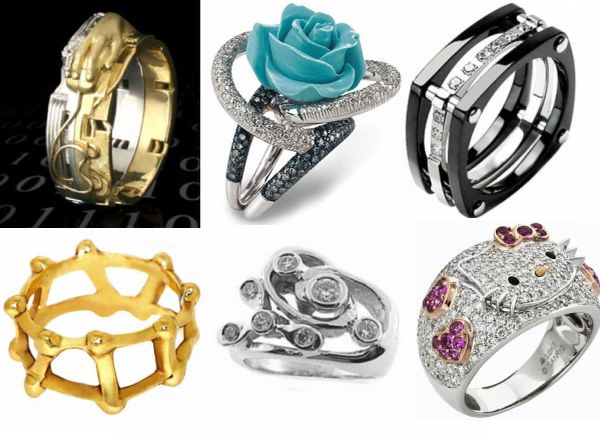 When it's about your wedding, you want everything to be at a perfect pace and place. For that matter, some couples want to go by the traditional norms and functionalities; wherein some have their creative streak overshadowing every little gesture executed in the whole wedding scenario. Some add a little into everything they do and plan on their wedding, and one among the list is picking up an exquisite unique wedding ring for the ceremony. A Unique and innovative design can make you stand apart in the lane of normally accessorized people, and help you showcase your real individuality and desires. They look indifferent and stylish too. Conjoined is a list of some beautiful unique wedding rings, you can flaunt confidently on your big day:
Rose studded diamond wedding ring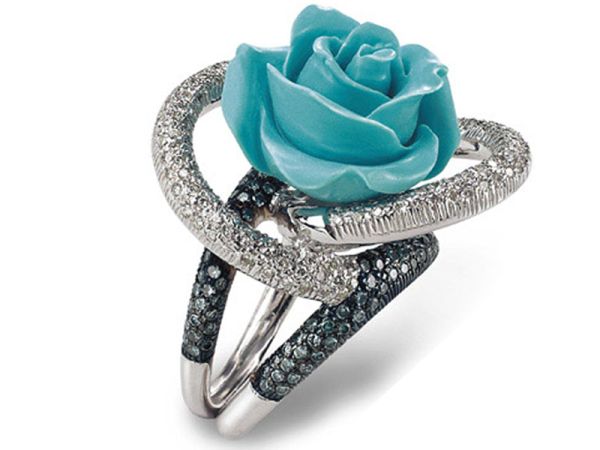 Stunning, complementing and enthralling; these three adjectives perfectly explain the class and appeal of this ecstatic ring. This is undoubtedly beautiful and designed exceptionally. It has got a turquoise flower enamored beautifully into the center with two strings rounded beautifully with a smooth silver and grey band. The band has got two strands, which perfectly compliment the ring and its design.
Exquisite cage wedding band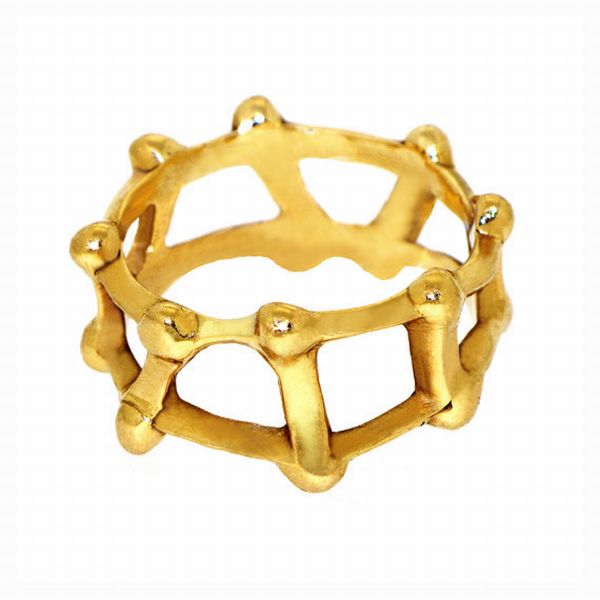 When we talk about unique set of rings and styles; this design perfectly fits into that genre of style and designing. It's a cage patterned wedding band which looks extremely cool and subtle. The design is unique and interesting. This can be worn by both women and men. Its simplicity is its biggest asset which adds to its appeal.
Cute cat face wedding ring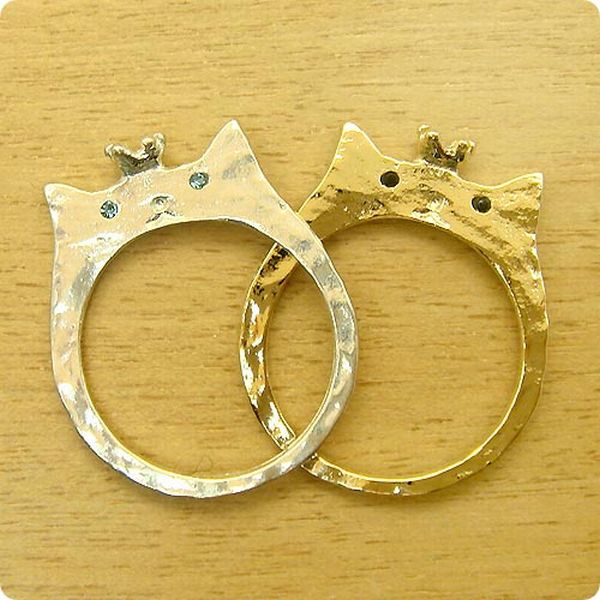 Its one of the cutest and adorable wedding rings from the whole list. The ring is finely designed with kitty face enamored on the ring's top. The delicate detailing help it to showcase its luster a bit more than usual. Its a refine design which instantly captures the attention and makes every adore it to the core.
Gold buttoned wedding ring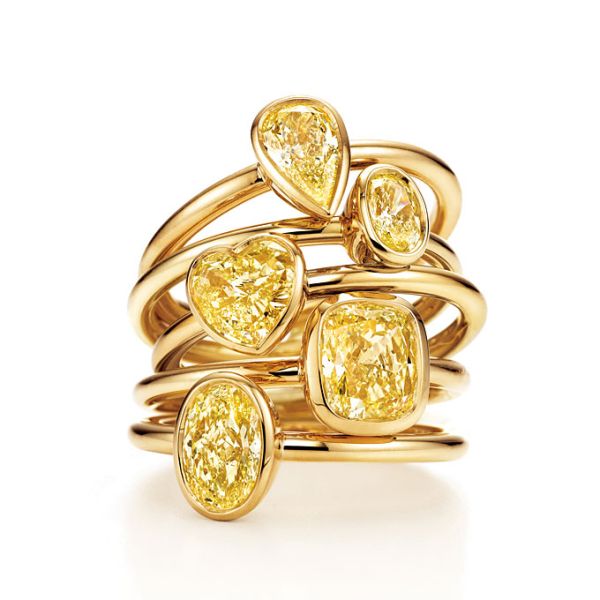 The design is elegant, unique and worth an instant long stare. The ring has a series of golden rings encircled one after other in a vertical position. It has a nice symmetrical chain of diamonds studded beautifully into each one of the rings. The design looks enigmatic and gleams over in any occasion.
Round mouse shaped wedding ring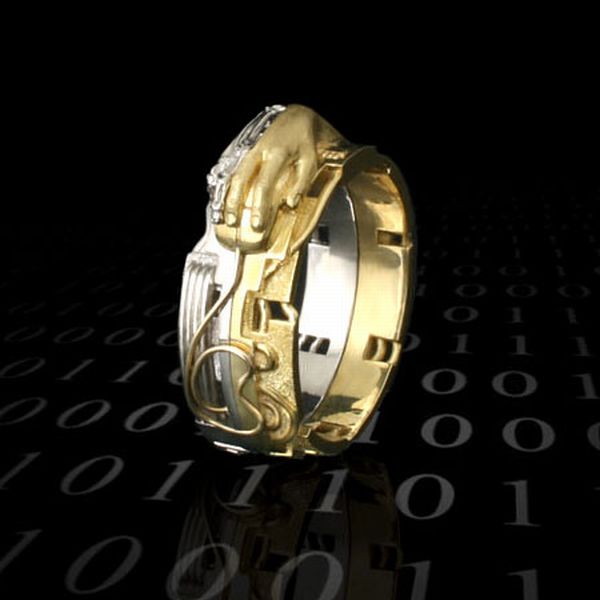 Its one of unique and exceptional designs in the list. The ring has been designed in a shape that looks more like a moving mouse with a hand. The thought behind the shape is unique and one of its own. It is made of silver and golden material which beautiful an exceptional combination and makes it a fabulous pick from the lot.
Diamond studded Pink kitty wedding ring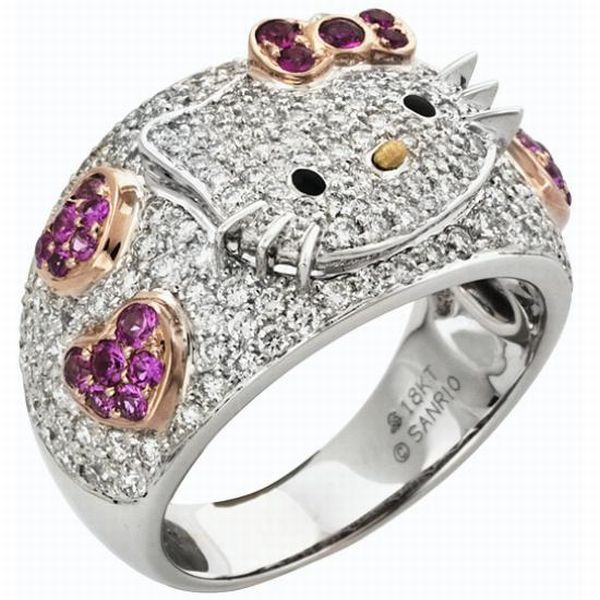 If you are a girl with all those pinkish desires and fetish for bright color and designs , then this is a perfect way to showcase your persona and style. The pink kitty ring bestows a perfect feminine touch to the lady and adds an unusual brightness to the wedding ring.The ring is enamored in bright diamonds and pink stones which makes it look super adorable and sublime.
Silver round diamond shelled wedding ring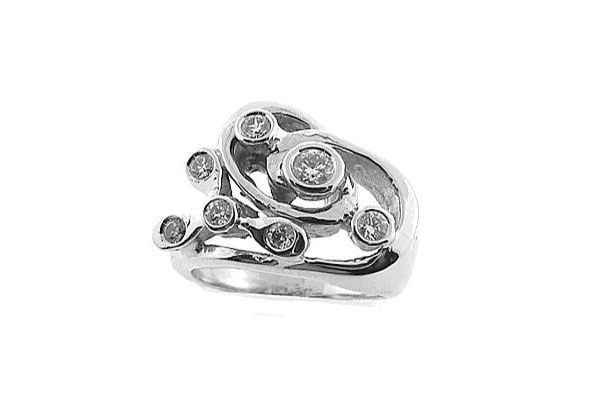 The Amoeba like structure defines this beauty perfectly. The ring is designed in silver metal with beautiful diamonds covering each and every circle of the ring. It has got a circled pattern design which quickly grabs one's attention. The diamond shells are designed so accurately and with different sizes which defines a stunning symmetry.
Sleek silver diamond wedding ring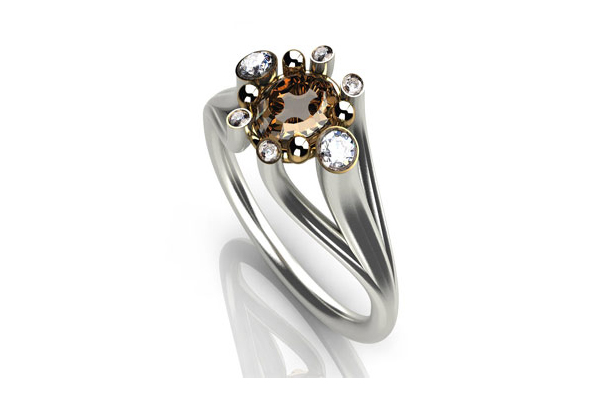 A clean decent and warming appearance, this is what is most striking about this accessory. The ring has got a center stone having the smoothest finesse and shape. There is no specific halo setting but the center stone is covered with gleaming diamonds stones, which illuminates the charm if the ring. the sleek band exhibits pure delicacy and style.
Square shaped diamond wedding ring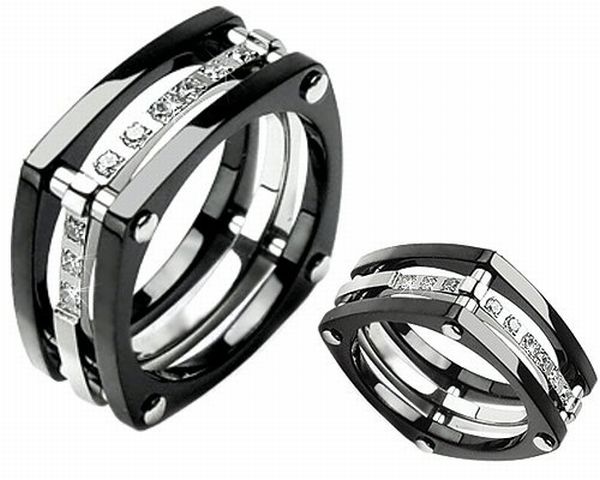 The square cut design of the ring correctly amalgamates with the poise and style of the ring. It is designed in such a way that it perfectly combines the oomph and bliss factor along. The enigmatic deign steals instant attention and grab lot of compliments from the onlookers. The metal used in designing this beauty is worth a good applause because it correctly goes away with the looks of the ring. It can be worn easily by both the genders.
Metal diamond studded wedding ring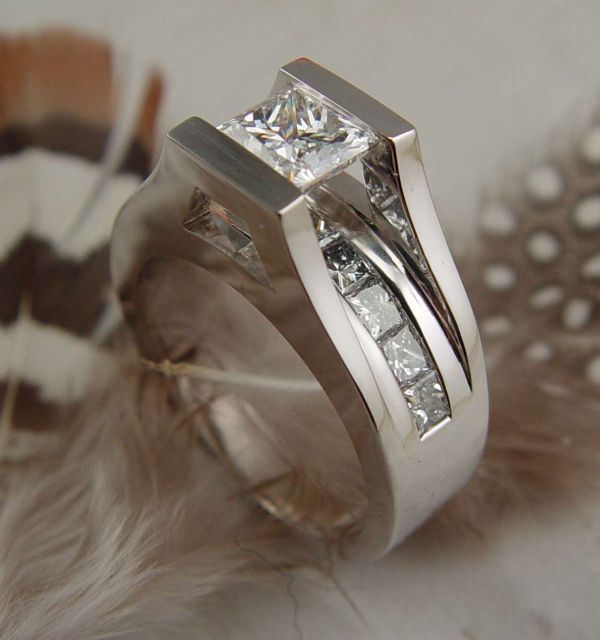 One fine creation from the list, the beautiful wedding band showcases class and etiquette. The ring is clean in its designing and looks contended. It bestows a sweet mixture of sense and simplicity. The design is unique and outstanding. The outer shell of the ring is designed with a layer of metal which covers a big diamond beneath its presence. The inner layer has a series of diamonds studded beautifully with perfect finesse and poise.