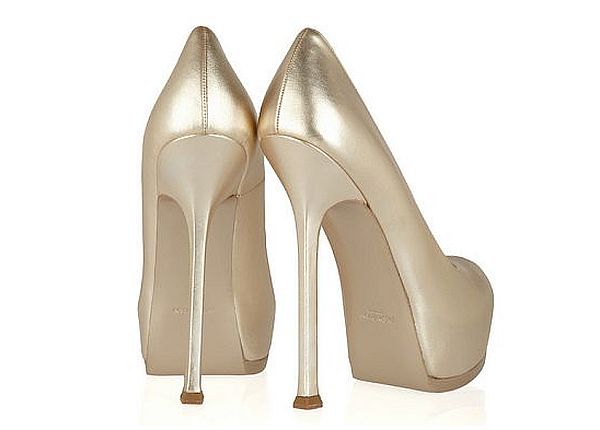 Are you confused with so many options about the wedding shoes out there? You want to give yourself a glamorous look but perfect shoe design does not seem to be coming your way. Well, you have come to the right page! Wedding shoes are an important accessory item for brides so choose them carefully as they can make or break your look. Here is a list of best shoes designs that can give you an amazingly glamorous look on your dream day.
Satin and bronzed snakeskin peep toe pumps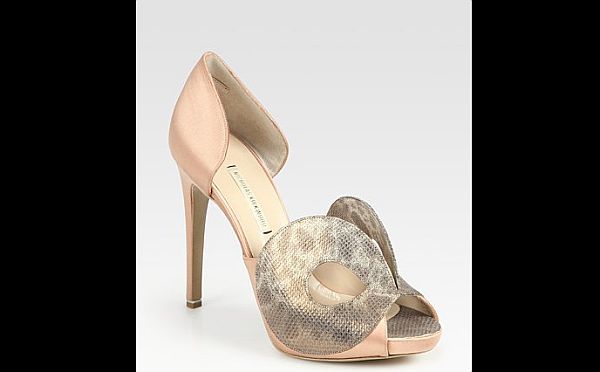 This amazing shoe pair from Nicholas Kirkwood is a timeless shoe design that is really going to let you feel on cloud nine on your dream day. Masquerade-inspired bronzed snakeskin is so beautiful that it has got all the capacity to steal eyes of the guest present on the wedding ceremony. Covered platform on front part of shoes is exceptionally great and self covered heels will make you feel so easy and you don't have to worry about heels problem anymore. The sole is entirely made up of original leather and also, there has been a cool design lining done on sole so as to give it an elegant design.
Vamp crushed metallic platform sandal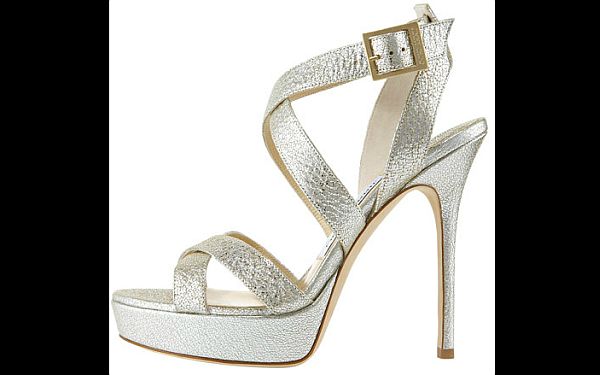 Jimmy Choo presents this vamp crushed metallic platform sandal that is so awesome that it is really going to take your heart away. If you are planning to have glamorous look on your wedding day, pick it without a doubt. 4″ covered heel will give you an amazing confidence while walking down the aisle. The designing is assertively shimmering and crushed metallic straps are there to hold your legs all day long. Halter ankle strap fastens with square Jimmy Choo buckles. So walk confidently and astound the whole audience with your glamorous look.
Strappy metallic suede platform sandals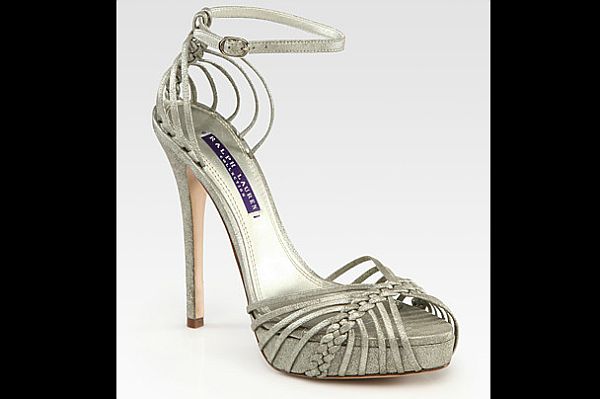 Really unique design from the Ralf Lauren collection that has ultra skinny metallic suede straps so as hold your legs firm on all day. Heels are also given a skinny design that makes shoes look completely metallic and there has been a slight platform give to the shoe so as to make you feel comfortable. The sole is given the same metallic look and a thin leather lining adds more beauty to this unique bridal shoe. The shoe pair is priced at $750.00.
Celeste Women's Vikki-02 Platform Sandal

If you love heels, just go for this beautiful sandal pair that is going to take you really high with its 5.5" heels. Although heels are high and design is quite complicated but 1.5 inches of platform balance it so well that it is going feel you really comfortable and glamorous. Beautiful metallic kind of straps on shoe and back strap is to rest you on your wedding day.
Lulu Townsend Lois Pump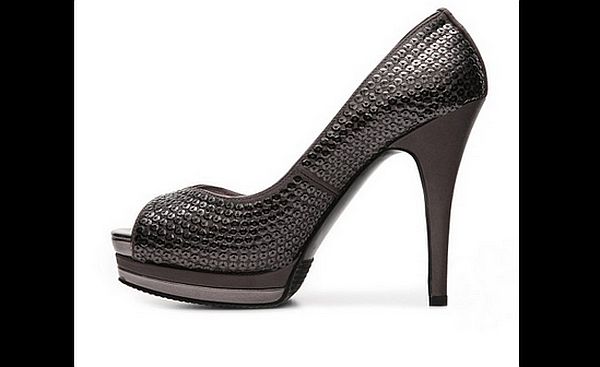 Want to score a wining look on the D day, just glam your wedding look with this beautiful shoe pair from Lulu Townsend. Heels are covered and the toe is given a peep design. The design on the shoe is too luxurious that will totally complement on your wedding dress. Heels length is 5" but covered heels make it easy and comfortable to walk. Sole of the shoe is synthetic. You can this shoe pair at the price of $ 69.75 and is available in two colors- black and white.
Studded-Bow Platform Sling back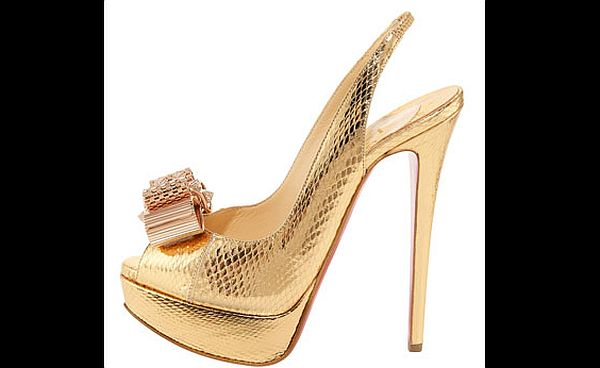 This studded-bow platform sling back shoe pair has been given the name "metal detector". The metallic tones have been masterfully toned up in these shoes that will very well with your wedding dress. The texture has been so cool that will surely complement your entire look. Metallic ayers snakeskin provides these shoes an amazing shine and studded bow tops peep-toe will sparkle your feet like stars. Though heels height is bit high (6") but double platform lowers the pitch and moreover, glamor is all you need and this pair full that purpose completely.
Steve Madden Women's Moskow-G Platform Pump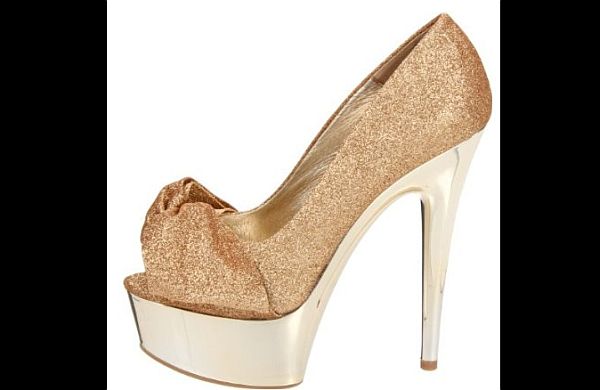 This exclusive shoe pair is a man made shoe pair from Steve Madden. The upper is given a metallic look and is so exotic that it will make you completely spellbound. Heel measures approximately 5.5″ and platform length is 1.5 inches. Beautiful design on the toe increases its beauty and there has been a different color give to heels and platform, which can form a unique match with your wedding dress. The shoe is priced at $64.90.
Metallic Leather Peep Toe Mary Jane Pumps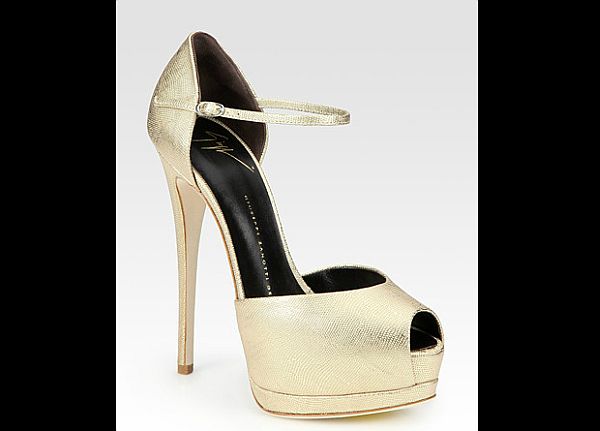 This metallic leather peep toe mary jane pumps from Giuseppe Zanotti is the pick of the day because of its amazingly beautiful design. Shimmering metallic leather and that too in exotic snake print gives this shoe pair an outstanding look. If you want to wear ultra high heels in wedding then go for this piece without a doubt. Timeless strap on the shoe is really cool and there has been beautiful leather lining on the black sole to give it an outstanding look. You can buy this pair of shoes at $850.00.
Crown Metallic Patent Leather Peep Toe Platform Pumps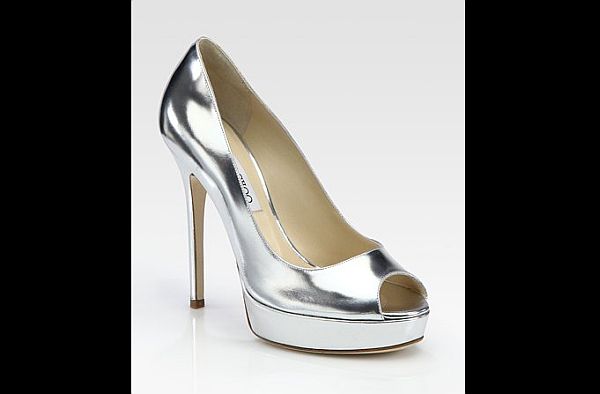 This shinny metallic shoe pair is really cool that will work really well with white wedding dress. Buy this piece if you are planning to have a classical look on the wedding day. Shinning silver design of shoe will surely make you feel like an angel and you don't really have to bother about your look when almost every eye will be on you. Heels are covered and platform length is 1". Leather sole is buffed one and there has been a beautiful lining on the sole of the shoe. You can get this piece of shoe for $745.00.
Tribtoo metallic leather pumps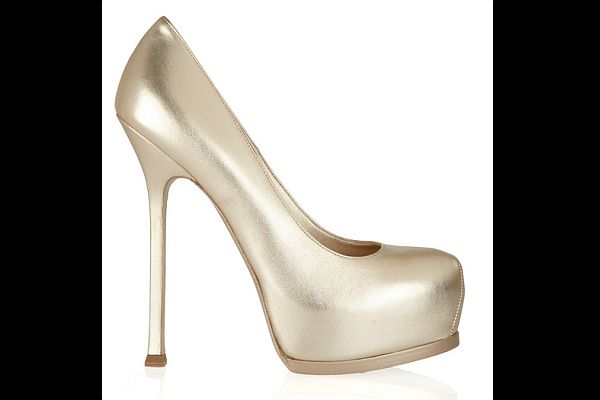 'Glamorous and comfortable' are the two words that describe this shoe completely. Heel measures approximately 150mm/ 6 inches with a 40mm/ 1.5 inch concealed platform. This gravity-defying wedding shoe pair is really made for you and is headed straight to the top of our wish list. The shoe has been priced at $795.