A wedding is an once-in-a-lifetime event (for most people) and it is little wonder that people go to greater extents to make it memorable and unforgettable. In the search for venues, there are millions of options but few will be as romantic and fantastic as those options available in Italy. Weddings in Italy are easy and have no complications. Italy is a beautiful and blessed country with a rich history and cultural heritage. Know why it is one of the most romantic places on this planet to tie your nuptial knot.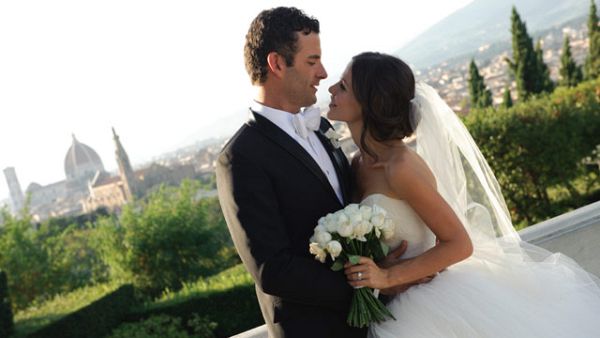 Why Italy
From historic times, Italy has always been considered as one of the most romantically inclined countries in the world. Filled with ancient architecture and reflecting a rich cultural history, a wedding in Italy is sure to be a most memorable one. Add to this the fact, that there is no 30-40 days mandatory residency period requirement for a marriage in Italy, unlike many of the other European countries! Italy definitely seems like a wonderful place to plan a wedding.
How to get there
Italy is a member country of the Schengen agreement and thus there are no border controls or problems to enter Italy from any of the other member countries of the same agreement. The others can land in the non-Schengen section of the Italian airports (Milan, Rome, Naples, Pisa, Venice etc.) There are trains and buses connecting Italian cities to major European cities. One could thus choose to even drive in. Mediterranean ferries and other boating services also operate to Italy.
Wedding types:
1. Traditional church wedding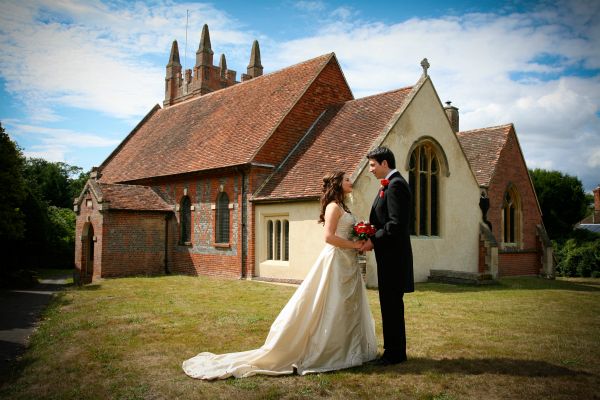 The traditional wedding is held in an aesthetically decorated church. The bride wears a flowing gown, which used to be green in color but has now been replaced with the white one. Guests throw paper confetti and rice on the couple symbolizing prosperity and wealth even as a couple of doves are released. The reception is then lavish with food, fun and frolic. The energy in the place is palpable in the dances.
2. Civil wedding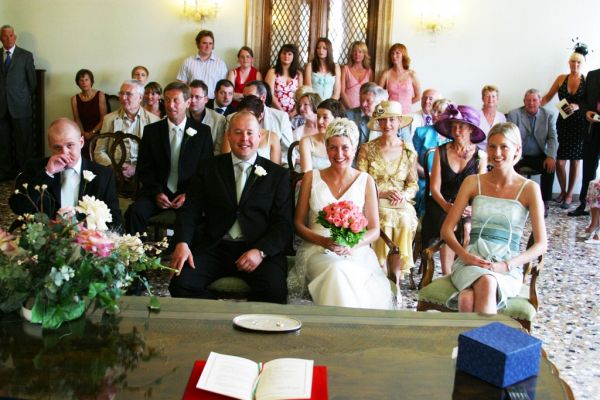 This would be the recommended one for a non-Italian couple before their religious ceremony. It involves a visit to the town registrar to ensure that all the documents are in place and have been duly authenticated and attested. Apart from the passport and an armed forces identification card, one would need four witnesses and written consent from the parent (in case of minors). Once the paperwork is in order, permission is granted to hold a civil ceremony in the town hall. It is only after obtaining this civil wedding that a religious ceremony can be held.
3. Castle wedding: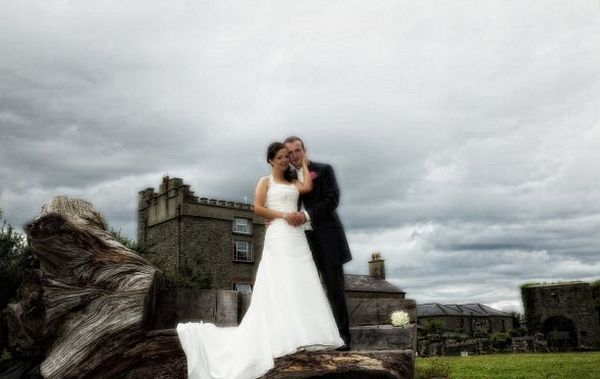 Italy has been blessed with a large number of castles having histories that dates back centuries. And since they were all built by the rich nobles and businessmen of the Renaissance times, they are in beautiful locales amidst the hills and along the seashore. So, wherever you are in Italy, you are sure to be within striking distance of at least half a dozen castles. The castles can be themed perfectly according to the era they belonged to with candle lights, food cooked over open fires and grandiose seating.
4. Lake wedding: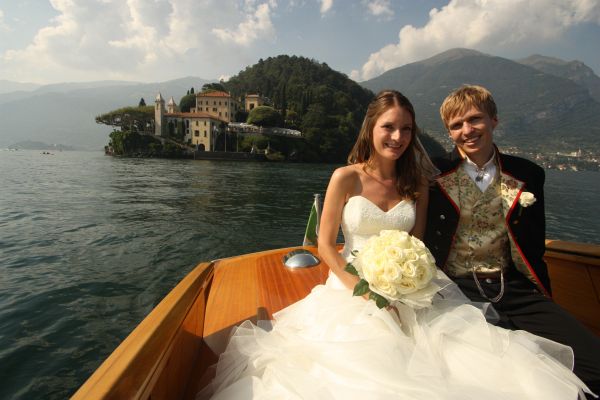 The lakes in Italy present a breathtaking sight. Tree-clad mountains along the clear blue or azure waters, rose-laden belvederes beside hanging gardens of multi-colored bougainvilleas, palatial homes and pretty lakeside towns offer the perfect relaxation and romance for the wedding. The wedding can be on a cruise or along the banks of the lake and everything will be in perfectly natural settings.
5. Villa wedding: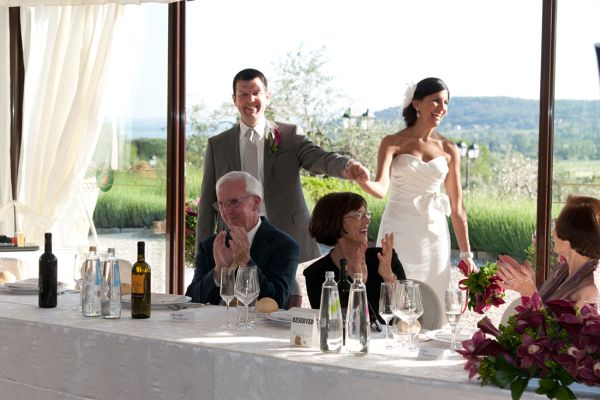 Once again, Italy happens to be blessed with the most gorgeous and picturesque villas of the world. A wedding planner will ensure that your wildest fantasies are fulfilled in arranging a wedding in a villa. Not only can you enjoy the chance of being a noble for a day, the guests too are extended the same privilege.
Places to marry:
1. Rome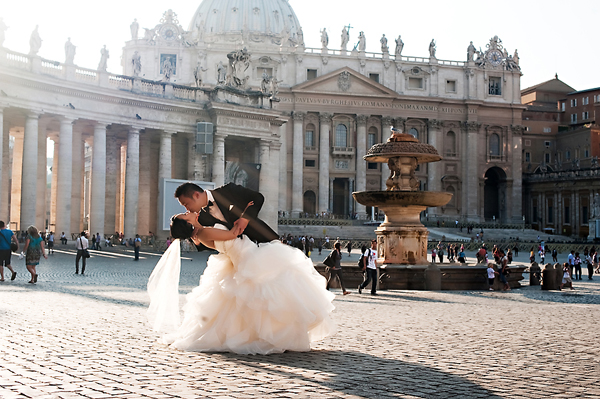 Rome has the richest past among all the Italian cities and is also the repository of the largest number of medieval castles. These castles are among the larger ones and have expansive banquet halls. Some castles even boast of their very own five star hotels. And so, if you are thinking about making this event as grand as the royalty of yore, pick Rome. Rome provides another special marriage option – a wedding ceremony high up in an air balloon!
2. Venice
Venice, with its complete canal transportation has the charm and romance that has attracted couples from all over the world to celebrate their wedding ceremony. There are innumerable options to choose from for venues. However, Venice is known for its luxurious and grand villas. Each villa has its own orchard, garden, winery and waterfront view.
3. Florence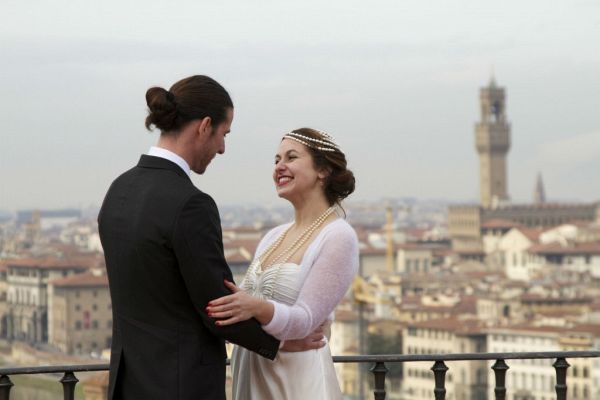 For couples seeking a Tuscan countryside all around their marriage venue, no place could suit better than Florence. The best thing about Florence is that it has venues for all sorts of weddings – lakes, castles, churches and villas. The Protestant Church at the city center and the Red hall (Sala Rossa) castle are two examples of places where marriages can be held with a blend of antique art and contemporary comfort. Florence is much quieter in comparison to Rome and Venice.
4. Portofino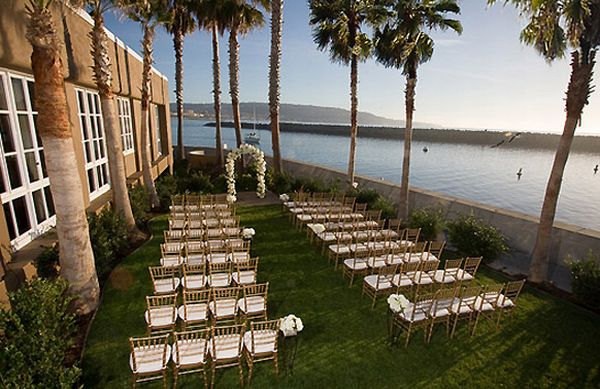 This little village shaped like the half-moon becomes a fairy-tale setting for a wedding by the side of the riviera. A castle and church atop a hill overlook the village which is known to be the resort for the rich and famous. The best thing about the place is that it could also serve as the perfect spot for your honeymoon! It has a lot of cafes, shops, luxury hotels and avenues to engage in hiking, diving and boating.
5. Positano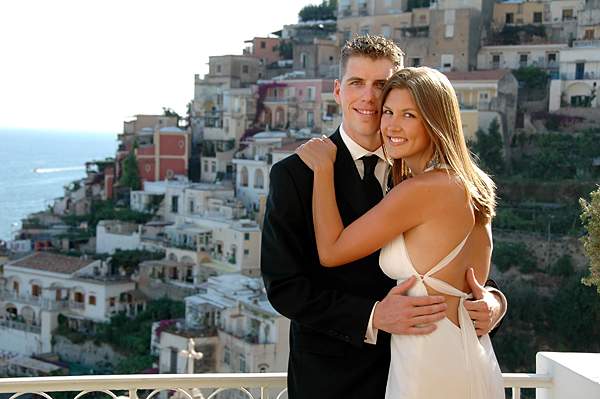 Situated along the Amalfi coast, the scenic town of Positano has been carved from the face of the cliff that overlooks the sea. When used as a wedding venue, it gives spectacular views of the sea along with the rocky coastline. The mild climate makes the place habitable and comfortable throughout the year. Many romantic restaurants offering the best seafood are available here. Be ready to walk a lot as there are a lot of stairs and steps in this pedestrian town. Be rest assured that you will enjoy every moment of it.