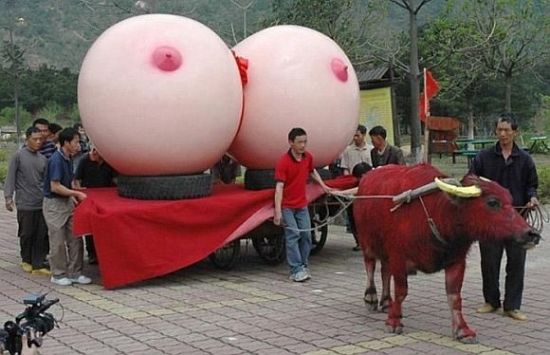 A gift is a reciprocation of one's emotional gesture and should therefore be exchanged with sentiments and care. When it comes to giving a memorable souvenir on your friend's wedding, choose to break through the regular constraints of typical gifting ideas and be more creative and unique in your approach. Opting for a bizarre and freaky gift, along with an element of humor attached to it, can add a touch of funkiness and personalized feeling and also be memorable for both the giver as well as the receiver. Let's take a look at some of the most unusual and bizarre wedding gifts of recent times. Some of them might be useful, but they definitely reflect unique ideas which are humorous and freaky at the same time.
Funny boob Shape wedding gift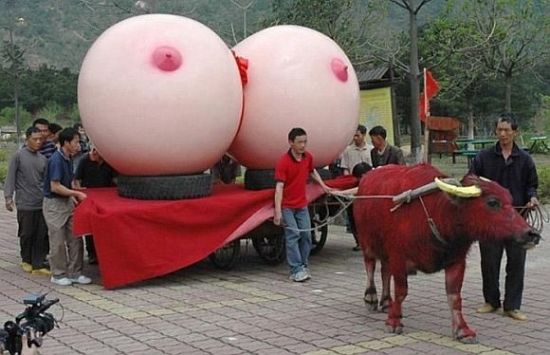 Most recently, a gentleman in China created a pair of silicon boobs, encrusted on a wagon wheel, to be gifted on the wedding of his closest friend. Pulled along by a bison to the venue , the gift raised an alarm signal with popping eyes of all present there. One of the most bizarre gifts we have ever come across, we really doubt its usefulness but are sure this would be tagged as the funkiest stuff to be received as a wedding gift, for years to come. Well, on churning our brains hard, the only benefit, that we can think of, for the couple who received it can be to dispose it off to a porn-shop later on and earn some quick buck on it.
Yes dear, right away dear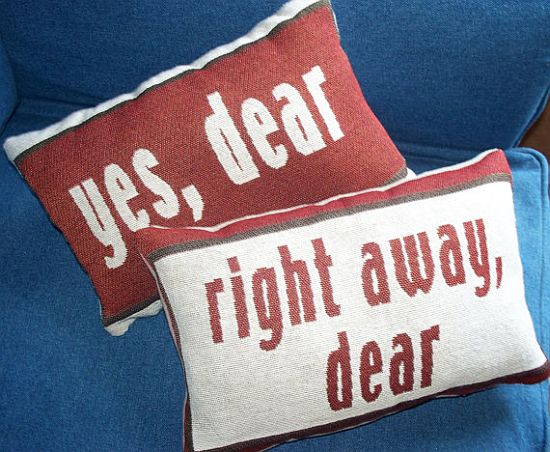 This pair of machine stitched and hand sewn pillows are surely going to add some light romantic moments, full of humor and laughter, if not anything else for the newly weds. The quotes on one of the pillows reads 'yer,dear' and the other in reply reads back 'right away, dear.' A must have for all couples, this wedding gift is definitely going to chuckle and cheer you up whenever you place your eyes on it. Made of 100% cotton machine washable fabric, it measures 11.5″ x 7″ and is featured with tapestry woven front with an extremely soft reverse side. The set is available in many hues like cream, deep red, pale grey and black and by opting to buy this one you would automatically be supporting a noble cause by extending your contribution to 'The wounded warrior project.'
Don't Be a Horse's Backside Wood Gift Tag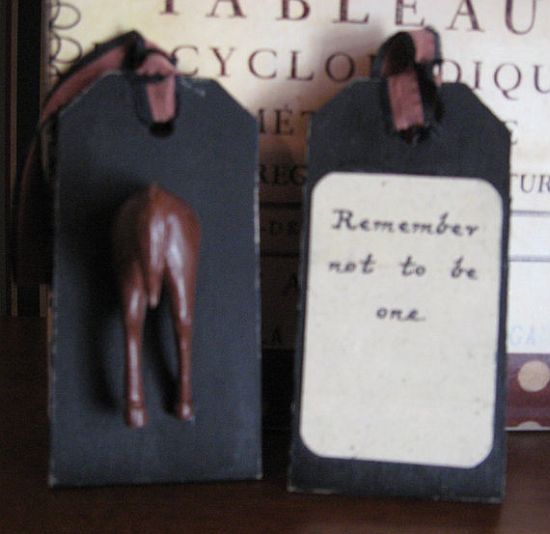 If creativity is the call for you, this one can really roll down the recipient to laughter. This incredible and cheeky wedding gift idea, created by using the backsides of plastic animals, is an attempt to formulate a gift tag for that someone special who is on the verge of giving up his freedom and bachelorhood to get tied in a knot for a lifetime, seems just apt to beware him of his future 'state-of-the-art-to-be.' The plastic horse's ass has been placed against a wooden tag of 3-1'4″ height and on the reverse side, a note reads 'Remember not to be one.' To add finishing touches to it, a silk ribbon has been used for its surface ornamentation. Undoubtedly, 'a great idea.'
Quick trim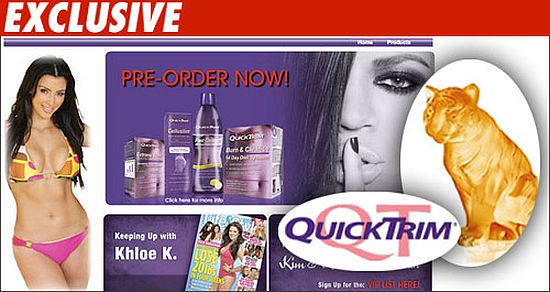 Recently we came across the most ridiculous wedding gifts given by the Vitaquest CEO, Keith Frankel, to Khlomar, who received the diet pill secret to slimmer waist from the 'Quick Trim' mogul, along with amber tiger worth $ 6,200 as a D-Day present. One of the most favorite diet pills used by Hollywood celebrity Kim Kardashian, though, it undoubtedly makes for an extremely tacky and weird wedding gift we have ever come across as we cannot always bank on the utility of a present, it definitely should not hurt personal sentiments of the receiver.
Adam and Eve Photo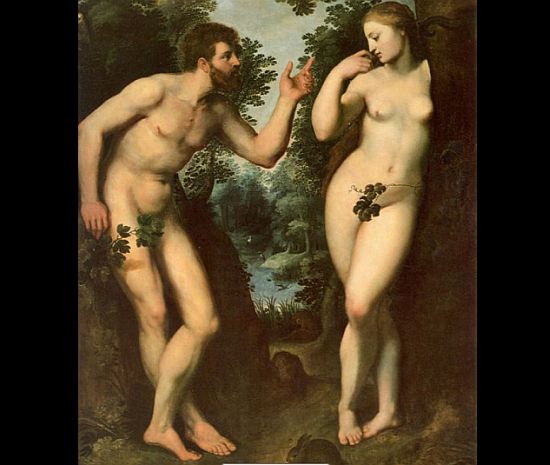 The masterpiece painting of Adam and Eve, created by the eminent painter Leonardo Da Vinci, has been graphically twisted to incorporate the images of the bride and the groom over the faces of the first beloved couple on Earth, as a special wedding gift for the newly weds. A rare piece of artwork, though, it definitely does not ring the fascination bells to see your friends in nude postures even if those fig leaves have been placed strategically to camouflage the essentials. To us it seems more perverse than being ridiculous and our personal advice is to store the frame in your collection of weird wedding presents, if you happen to receive one on your D-day.
Fundies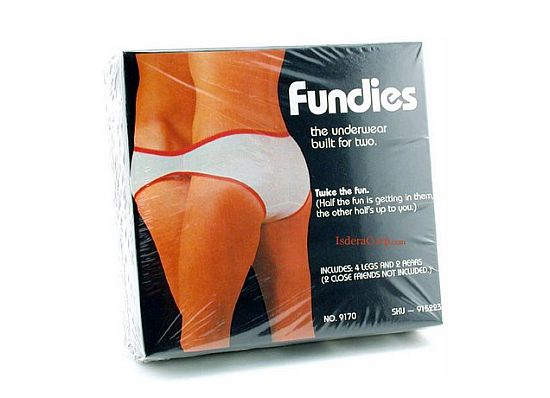 Imagine, you happen to unwrap one of your wedding gifts thinking that it looks like a monogrammed hand towel set, but to the weirdest of your imagination, it turns out to be a set of fundies, an underwear meant to be shared by both you and your partner. Let's think practically, many couples do not even like sharing a blanket, so how would they come together to share as personal a thing as an underwear? On the contrary, if you still happen to be one of a kind to share everything with your spouse, the worst might still lie in store for you if the size of it does not fit the two of you together. It is not a very good idea to pass on the gift to someone else. All in all, we suggest it's a bad gift idea which would only land you in a flush of embarrassment.
Toilet for two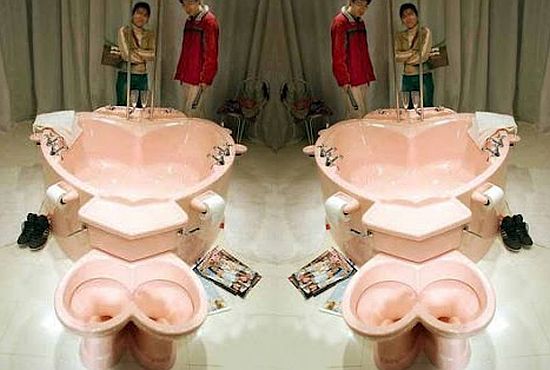 This toilet-for-two makes for a perfect wedding gift as it gives you an opportunity to even poop together. Although too much of sweetness causes diabetes and you do want some space for yourself, at least while carrying out your ablutions, we still cannot outcast its utility factor. Our take on it: one main thing missing in this perfect toilet set-up is a most-wanted magazine stand which can definitely add to the usefulness and creativity of the pick. Well, the day you happen to fight or take a break from your lovey-dovey picture scroll, it might turn a bit challenging for you to cope with the traumatic situation.
Wedding Gnomes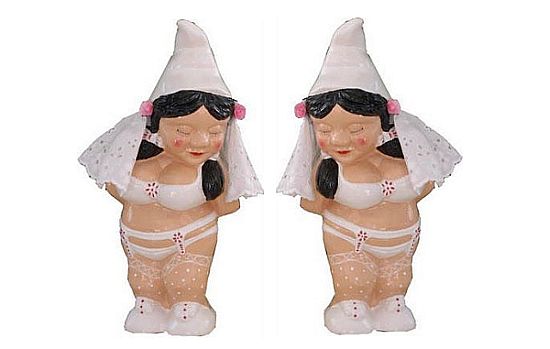 This one's a Bride Gnome, hand-painted and attractively created using ceramic. If you opt for this pretty Gnome of 12″ height to gift on your close friend's wedding, you have to shell out 38.50 pounds. A cute groomsmen gift I should say, which comes along with an instruction leaflet on how to carefully handle and look after your gnome, or your better-half-in-disguise, to be more precise.
GIANTmicrobes Sperm Cell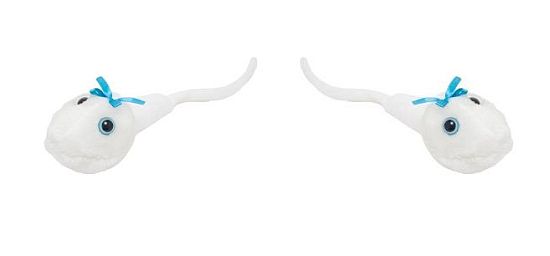 This cute looking Spermatozoon is quite unique and amusing to present to a close friend or family member as a wedding gift. A super hot plush toy of 5″-7″ in size, this freaky gift is an element of a real laughter session with your partner as you receive it on your special day. We admit, it's really a humorously cool wedding gift for keeps. May be some years later your little kiddo would end up playing with it.
Couple wine caddies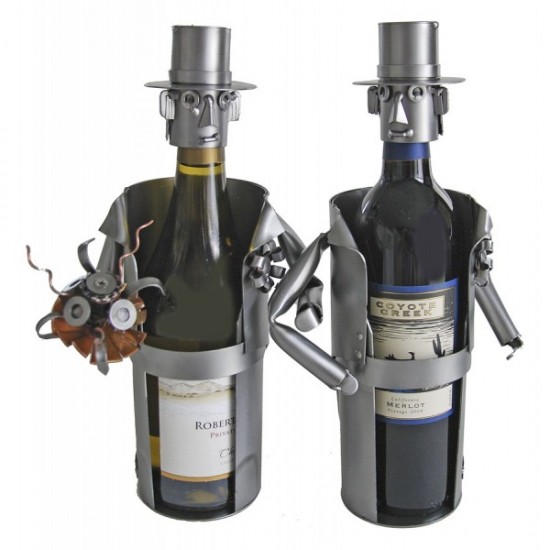 These attractive looking metal wine sculptures, from Metal Imagination, are not only very useful but also quite charming to be given as a wedding gift. It provides a smart idea to stash your booze, especially on an occasion when one of your dude-friends have just got hitched. These couple wine caddies undoubtedly are a unique and useful pick to be presented to a newly wed couple. We say 'thumbs up' to this one.
Dog Collar


If you receive a dog collar as a wedding gift, especially when you do not own a dog, it would really leave you scratching your head as to what to do with it. May be it's an indication from the giver of how you would be handled by your batter half. But the question here lies that who would tame whom? Well, our understanding and statistics reveal that the ball lies in the bride's court more than being in favor of the groom these days. Now that definitely raises an alarm signal for the latter which says 'BEWARE.'
Boob Shaped Mug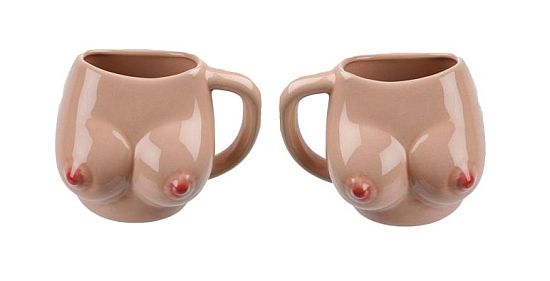 Can a quality painted boob-shaped ceramic cup really fascinate you and send jitters down your spine when you have a licence on a real one? Well, imagine receiving it on your wedding as a present from a close friend, or anybody for that matter. It might sound freaky for some, but to us it seems quite ridiculous. However, it might seem useful to sip your favorite brew and wrap your cold hands around it during a chilly winter night when your wife's away. Just for your kind information, the cup is dishwasher safe and measures 130x100x90 mm in dimensions.
Dip bowl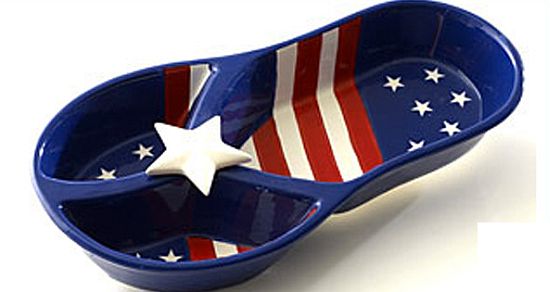 A wedding gift in the shape of a Flip-Flop dip bowl, how does it sound? Well, it is at least useful,even though not a very great idea indeed. The straps of the slipper form separate little compartments to hold the different dip sauces. We cannot deny that it looks cute, but yes, it definitely reflects a serious taste deficiency on the part of the giver. On a personal note, if that star is removed it would surely look more appealing.
Ceramic guestbook platters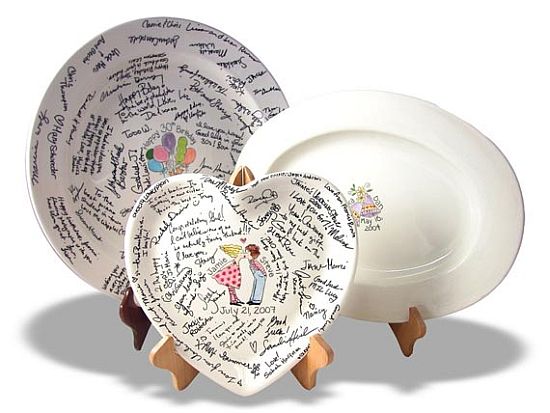 A modern twist on a more traditional wedding gift idea paves way for this one. The ceramic guestbook platters are surely a very unique, unusual, creative and useful wedding gift choice for an non- traditional bride and groom. These platter kits come with a special marker and an instructions leaflet. If you plan to gift this one to your closest buddy, the best would be to carry it to the wedding venue, get it signed by the guests who solicit the great event and after doing the needful wrap it in an attractive gift box as the sweetest surprise for a very special couple. Hands down, we can assure you they would go gaga over it.
A Photo Quilt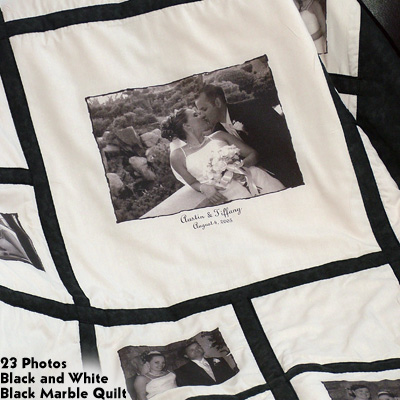 A truly sentimental and unique gift idea with an innovative approach par excellence, to be presented to a newly web couple. This personalized decor item in the form of a beautiful photo quilt would definitely depict the couples 'life together to-be.' It surely is a great way to capture and store magical moments of togetherness and the intense love of the couple which would remain with them till eternity as memories of yesteryear's. Each 7.5″ square on the surface of the quilt is capable of holding a 3.5″x4.5″ photo, while the center square of 16″ can accommodate a photo measuring 8″x10″ and a two-line inscription as well. A total of 23 photo clippings can be inscribed on this unique quilt creation. A great great piece of creativity smartly clubbed in with sentiments and a personal touch.