Vera Wang, a well renowned fashion designer indulges her efforts and professional expertise in designing a wide collection of bridesmaid gowns and wedding gowns. The feminine designs of Vera Wang reflect sophistication and a modern approach to bridal design. Her ready to wear collection resonate with her signature layering, exquisite detailing and intricate draping. She incorporates her efforts in making the special day of your life even more special by offering you with luxurious style attire. She adds her unique styles to her luxurious gowns that includes V- neck mermaid gowns, bandeau neck, sweetheart line cuts, cut blossom skirt with tulle overlay and bias horsehair trim and asymmetrical layering on the skirts. These collections are positioned at one of the highest places of the luxury market.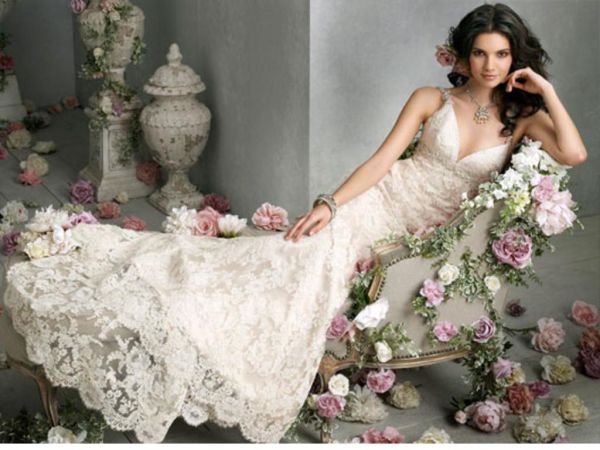 Vera Wang
Vera Wang, a native New Yorker with her enthusiastic couture spent her carrier in making your wedding day special for you by offering you with her wide range of luxurious designs. The efforts and nonchalant approach of Vera Wang was valued by the Council of fashion designers of America and she was awarded with the "Womenswear Designer of the year" in the year 2005. With her enthusiasm and compassion, Vera has collaborated with the leading global partners and has employed more than 200 people who together design some incredible wedding gowns.
Vera Wang's wedding dresses
Vera Wang designs her collection with intricate detailing and quality material to add unique features to the attire. It covers a wide collection of wedding gowns that are adorned by an exclusive touch. It includes sweetheart shape necklines, the bandeau designs, off-shoulder neck and other designs by adding a modern feminine vision to it. Her dresses includes fusions of shadow and chantilly lace on the strapless soft ballgown with swirling multi-tiered confection skirt, another strapless a-line gown includes veiled hand-painted crystal embroidered bodice leading to a softly tucked skirt with bias horsehair trim. These feminine, intricate and stylish combination make the wearer stand out in the crowd.
What's so great about the wedding attire?
The designs and the quality of the dresses by Vera Wang are unquestionable. She combines high quality fabric with her expertise knowledge and passion. The dresses reflect sophistication and femininity, bringing a lot of compliments to the wearer. Her passionate and enthusiastic approach gives rise to innovative and creative designs. It grabs the attention of onlookers at first sight. Besides adding charm to the personality of the wearer. Wang presented her designs to the well-known public figures including Chelsea Clinton, Karenna Gore, news reporter Campbell Brown and Ivanka Trump. She made the wedding gowns for the actors like Alicia Keys, Mariah Carey, Victoria Beckham, Avril Lavigne, Jennifer Lopez and many more.