Vera Wang always comes up with wedding dress ideas that only the goddess of beauty and fashion can think about. And yes, even this time Vera Wang has proved that its designs are seamlessly unparalleled. Taking inspiration from the Chinese wedding color that is the red; the designer has created a collection of most exotic and rich red wedding dresses that are inborn with luxury and style. So if you are a soon-to-be bride or even if you are someone who will be planning a wedding in near future; you need to check this out!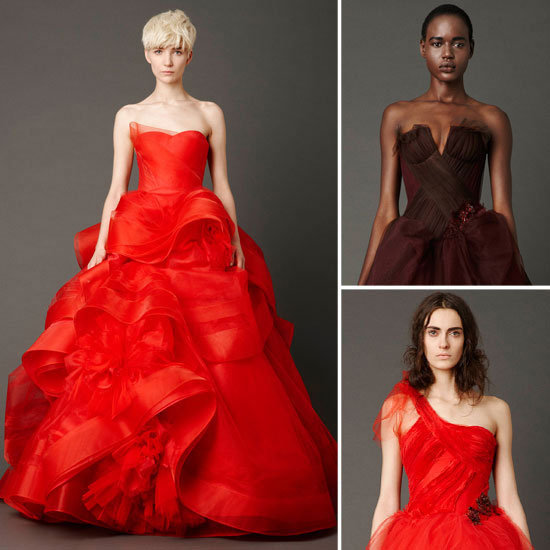 The wedding gowns for this Spring 2013 bridal collection by the Vera Wang has sheer innovation in making of the wedding dresses. We can detail here features of some of the wedding gowns included in this collection. There is a cardinal strapless styled ball-gown that has the detailing of the handrolled skirt, that too floral in style and has the horsehair trim as well. Another one is in the same features as the first one but its style is that of the mermaid wedding gown. Still another is crimson colored wedding dress which is a beautiful color picked up by the designer to integrate into a wedding gown. Lace and organza details of the dresses are simply awesome in appeal. One interesting color that looks rich and has been chosen as the color of the wedding gown of this collection is the Dahlia color.
Some of the dresses have the pretty crystal embellishments as well. New styles and flows of the gowns have been used with the best of the aesthetics in all the dresses with distinction. The differentiation of each wedding gown is so prominent that it makes each one of the gown to look apart from the others in its own individualistic way. Check out the image gallery to see more!
Via: bellasugar