Wedding ceremony is an event of colors and wedding venue is the place, where you can incorporate as many as colors as you want. Back wrapping chairs is a cool way to add colors to your wedding. Use sashes on chairs covered with white linens. You can even use the sashes on lattice back of chiavari chairs. Choose the fabrics that coordinate best with the wedding décor or theme of the wedding. Here are some DIY tips to back wrap wedding chairs. Read on: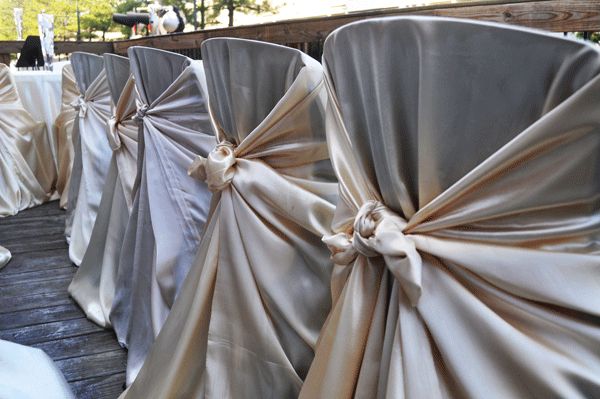 The things you need
Tape measure
2 meters of fabric for every three wraps and dressmakers pins
Scissors and sewing machine
Needle, iron and thread
Procedure
First of all, make strips of the fabric into the dimensions of 18″ by 6 feet. Fold the fabric to make the measurement 9 " by 6 feet. Add a graceful finish to the craft by cutting the ends at the angles, cut edges like the ends are facing each other.
Make the right side of the fabric fooled to the circle by managing the lengthwise fold. You can also pin across the long side of the wrap.
By following the lines of the pins, sew the seam and remove pins after you finish the sewing process.
Turn the sash side out and see if the sewing is done well throughout the wrap. Don't leave the gaps while sewing, it does not look good. Press the edges with iron.
To ensure that the rough layers ends of the fabric are not exposed, pin the rough edges of the fabric after folding the inside. Now, hands sew the folds and iron the ends to give the back wraps a beautiful look. Keep the stitches as small as possible.