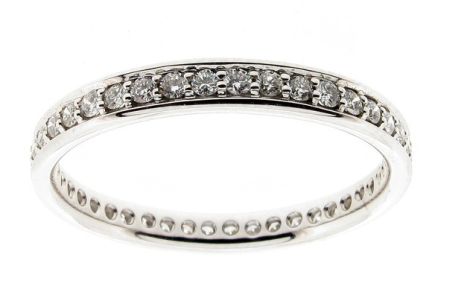 Are you on the hunt for a perfect engagement ring that could make an everlasting impression on the woman in your life who likes elegance? In that case, you might want to surprise her with a vintage engagement ring, which is a great and beautiful alternative to the modern rings. A vintage engagement ring, with its timeless beauty, symbolizes love, passion and emotions at its best. You can easily find a gorgeous vintage engagement ring in the market. All you need to consider is your budget, the ring style and the taste of your partner. Here we have some of the most beautiful vintage wedding rings for brides who like elegance.
18ct White Gold Diamond Full Eternity/Wedding Ring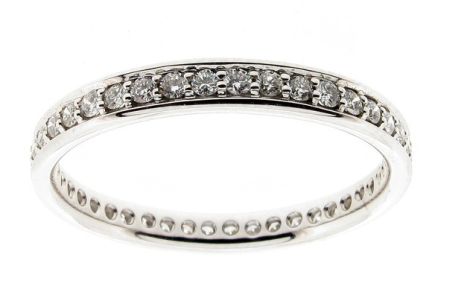 Engagement rings especially made of diamonds have evolved over the past few years. This magnificent eternity ring includes the most precious gemstone, diamond, carved out in a vintage style on a girdle of white gold. Your bride to be will be both surprised and excited to wear this dazzling eternity engagement ring. The Vintage Style Cluster Ring is crafted out in 18ct white gold ring in which the 0.34ct brilliant cut diamonds are arranged in a claw setting. This beautiful vintage engagement ring can be yours for £1,075.
Antique Vintage Diamond Ring in 10K Yellow Gold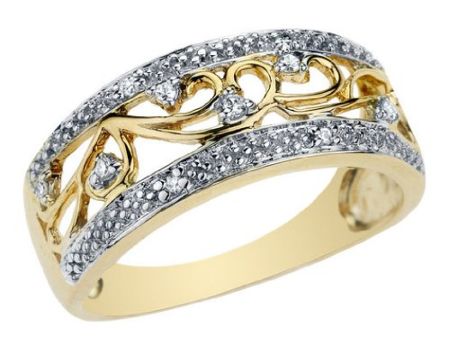 The vintage style of this antique vintage diamond ring owes a lot of uniqueness in this beautiful piece of jewelry. The blaze of the diamonds can be clearly seen in her eyes. The 10 K yellow gold girdle enhances the sparkle of diamonds contoured beautifully on it. The dazzling beauty of this antique jewelry piece consist of many of crisp diamonds carved out on the yellow gold band in a beautiful design that will adored by the woman of your life. This elegant beauty is priced at around £215.
9ct white gold 1/4 carat diamond vintage shaped wedding ring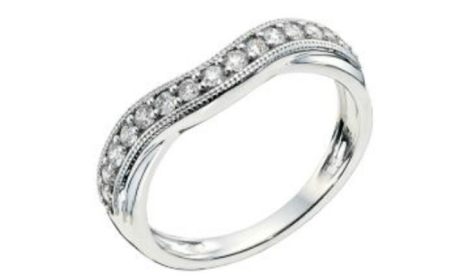 The engagement ring represents your commitment towards your spouse of spending your lives together with all love and happiness. This vintage wedding ring will express all your hearty feeling to your woman without saying any words except 'I-do'. Crafted in 9 ct white gold, the glittering diamond vintage ring features milgrain edged detail. The brilliant cut round diamonds with a total weight of ¼ carat are laid in a pave setting on the 0.4 cm wide white gold girdle. This ladylike vintage engagement band costs £599.
Celebrity Inspired Wedding Ring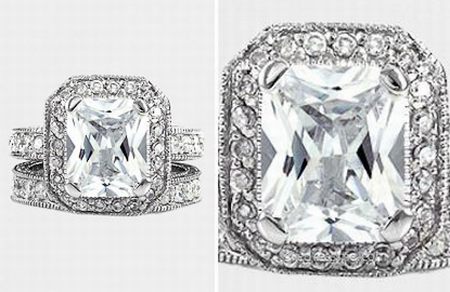 Surprise your bride with this Celebrity Inspired Wedding Ring and make her feel special like a celebrity. This glaring and sophisticated beauty is crafted in.925 sterling silver with electroplated rhodium metal. The elegant ring features an emerald cut zirconia as the central stone. This sparkling center stone is enveloped with several tiny cubic zirconia in pave setting. Many round cut cubic zirconia are inset on the guard and band. The total carat weight of the stone is approximately 4.5 carats. This marvellous looking ring weighs 13.1 grams and cost just $160.
Ladies' Ring in White 18-karat Gold with Diamond, Wedding-ring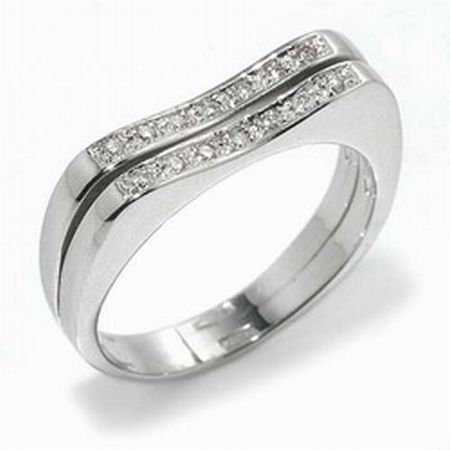 This eye popping wedding ring is sure to amaze your bride to be with its dazzling looks. This attractive piece of vintage jewelry is one of its kinds and blazes the wearer with its extravagant charm. The vintage wedding ring features 14 brilliant cut diamonds that weigh a total of 0.098 carats organised in a pave setting on the 18 K white gold girdle. The highly polished white gold adds to the coruscation of this vintage wedding ring. Weighing 5.56 grams, the ring carries the price tag of approx. £400.
Wedding Ring in Red 18-karat Gold with Ruby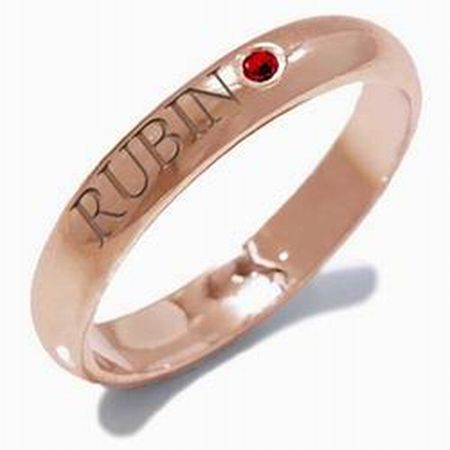 While selecting a wedding ring for your bride to be you must keep in mind the taste and choice of your bride. If she happens to be a woman of sophisticated and simple choice then you might like to prefer a vintage ring and if she is fond of rubies then this vintage wedding ring with ruby as the central gemstone is just perfect for her. The ladies' ring in red is a richly polished band of 18 carat pink gold, enhanced with a round ruby of 0.05 carat set in a collet setting in the center of the band. The wedding ring weighs 6.09 grams and is priced for approximately £367.
Vintage 10K Gold Wedding Band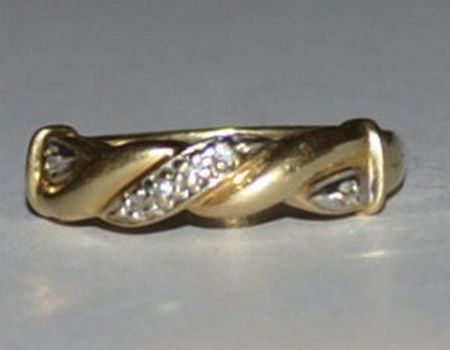 Choosing the right engagement ring for your 'Special Woman' is an important task when you are planning for a wedding ceremony. You should always remember that the engagement ring is the piece of jewelry that she will wear everyday with each dress that she owns. For this very purpose you can consider this antique wedding ring made in gold. This vintage jewelry piece is made in a two tone 10 k white and yellow gold and the simple looks are adorned by diamond chips set in a gorgeous manner on the band. This simple yet elegant wedding band costs approximately £25.
Cartier Diamond Set Russian Wedding Ring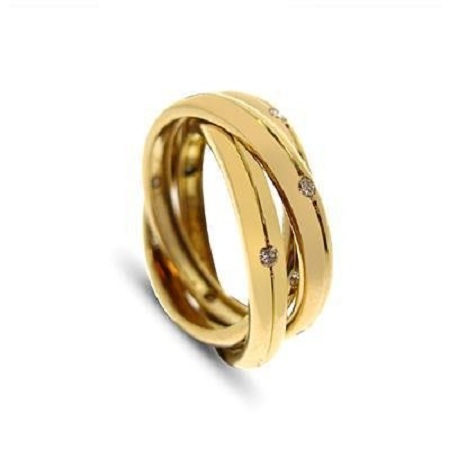 This Russian classic style Cartier wedding ring would be cherished by your bride to be. This elegant wedding band features three interwoven girdles of 18 K yellow gold. The beauty of this Russian wedding band is increased by the addition of brilliant cut diamonds arranged in a flush setting on each of the gold bands. The interlinked girdle enhances the durability of the wedding ring and also expresses the strong relationship between the couple. This vintage jewelry piece carries a price tag of £900.
Art Deco Platinum 22 Ct Gold Engraved Wedding Ring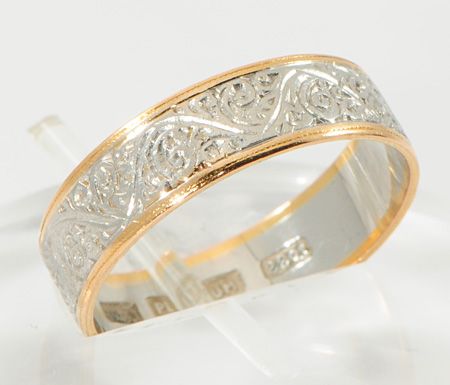 The simple craftsmanship of this vintage ring would be highly appreciated by the bride-to-be who has a simple taste. This less intricate yet sophisticated vintage wedding ring belongs to the Art Deco period. A very elementary detail is engraved on the entire platinum band which is then enclosed in a border of 22 carat gold on either of the sides. The width of the wedding band is 5mm and weighs 4g. This exquisite wedding ring will set you back a mere £565.