Planning an outdoor wedding is always a great idea to celebrate the happiest moments of your life underneath an open sky surrounding by a beautiful sight. Nothing can be more romantic than getting married around red, orange and yellow leaves falling from different types trees and happy memories of the wedding will always stay with you. Below are the best wedding ideas to decorate or to incorporate these colors to have a successful wedding ceremony.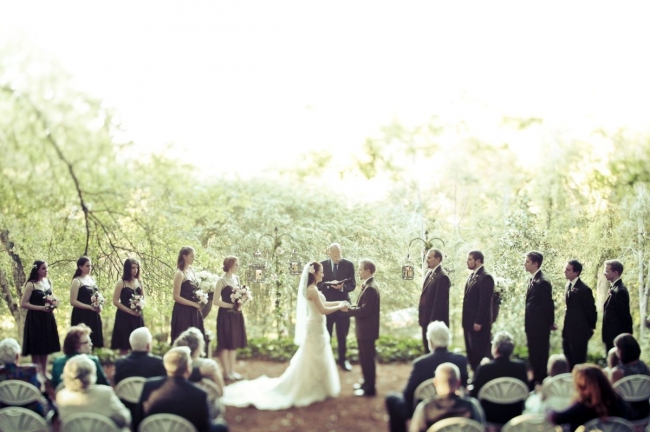 1. The first important thing about an outdoor wedding is the location; so find out a location that is exotic and spacious such as a winery, a park or your backyard. Natural sight will require less decoration since it will be beautiful and serene. Arrange some heating equipments to keep the area warm and cozy. You can rent heaters from party rental stores.
2. For an outdoor wedding, the colors and theme should go together to create a unique atmosphere so use colors like rustic orange, golden yellow and burgundy to decorate the whole wedding area.
3.You can place a yellow or burgundy aisle runner in the center and place some beautiful flowers and leaves around the edges to make them look more beautiful.
4. Chairs must be arranged on either side of the aisle. Don't buy cheap chairs as guests are there to enjoy the wedding ceremony and they don't not want discomfort at all. Go for some padded chairs and you can also rent them from various stores. Also, don't forget to buy chair covers matching with the color theme of your wedding.
5. You can also place some beautiful bare tree with branches on the wedding location – they look beautiful. You can cut colored construction paper in leaf shape and place a basket full of small leaf cutouts in yellow or red colors. Place another basket full of colored (red, yellow,orange) ribbons and write a message for guests to write something about the bride and groom on leaf and tie them on the tree with the help of ribbon.
6. Wedding centerpieces are another most important thing that will define your wedding so, use mums, daisies and hydrangeas as main flowers for bouquets and centerpieces.