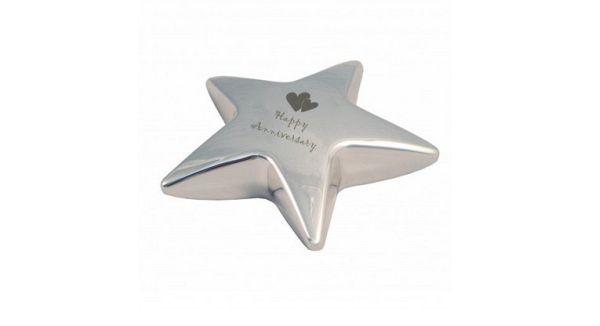 Getting a gift to your loved ones is always a crucial task to accomplish. Wedding anniversary gifts are no different. You desire to satiate the couple who is celebrating their date of union as a wedding anniversary. Buying a gift that is liked by both the receivers is much harder thing to do. You have to take care of the common interests of the husband and his wife. Some people thus opt for two different gifts for each of the spouses whereas some others present the anniversary couple with a common gift that they can cherish for a longer period together. To assist you while buying that special gift for such a perfect occasion like a wedding anniversary, we are giving you some wedding anniversary gift ideas. There will be some gifts that even husbands can gift their wives and the vice versa.
Wedding anniversary golden mugs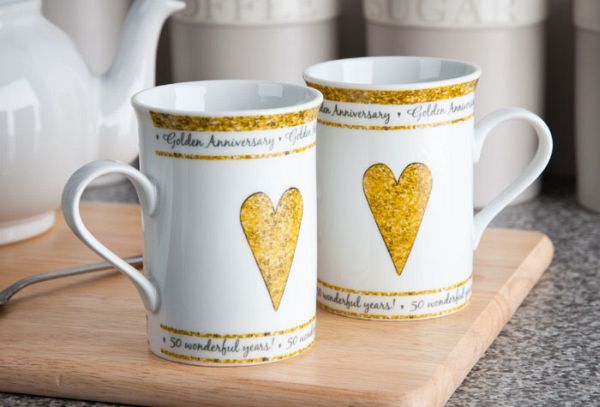 Numbers do play a significant role in our lives. And when that number is related to the years that one has completed being in relationship then that becomes even much more precious. This one here is a set of two coffee mugs that symbolizes the golden wedding anniversary. These are porcelain mugs ideal for any kind of a non-alcoholic beverage such as tea and coffee. '50 wonderful years' is written at the base of both the mugs with the intermediate golden heart. These are ideal to be gifted as wrapped in some gold or white colored gift box.
Wedding anniversary wine box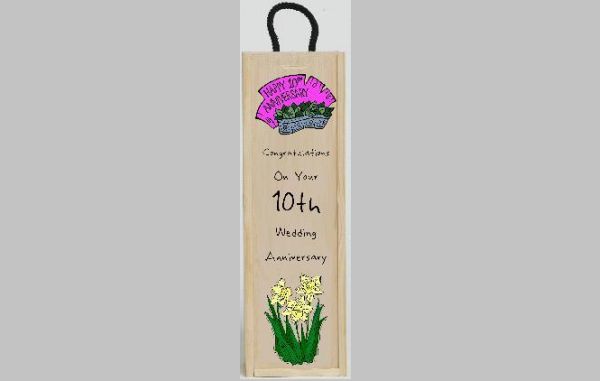 Gifts having the natures touch make anyone feel special. The one here is a wooden wine box that is ideal to be gifted at the wedding anniversary. These make a perfect gift. You also get the option to write down the number of the years that the married couple has completed. For example, this one here is meant to be given at the 10th wedding anniversary. Wine boxes like this can easily hold standard shaped 75 cl bottle of wine or the champagne. You can buy anything that you think the couple will like to drink and give them this beautiful surprise.
Engraved star paperweight wedding anniversary gift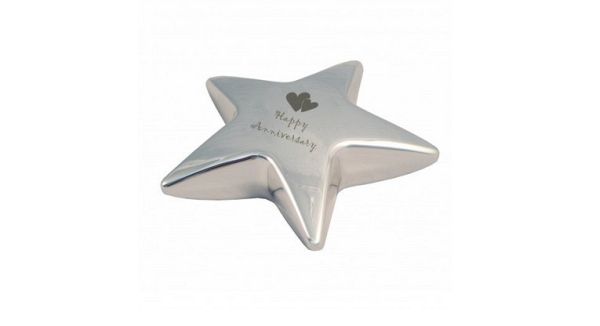 Having a width of 11 centimeters, height of 11 centimeters and a depth of 3 centimeters this is a cute starfish shaped paperweight that has the silver plating on it. The message on the body of the paperweight says, 'Happy Anniversary'. It is a lovely gift for any wedding anniversary but if there is a silver wedding anniversary then this is really something that you must consider. The heart motifs have been used to decorate the paperweight. With a good durable life of the usage this paperweight will always remain there to remind the couple about the happy moments that they share together.
Flower seeds gift pack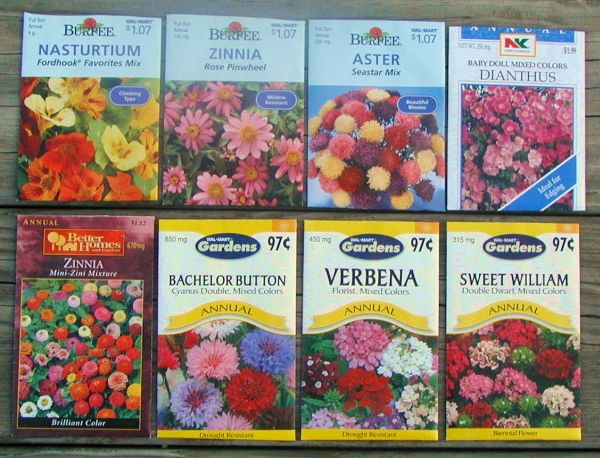 Presenting gifts on an occasion like a wedding anniversary does not have all to do with the traditional gifts. So here we pick this untraditional gift that comprises of a pack of flower seeds. Idea of this gift in itself is very unique and interesting. It comes with the flower seeds of different types. As the seeds will germinate and grow into beautiful flowers, the gift will make its value priceless. The growing and the planting instructions come with the pack itself. Sowing and maintaining the flowers is something that will involve the couple to spend some quality time with each other.
Quartz movement personalized clock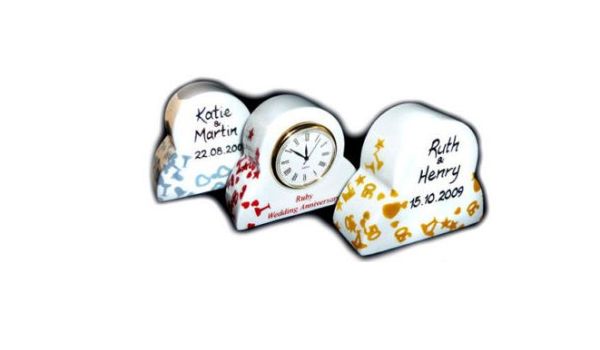 For the lovers of the traditional gifts this is a great one to pick. This is exclusive with the confetti design. It makes a very sweet gift for life events like wedding anniversaries. This quartz movement cock comes all hand painted with the names and the dates engraved on the back of the clock. That you can change as per your need. Even though the times have moved on pretty fast but clocks that are personalized like this one are too good a gift item. This can be used along the bedside to feel nostalgic about the years that have built up a relationship.
Happily ever after first wedding anniversary caps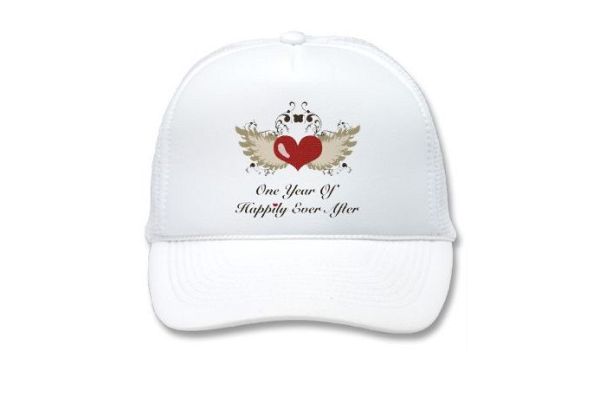 Celebrating the first wedding anniversary feels special. After the wedding the newlyweds share a lot many experiences together. For them, the first wedding anniversary comes like one more day to take fun and romance to new heights. You can buy a pair of these caps for the lovebirds you are going to share their happiness with. The caps have a heart with wings in a warm red color with some neutral tones to balance the effect of the combined colors. We can bet that these caps will make a great and most cherished gift that both the spouses will give their heart to.
Diamond Pendant Necklace 0.30 Carat wedding anniversary gift for wife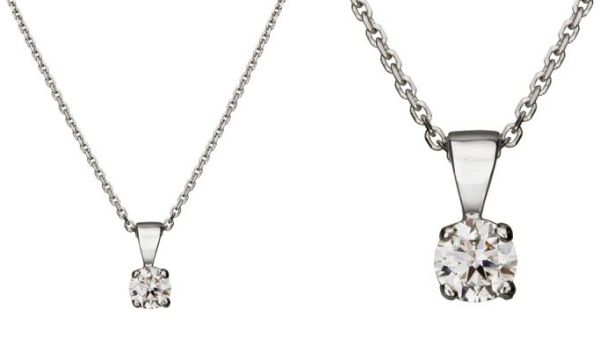 Now if you are a husband and you really love your wife and want to make her smile with joy on your next wedding anniversary then this is the gift that you must get wrapped as soon as possible. This is a diamond pendant necklace with 18 carat white gold with a diamond of 0.30 carat. With a classic low 4 claw setting this is as delicate as your wife's heart. Make her to feel special with this diamond pendant and she will not stop giving you kisses and all the favors that you always wanted from her.
Fossil CH2565 men's sports chronograph wedding anniversary gift for husband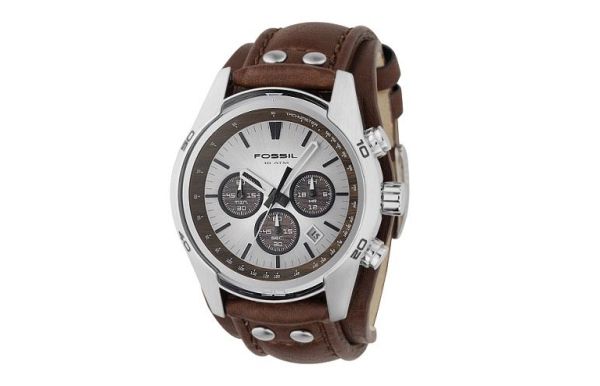 For wives who want to gift something that remains as a token of love with their husbands, this is a gift that has to be chosen for sure. This is a very smart chronograph watch from the brand Fossil. It has three dials that are smaller with one main dial. The appearance of the watch is sober and it gives a wooden appearance. A good finished rich leather makes up the brown strap for this great watch. This is sure to make you husband feel the intensity of your love when you present this to him as a wedding anniversary gift.
Fridge magnets for the wedding anniversary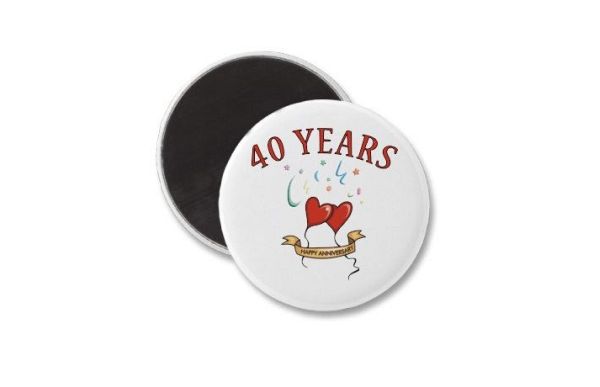 Not always you have to look for the gifts that are too expensive or big. There are gifts out there that are cute and innovative. Take this one for example; these are the fridge magnets that are round in shape and can be put to the fridge after being presented to never forget the moments of joy that a wedding anniversary created. These have been printed on the recycled paper do that makes them eco friendly as well. They are well covered with the anti scratch and the UV resistant material known as mylar. You can also get these in a square shape if you like. The years of completion that a wedding has achieved are printed on these.
Wedding anniversary gifts apron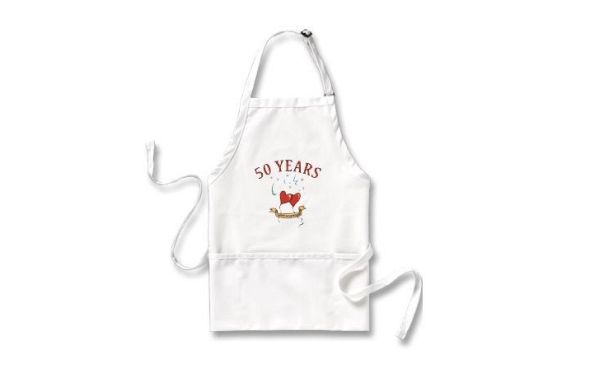 To make for a gift that related to cooking and kitchen is also a unique idea. So hence here is this wedding anniversary apron that is of the medium length. This can even hold the kitchen items while you are cooking which makes this a purposeful gift. One can also use this while gardening or even the more exquisite hobby like painting or sculpturing. It is completely washable and makes such a great wedding anniversary gift idea with the heart shaped balloons printed on its middle.