If rustic wedding is all you have always imagined about your wedding, then probably you are on a right page. This article will explain about the DIY ideas of making beautiful rustic wedding centerpieces. You don't need to spend big amount on items and with just an eye for design, you can add a rustic elegance to the ceremony. So follow these instructions and make your wedding day, the most homey and elegant hoedown you've ever imagined of.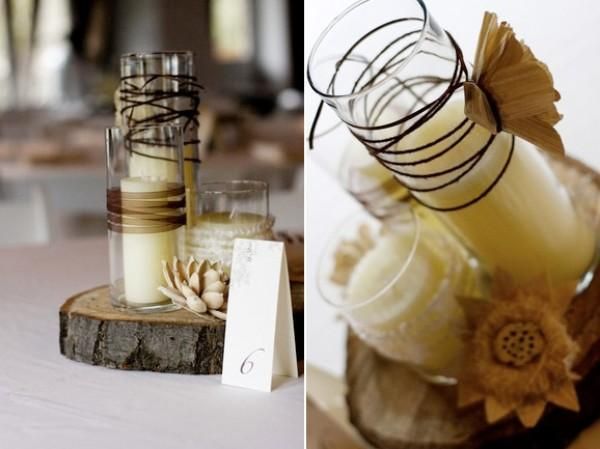 Things you need
1. Glass cylinder vases
2. Jo-Ann Fabrics, Michael's Crafts, and Hobby Lobby
3. Slice of wood ( 11′ diameter)
4. Pillar candles of varying heights
5. Fabric, wood and dried flowers
6. Double sided tape
7. Ribbon, yarn and scissors
Procedure
Start your DIY project with cutting a 3 pieces of ribbon. Now tie these ribbons on glass cylinder vases.
Now attach ends of yarn/ribbon with a tape (preferably double sided) to the vase.
You can also choose to create many textures by using knobby yarn and grosgrain ribbon to create many of textures. As you glasses are of different heights, you may also wrap ribbons on different heights. It will look beautiful.
Tie dried flowers or wood around the vases with the help of this ribbon. Tie it only on the tallest glass vase.
Now take pillar candles and decorate them into vases. Take wood slice and arrange these glass vases onto it.
Place some dried flowers on the wood slice to make it more attractive.
Light candles and this is your rustically elegant centerpiece. Enjoy.
Things to watch out
If you will not wooden flowers, use fabric ones.
You can even visit a local craft store and buy dried botanicals.
For a wedding ceremony, purchase glass vases in bulk, it will cost you less.
Source: oncewed