The biggest challenge that plus- sized brides face is in finding dresses that suit them perfectly. Wearing the right wedding or elopement dress is not about choosing the latest styles. The silhouette, design and shape of the wedding dress play a vital role when you are choosing the perfect dress for your big day.
The want of looking good and beautiful on your big day is very natural. Plus-sized brides have to ensure that they choose the right style, which can cover the body perfectly and make them look slimmer. The design and style that you choose should highlight the slender parts of your body and cover the bulges perfectly.  Let us look at a few wedding gown ideas for plus- sized brides that have hit the markets this year.
Wedding gowns that help to define and reduce budges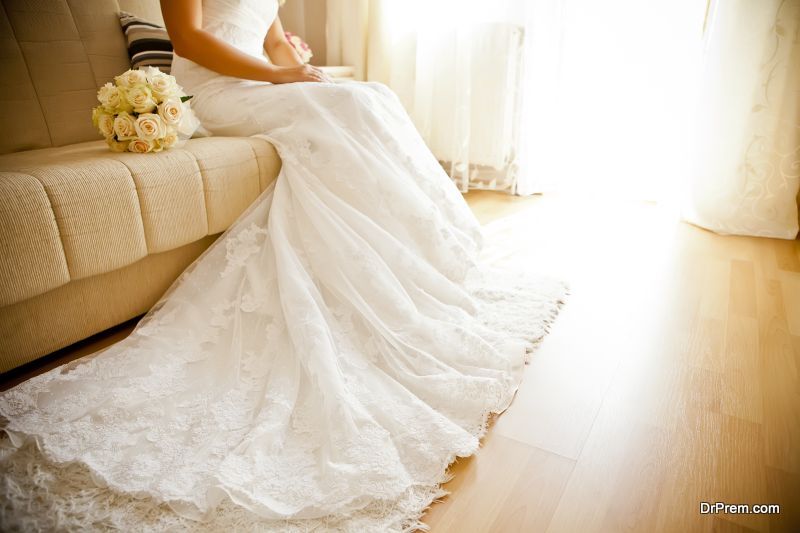 You can give your figure a sultry curvy look by choosing a wedding gown that comes with leaves cap sleeves, a Queen Anne neckline, tulle skirt and ruffled tiered organza. The combination of these four styles will make you look taller as well as reduce the bulkiness from your body. This is perfect for brides who have a pear shape body and want to reduce the heaviness on their hips instantly.
The A-Line wedding gown to make you look taller
If you want to focus more on looking tall while walking down the aisle, then the A-Line wedding gown is the right choice. You can blend this style with a sweetheart neck if you have a round face. For brides with big arms, it would be advisable to consider sleeves like the bell top or fish tail to give their arms a slender look. You can also opt for the traditional halter neck with a boat neckline to bring in a new change.
Fit to flare wedding gown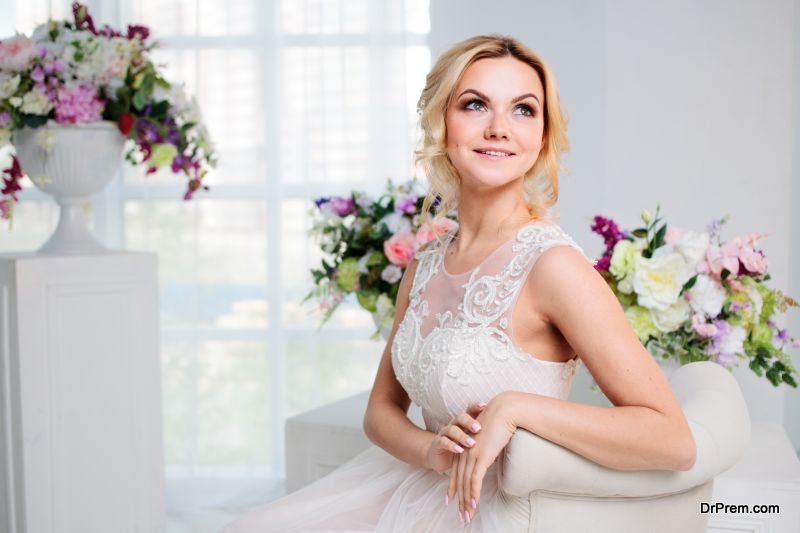 Another perfect option that a short and chubby bride to be can consider is the fit to flare option. In this idea, the wedding gown will give your body a definite shape from the torso to the hips. The flare can be added from the knee onwards to bring in the famine look.  To give you the slim look, make sure you do not go for layered flairs.
Drop waist wedding gown
To make your middle region look thinner and longer, you can opt for the drop waist-wedding gown. It  will help in reducing the bulkiness in the abdominal region and in shifting the focus to the chest and thigh area.  You can consider lace instead of net to give your wedding gown a unique finish and definite shape.
The high waist belt-wedding gown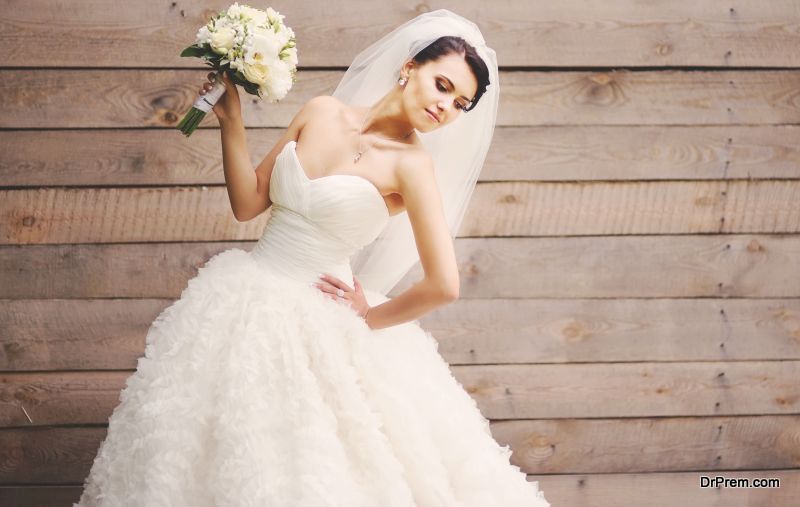 If your chest is not very big but your stomach and hips are, then you should consider the high waist belt-wedding gown. This is because this gown emphasizes more on the chest region and reduces the bulkiness on the stomach and hips. Diagonal draping is an ideal way to bring in a stylish look. Even the waist belt should be a little broad so that it defines your chest region perfectly.
Slender shoulders with an A-line style
For brides who have a heavy body from the chest to the hip, you can bring in the slimmer look by changing the emphasis to the shoulder line. A traditional A-lined dress with a slender shoulder line, a broad neck pattern and flares that flow from the chest region provides an easy way of hiding your bulge.  If you choose this kind of a wedding gown, make sure that the flairs come in two or three steps from the calf region, to give you a slender look.
Picking up the Wedding gown according to your Body Shape
On Your wedding day, you have to look fabulous. The wedding dress, the most important attire in the wedding should be perfect on this day. This is one of the best days of your life and nothing should go wrong this day. Most eyes are on you and you need to look glamorous. Everything should be perfect, most importantly your wedding dress. It's important that when you pick up your wedding dress, you make sure that it suits your body shape, otherwise it will look misfit and awkward on you. The most challenging part is to choose the dress perfect to your shape.
Choosing a Wedding gown according to Body Shape
Pear Shape- If you are pear shaped, wear a long flowing dress that flares down at the bottom with a V-neckline on the top. This kind of a dress will suit your body shape.
Busty- If you are heavy on the top, wear a strapless gown that exposes your neck and shoulder but that does not show much cleavage. A long flaring adds an extra beautiful feature to this gown.
Plus-Sized- An empire dress that begins under the bust and flows down an A-line adds the beauty to your body shape. Make sure that there is no pleating on the dress and the empire seam does not start on the chest region.
Apple shaped- A dress that clinches on the waistline and tapers down at the bottom in a gradual A shape. This lender dress with a V-neckline suits this kind of body shape. A laced dress will also add an extra beauty
Petite- Those who are short can wear short gowns or dresses that will suit their body shape. Short knee length dresses look cute and simple on the bride.
To sum up
Now that you know about the wedding gowns that suit your body shape, the next big concern in the sizing. Though the styling may be perfect, it's important that your gown fits you well. For this, you should contact a good tailor that specializes in bridal dresses. While taking measurements, remember that your gown should not look too tight or too loose. There is nothing more beautiful than a perfectly fitting wedding gown. With choosing the perfect wedding dress; half of the major work of the wedding is done. Now you are all ready to look as pretty as a princess on your wedding.