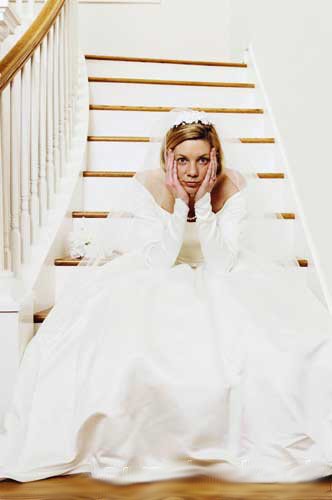 Reasons for wedding insurance
Caterer
You have already made the down payment for the catering services that you have booked for the big wedding feast that you and your would-be spouse have organized. All of a sudden, you get to know that the caterer is shutting down his shop since business are down and instead flee off to some unknown destination. I know, this sounds rather melo-dramatic, but you never know about the big U Turn that it may have on your wedding day. Therefore, it is best to ensure that you have insured your wedding day budget.
Damage of wedding dress
It is the dream of the bride to buy the unique piece of designer wedding gown for the wedding day. A Reem Acra wedding gown will cost you anything between $1,000 to $4,500 and above, since all the dresses that she designs is elegant and one of its kind. If it so happens that an absentminded wedding guest spills a glass of red wine and you have no other way but to let it go for a dry cleaning. This accident of stain removal will cost you a handsome amount. You had better insure it before you have to pay for double the amount of the gown just to the dry cleaning shop.
Wedding Rings
One of the most exquisite things that your future hubby has bought for you is the wedding ring, and unfortunately, your bridesmaid informs you at the last minute that she has misplaced it somewhere and it is gone. You cannot always rely even on your best man and the woman because who knows they might be tempted to keep the expensive and sophisticated ring as it will fetch them a good amount of money.
Now if you had previously though of insuring it, you would not today have had to cry over the great loss, which is both emotional as well as financial too.