Winter weddings are incredibly beautiful, provided you want to brave the snow and the winter chill. The wedding photos turn out to be gorgeous with the snow around, especially if you have the ceremony outdoors. Incorporate winter elements such as ice sculptures to make your wedding elegant and special. Check out this winter wedding guide to help you plan and get inspired to come up with some cool ideas.
Winter wedding guide for the snowy months
First things First -The Essentials
Check out the weather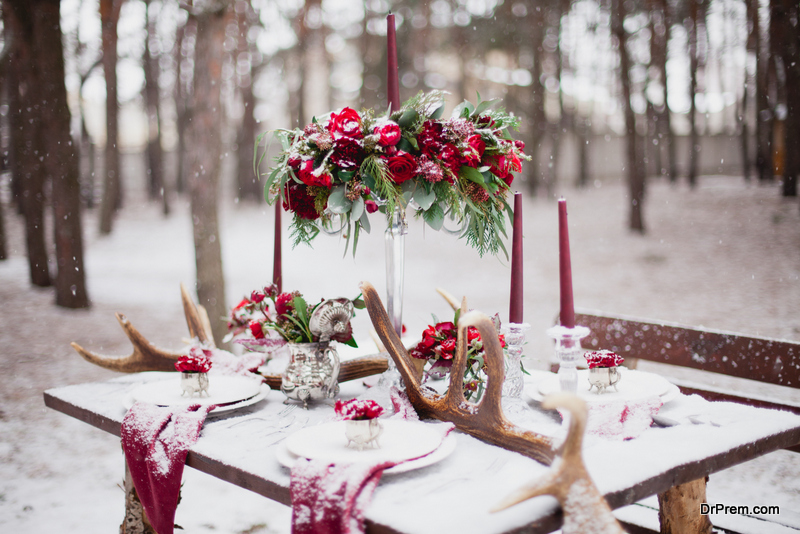 You may be dreaming of a wedding with lovely powdery snow in the background. If you live in an area where snowfall in winter is quite typical, then you have no problem. If not, then go online and check the weather around the date of your wedding, but still you cannot be sure if there would be any snowfall on the big day. Budget allowing, you could have a fancy destination wedding, in a place which usually has snow on the date you're planning.
Avoid the big holidays
The snow season also means it's the holiday season, with Thanksgiving, Christmas, Hanukah, Valentine's Day, New Year's Eve and New Year up to the Superbowl Sunday. Avoiding these days are best as people usually have plans on these days. If you're planning a wedding on these days, then send out early invites so your guests can block those days, and also let you know whether they will be attending or not.
Try to hire a good wedding planner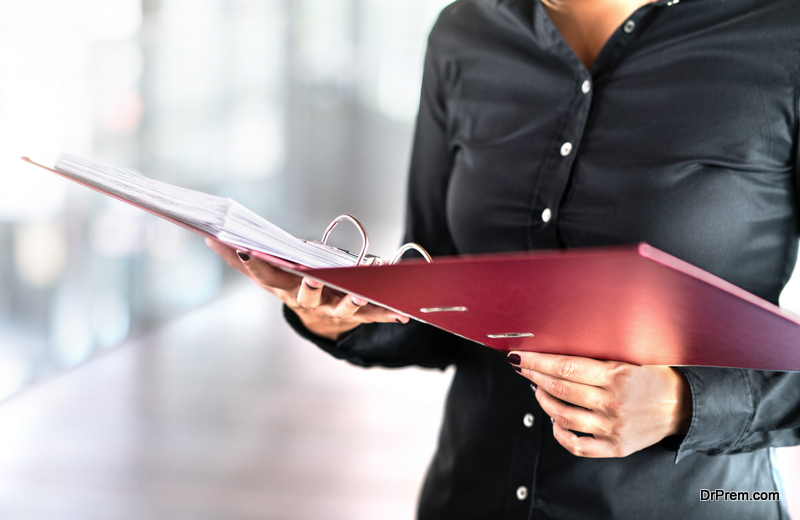 An experienced wedding planner can negotiate the snow dates and mark the snow date on your save-the-date, invitation and wedding website. Snow date is the alternative wedding date to be prepared for the eventuality of extreme weather. This date is very important as the planner can has to negotiate the snow date with all the vendors as well as set up a contingency plan in all the vendor/location contracts. Apart from this, the wedding planner will have some pretty great snow wedding ideas.
Check the snow protocols at the venue
Check beforehand what kind of snow protocol the venue has. For example, the road and the parking lot have to be shoveled when there is snowfall. This is quite important to check – don't assume anything, but get to know how they deal with snowfall.
Start the day early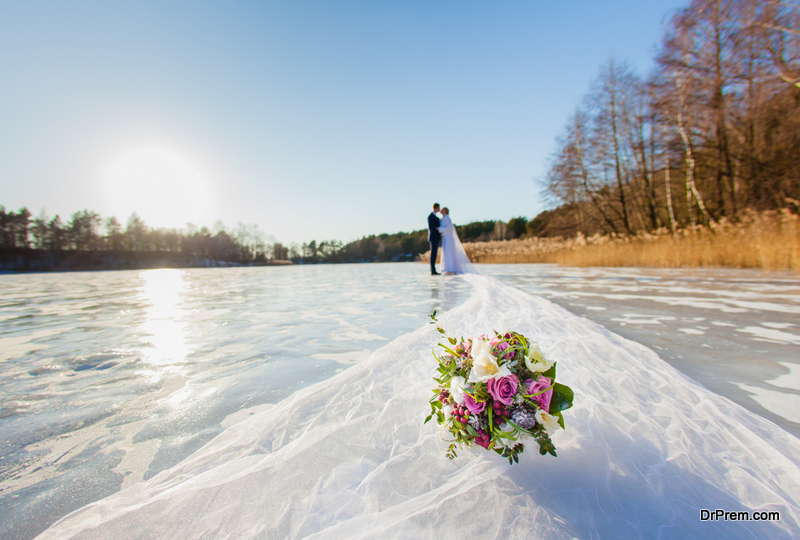 In winter, daylight is extremely precious. Having the ceremony early will allow for many great photo opportunities. Talk to the photographer and capture all the lovely moments in the snowhite landscape before sunset when it will be too dark.
Have a contingency plan
Weddings in a snowy clime need contingency plans. Anything may happen, the power may go out leading to issues in the preparation as well as cooking food. Consult with the wedding planner and vendors and put some back up plans in place.
Suggest travel insurance for your guests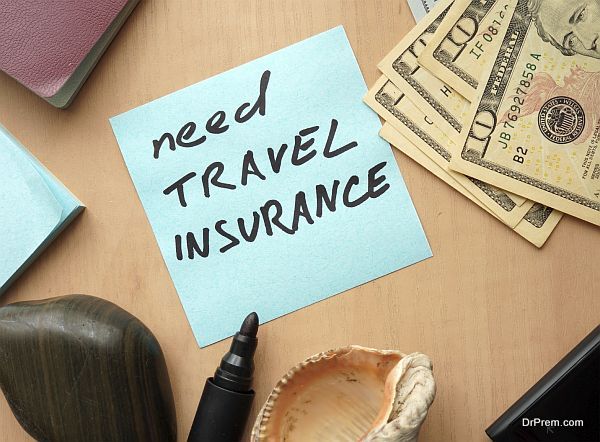 It is a good idea to ensure that your guests have travel insurance applicable in the town where the wedding is, at least three days prior to the event. Travel insurance is especially important if your wedding is a destination wedding.
The wedding attire
The bridal gown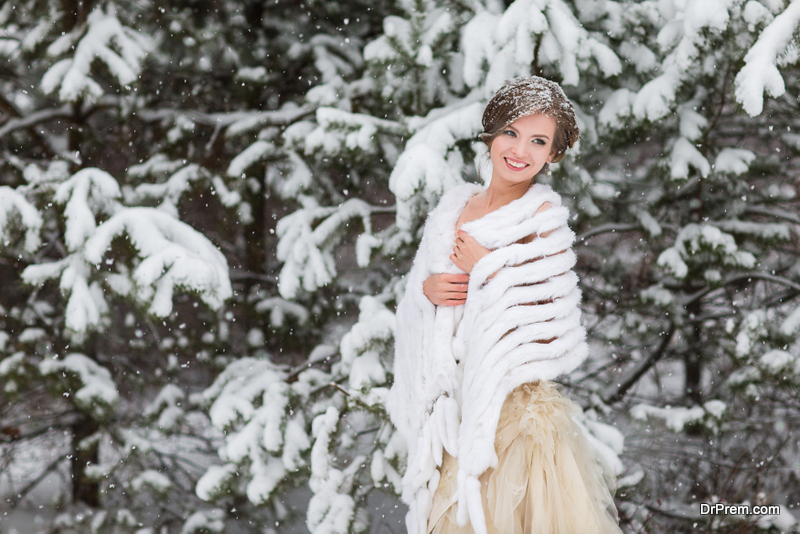 It will definitely be cold, so you should be well-prepared. Silk is a material which keeps out the cold, so you might consider a silk bridal gown with long sleeves. Silk looks extremely elegant and beautiful too, and it is one of the best snow wedding ideas. The accessories are important too, such as faux fur stole, cape, veil and smart cardigan.
Don't forget to wear a pair of thick tights under the long, wedding gown, and the bridesmaids should do that too. Look for sequined and glitter bridesmaids dresses which are readily available in winter. They look great in the photos too.
 Velvet for the men
It's lucky that velvet is trendy right now, as it is a thick fabric. The bridegroom as well as the groomsmen can look dashing and handsome in velvet chic and stay protected from the cold.
The perfect footwear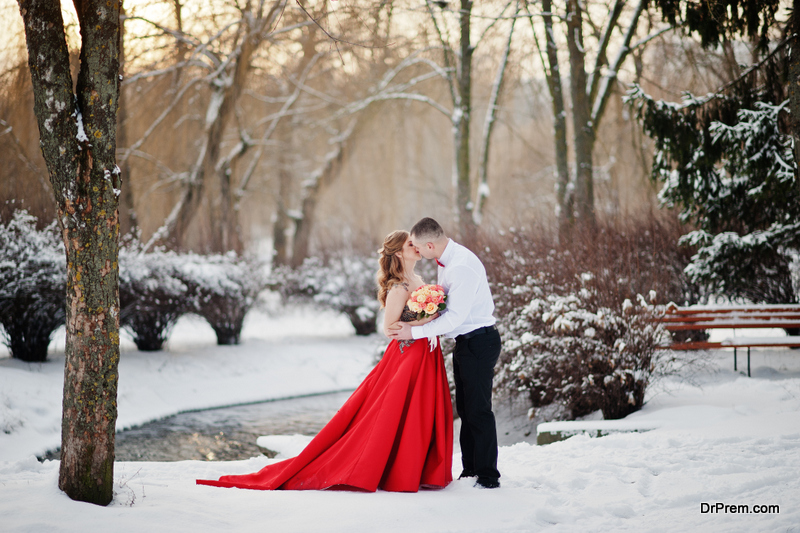 Boots are the favorite footwear during winter. In fact, boots are great for an outdoor winter wedding. Step out in style in a chic pair of boots, which will keep you warm and dry too (in case it rains!).
Moisturize
Dry skin and chapped lips are common in winter. On your special day, keep a chap stick handy to keep your lips moisturized, before the ceremony. Apply a good moisturizer before any makeup, so that your bridal glow is noticed by everyone.
The Décor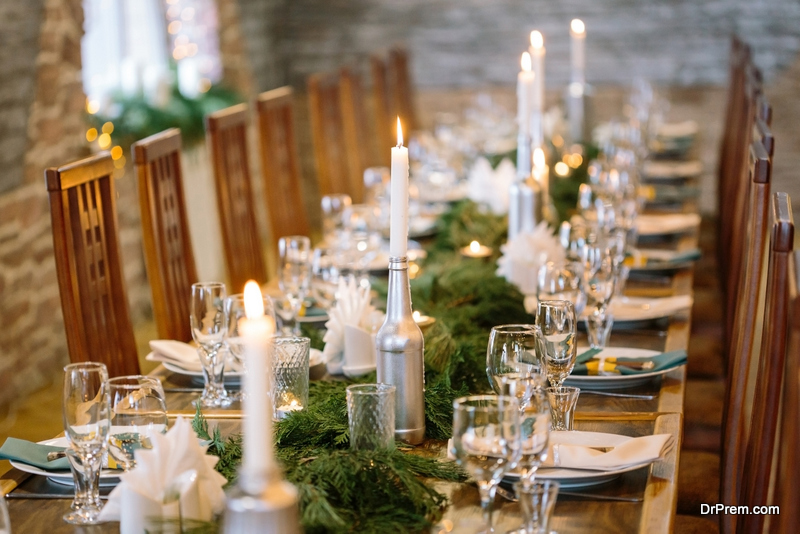 You have a wide range of décor options to select from. Pampas grass details, acrylic elements, stained glass and other elements can be introduced to the indoor venue to make it riveting. There are plenty of modern wedding décor ideas which can be incorporated to your outdoor winter wedding.
 The colors
Red and Green, as well as the White Winter wedding are always doable and turn out well. Take a step out of the usual and choose from a sophisticated color palette that will transform your wedding into a luxe wedding. Colors such as deep emerald, rich plum, berry tones and even gold and silver would look gorgeous. Don't forget black and white either.
The flowers
Any venue comes alive with flowers. The bright and refreshing beauty of fresh flowers such as Brunia berries, succulents, Manzanita branches painted in gold and silver, pinecones and the all-time favorite roses are the wintertime flower choices.
Wedding favors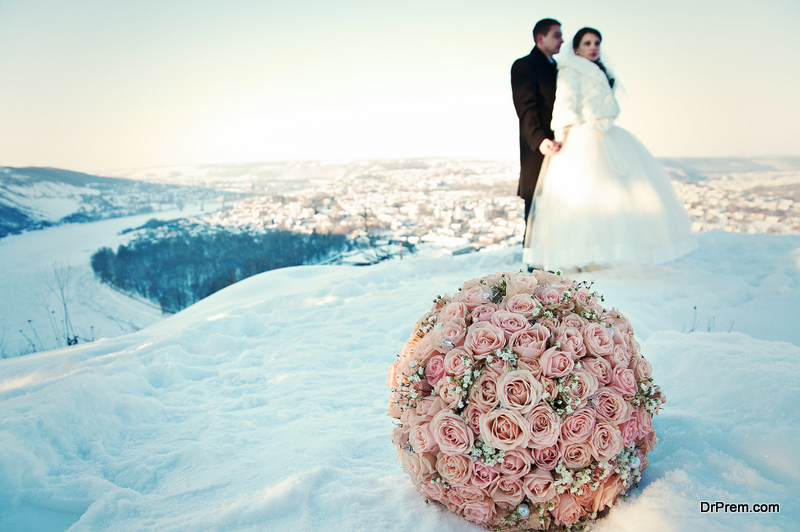 Winter is in the air, so the favors have to be winter themed too. For example, pashmina stoles/shawls, mulled wine, cookies, candy canes and sparklers, candles and more.
The food
Even if the wedding ceremony is outside, the reception and food should be inside. Creamy soups such as creamy tomato soup, clam chowder, lobster bisque can be served as hors d'oeuvres in smart mini mugs to transform them into soup shooters. Serve a hearty grilled cheese sandwich and you'd receive the gratitude of your guests!
Have a few food stations such as pasta station with various sauces and noodles, or a salad station with the seasonal veggies and fruits like cranberries, apples and so on.
Mini doughnuts with hot cocoa is a great idea for an outdoor winter wedding. Deliciously warm apple pies, pear cobbler, and gingerbread could be desserts too. Or make it a DIY dessert with chocolate fondue on every single table which everyone will love.
 The invite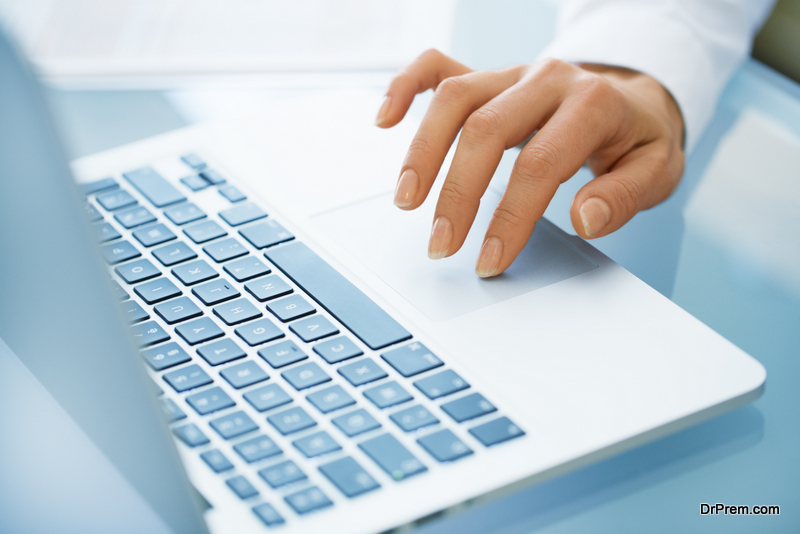 A green wedding invitation should be your choice. You would be making a huge contribution to the environment and spreading the message to your guests that they can help the environment too. Choose recycled paper, for the invites, better still are plantable invites. These are embedded with flower seeds which your guests can plant.
A wedding website is good idea too. You can give the link to all your near and dear ones invited for the wedding when you send the save-the-date. It can be a simple one, just a blog, where you give all the information about the bridal shower, hen's night, bridesmaid's gowns, time and place and more. You can keep updating it so that people are informed about what's happening at all times. This would be especially helpful on the days when people are arriving, letting them know about the weather, which roads to avoid and so on.
Your winter wedding would be wonderful, unforgettable experience, with the snow as the backdrop. All you have to do is prepare for contingencies and put everything in place for the big day!