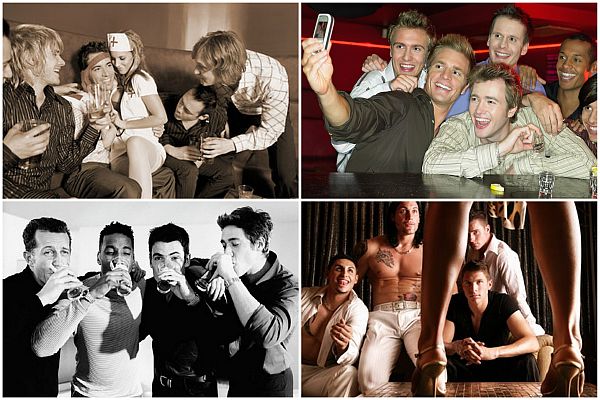 Who doesn't know about a bachelor party, is only the best party the groom to be gets from his mates before his wedding day. It is the final shot of fun before bidding goodbyes to bachelorhood. It is the time to gather and have loads of fun debarred for a married man and which only a bachelor can enjoy; the final hour to be uncouth, talk dirty, and have loads of fun. You can make this a great event. A little planning would do wonders in making this a success. One must know how to go about planning such a fantastic party, which shall be remembered or 'not' by the bunch of friends who shall be present. A list has been compiled consisting of budget ideas to help you have an economical but fun filled bachelor party.
1. Pizza and Beer
If you and your friends are one of those who like quietness, then you can relax and have a bachelor's party with pizzas and beer. You can enhance your pleasure by playing slow country music, rent some videos, and have some quality conversation. This is a must no matter where you are, especially if the party is at somebody's house. Have some chicken wings and relish the food like animals.
2. Road trip
If you are the gang that is enthusiastic and have a jest for life, you can opt to hold your party at some interesting abode. A drive would do good and should be a fun thing. It is not that hard for guys to have fun anyway, you could entertain each other with even the most craziest of talks. Being in the open would also give you a chance to play outdoor games like soccer, football or whatever you and your friends enjoy. If you are aware of the locale, a hike can be the icing on the cake. You could do all the guy stuff you have not been able to do at that time in life.
3. Night club
If you want to have loads of fun but lack the time, you can go to a night club. A visit to the hottest club in the weekend would be very convenient. Try clubs with various themes and select closest to the bachelor party. Make them play the latest hits and also the favorite of the prospective bridegroom. It would be the best gift he would cherish. Having a party especially a bachelor party at the club is every guy's dream come true. If it is a strip club it is much better for the bachelor to be groom. It could also be a drawback as at your age you men would have been to night club like a thousand times.
4. Sports night
If you have a common sport and team that you root playing, then you are in for a treat. You have to grab beer and let the game do the talking. Watching this will generate excitement and a lot of male humor. It's not the game, but the fact you guys are together is fun. You could have the bachelor party during the super bowl if your lucky and have a sports night out. You could go and play basketball in the night.
5. Bowling, karting, pool, pinball
These are modern day games, that are well organized and do not involve a lot of planning. All you have to do is to haul yourselves to that place and have the time of your lives. You can plan a day long trip to an amusement park and act naughty like kids and have a lot of fun. These games somehow take out all the pent up frustration you could possibly have, so you can give it a chance in playing. Bowling with buddies has always been fun.
6. Roast the Bachelor
This can be a surprise thrown to the prospective groom. You can decide a place, blindfold him, and lead to a chair in the center of a room. Then each of the members of the group can come and talk about his embarrassing situations. This will have people bursting into peals of laughter and the bachelor will squirm, but will enjoy the attention. There can be other games also organized to make the evening an eventful one.
7. Poker
If you live in a city that has a casino, then let this be the night when you play to your heart's content. You never know when you get another chance. A game of cards can do wonders in uplifting the spirits in the bachelor party with screaming and shouting that can go hand-in-hand. Play some strip poker, but then that is a game which is fun with women around. Why not hire a couple of them and then play. Spice up the fun in your own manner.
8. Dinner
You can arrange for dinner in a place which can tolerate noise and a bunch of men enjoying themselves. Ensure not to book in a restaurant which has families. This can be embarrassing and a nuisance. In fact you should go to a place which is not as elegant and expects a bit of a mature behavior. Go to a take out place, a bar with an eating joint or junk food. Eat those things you never ate before, try out new things after getting drunk or high.
9. Biking trip
If you and your friends are nature lovers, take out your bikes and ride through the country side on the morning of the bachelor party. To your surprise you might enjoy it more than you can imagine. Such a trip would also prove to be a good gathering and fun. You can have bonfires with music and dance. You could have an outing in case you decide to stay for the night and then you could have like your own little mischievous party over their with strippers or just some girl friends. Have some marshmallows and some chicken which you could reheat over the fire.
10. Barbeque grill
You can plan a barbeque party with lots of mouth watering recipes. This can be followed by music and dance along with lots of jokes and reviving the past. You would throw a bachelor party which the groom to be would not even imagine forgetting. Grills and burgers are always the best to have especially if you have pool or a jacuzzi outside.