A wedding is a once in a life time experience for any couple and they do everything possible to leave their guests with a good impression. You obviously don't want to go with the conventional reception ideas, which are quite dull and boring. It is very important to think out-of-the-box and come up with unique wedding reception ideas, leaving your guests spellbound. Here are a few things you could do to make your wedding reception uniquely creative.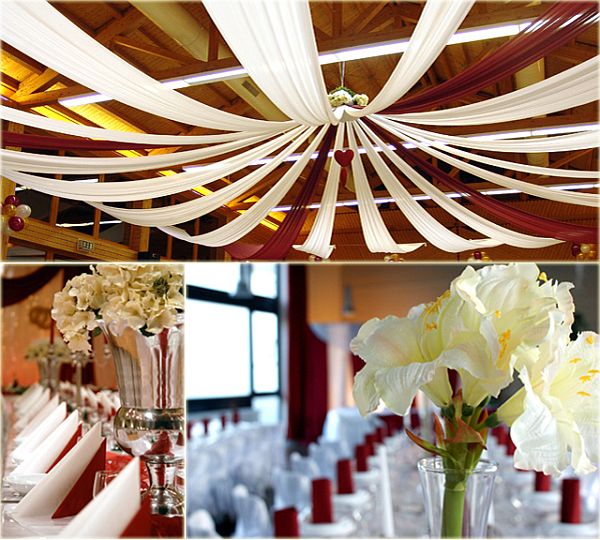 1. Select a perfect wedding venue
A reception possesses the perfect blend of formal affair and fun and for this reason, it becomes important to select a wedding venue that suits both these elements. Sometime venues create a magical impact in the minds of the guests more than anything else. It is this factor that creates the first impression about your grand event. And its not only the guests that have to like the wedding venue but the place of your wedding is really something that bride and groom becomes emotional about. There are lot many kinds and forms of wedding venues on the list for the couple who are getting married soon. Just ensure you have a booking with the perfect date and time and also try to get a good discount from the organizers of the wedding venue. A good chosen wedding venue will just be the first thing that will compliment your wedding reception.
2. Theme your wedding
Thinking of themes could end up giving you one of the easiest yet the most boring results that could make or break the show of your reception. You needn't try too hard on setting up expensive decorations, simple and low budget themes also take people's breath away. These themes could vary from the fairy tale world of butterflies and angels to vampire looks with masks and ghost costumes. First of all get the idea clear that how you want your wedding reception to be. Also consider the number of guests that you are inviting. When you have all on your fingertips just decide that a perfect theme is always known to you. Things that you are passionate about in your life are the things that become a wedding theme. Do consider the liking of your guests as well.
3. Pick an unforgettable guest book idea
Guest books have evolved to be one of the most crucial parts of organizing a wedding reception. This is one way to bring a smile on your guests' faces before they leave from the ceremony. So much so that you can also set up a photo booth for family and friends to click and capture memorable moments in your wedding. Nowadays, you can create electronic guest book as well and can get a timely acknowledgement from your guests. Rather the electronic guests book are special as they are eco-friendly and also get the response on time. Detail all that you have at your wedding reception. But do keep some surprises!
4. Giving importance to the decor
The moment your guests begin to enter your venue, the first thing they will notice is the overall feeling of the ambiance. The vibe that you want your close ones to feel solely depends upon the decor of the ceremony and for this reason, lit candles, fish bowls, flowers and other cozy decorations can prove to be the perfect essence and interpretation of your wedding. Apart from the aesthetics, the decor need to be simple not complex. Many a things just occupy space. Have only the things that are necessary and keep in mind the in-fashion decorative items.
5. Go classic
One of the most classic, elegant and sophisticated ways of organizing a wedding reception is by going all white. Gather the galls to keep everything white right from the ceiling to the floor to the chairs, the decoration and the flowers. So much so that make sure your wedding cake is also the whitest of all. Besides the magical aura that this powerful color creates, it also flashes a very positive and sacred vibe about the institution of marriage and love.
6. Play with colors
For those who do not agree much with the concept of going all white and wish to bring more life to the event, you can play with the power of various colors and make the decoration as lively as possible. Blue, violet, green, yellow and red are some of the monochromatic colors that you can smartly play around. You can have colorful flowers or flower petals around the important spaces like reception tables, wedding cake table, etc. Also you can use some colored artificial snow spray. Having some of the colorful backdrops is also not a bad idea, particularly if you plan an outdoor wedding reception.
7. Drink it up
Having a beautifully equipped and arranged espresso bar in the midst of the event could be one of the most loved things by the guests, especially men. You can dedicate a spacious area for hard and soft drinks so people can have the times of their lives and love you only more for giving them so much in your own wedding. Make a good choice of the alcoholic as well as the non-alcoholic beverages in your wedding menu. You have to consider the time or the season of the wedding. Having cocktails and mocktails also is a great idea. Just have some fine music to add that extra bit to the liquid flow.
8. Have the most irresistible dessert buffet
The one thing that ends all things on a good note and helps create a long lasting impact for the moment is something sweet. It is for this reason that wedding planners should never take the dessert section lightly and offers as much as they can when it comes to putting the meal to an end. Brownies, cakes, pastries, mousse, pies, tarts, muffins and candies are a few options that you can present in different flavors and core ingredients.
9. Invest in a watercolor artist
It can be great fun to arrange for a watercolor artist at the reception. During the course of the event, he can paint some meticulous artworks that can be gifted to the married couple and can also prove to be a good chance of silent engrossment for the guests. Outgoing guests can spend their times giving toasts while others can indulge themselves with the artist and his paintings.
10. Make it inviting
Weddings full of love and it becomes important to deliver this abstract through the decor too. Every guest needs to feel a sense of warmth and belonging towards you and your better half and for this reason; the ambiance needs to be as warm as possible. You can do this by pulling in lounge furniture, couches and make use of velvety fabrics to make your wedding the best one.