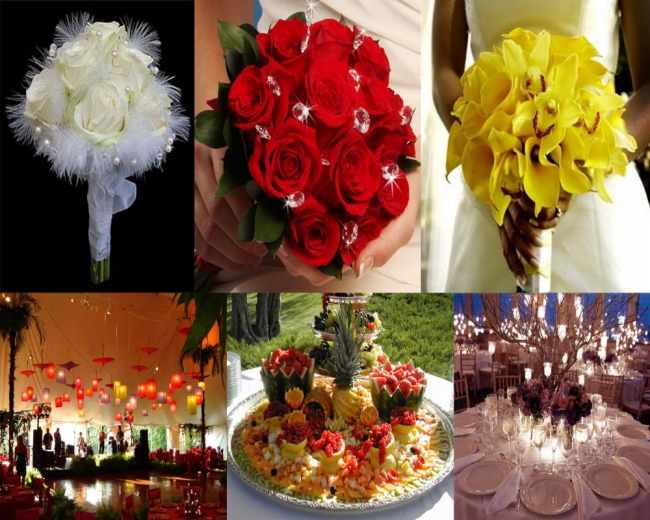 Girls always dream of the perfect wedding with a white flowing dress, impeccable accessories, a handsome groom and, the best part, gorgeous floral arrangements that bring the whole wedding together. Undeniably, flowers play a vital role in every wedding and a lot of planning and arranging goes into it. Beautifully arranged flowers can transform any church or hall into a magnificent venue, full of life. Since there are so many varieties of flowers and styles to choose from, a bride needs to be clearly guided through the process. The trends keep changing every day and the bride needs to be thoroughly updated about the current floral situations in order to make her wedding decorations look fabulous. Here are the 10 most popular floral trends that every bride must know.
1. Fur and feathers
When all the attention is on the bride while she walks down the aisle, the bridal bouquet along with her dress is equally important. Instead of carrying the usual flowers, why not do a flamboyant pairing of some fur and feathers to make it much more beautiful and striking. They are in fact a great idea if you are having a winter or fall wedding. It adds a sense of warmth and will go perfectly well with the theme. You can wrap your little bouquet with a ring of white fur for a crisp look or get a fur dyed in the color of your wedding dress or flowers if you want it to blend well. Faux fur can work really well when wrapped around long stems of orchids or the more exotic peacock feathers. If you want to keep it simple, but still stand out in the crowd, then get a small bouquet of white flowers wrapped in fur and place a few dainty ostrich feathers, which will give a more neutral palette.
Sourcing the fur and feathers are not much of an issue as some crafts stores, textile store and even antique markets might stock them. Make sure you scout around a bit and get a few different color options and styles so you would be able to mix and match colors and come up with something spectacular.
2. Showstoppers
It is only understandable that the bride wants to be the center of attention on her wedding day. To make sure you stay that way, try getting a large and vibrant bouquet for yourself. Use colors that would really stand out and choose exotic flowers that are not used anywhere else in the decorating scheme. For example, if you have decided to decorate your chapel with white and red roses, then get a bouquet of bright blue irises or hydrangeas or sunny yellow lilies for your bridal bouquet. That way you will stand out between the red and white and have all eyes turned to you. Make sure you do not deviate too much from your color scheme. Maintain a common element with the flowers in such a way that there is no major clash of colors. The bridesmaids can have smaller bouquets and can stick to the overall color theme. Therefore, you would definitely stand apart, but in an inspired sort of way.
3. Be natural
Going natural is a great trend, which not only promotes green but also stands apart from the usual. Use local wild flowers like daisies, poppies, lilies, baby's breath, and sunflowers for your wedding décor and bouquets and it would convey the back-to-nature theme pretty well. The best part about using wild flowers is that you can mix and match any color or combination, just the way they grow in the wild. They are guaranteed to look gorgeous no matter how you put them together. Some flowers, however, will be available in certain seasons and so do a thorough research way before your wedding. This theme would suit a spring wedding the best as flowers are in plenty during that time.
If you want to be different and break from tradition, then just hold a large flower instead of a bouquet. It is simple, but at the same time makes a unique statement as well. Make sure your venue, dress, and accessories also go well with the one-flower theme, as you do not want to look like you spent all your money on a puffy dress and could not afford a bouquet.
4. Bejeweled bouquets
Glam up any floral décor by adding some expensive jewelry. You do not have to over do it and make it look tacky, but just some stylish pearls or some diamond studs could do the trick. For example, if you are holding a simple bouquet of blood red roses and daisies, you can pin on some white beads at intervals to make it look even prettier or a brooch pinned on one side of the bouquet wrap can add to the grandeur. You could even try to match your jewelry to that of the bouquets, but make sure you do not jazz it up too much, as when it comes to jewelry, less is always more.
5. No muss, no fuss
As previously mentioned, you do not have to go elaborate and expensive to make a statement. When it comes to flower arrangements, anything can look good provided you do it the right way. Select a simple set of blooms and place them in a clear glass vase and they would look great as a centerpiece. Minimalistic but chick is sometimes the way to go.
6. Going fruity
Going fruity means using fruits in your wedding decoration. Many brides have started using fruits as centerpieces and as part of their floral arrangements. The style they let out captures interest and you can mix and match shapes and colors to complement the flowers. Place ripe orange next to some gazania or lemons beside yellow chrysanthemums and you would have an interesting décor for your wedding. You need not make use of the entire fruit, if you are not comfortable; instead use fruit carvings or hollow out a watermelon and use it to hold an assortment of flowers. The options are endless; all you need to do is to put your thinking cap on and make it happen.
7. Asian atmosphere
An Asian fusion floral design works for any bride who wants her wedding décor to look stylish, trendy, and unique. Mix and match Japanese and Chinese designs to put together a fabulous floral delight and you would have a winner. Orchids, cherry blossoms, and bamboo stalks can be grouped together in whichever way you like, but they are necessary at an Asian themed wedding. Rock garden features with river stones in vases and string paper lanterns across the dance floor just make for a magical wedding arrangement. Like all other décor, do not be too carried away and make the scene look like a Chinese restaurant instead.
8. Enchanting votives
These days' brides are experimenting with various types of votives, which add that extra zing to any wedding décor. You can nestle them in between large flower arrangements, hang them from tree branches, or float them in a water body. Depending on your theme and flowers used, a few candles places strategically can enhance the look and feel of your wedding venue, especially if the event is at night.
9. Family honor
Including personal family favorites to your wedding décor is one way of paying tribute to the ones your love. Get dainty Chinaware from your family home or use your mom's watering can to hold some flowers and you may even use strips of fabric from your mothers wedding dress to put your bouquet together. Get your husband-to-be to also contribute, then mix and match to deliver something worth noticing. This may not be the most forma of floral trends, but it would be much more rewarding and personal for both of you.
10. Fewer flowers, more trees
If you are the type who insists on being environmentally friendly, then this trend works best for you. Since flowers are not really the best option in such situations, you can avoid them altogether and use trees and plants instead. Bamboo, vines, ivy plants, spiral bay, and topiary tress work wonders as wedding décor. By having a couple of hanging and planted ferns, berry branches, and magnolia and maple leaf on your bouquet, you will certainly have a wonderful decoration. Going green is now trendier than ever before and what better way to do than to have a green wedding.
Via: TLCWeddings