Are you in a dilemma over buying a wedding gift for the groom? Whether you are a friend, a relative, a guest or the bride herself ( or himself in today's times), some gifts are sure to floor the groom with delight. There are so many options and sometimes it really gets confusing that what to gift to the groom. So we have chosen a variety of gifts that have a clear contrast among them in their selection. Here are those ten super gift ideas that you could borrow from us.
1. Movado watch by Movado Men's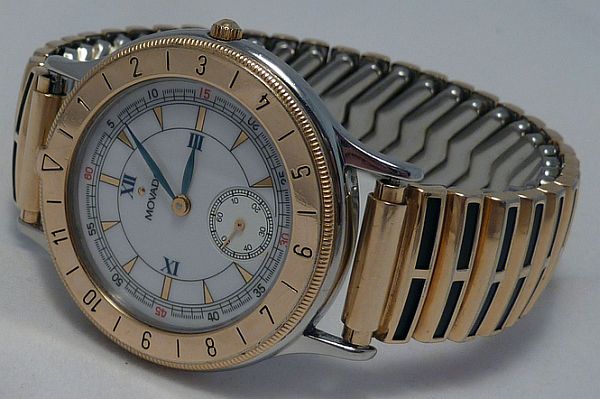 This Swiss quartz watch from Movado features a fine stainless steel strap, a mineral window and a water resistant frame. The regal looks make it a fine gift for a groom on his D day. It comes with options wherein the hour markers are made of 0.05 carat diamonds. The stationary bezel, the wristband and the bronze-gold color make the piece a real beauty.
2. Apple iPhone 4S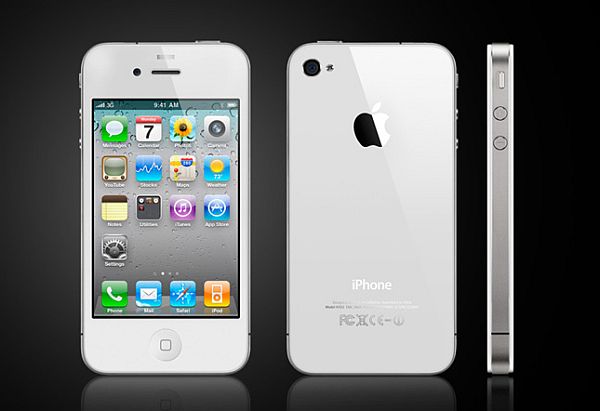 Which man does not love a piece of elegant and sophisticated gadgetry? And what better electronics to gift him that the Apple iPhone 4S? Being a cellphone, a PDA, an organizer, a watch, a calculator and a mini computer too, this would delight any groom. You can bet that he will not be able to take his eyes off this marvelous piece of chic gadgetry.
3. Canon Digital Cameras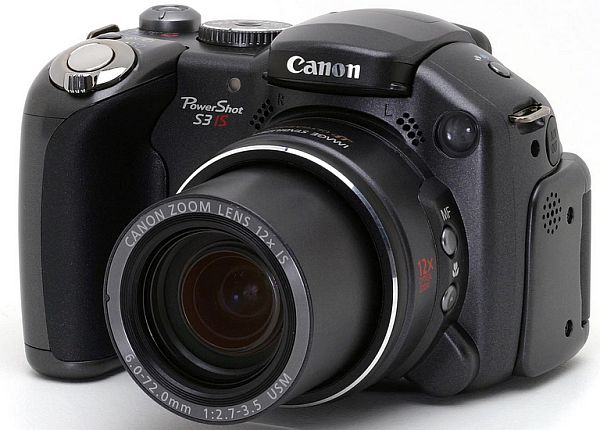 Though not a typical gift, the digital camera will be something that will give joy almost forever because it cherishes and treasures moments and memories that will remain forever! It comes in a wide price range and you could sure find a model in your budget. Buying a digital SLR camera in fact is a gift that the groom can later build upon by buying better lenses and accessories.
4. Cufflinks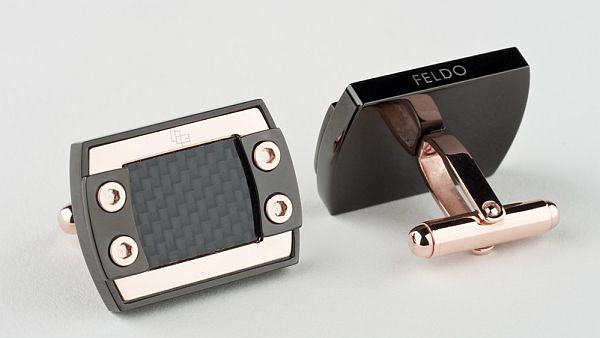 This would serve as a special, personalized memento for the day and is a very functional and practical gift. With a little research you could discover the exact tuxedo or suit that is being worn on the wedding day and select your cuff links accordingly. A few personalized words too could be inscribed on it.
5. Ralph Lauren Tuxedo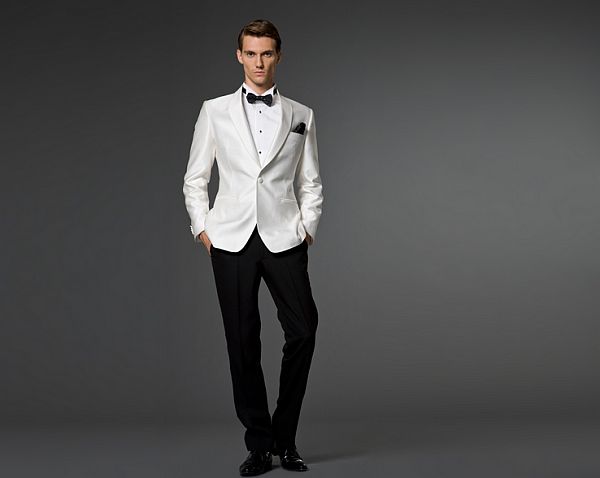 For that special friend, why not gift the wedding wear itself? Ralph Lauren is arguably one of the best tuxedo brands in the world today. Made from Super 120s wool, the tuxedo is perfectly tailored and comes along with the tuxedo vest too. It is available in a wide range of sizes, colors and textures and would definitely drop the groom's jaw in awe when you gift it.
6. Poker Night with the Boys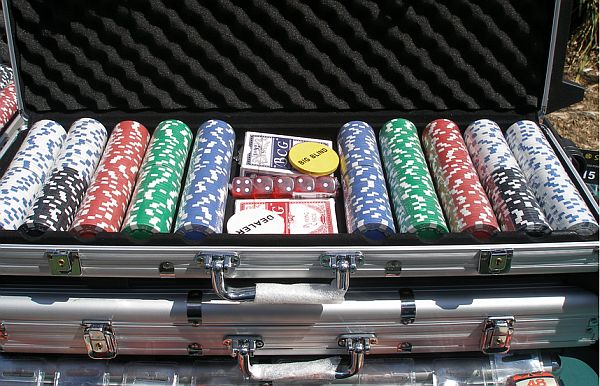 How about gifting something material that comes along with a unique experience of its own too? Gift the man of the wedding with this unique poker set. Pack along with it a few cases of his favorite beer and some music CDs. Gift this with a group of friends and also make an irresistible offer for a poker night. See him rejoice in glee!
7. iPod Accessory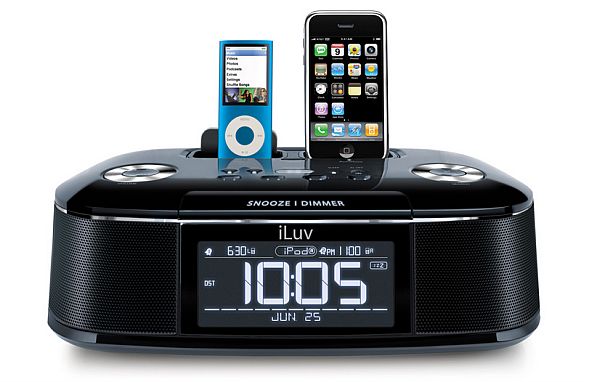 The popularity of the iPods and iPhones have shot beyond the roof and a host of accessories and tag-alongs are now available. Whether you gift a solar powered charger, an iHome speaker set, screen protector or a headset it will definitely enhance the iDevice experience. You could even co-ordinate between friends and get a whole iDevice set for the groom. He will simply love it.
8. Personalized Men's Dresser Set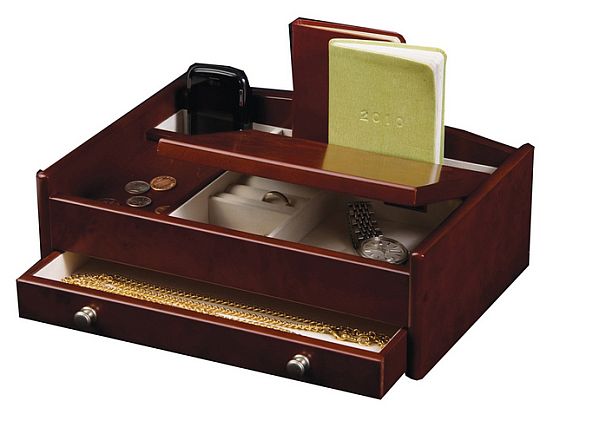 Made from black leatherette and velvet, this attractive dresser set has a built-in catch-all tray and a photo box with an outer photo slot. It would present the groom a neat way to organize all his accessories and also look elegant and royal on the dressing table. you could personalize it with engravings on an attached silver plate.
9. Dunhill's Wallet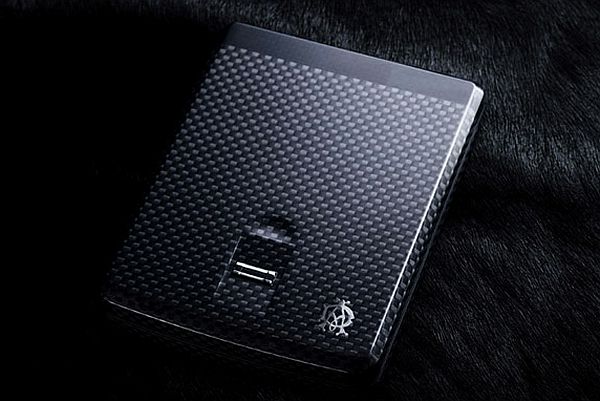 Men always love high-tech gadgetry and here is a real cool wallet from Dunhill. The ultralight carbon fiber exterior is not only strong and durable but also features a biometric finger-print lock! You can even sync and connect the wallet with the Bluetooth in a cellphone and ensure that even if it is picked, the thief is none the wiser! A lovely overall gift indeed to present to any groom!
10. Carbon Fiber Torch Flame Lighter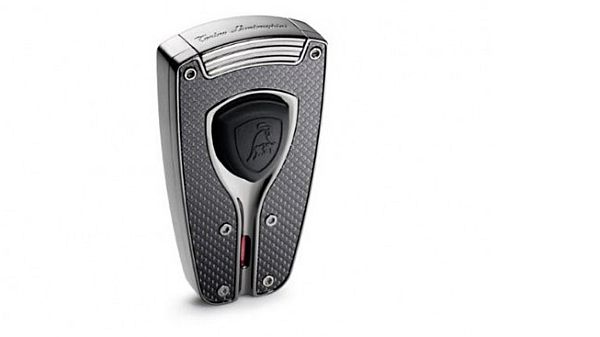 The name Lamborghini and elegant looking black, carbon fiber make an irresistible combination in this torch cum lighter. With a slot to refill the fuel- butane – and a classy window displaying the fuel level, the lighter comes either in a black or red case which has a soft and velvety interior. The touch of class in the product makes it a good wedding gift for the groom.