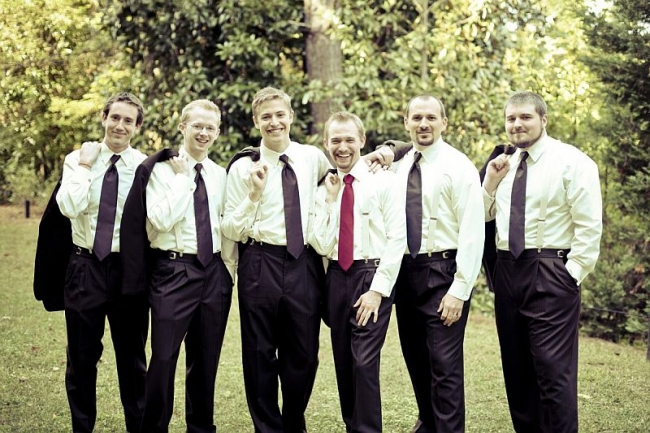 Marriages are made in heaven but picking the right groomsmen is a tricky task to be accomplished by mere earthlings. Groomsmen are the silent props to back you on your D day. They shout with you, they fret with you and of course they are the not to be missed ones in those wedding photographs. Your favorite cousin, high school buddies, university mates and even kindergarten chums may actually be dueling for the most popular position of the Best man. It surely is a James Bond mission, but it can also be quite a fun task if you know how it has to be done. Here are some tips to choose the perfect groomsman.
1. Best men on your best day
You can go for more than one groomsman if you desire to. It would really come out as a terrific gesture and you will not end up upsetting anyone. The Best man more than often specializes in multitasking, doubling up sometimes as an usher for the guests, an escort to the pretty bridesmaids or a spokesperson for the entire program. There have even been weddings where the groomsman was a woman. So, things are getting quite unconventional these days. The real dictum is to make your day as extraordinary as possible. More than one groomsmen can help in splitting up of wedding day duties, but one has to be sure of the duties to be divided among them. For instance, which one will lead the bride up the aisle, which one will hold the ring for the groom etc? It is between you and your fiancée to decide who all can wear the coveted crown.
2. Who will don the cap
The tough question is that who will fit the most wanted role of the best man? The first requisite is that he should be a man of good taste given that he makes the opening toast at the party. He has to be a reliable person since he has to be on time for rehearsals and practice dinners and the main ceremony. He may be required even for transporting personal possessions after the wedding ceremony. So, pick a groomsman who is responsible, smart and with a great sense of humor to give that zing to your special day. Opt for someone who is an enthusiastic participant in you and your fiancee's life. Do not add to the tension by making last minute changes or picking a guy you have nothing in common with. Most of all, try to avoid the smart Alec kinds who tend to bore everyone with their expert comments or try to make a line for your fiancée's sister.
3. Sibling revelry
It is entirely your decision who you want as a groomsman for your wedding. But remember, your bride may secretly want her darling brother to act as your best man for the day. If the guy is not too insufferable, play along and make her happy. The same order goes for you too. If your sister is keen to be the bridesmaid, you can ask your fiancée too. If you have a brother, you could go ahead right away if there is not much of a problem. He is family, so he knows you better than anyone else. Moreover, this is going to be a proud moment for your brother too. Maybe, he has been dreaming of this day since long. Do not worry about the fact that your best pal might be offended. If he is your buddy for life, I am sure he will take the matter in a very positive way.
So, the choice of groomsmen for your wedding should be a fun task and not a cruel punishment for you. Thanks to the development of internet, texting and social networking, your best friends tend to remain your best friends and your special day becomes even more special.
4. Responsibilities
There are certain responsibilities associated with groomsman so you should first let him be clear about his role in the marriage. Here are some of the things you must ask from the person who is going to be the groomsman in your marriage.
a. Rehearsal before the ceremony plays an important role in a successful wedding so tell him to come in time.
b. Groomsman also has to dance with the bridesmaid at the reception.
c. He must have to come in the marriage before the guest come and assists them about everything related to marriage.
d. He must be in formal dress.
e. He must have to stay cool and friendly with everyone.
5. Alternatives
You should always have some backup plan. Have an alternate groomsman, if in any case someone cannot come or refrain to be a groomsman. The backup groomsman should also be perfectly trained. Tell him about the importance of his role if in any case one is not available.