A perfect pre-wedding shower or a bridal shower is a great way to ring in the big day. But you need a proper planning to make it a successful occasion. So make sure you are planning about all the aspects in advance sparing yourself from the stress and headache of worrying about the proper thing to do at the last minute. Here we list four vital tips on which the bridal shower hosts can spin ideas and come up with something which is totally enjoyable.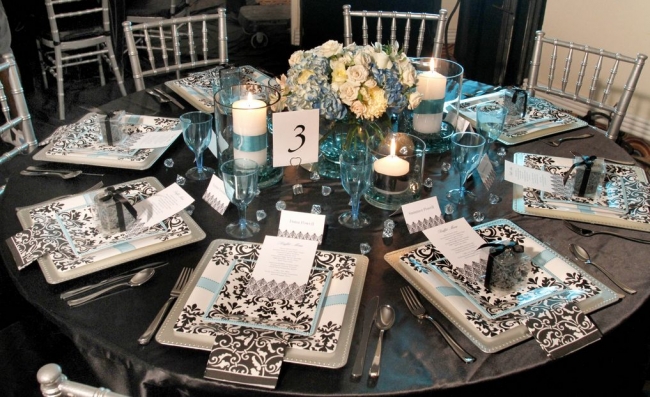 1. Choosing a theme
A chosen theme helps freeze the bigger picture and makes it easier for a couple to highlight the menu, choose the decor and set the mood. Global themes are a big hit because of the novelty factor. Spicy Oriental to mystical Moroccan to summery Greek theme—it can be anything one can fancy or like. One can choose from many popular themes or can even have a mix of different cuisines and go the fusion way. Of course the themes can be close to the couple's heart and in this case the possibilities are truly endless. One can choose classical themes, trendy themes, themes from the olden times to something really out of the world. Of course expenses and availability of ingredients and resources will also dictate the theme one should freeze upon. No matter what the choice, a well executed theme helps tie all the little experiences into one big memorable one.
2. Customizing the menu
Once the theme is chosen, it is important to customize the menu. The menu can make a personal statement, re-create a past romantic experience of the couple or can generally set the mood for the whole dining experience.
a. Choose finger foods
Finger foods such as finger sandwiches and canapés always brighten up the party scene and make for great socializing. Because of their visual appeal and variety, they can be great conversation starters as well. With global palates being the order of the day, a great idea is for canapés to be prepared with various themes like Thai, Indian, Italian, American, etc.; the possibilities are endless. Sushi of different shapes, colors and ingredients can add to the sense of adventure and is usually a favorite with weight watchers.
b. Provide at least two choices
For the main course, depending on the time of day, one has to prepare for dinner or lunch. It is good to offer guests at least two choices for the main course where one can be a vegetarian option. Main courses which accompany stables like rice or bread give guests flexibility to serve portions as per their liking; however, stand alone dishes like pizzas, bakes and roasts can also be featured.
c. Cakes and cocktails
Cake is a must for any wedding shower and here one can get adventurous with the ingredients. Some delectable and pretty looking dessert options like cupcakes, brownies, mini cakes, souffles, cheesecakes, baklava, colorful fruit jellies—the list is practically endless and so are the combinations of flavors one can choose for desserts.
Cocktails, lemonades, juices—all these can bring about a fresh light feel to the event. It is wise to include both alcoholic and non alcoholic options. Fruity concoctions are a great idea as they are light, easy to down and provide for a happy variety in terms of colors and flavors.
3. Presentation
A good presentation makes for first impression. Often dishes which are presented in an honest, simple and elegant manner make a bigger impact. Food is all about celebrating life in a non complex and enjoyable way, so the good mix of elegance, simplicity and beautiful layout make for an enjoyable dining experience. One can get innovative, creative and make a personal statement all at the same time. Having personal imprints on desserts, cupcake made to a specific shape or serving soup in a large carved out bun instead of the usual bowl can add to the whole experience.
4. Following a trend
While trends shift and change, if one can capture an essence of a passing trend the results can be amazing, specially from the guests' perspective. Studying trends also can help add innovative twist to the usual way of doing things. A chef can also advise on the right trend in terms of the menu and how it has to be presented. Because trends are transient in nature, they will be difficult to duplicate and will help the party stand out in its own right.
5. Let's play games
Games in such an occasion plays an important role so don't forget to include some bridal Shower Games. Some of the most widely famous games are bridal bingo, pop a balloon, pin the veil on the bride and teach me. You can ask your guest to write advice for the bride as she will be entering in her married life. I am sure it will be a fun and you will always remember these memories forever. And, people also love these things because they are in the marriage for fun and celebrations so don't think that games will have a juvenile impression.