Wedding guest books have been used in marriages all around the world. It helped the wedded couple to know about who came to their marriage, write thank you notes and collaborate the information to build their contacts. Wedding guests book can be displayed and utilized effectively if you can make some creative decisions about how your wedding guest book must look. Your wedding guest book not just includes the names of the guest and their well-wishes. It must also include the memories of your wedding day, the emotions associated with it. This list will help you compile the required information and you will get a book that is helpful, displayable as well as sentimental.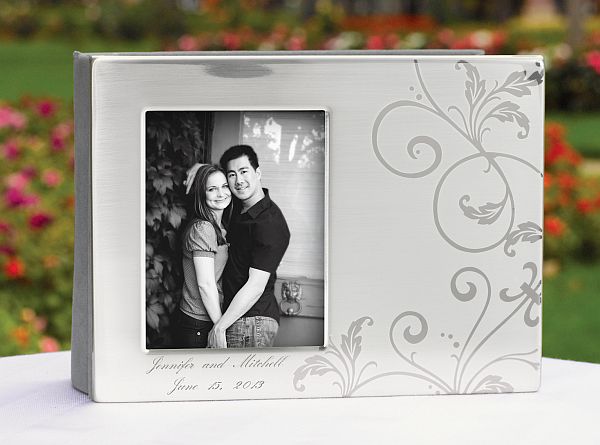 1. Themed guest book
If you are having a themed wedding, then why go for plain, simple guest books? Have something that is unique and memorable. For instance, if you are getting married on the beach, then have shells on the guest tables with golden markers. Guests can sign the shells. If you are having a royal theme wedding, then you can have a gold colored guest book with nice decorations on it. You can also have red colored guest book with lovely hearts decoration for a white and red theme wedding. So, next time when you see your guest list you will be reminded of your enchanting wedding day.
2. Photo booth
Create a photo booth for your guests with camera and a tripod. Guests can click their family photos with a self-timer on the camera and write their well wishes with details on the back side of the photo. This will make your guest book more personalized. If photo guest book seems a common idea, then you can also get a video guest book for your guest. Get a camcorder and place it in a room. Ask your guest to come in groups and give you a wedding message. You can also ask them to do something funny and witty if they can. This way you can make your wedding guest book alive.
3. Fabric decoration
Get nice fabric, make small squares of that fabric and hang it with a string. Your guests can write their blessings and sign on the fabric. This would double as a decoration for your wall and every time you will walk through your living room, this fabric decoration cum guest book would bring back the memories of the best day of your life. Otherwise you can also have a wedding banner with you and your partner's name. The letters should be bold and with a large font. Now, your guests can write their well-wishes on those letter and you can always decorate your room with that banner.
4. Get personal
If you can't make a creative guest book, then ask your guests to do something creative. Instead of writing 'Congratulations', ask your guests to write a memory of you or any advice for a blissful married life. You can also ask them to bring a photograph and attach it to your guest book. You can also buy a number of funny, serious and naughty wedding wishes cards and ask your guests to select one for themselves and write you a message or share their thoughts and advice. Place it in an envelope.
5. Make your own guest book
If you are a little artistic and want to have some fun with colored scrap-sheets and cutter, then make your own scrap book. You can make hearts with a red colored scrap sheet and cut different sheets in simple patterns and attach contrast colors together. Include some photographs with your love. This guest book cum scrapbook would not reflect the love between you and your partner but also make your guests feel special because of you doing something creative for them. Another great idea is to nice paper leaves from the stationary shop. Get those leaves in various vibrant colors and ask your guests to sign it. You can also buy leaves that have a small hole for hanging them to a plastic tree. Therefore, your guests can write their well wishes and hang it on the tree.