The ever exotic locales of Thailand can mesmerize you with its incredible beauty. Exchanging your vows here is a beautiful way to solemnize your souls in holy matrimony. Imagine the ecstasy when Mother Nature will be an enthusiastic witness while you promise to love each other ever after. You have to finalize some official formalities at the Thai embassy or consulate. Then you can avail all the advantages of the most romantic wedding ever.
Why Thailand?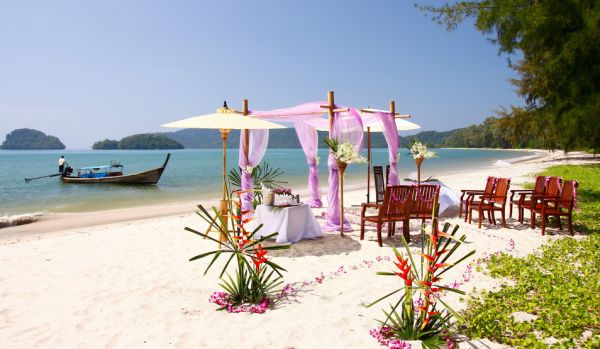 This vibrant Land of Smiles has been globally acclaimed as a stunningly beautiful and unique country. Thailand is drenched in a magnificent assortment of vivid culture and history. It has a hypnotic quality about it. The people are welcoming and are most gracious hosts. The food here is simply lip-smacking. This is not all for Thailand possesses an extremely contemporary infrastructure and provides services well within your budget. This is the major reason why this nation is a dream destination for many a romantic couple who either want to get hitched or renew their wedding vows.
How to get there?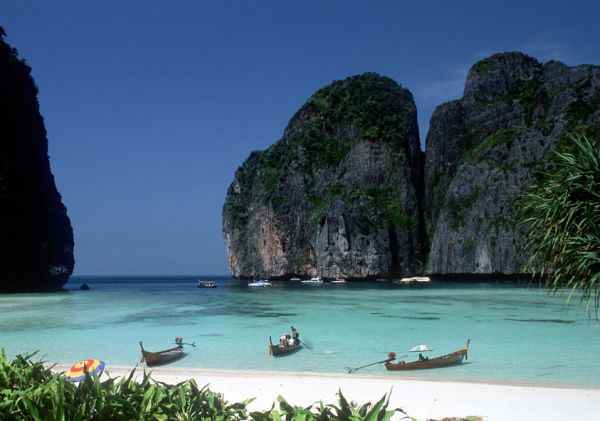 1. Air travel
Air travel in Thailand is quite reasonable and easy. The country has 3 major airlines with a widespread internal network. Bangkok Airways, Thai Airways and Air Asia rule the routes there. Almost each and every point is near an airport. The key international airport is Suvarnabhumi in Bangkok. It is a terrific airport with ultra modern amenities. Phuket, Hat yai and Chiang Mai have smaller but quite effecient international airports.
2. Rail travel
Travel by train is very cheap in Thailand. Trains are quite comfy and safe. Frequent rail services connect Singapore and Bangkok and there are many go-between stops in Kualalumpur and other important cities in Thailand. Traveling by train is good, a little slow though. There are four different lines connecting all the regions but they do not interlink, one has to go by Bangkok in order to change trains.
3. Road travel
If you wish to travel across land, entry to Thailand is limited to 3 crossings on the Thai Malaysian border in Songkhla, Yala and Narathiwat. Even within the country, there is an extensive and outstanding highway network encompassing almost the entire nation.
Wedding types
1. Beach wedding in Thailand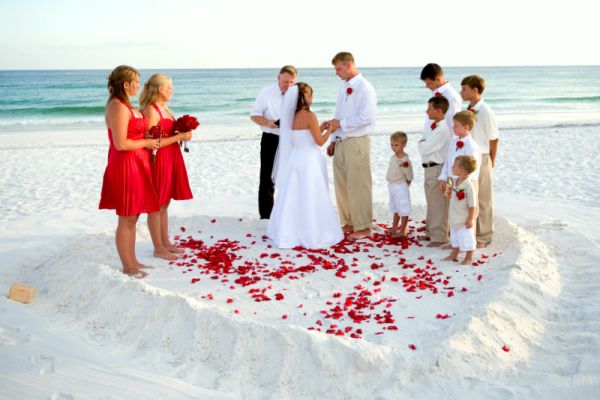 Beach wedding in Thailand can be a most cherished experience in your life. There are many options to choose from. You can desire for a calm private beach or can go for a big beach wedding with lots of vibrant, playful people, eating places, shops etc. Imagine taking vows beside the crystal clear waters of the sea with the cool wind blowing romance into your life. What a wonderful beginning!
2. Church wedding in Thailand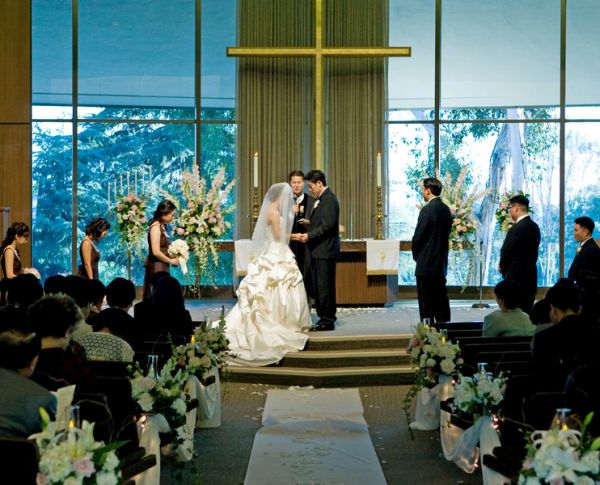 If you want to have a church wedding in the exotic locales of Thailand, it can take place as a catholic, Pentecostal or Episcopal form of ceremony. Church weddings are so loaded with customs and traditions, they take the form of worship suggesting the sacrosanct tie up of two soul mates in holy matrimony. So, if you want to have your own romantic church wedding in Thailand, it's a total thumbs up for you.
Available wedding venues
1. Getting married in Bangkok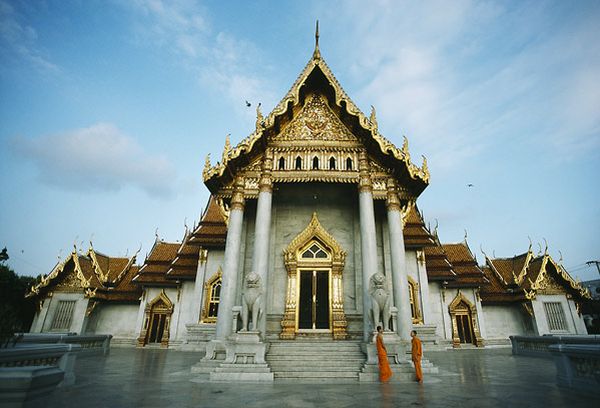 A beautiful Thai wedding at Bangkok is a superb plan. The place is exuding with infinite hues which radiate vivid emotions. There are famous temples, great locales and a stunning night life to boast of. Bangkok is a well planned city and you can go to exchange your vows in any of its gorgeous temples. You can actually plan out a theme wedding there; it will be an excellent idea. Bangkok boasts of world class amenities like your own private or public halls or hotel foyers which can be rented out for your most important day in life. Think about having your wedding at the tallest building in Bangkok, The Baiyoke Tower. You can even have a romantic beach wedding on the outskirts of Bangkok .
2. Chiang Mai wedding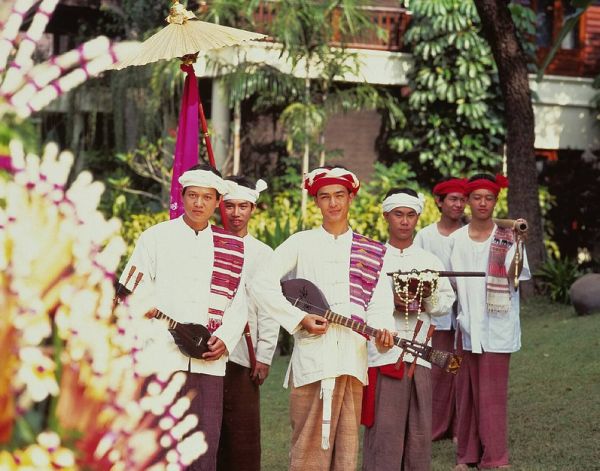 A wedding ceremony in beautiful Chiang Mai is great. The place is the doorway to Northern Thailand and is the cultural hub of the place. Enormous mountains adorned by dense woodlands seem to be an image out of your favorite romance novel. There are amazing temples and superb mountain wedding locations.
3. Thai weddings in Koh Samui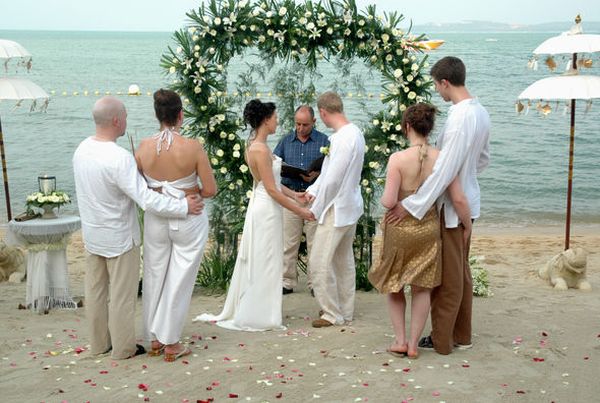 This place is perfect for a tropical beach wedding. This is the place where there are pristine white beaches festooned with green gardens, coconut trees and crystal clear water. The calm breeze from the ocean invites you and your partner to have the most unforgettable time of your lives. Koh Samui will even please your guests who have come to attend your wedding. They can have a blissful anxiety free holiday as well.
4. Wedding in Phuket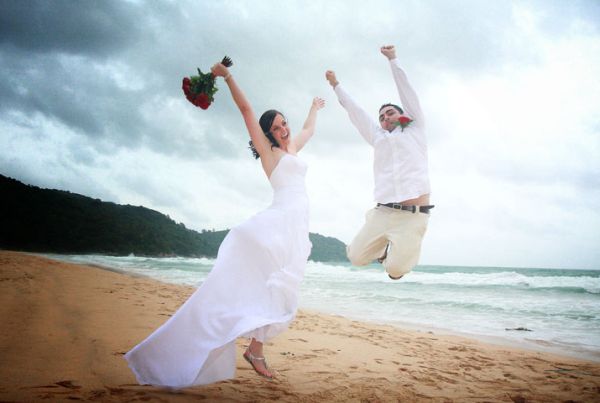 This is the ideal destination for a sultry wedding and honeymoon afterwards. Phuket is an extremely romantic place with serene beaches which are ideal for beach weddings. There are many other awesome venues like beautiful gardens, luxurious cruises and plush wedding villas. One can truly say that there can be nothing better than an exotic wedding ceremony in Phuket
5. Wedding in Krabi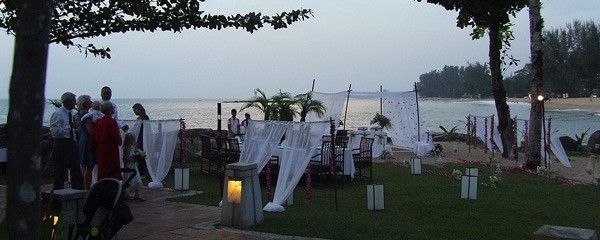 Wedding in Krabi is a fabulous idea because the place is every person's dream of paradise. There are a number of tiny little islands scattered around the ocean where you can have your perfect wedding. You can have your own private little thing where it's just you and your loved one waltzing with nature. The island of Ao Nang, Krabi is gorgeous with incredible limestone structures and wonderful sandy beaches. This is indeed heaven on earth and perfect place to join in matrimonial bliss.