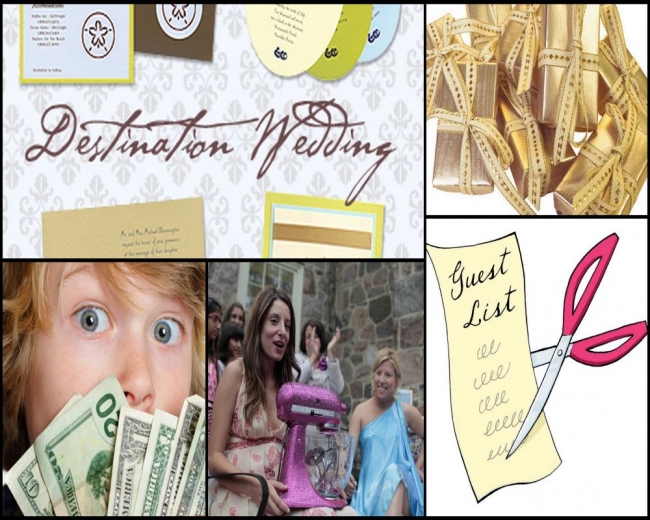 Destination weddings are the flavor of the wedding season. It's not easy to chalk out a wedding away from your home at an unknown venue. A destination wedding is a challenge in disguise. A few important guidelines could help you survive D-Day with aura and elegance. Here, we have shared, the destination wedding etiquettes to make the wedding planning job a little easier for you. Read on and plan in a timely fashion.
1. Send the dates
It is very important in case of a destination wedding that your guests are informed pretty much ahead of the wedding date so that they can organize their travel arrangements, chalk out their travel dates and of course apply for leave from work. And besides, your guests will have ample time to select their special ensembles and matching accessories to try and look as beautiful as you. You wouldn't want any of your special friend or relative missing at your wedding, would you? Just fix your date and destination time ahead and mail it to your world.
2. Guest list
Weddings are truly incomplete without guests. Planning a guest list is a tedious task. Whom to send an invitee and whom to not makes you recall your experiences with everyone. Planning to crowd up the venue is a bad option. Try to keep your wedding a private affair with special friends, family and some colleagues being handed the invitee. In this way you are ensured that your wedding is attended by only those who think well of you. Financial responsibilities and guest formalities are also eased out.
3. Gifts
Gifts are a physical form of the love, affection, blessings and well-wishes bestowed on the newly-wed by guests. But gifts can be a problem when you are planning to have a destination wedding. Suppose, a guest is unable to turn up at your wedding but has couriered the gift on your wedding day, at your wedding venue. There's a chance that you don't receive the gift if couriers are to be believed. So send out a proper polite note from any one of your family member requesting to send gifts in the address mentioned in the note.
4. Money matters
It's quite certain that friends and colleagues who turn up for the wedding will not bear any wedding event cost. They will be bearing their own accommodation and travel expenses. Money matters are unavoidable and you aren't ready to face an unwanted money matter propping up at the last hour. So make sure your guests are accommodated according to their pocket size. Be clear what part of expenses do they have to bear for their stay and have a nice hassle-free wedding.
5. Bridal shower
A bridal party is to be planned months-in-advance, but the point is that bridal showers means handing out an invitee to almost every friend or girl you know to be a part of your happiness-in-waiting. But not everyone can attend the wedding, so all you have to do is let a family member take stand and formally inform every bridal shower guest ( those who are not being invited) that the wedding is a small family affair and henceforth you are unable to invite them. In this way you avoid being embarrassed of not inviting all your party members to your destination wedding.